Easy One-Pan Miso Ginger Salmon Fried Rice – Learn how to make super delicious and easy Asian fried rice with salmon marinated in miso paste and ginger along with other vegetables. Perfect for a busy weeknight and great for meal prep too.

This month has been that kinda month where I can't spend much time at the kitchen cooking. I had been busy with home DIY projects (it seems like every Summer is that way!) but I am happy with the result so far. I probably have to take before and after photos when everything is completed (fingers crossed!). Anyway, This easy one-pan miso ginger salmon fried rice was one of the meal I made for dinner. It wasn't planned. I was scrapping the fridge to see what I could easily make and this was how this salmon fried rice was born 🙂
TIPS ON HOW TO MAKE GOOD SALMON FRIED RICE
There's really no fixed rule when it comes to fried rice. You can add pretty much whatever your heart desires. But, there are few basic rules to make sure you get a good fried rice! Not the kind where all the rice clumps together or mushy!
1. THE RICE
Yes, it's no secret! Good fried rice starts with a good rice. Ideally, overnight or leftover rice is best.
CAN I MAKE FRIED RICE WITH FRESHLY COOKED RICE?
If you don't have leftover rice and want to make it on the same day, it's still possible. Make sure you cook the rice at least 2-4 hours before you plan to serve it. 4 hours would be ideal. Once the rice is cooked, immediately spread it out on a sheet pan to let it cool down COMPLETELY. If you have a mini fan that you can use to blow on it, use it. If not, it's not a big deal either. If you let it sit in the pot or rice cooker, the rice tends to clump together when you stir-fry it, because of moisture.
2. COOK IN SMALL BATCH
The recipe makes about 2 servings. If you want to double up to 4 servings, you can, but that's the max I would recommend. Why? It's hard to maintain good heat when you overload the wok/skillet. When you cook too much at one go, it just won't taste as nice. The heat is compromised, the seasonings probably not evenly distributed.
3. MARINADE THE FISH
Fresh or frozen salmon in this case is acceptable. Marinating the salmon in miso and ginger really adds a nice kick to it. My mom (and most Asian) likes to include ginger in seafood recipe because it helps to reduce what people call a fishy odor.
CAN I MEAL PREP WITH THIS SALMON FRIED RICE?
Yes, this is perfect for meal prep. Just portion them out into individual container or freezer bags and they can stay frozen for up to one month. Just reheat without thawing in microwave or stir fry it on the wok/skillet.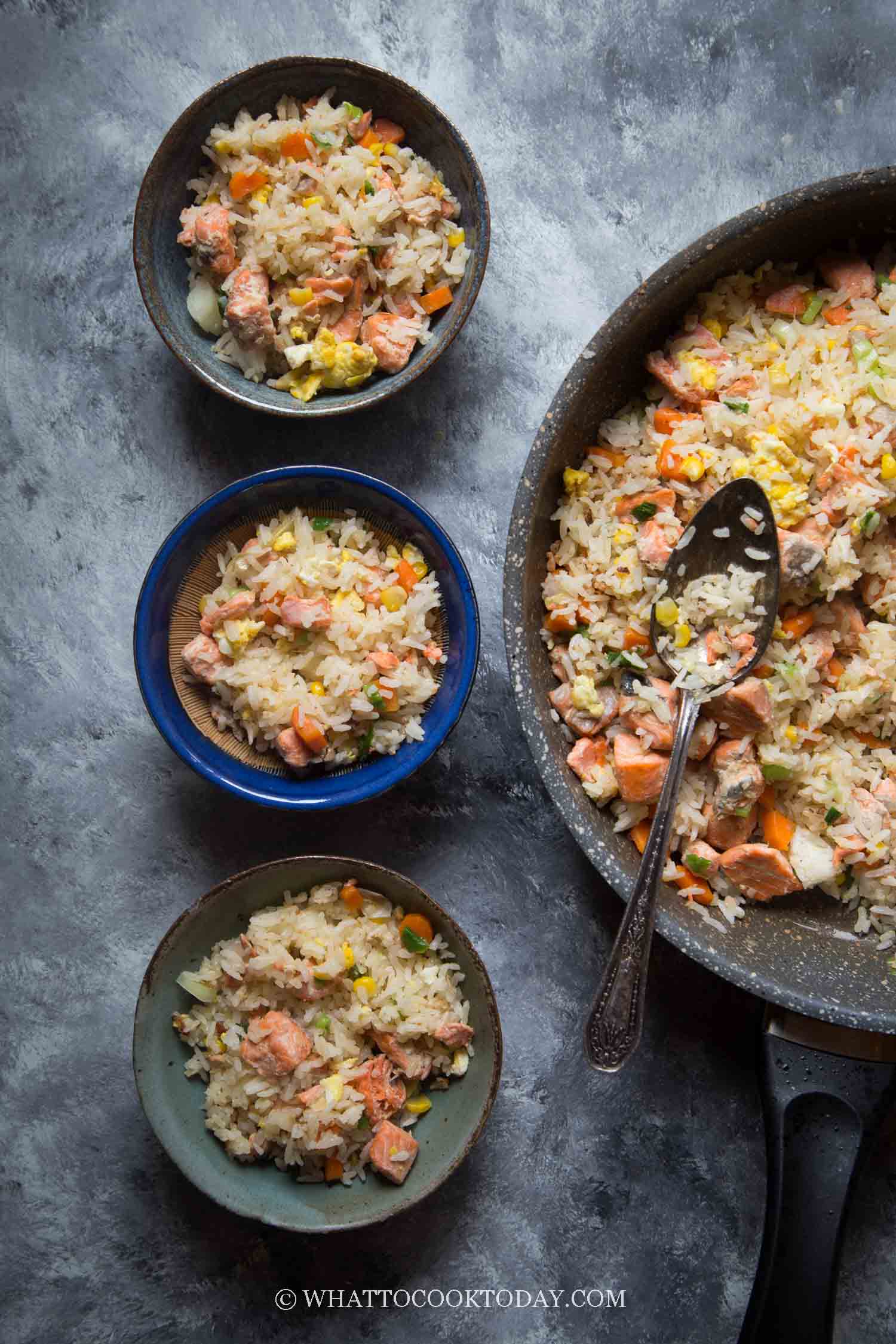 Even my kids who don't really care for salmon on its own (well, depends on how I cook it), really love this one-pan miso ginger salmon fried rice. They polished their bowls clean!

This blog post contains affiliate links. I earn a small commission when you made purchase at no extra cost to you. Learn more.
Easy One-Pan Miso Ginger Salmon Fried Rice
Ingredients
2

cups

cooked white long-grain or jasmine rice

4

oz

boneless skinless salmon fillet

dice or cut into small bite-size pieces

2

Tbsp

cooking oil

divided

2

large

eggs

1

cup

mixed vegetables

thawed if frozen
Marinade:
1

Tbsp

red/white miso paste

1

Tbsp

grated ginger

1

tsp

sesame oil
Aromatic:
2

shallots

peeled and thinly sliced
Garnish:
1

stalk

green onion

finely sliced
Instructions
Place the cut salmon in a shallow platter. Add the marinade and gently mix the marinade in to the fish. Let marinade for 15 minutes in the fridge while you prep other things

Bring a large wok/skillet to a high heat. Add 1 Tbsp of cooking oil. Crack in the eggs. Slightly scramble the yolk and then let them cook for about 10 seconds and then scramble it until the eggs are cooked. Dish out to a serving platter

Wipe the wok/skillet clean if necessary. Bring it back up to heat and add 1 Tbsp of cooking oil. Add shallots and stir fry for about 1 minute. Add the salmon pieces and stir fry until they turn pink. They don't take long to cook since they are in small pieces, about 1 minute or less

Add the rice, mixed veggies, and cooked eggs back to the wok/skillet. Stir to mix everything. Add seasonings. The amount is just a guideline, you may need to add more salt to your taste. The sugar helps to enhance flavor. Once you are happy with the taste, turn off the heat and dish out into serving platter. Garnish with sliced green onion. Serve immediately
Storing and reheating:
You can double up the recipe and keep the leftover in the fridge or freeze them if you want to keep them longer

They can be reheated without thawing in the microwave or in the wok/skillet by stir-frying again until warm