Make this light and airy mochi waffles filled with sweet red bean paste and made with aromatic and creamy coconut milk. A perfect dairy-free breakfast waffle.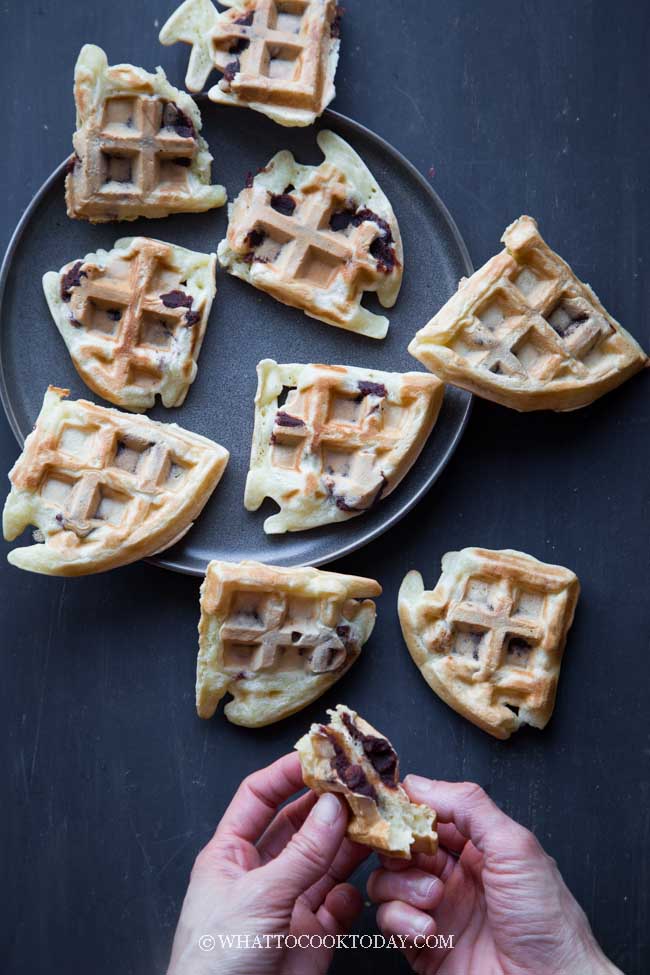 Asians are pretty much obsessed with anything mochi if you ask me 🙂 In case you are new to mochi, it is basically a popular Japanese-style rice cake or dough made with glutinous rice flour (mochiko flour) or sometimes known as sticky rice flour or sweet rice flour. Don't be mistaken with regular rice flour or sushi rice (even though it's a bit sticky). It's similar to the Chinese nian gao.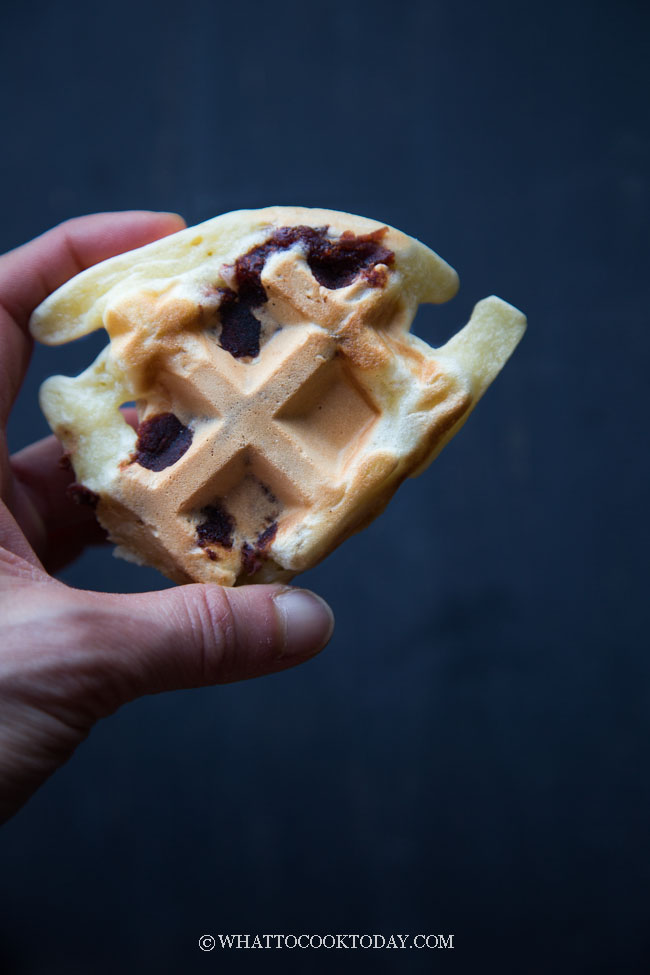 SPECIAL INGREDIENTS
There are few special ingredients you need but you should be able to easily find them now in major grocery store without having to go to Asian grocery stores
1. GLUTINOUS RICE FLOUR
Glutinous rice flour is also known as mochiko flour or sweet rice flour or sticky rice flour. Don't be confused with rice flour, it cannot be substituted with regular rice flour
2. COCONUT MILK
I highly recommend using Asian canned coconut milk. They are creamy and aromatic. Don't use the light coconut milk or the one used for beverage, you will be disappointed with the result
3. SWEET RED BEAN PASTE
The Japanese call this anko paste. In Chinese, we call it dou sha. I made homemade dou sha before, but you can buy a ready-made dou sha.
HOW TO MAKE SWEET RED BEAN MOCHI WAFFLES
1. Whisk two eggs with coconut milk until combined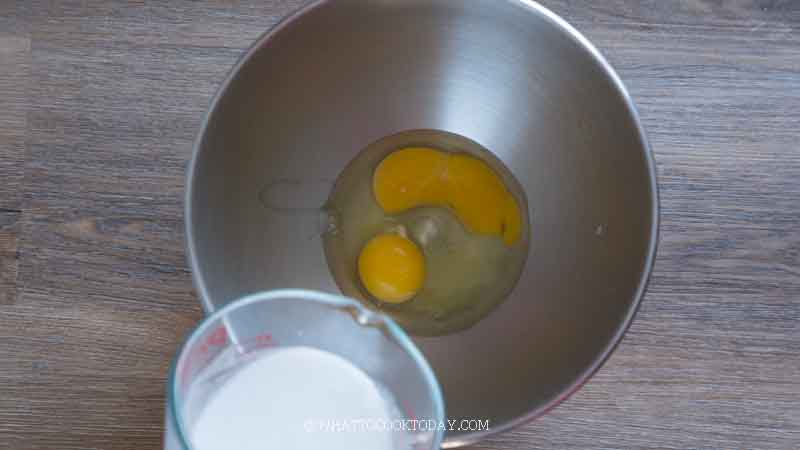 2. Mix all dry ingredients together in a mixing bowl and whisk to combine


3. Gradually fold in the dry ingredients mixture into the egg mixture, in 3-4 batches. Stir to combine each time


4. There will be lumps in the batter and don't worry about mixing it thoroughly as long as no more loose flour is visible. Don't overmix the batter


5. Preheat your waffle iron. When it's ready, spray with cooking spray or brush with a bit of oil. Spoon some of the batter on the waffle iron, enough to cover the base. Then put in few dollops of the red bean paste (as shown in the photo or video)


6. Spoon over more batter to cover the filling


7. Cover and bake until they are golden brown and then flip over to the other side. This extra step will give you crispy on the outside and soft inside waffles. Repeat with the rest of the batter

VARIATIONS
The variation for this mochi waffle is pretty much limitless. Here are few ideas:
For filling: nutella, peanut butter
For flavor: matcha powder, pandan extract, cocoa powder, cinnamon powder
GLUTEN-FREE VERSION
If you plan to make this mochi waffle gluten-free, simply substitute the all-purpose flour with the same amount of gluten-free all-purpose flour.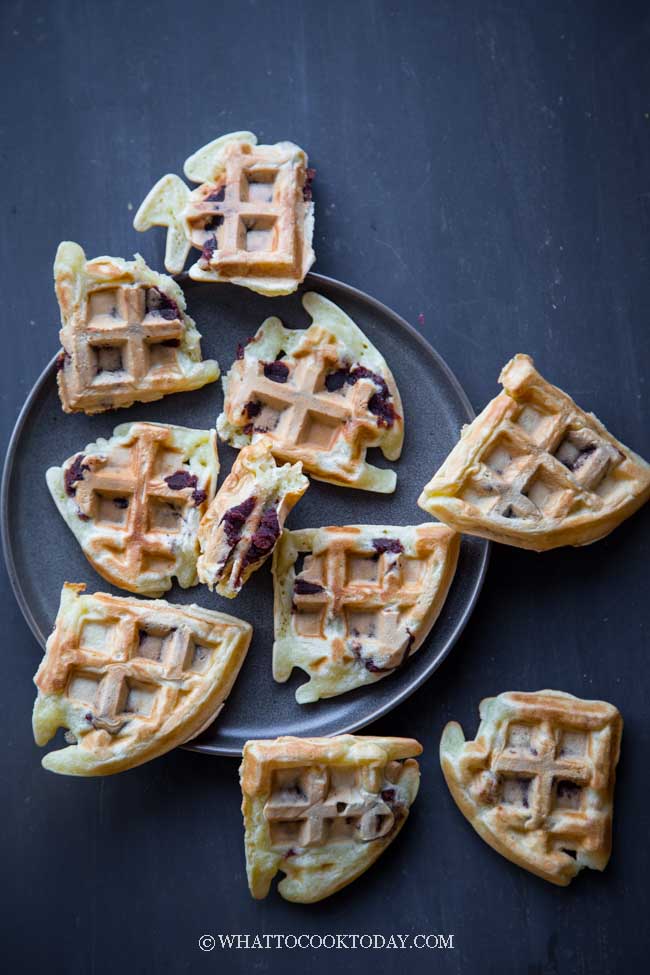 DID YOU MAKE THIS EASY SWEET RED BEAN MOCHI WAFFLE RECIPE?
I love it when you guys snap a photo and tag to show me what you've made 🙂 Simply tag me @WhatToCookToday #WhatToCookToday on Instagram and I'll be sure to stop by and take a peek for real!
Easy Sweet Red Bean Mochi Waffles (DF)
Instructions
Prepare the batter:
Whisk two eggs with coconut milk until combined

Mix all dry ingredients together in a mixing bowl and whisk to combine

Gradually fold in the dry ingredients mixture into the egg mixture, in 3-4 batches. Stir to combine each time. There will be lumps in the batter and don't worry about mixing it thoroughly as long as no more loose flour is visible. Don't overmix the batter
Bake:
Preheat your waffle iron. When it's ready, spray with cooking spray or brush with a bit of oil

Spoon some of the batter on the waffle iron, enough to cover the base. Then put in few dollops of the red bean paste (as shown in the video). Spoon over more batter to cover the filling. Cover and bake until they are golden brown and then flip over to the other side. This extra step will give you crispy on the outside and soft inside waffles. Repeat with the rest of the batter
Serve:
Serve them warm on its own or with maple syrup or honey or whatever your choice is
Freeze for future:
Let them cool down completely. Transfer to a baking sheet lined with parchment paper and freeze in the freezer for about 1 hour and then transfer to a freezer bag. They will not stick to each other. Simply reheat by loosely wrapping them in a foil and place on a baking sheet and bake in the oven or air fryer at 350 F for 10 minutes or until heated through