This incredible beer-battered fish and chips recipe is from Mat Arnfeld in his throwdown fish and chips with Bobby Flay. It is seriously the best I've ever tasted! The batter stays crispy for hours. All the tips you need to know.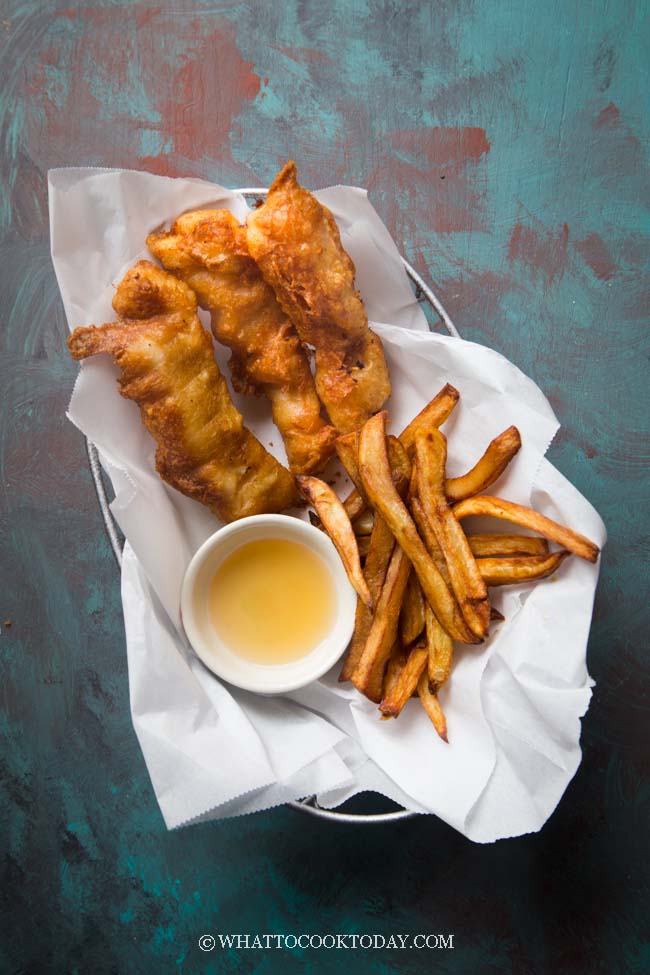 I don't fry food often but when I do, I wanna make sure it worths the calories I'm going to ingest 🙂 Fish and chips is one of our family's favorites. We usually only have this at restaurants and I hardly ever made it at home (because I hate to fry things!). This beer-battered fish and chips recipe is from Bobby Flay's Throwdown cookbook with a cook Mat Arnfeld. Mat won the throwdown against Bobby and I can definitely see why. This recipe is legit! My daughter doesn't like fried fish and often complains about the fish being so dry and the batter is so heavy and soggy. She actually loves this beer-battered fish and chips. This was what she said, "I wish I could have this again for dinner tonight mom!"
WHY YOU'LL LIKE THIS RECIPE
1. The batter is so light and crunchy
The batter is very easy to put together and I like that it doesn't use egg (which usually makes it so dense and thick). This is so light and crunchy. The Ale does wonder to the batter for sure
2. The batter stays crispy for hours
I must say the star ingredient of fish and chips (at least in this recipe), besides the fish, is definitely the brown ale. I love what it does to the batter.
3. The chips are fried twice for an extra crispy result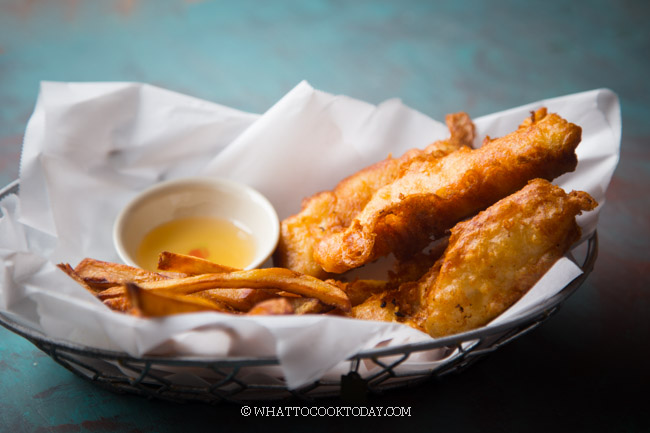 HOW TO MAKE THE BEST BEER-BATTERED FISH AND CHIPS AT HOME
1. PREPARE THE POTATOES
Cut the potatoes into uniform size. Soak them in water for 2-3 hours or overnight for best result
You don't have to do this if you don't want to but I highly recommend it because soaking the cut potatoes will get rid of excess starch that makes the fries soggy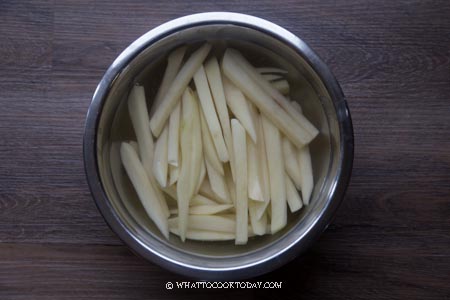 Drain off the water and pat the potatoes dry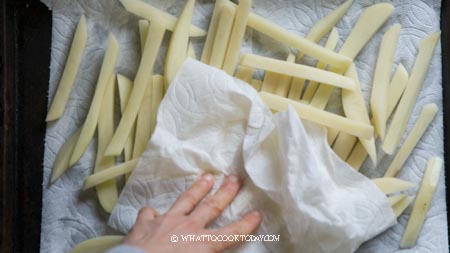 2. PREPARE THE BATTER (1 HOUR BEFORE YOU PLAN TO COOK)
Put 1 1/2 cups of the flour and a pinch of salt in a medium bowl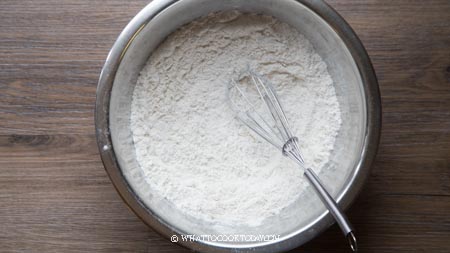 Whisk in the ale until smooth. For a lighter batter, use a handheld immersion blender to combine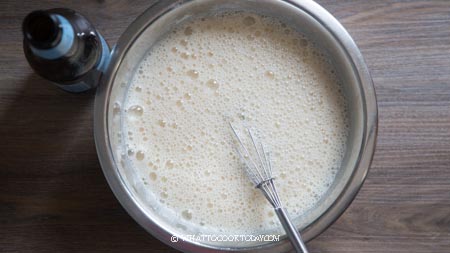 The batter should have the consistency of heavy cream; if it is too thin, whisk in a little more flour. Cover and refrigerate for at least 15 minutes to 1 hour max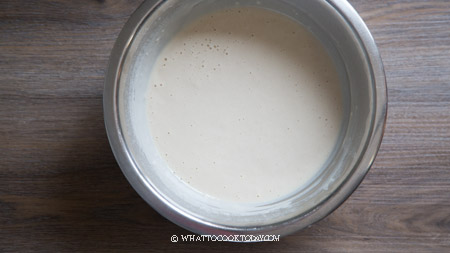 3. FIRST FRYING FOR THE CHIPS
Fill a deep-fryer or heavy-bottomed pot halfway with about 3 inches of oil. Heat it up to 320 F. Add your potatoes carefully, so as not to excite the oil, and cook for about 4-5 minutes; they shouldn't color and still looks pale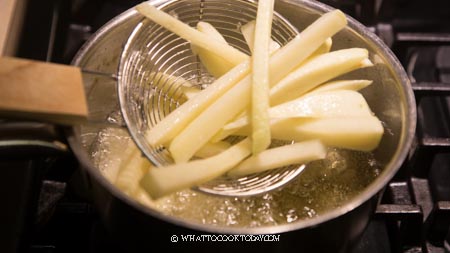 Transfer to a paper-towel-lined baking sheet and let them cool down for at least 10 minutes. You can prepared ahead up to this point and do second frying whenever you want to serve fish and chips. I did my first frying the day before and kept them in the fridge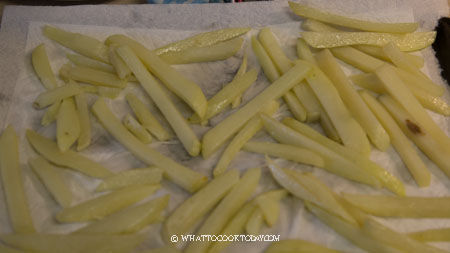 4. SECOND FRYING FOR THE CHIPS
Raise the oil temperature to 375 F. Put your potatoes in the oil and fry until golden brown, 2 to 3 minutes.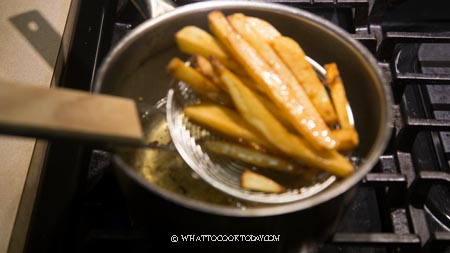 Drain on the paper towel-lined baking sheet and sprinkle with salt. Keep them warm on a rack in the oven using "keep warm" function or at 200 F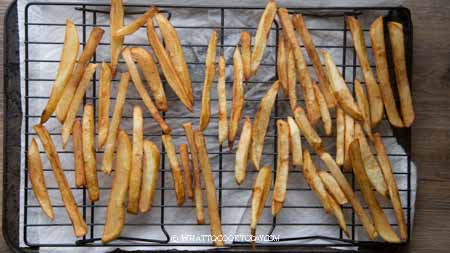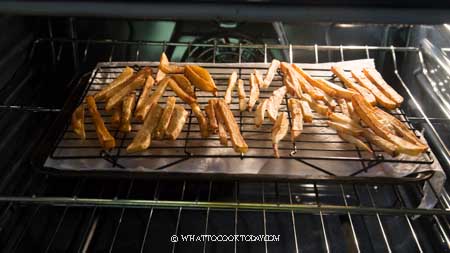 5. FRY THE FISH
Raise the oil temperature to 350 F. Put the remaining 1/2 cup flour in a baking dish. Pat the fish really dry with an absorbent paper towel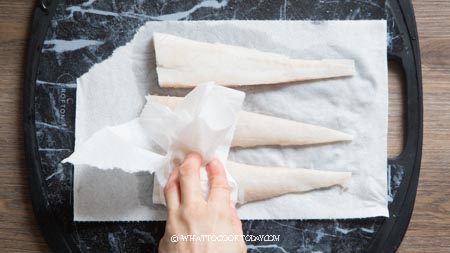 Season the fish generously with salt on both sides;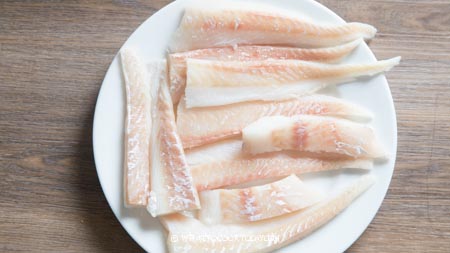 Dredge in the flour to make sure it coats the fish well, shaking off any excess. This is an important step as the flour helps to absorb excess moisture from the fish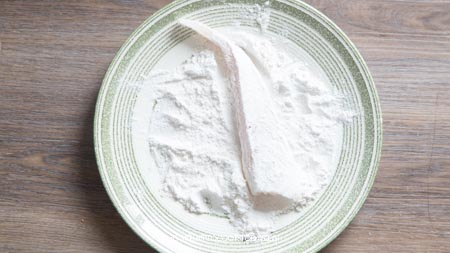 6. Give the batter a good stir before dipping the fish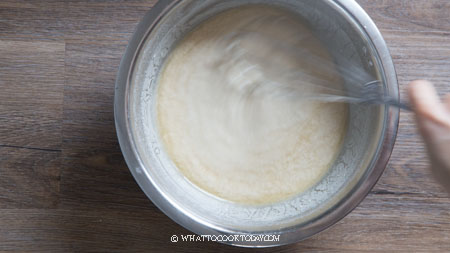 Dip the fish in the batter, shaking off any excess. Fry the fish, flipping once and adjusting the heat as necessary, until golden brown and cooked through, about, 3-4 minutes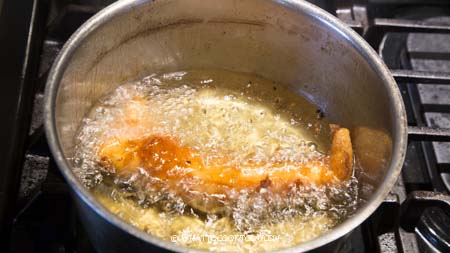 Use the "keep warm" function in your oven or heat oven to 200 F. Keep the chips and fried fish on a rack to keep them warm and crispy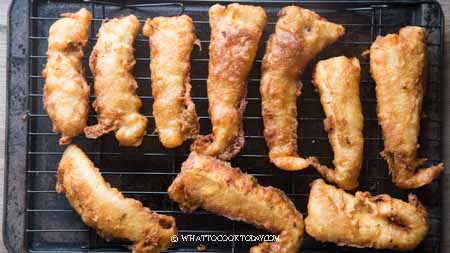 Be ready to be impressed when you take that first bite. The batter is ultra crispy and light!! I kept them out on the dining table for a few hours after we were done eating just to see if they were still crispy and they were.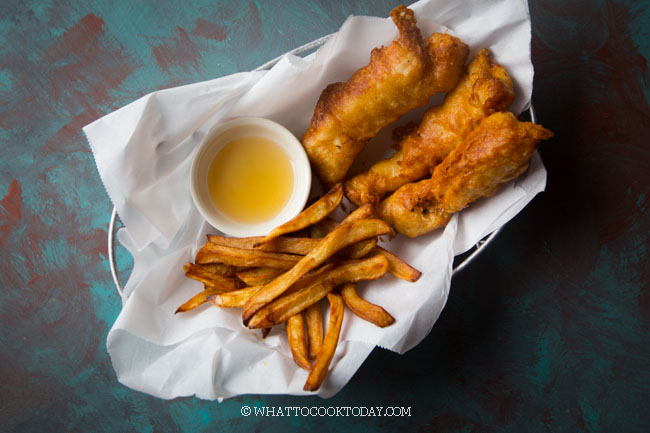 IMPORTANT TIPS
1. Make sure you pat the fish dry
2. Dredge the fish fillet in flour and make sure it coats the fillet nicely. The flour helps to absorb extra moisture from the fish
3. Make sure the beer is cold
4. Rest the batter for at least 15 minutes (preferably no longer than that) for maximum result.
5. I highly recommend having a deep-fryer thermometer to know the exact temperature for maximum result
6. Soaking the potatoes will get rid of excess starch. Cut the potatoes in uniform size as much as possible so they cook evenly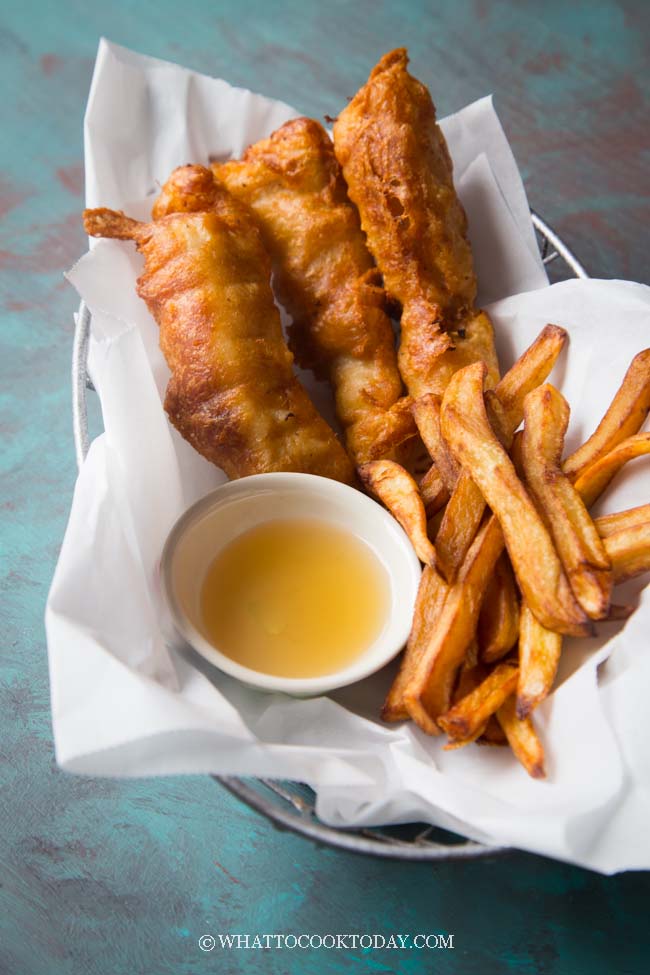 FOR FISH AND CHIPS WITHOUT BEER
If you prefer fish and chips without any beer in the batter, you can use my crispy batter that stays crispy recipe for it. Remember to still dredge the fish in a flour before dipping into the batter.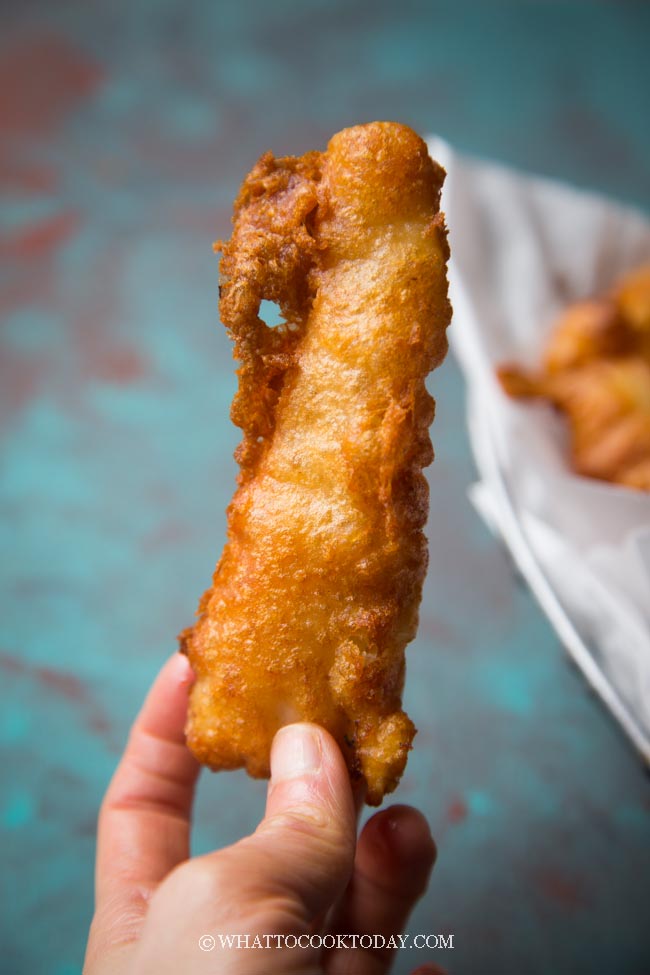 DID YOU MAKE THIS BEST BEER-BATTERED FISH AND CHIPS RECIPE?
I love it when you guys snap a photo and tag to show me what you've made 🙂 Simply tag me @WhatToCookToday #WhatToCookToday on Instagram and I'll be sure to stop by and take a peek for real!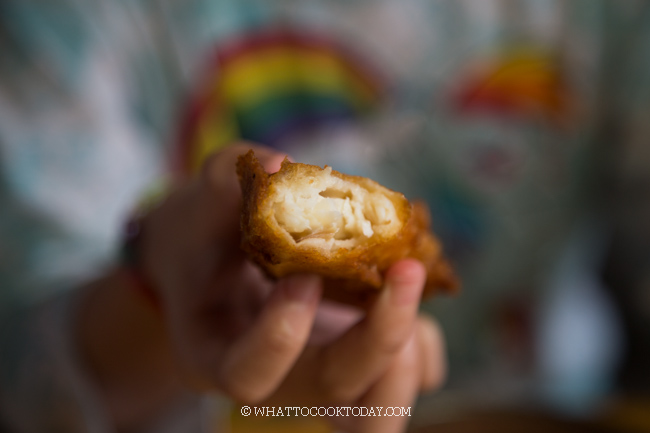 This recipe is from Bobby Flays' Throwdown cookbook with some modifications on my own. It was first posted back in 2012 and now updated with some new modifications, photos, and completed with a cooking video too.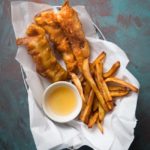 How To Make The Best Beer Battered Fish and Chips
Ingredients
Fish:
2

cups

all-purpose flour

, sifted, plus more as needed

1

bottle

brown ale

about 12 oz, cold

6

(6-oz) cod, haddock, halibut or cat fish fillet

skinless, cut into 4-5 inch strips about 1 1/2-inch wide and 1-inch thick

Kosher salt
For chips:
4

large Idaho potatoes

, peeled and sliced 1/2 inch thick
To cook:
Vegetable oil

, for deep-frying
Instructions
Prepare the batter (at least one hour before you plan to cook):
Put 1 1/2 cups of the flour and a pinch of salt in a medium bowl. Whisk in the ale until smooth. For a lighter batter, use a handheld immersion blender to combine. The batter should have the consistency of heavy cream; if it is too thin, whisk in a little more flour. Cover and refrigerate for at least 15 minutes to 1 hour max
First frying for the chips:
Fill a deep-fryer or heavy-bottomed pot halfway with about 3 inches of oil, and heat to 320 F. Add your potatoes carefully, so as not to excite the oil, and cook for about 4-5 minutes; they shouldn't color. Transfer to a paper-towel-lined baking sheet and let cool
Second frying for the chips:
Raise the oil temperature to 375 F. Put your potatoes in the oil and fry until golden brown, 2 to 3 minutes. Drain on paper towel-lined baking sheet and sprinkle with salt. Keep them warm on a rack in the oven
Frying the fish:
Raise the oil temperature to 350 F

Put the remaining 1/2 cup flour in a baking dish. Season the fish generously with salt on both sides; then dredge in the flour to make sure it coats the fish well, shaking off any excess. This is an important step as the flour helps to absorb excess moisture from the fish

Give the batter a stir and dip the fish in the batter, shaking off any excess. Fry the fish, flipping once and adjusting the heat as necessary, until golden brown and cooked through, about, 3-4 minutes
Keep them warm:
Use the "keep warm" function in your oven or heat oven to 200 F. Keep the chips and fried fish on a rack to keep them warm and crispy
Serving:
Serve with the chips and malt vinegar
Recommended products: