Indonesian shepherd's pie is a fusion of East and West flavors all in one dish. It is incredibly delicious and such great comfort food.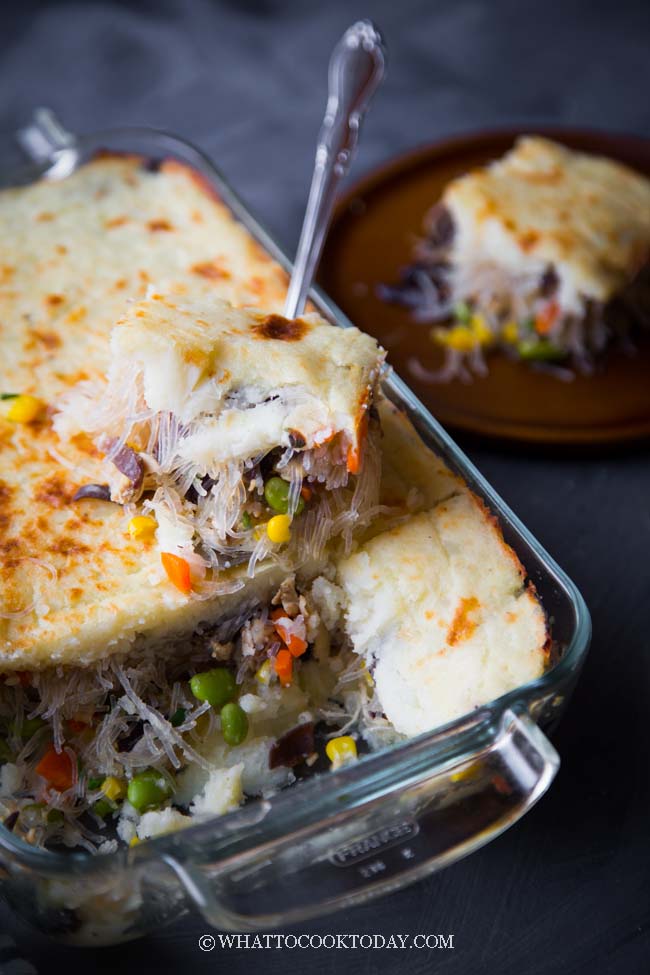 Pastel tutup is what they call this shepeherd's pie it in Indonesia. This dish is highly popular, especially among the Javanese community. This is quite different from the pastel ayam (Indonesian Empanadas). Pastel tutup has a stir-fried filling usually consists of ground meat, veggies, bean thread noodles (soun), wood ear mushrooms, seasonings, and spices, sandwiched in between layers of creamy mashed potatoes and then baked. Now you can see why it's a marriage between the East and the West. It bears a lot of similarities with Shepherd's Pie or Cottage Pie. The difference is in the filling, which has been adapted to more Asian flavor.
HOW TO MAKE PASTEL TUTUP
1. SOAK NOODLES AND WOOD-EAR MUSHROOMS
Soak the noodles and mushroom separately in warm water. The noodles will soften and the mushrooms will triple in size. Cut the mushrooms into strips and cut the noodles into shorter strands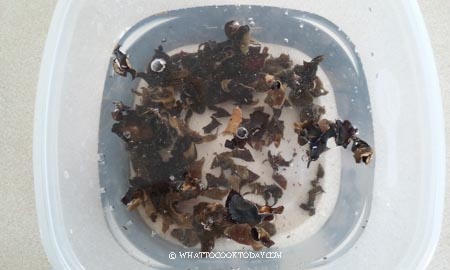 1. COOK POTATOES
If you boil: Peel the potatoes and cut into smaller pieces. Boil them in a saucepan with water enough to cover the potatoes for about 10 minutes or so or until they are fork-tender. Drain off water and return it to the pot to let it dry off the extra liquid
If you choose to pressure cook: pour 1 cup of water into the inner pot of Instant pot. Place a trivet and put the cut potatoes on top of it. Pressure cook on high pressure for 5 minutes. If you cut the potatoes smaller you may only need 3 minutes. The time depends on the size of the potatoes
2. MASH THE POTATOES
Mash the potatoes while they are still warm with butter, coconut milk, salt, pepper, and yolks until they are well-combined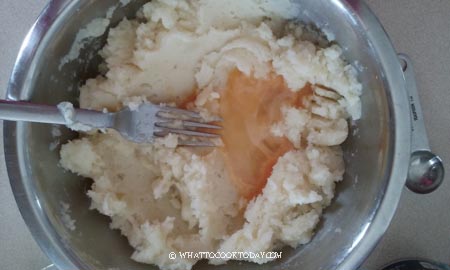 3. COOK THE FILLING
Preheat a skillet/wok. When it's hot. Add butter. It will melt


Add diced onion and stir fry until fragrant and soft, about 3 minutes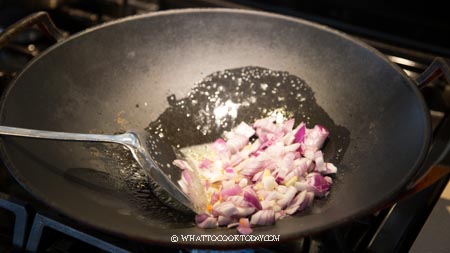 Add the ground meat (if using, I used leftover chicken meat which I added towards the end later) and stir fry until they turn color and cooked through, about 3 minutes or so
Sprinkle in the all-purpose flour, mushrooms, noodles, edamame, carrots, corn, seasonings and spices and broth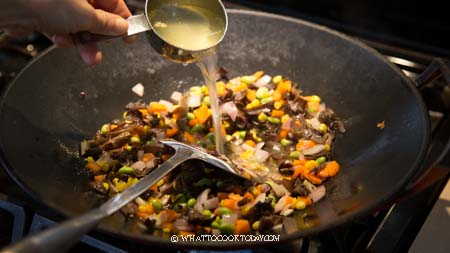 Bring to a gentle simmer and then cover to let it slowly simmer for about 10 minutes. Uncover and add cooked chicken meat (if using)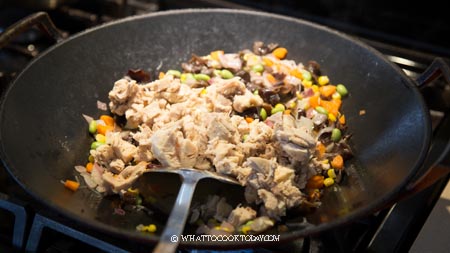 The sauce has thickened slightly. Have a taste and adjust by adding more salt if necessary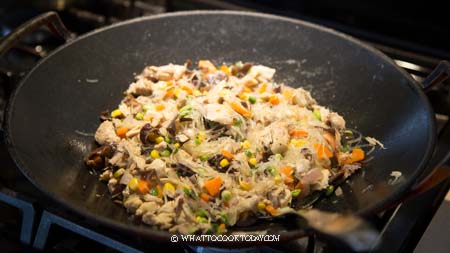 4. ASSEMBLING
Preheat oven to 400 F (204 C). Use a 7 x 11 inch glass baking dish. Spread half of the mashed potato mixture on the bottom of the dish


Spread the filling evenly on top of it after that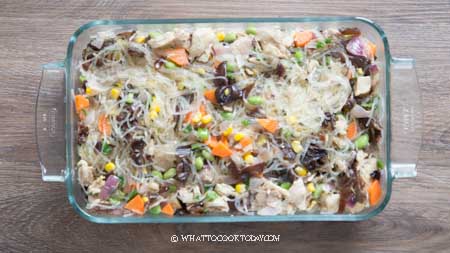 Cover the filling with the rest of the mashed potato mixture starting from the edge to prevent the filling from bubbling up while baking. Smooth it with a rubber spatula


5. BAKE
Place the dish in the oven, third rack from the top and bake for about 25 minutes until the top just lightly golden brown


If you want a deeper golden brown, you can turn on the broiler (top heat) and broil it for few minutes until you are happy with the color, but watch it closely or it may create burn spots later


6. SERVE
Remove from the oven and let it cools down for 15 minutes before serving

VARIATIONS
Veggies: you can use frozen mixed veggies for convenience. Make sure to thaw them and add them after you uncover the lid. You can pretty much use any vegetables and cut into small pieces, preferably ones that don't have high water content.
Meat: you can use any type of ground meat or leftover meat like shredded or diced chicken meat, ham, or turkey
Meatless: you can use cubed extra-firm tofu or tempeh that you have pan-fried if you choose to

HOW TO STORE AND REHEAT LEFTOVER
STORE: Cover them with cling wrap and it can be kept in the refrigerator for up to a week. For longer storage, portion them into serving portions and wrap them individually in aluminum foils and then keep in a freezer bag for up to 2 months.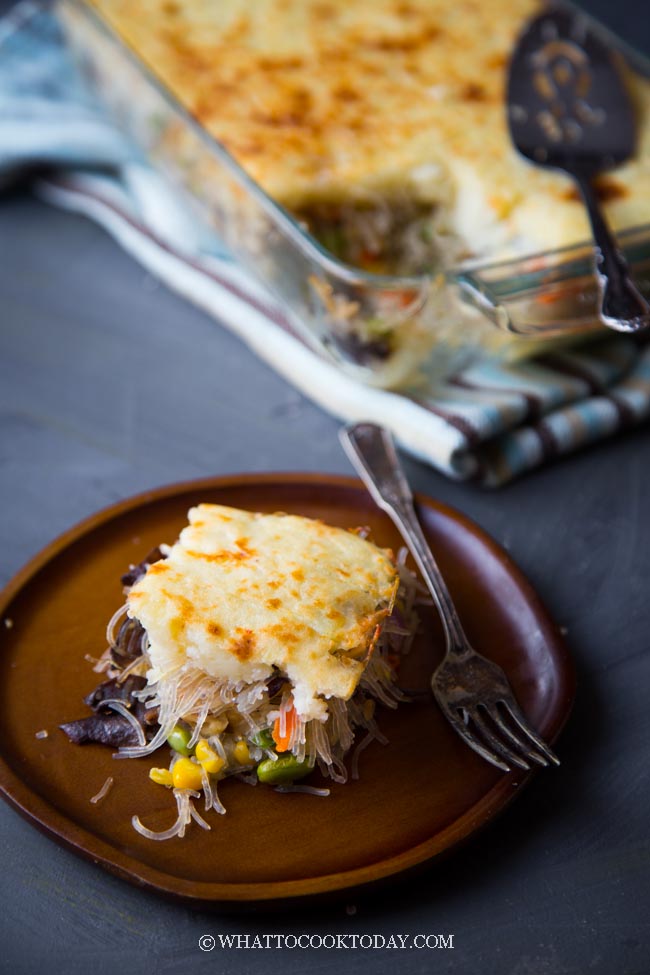 DID YOU MAKE THIS PASTEL TUTUP RECIPE?
I love it when you guys snap a photo and tag to show me what you've made 🙂 Simply tag me @WhatToCookToday #WhatToCookToday on Instagram and I'll be sure to stop by and take a peek for real!

Pastel Tutup (Indonesian Shepherd's Pie)
Ingredients
Filling:
80

gr

dried bean thread noodles

3 oz, soak in warm water

30

gr

wood ear mushrooms

1 oz, soak in warm water

3

Tbsp

butter

1

large

onion

diced

700

gr

ground meat (chicken, turkey, beef,)

I used about 350 gr leftover rotisserie chicken meat

2

Tbsp

all-purpose flour

1

cup

chicken broth

80

gr

diced carrots

3 oz

80

gr

peas or shelled edamame

3 oz
Instructions
Cook the potatoes (boil or pressure cook):
Peel the potatoes and cut into smaller pieces. Boil them in a saucepan with water enough to cover the potatoes for about 10 minutes or so or until they are fork-tender. Drain off water and. If you choose the pressure cook, pour 1 cup of water into the inner pot of Instant pot. Place a trivet and put the cut potatoes on top of it. Pressure cook on high pressure for 5 minutes. If you cut the potatoes smaller you may only need 3 minutes. The time depends on the size of the potatoes
Mash the potatoes:
Mash the potatoes while they are still warm with butter, coconut milk, salt, pepper, and yolks until they are well-combined
Prepare the filling:
Soak wood ear mushrooms and noodles separately in warm water until softened. The mushrooms wil double or triple in size. Cut into thin strips. Cut the noodles into shorter pieces, about 4-5 inches

Preheat a skillet/wok. When it's hot. Add butter. It will melt. Add diced onion and stir fry until fragrant and soft, about 3 minutes. Add the ground meat and stir fry until they turn color and cooked through, about 3 minutes or so. Sprinkle in the all-purpose flour, mushrooms, noodles, seasonings and spices and broth. Bring to a gentle simmer and then cover to let it slowly simmer for about 10 minutes. Stir in the mixed veggies and give it a stir. The sauce has thickened slightly. Have a taste and adjust by adding more salt if necessary
Assembling the pastel tutup:
Preheat oven to 400 F (204 C). Use a 7 x 11 inch glass baking dish. Spread half of the mashed potato mixture on the bottom of the dish. Spread the filling evenly on top of it after that. Cover the filling with the rest of the mashed potato mixture starting from the edge to prevent the filling from bubbling up while baking. Smooth it with a rubber spatula
Baking:
Place the dish in the oven, third rack from the top and bake for about 25 minutes until the top just lightly golden brown. If you want a deeper golden brown, you can turn on the broiler (top heat) and broil it for few minutes until you are happy with the color, but watch it closely or it may create burn spots later
Serving:
Remove from the oven and let it cools down for 15 minutes before serving