Delicious Jakarta (Betawi)-style spicy coconut chicken noodle soup you can easily put together and it is perfect for any day of the week.
Laksa dish is a popular spicy noodle dish in Southeast Asian food especially in Indonesia, Malaysia, Singapore, and Thailand. It is considered a Peranakan dish (a cross between the Chinese immigrants and the local natives). Each country has its own varieties. There are many different kinds of laksa throughout Southeast Asia. The one that I'm familiar with are: ASAM LAKSA MEDAN and SINGAPORE KATONG LAKSA. Though most laksa dishes have coconut milk in it, asam laksa Medan and Penang laksa don't.
Of course, there are still many other kinds that I haven't tried. Even in Indonesia alone there are like laksa Bogor, laksa (Laksan) Palembang, laksa Banjar, laksa Tangerang that I haven't had a chance to try.
LAKSA BETAWI IS MUCH EASIER TO PREPARE
Laksa Betawi is originated in Batavia (the old days Jakarta). Most laksa dishes have a similarity where it uses something with strong umami flavor like dried shrimp, shrimp paste, or fish to add that extra boost of flavor. Laksa Betawi uses dried shrimp (ebi/hebi) for that extra boost. I considered laksa ayam Betawi as the easiest laksa to prepare compared to asam laksa and Singapore katong laksa. Don't be fooled by what seems like a long list of ingredients in the recipe card, but they are pretty straight forward to prepare.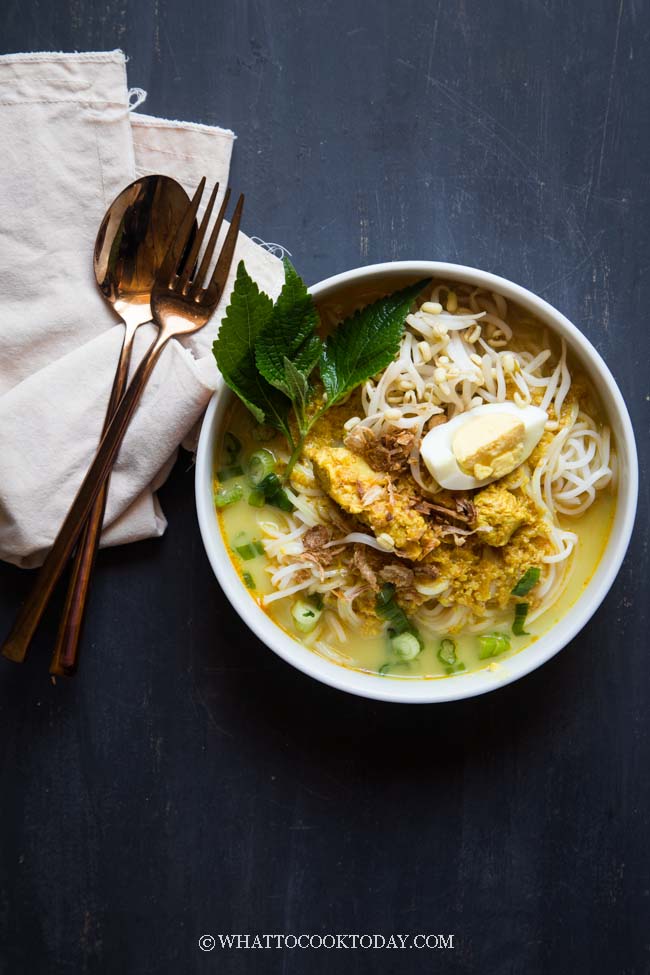 HOW TO MAKE LAKSA AYAM BETAWI
1. Preheat a large heavy-bottom pot. Add cooking oil (if you haven't added it when you grind the ingredients). Add the ground ingredients and stir fry until they smell really good, about 3 minutes or so


2. Add the chicken pieces followed by turmeric, coriander, galangal powder, and seasonings. Stir to mix everything and cook until the chicken just turn opaque


3. Add chicken broth, lemongrass, kaffir lime leaves, and bay leaves. Bring to a boil and then lower the heat to simmer until the chicken pieces are cooked through, about 15-20 minutes


4. Then stir in the coconut milk. Have a taste and adjust the seasonings to your taste


5. Portion the cooked noodles into an individual serving bowl. Portion out some chicken pieces. and beansprouts. Ladle the hot soup over. Add hard-boiled pieces, chopped green onions, bawang goreng, and fresh mint and/or basil leaves. Serve immediately when it's warm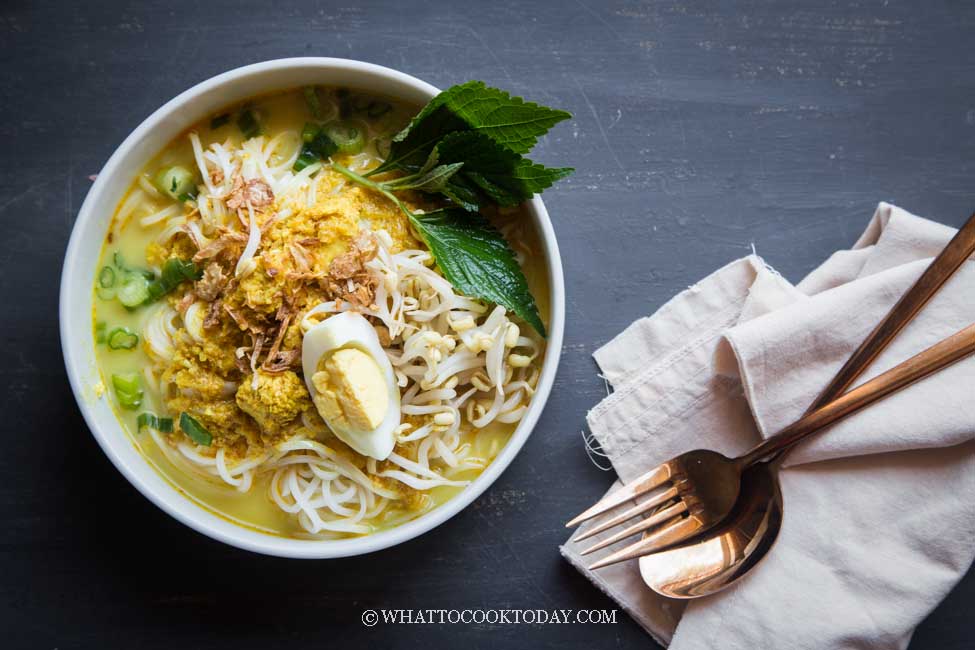 This is especially perfect for when the weather is still cold or during transitional weather like Spring or Fall. In Indonesia though, where the weather is warm most of the time, we don't really eat based on the season. We will eat this laksa noodle soup even if it's 100 F out there 🙂

DID YOU MAKE THIS LAKSA AYAM BETAWI RECIPE?
I love it when you guys snap a photo and tag to show me what you've made 🙂 Simply tag me @WhatToCookToday #WhatToCookToday on Instagram and I'll be sure to stop by and take a peek for real!

Laksa Ayam Betawi (Jakarta Coconut Chicken Soup)
Ingredients
Ingredients to grind:
30

gr

dried shrimp

soak in warm water until soft

4

cloves

garlic

1

large

onion

1

inch

fresh ginger

1

Tbsp

sambal oelek or more if you want it spicier. You can also use this chili paste
Choice of noodles: (choose one)
Serve with:
200

gr

mungbean sprouts (tauge)

blanched in hot water

2

hard-boiled eggs

cut into quarters

Emping crackers

Limes
Garnishes:
1

stalk

green onion

finely chopped

Fresh mints and/or basil leaves
Instructions
Place all ingredients to grind in a food processor and process into a paste. Add the cooking oil to help it going

Preheat a large heavy-bottom pot. Add cooking oil (if you haven't added it when you grind the ingredients above). Add the ground ingredients and stir fry until they smell really good, about 3 minutes or so

Add the chicken pieces followed by turmeric, coriander, galangal powder, and seasonings. Stir to mix everything and cook until the chicken just turn opaque and add chicken broth, lemongrass, kaffir lime leaves, and bay leaves. Bring to a boil and then lower the heat to simmer until the chicken pieces are cooked through, about 15-20 minutes. Then stir in the coconut milk. Have a taste and adjust the seasonings to your taste
Serving:
Portion the cooked noodles into individual serving bowl. Portion out some chicken pieces. and beansprouts. Ladle the hot soup over

Add hard-boiled pieces, chopped green onions, bawang goreng, and fresh mint and/or basil leaves. Squeeze some lime juice over if you like. Serve immediately when it's warm with some emping crackers if you have some
Recommended products: