Learn how to make this one of the world's must-try popular foods in Southeast Asia. Asam laksa has an amazingly complex flavor of sour, spicy, sweet, umami all in one.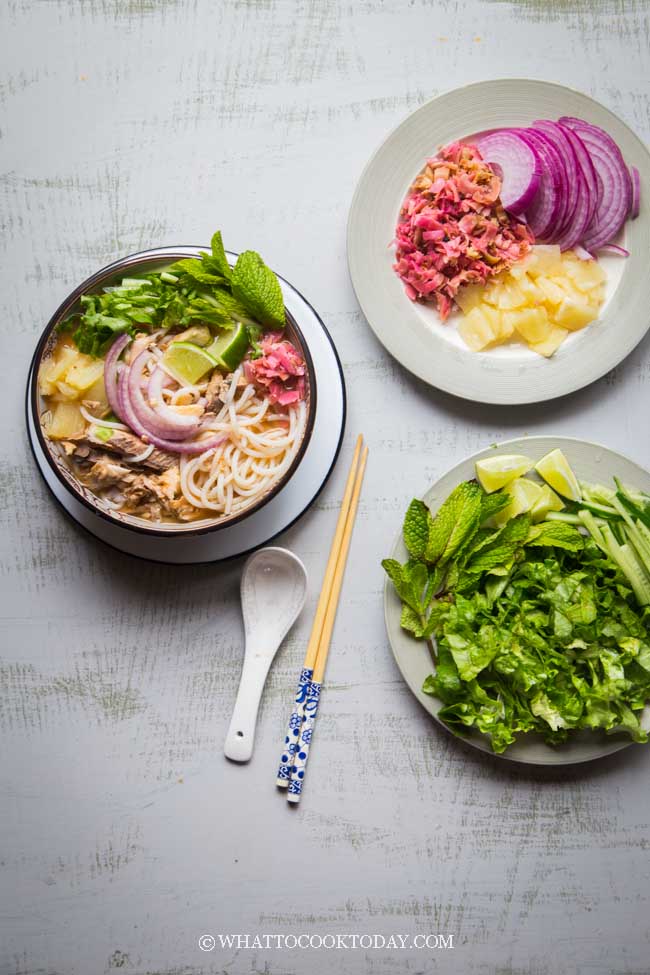 FAVORITE CHILDHOOD FOOD
My dad loved to bring us to Penang for culinary tour when we were kids. Penang is very close to my hometown, Medan and the Hokkien dialect that we speak is very similar too. I love all the yummy food Penang has to offer and not to mention at a very reasonable price. It's ridiculous to even say that food in Medan is getting more darn expensive compared to Penang. Penang Char Kway Teow and this Asam Laksa are must-have food for me when we went to Penang.
We have Asam Laksa Medan too. I believe it's an influence from Penang asam laksa. If I go back to my hometown, Medan for a visit, this asam laksa is one of the food on my to-eat list 🙂 There is this one very famous shop that sells this asam laksa and I've been eating it since I was a little girl.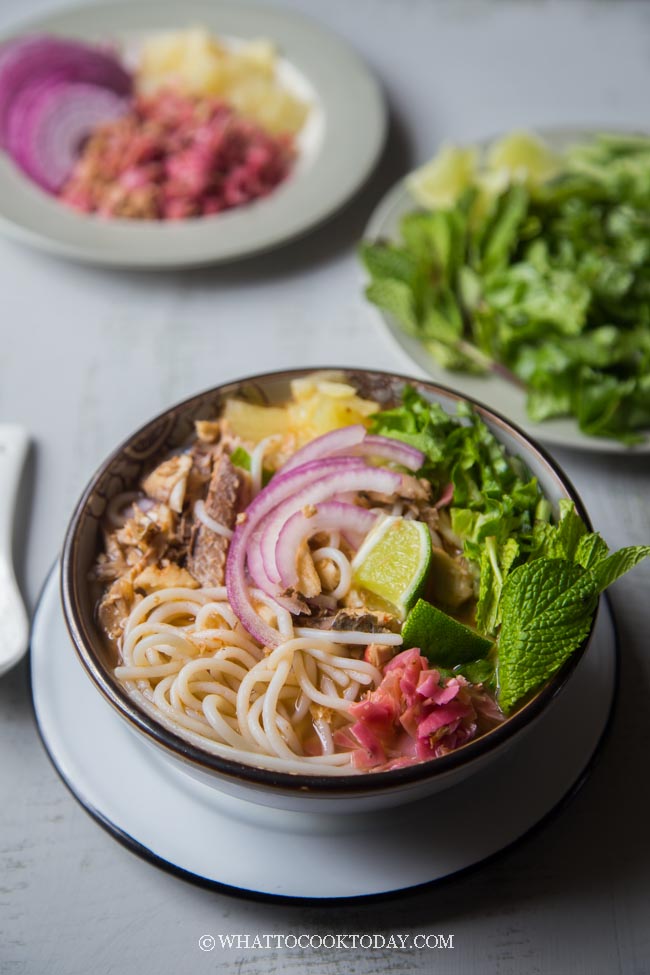 NYONYA ASAM LAKSA
Laksa is of Peranakan origin. There are so many different kinds of laksa. In the past, I've made Singapore Katong Laksa and also Laksa Ayam Betawi. The laksa collection is not complete without asam laksa. There are also many varieties of asam laksa in Malaysia alone. The one I'm familiar with is this Penang asam laksa. Asam laksa is a sweet and sour fish-based soup. Asam in Bahasa/Malay word means tamarind, which is commonly used to give this stock its sour flavor. Asam Gelugur/ Asam Keping (dried Tamarind Peel) is also added for extra tartness. Asam laksa has a very complex flavor of sweet, sour, spicy, and umami. Its distinct lemony umami-ish aroma comes from bunga kantan (torch ginger), the fish-based stock, shrimp paste, and a mixture of herbs like lemongrass. Asam laksa is usually served with thick round rice noodles, but thin rice noodles or a combination of both can be used too.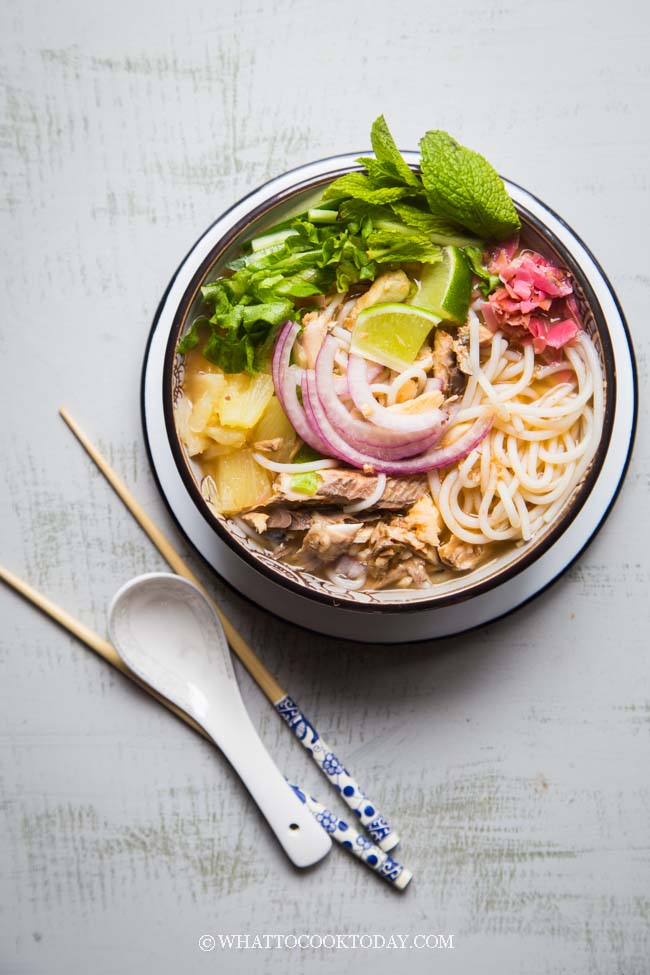 SPECIAL INGREDIENTS AND SUBSTITUTION
I won't list all the ingredients used to make asam laksa, but just to highlight a few special ones and their substitution if any available.
1. MACKEREL
Usually ikan kembung (mackerel) is used to make asam laksa. If you can get fresh ones, great! I could only get frozen ones, which worked out great too. If you can't find any at all, I've used canned sardines in tomato sauce in the past too. It's not an ideal situation, but it works too.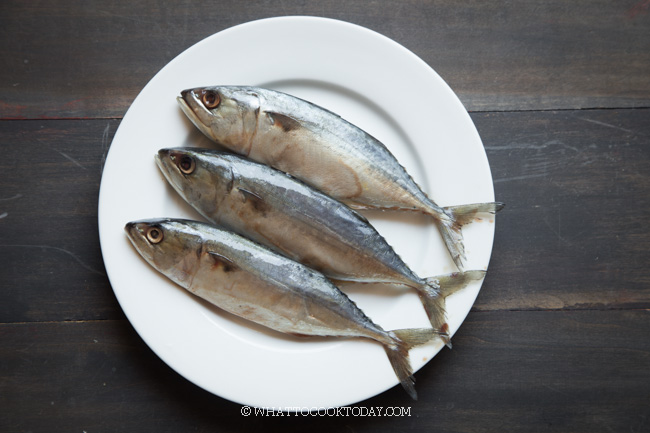 2. BUNGA KANTAN (TORCH GINGER BUD)
My mom says asam laksa is not the same without bunga kantan. It lends its very distinct flavor to the overall dish. My mom got me some dried version and a friend sent me frozen bunga kantan all the way from NY a while ago 🙂 I was lucky. Unfortunately, there's no substitution for this. It has a very unique flavor that nothing I know is similar to it. You can simply omit if you can't find any.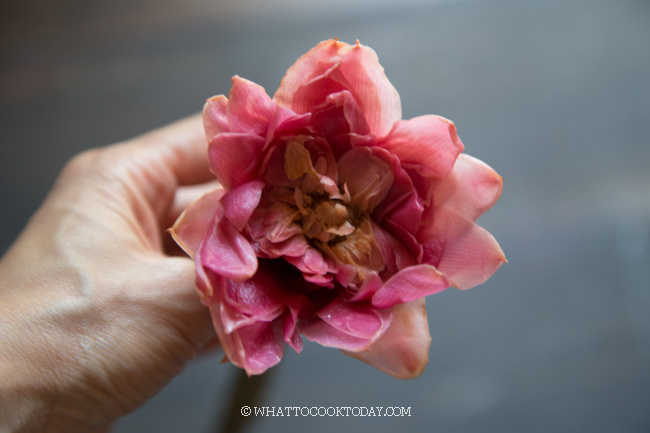 3. ASAM KEPING/ASAM GELUGUR (DRIED TAMARIND)
Asam keping/gelugur is made of kokum, a fruit of mangosteen family. It is known for its sourness. The fruit is dried and used in many cooking in Southeast Asia to lend its sourness to a dish. If you don't have any, just add more tamarind paste and also some extra lime juice for extra tartness.


4. HAE KO (PETIS UDANG)
Hae ko has a strong pungent (umami) aroma because it is made with fermented shrimp paste but it is also sweet, thick, and has a texture of molasses. I have no luck finding petis udang here. In Medan, our asam laksa is not usually served with hae ko too.
5. SHRIMP PASTE (BELACAN/TERASI)
This is different from hae ko I mentioned above. Though both are sometimes called shrimp paste. This shrimp paste is salty and extremely pungent known as belacan in Malaysia and terasi in Indonesia. They are usually in dried block form. Toast it before using it to bring out its aroma further. You can simply substitute with Thai or Vietnamese "wet" shrimp paste, which is what I usually use because I can't find belacan/terasi here.
6. RICE NOODLE
Fresh or dried thick rice noodle is usually used for asam laksa. I used the Vietnamese dried bun bo hue noodle, it is thick and round in size, very similar to the one used for asam laksa. You can also use Japanese udon or Vietnamese banh canh trong.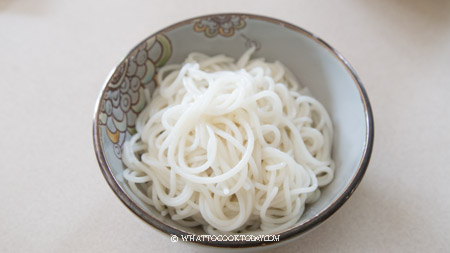 HOW TO MAKE PENANG ASAM LAKSA
1. PREPARE GROUND SPICES
Ground all the spices and herbs. Add a bit of water to help it going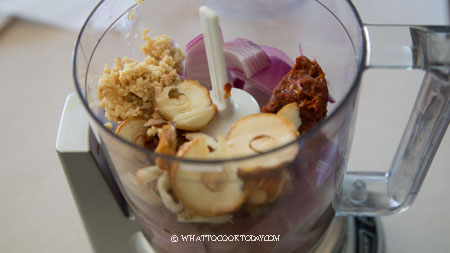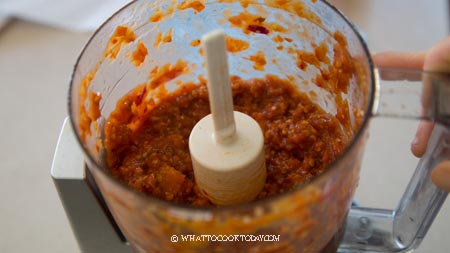 2. PREPARE SOUP BASE
Bring 10 cups of water to boil and boil the mackerel fish for 10 minutes.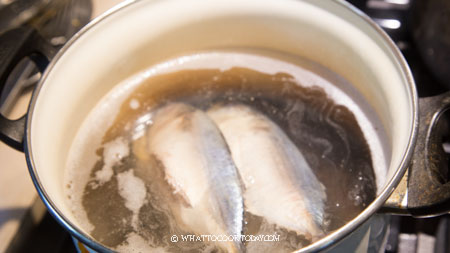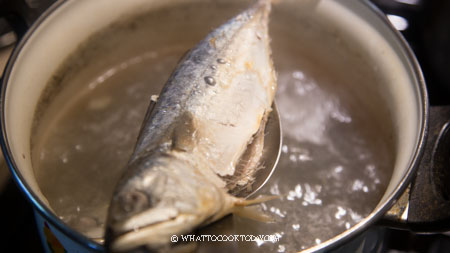 Once cool enough to handle, flake the fish meat and set aside, save the bones and head. If you are using canned mackerel, they are already cooked and you can skip this step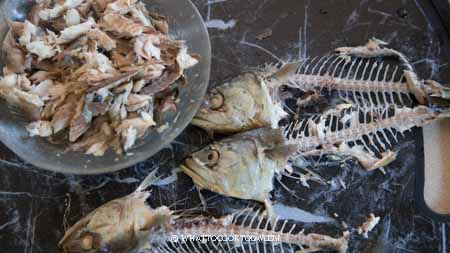 Add the ground spices and herbs, fish bones, and the rest of the ingredients for soup base.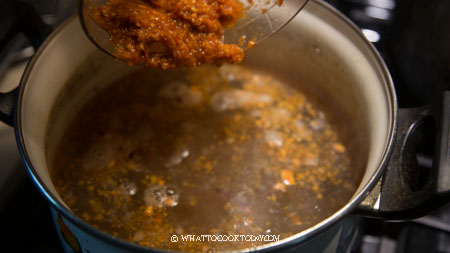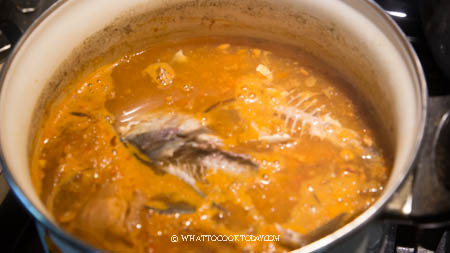 Bring it to a boil and then lower the heat, cover the pot with a lid and let it simmer for 30 minutes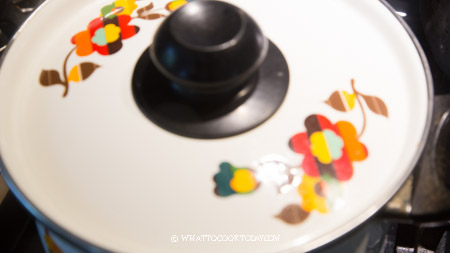 Turn off the heat and then strain the stock and discard all the solids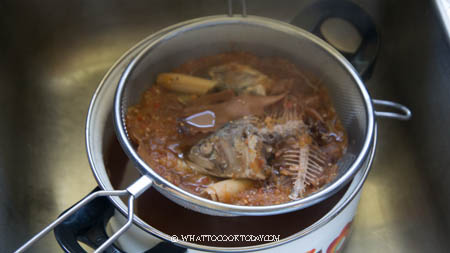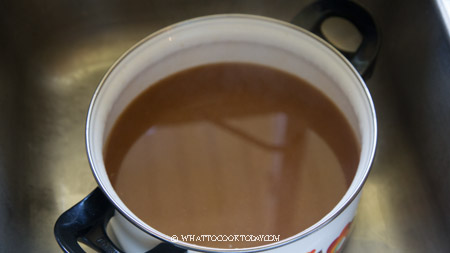 Stir the flaked fish back into the soup or canned sardines if using that. Season the soup base with seasonings and adjust to your taste. The soup should be sour, sweet, lightly spicy, and with just hint of savory. Add more sugar as needed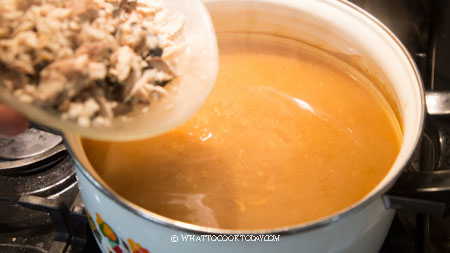 3. SERVE
Portion the cooked noodles, flaked fish into an individual serving bowl. Ladle the hot soup generously over the noodles.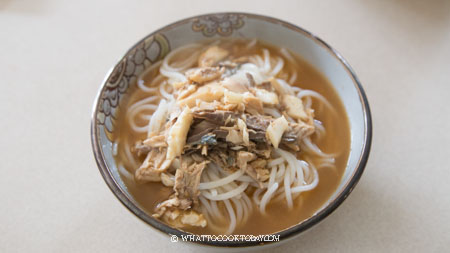 Top with sliced cucumber, sliced onion, pineapple chunks, mint leaves, shredded lettuce, finely chopped ginger flower. Squeeze some lime juice over. Serve with hae ko diluted with some water on the side (I didn't use this because we don't usually serve it with hae ko where I grew up)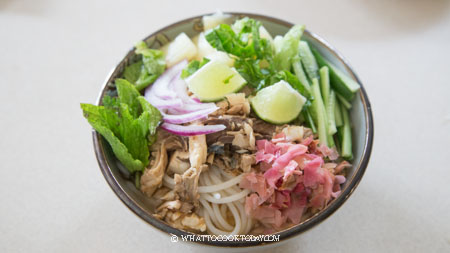 The list of ingredients may seem long, but it's actually not as bad as it seems. If you use canned sardines, it's even easier.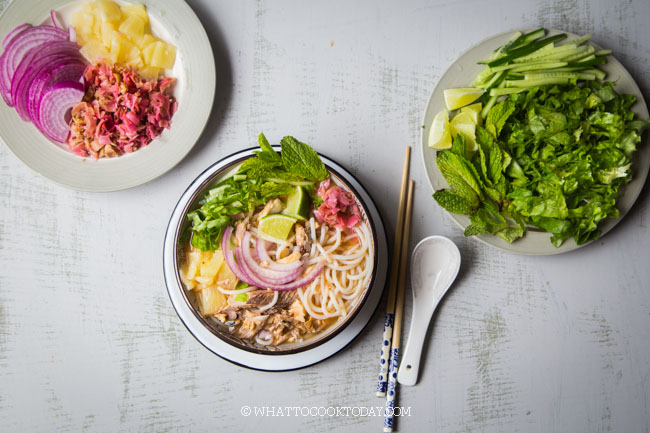 My husband said that asam laksa was like an explosion of taste. It sure keeps your taste buds busy with all the sensations! So complex, yet clean and distinct aroma. It's so hard to explain that you have to try it yourself. I have to warn you though, asam laksa is not for the faint of heart 🙂 Perhaps if this is your first time trying Asian food, asam laksa is not a good one to start ha.ha…!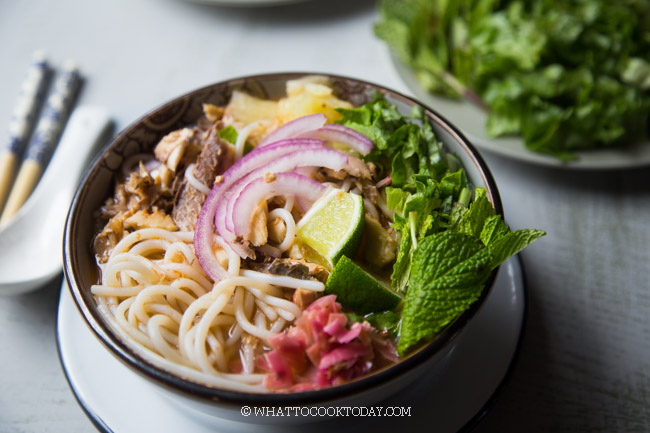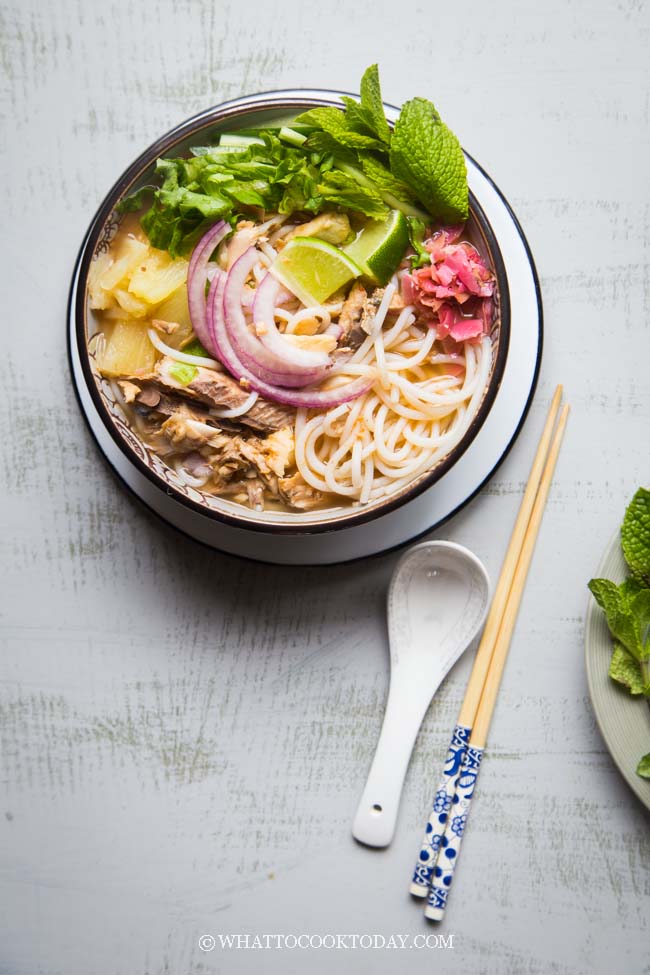 DID YOU MAKE THIS PENANG ASAM LAKSA RECIPE?
I love it when you guys snap a photo and tag to show me what you've made 🙂 Simply tag me @WhatToCookToday #WhatToCookToday on Instagram and I'll be sure to stop by and take a peek for real!

This post was originally published in 2016 and the recipe and photos have been improved in June 2020.
Penang Asam/Assam Laksa (Sour and Spicy Fish Noodle Soup)
Ingredients
500

gr

mackerel fish

gutted, or you can use canned sardines in tomato sauce

500

gr

thick rice noodles

cook according to instruction on the package
Soup base:
10

cups

water

3

stalks

lemongrass

cut into half and bruise with heavy object

5

pieces

asam gelugur / dried tamarind peel

50

gr

tamarind paste

1

Tbsp

shrimp paste

3

pieces

dried bunga kencong if you use fresh

you only need 1 fresh flower
Seasonings:
5

Tbsp

sugar

or more to taste

Salt to taste
Spices and herbs to grind into paste:
100

gr

red chilies

fresh or dried (soak in warm water if using dried chilies)

150

gr

shallots

or use purple onion

25

gr

garlic

25

gr

galangal

skinned
Serve with (the amount is just a guide, you can use more as you wish):
50

gr

hae ko

(petis udang) + 1 Tbsp hot water

1

large

cucumber

julienned

1

large

purple onion

thinly sliced

1

bunch

fresh mint leaves

1

ginger flower

finely chopped

100

gr

pineapple chunks

1

head

lettuce

shredded

1

lime

quartered
Instructions
Prepare the ground spices and herbs:
Ground all the spices and herbs. Add a bit of water to help it going
Prepare the soup base:
Bring 10 cups of water to boil and boil the mackerel fish for 10 minutes. Once cool enough to handle, flake the fish meat and set aside, save the bones and head. If you are using canned mackerel, they are already cooked and you can skip this step

Add the ground spices and herbs, fish bones, and the rest of the ingredients for soup base. Bring it to a boil and then lower the heat, cover the pot with a lid and let it simmer for 30 minutes. Turn off the heat and then strain the stock and discard all the solids

Stir the flaked fish back into the soup. Season the soup base with seasonings and adjust to your taste. The soup should be sour, sweet, lightly spicy, and with just hint of savory. Add more sugar as needed
Serving:
Portion the cooked noodles, flaked fish into individual serving bowl. Ladle the hot soup generously over the noodles. Top with sliced cucumber, sliced onion, pineapple chunks, mint leaves, shredded lettuce, finely chopped ginger flower. Squeeze some lime juice over. Serve with hae ko diluted with some water on the side (I didn't use this because we don't usually serve it with hae ko where I grew up)
Recommended products:
OTHER LAKSA RECIPES YOU MAY LIKE