If you like a soft fluffy milk buns/bread/dinner rolls without having to prepare tangzhong and do all the kneading, this recipe does it. It yields a very soft texture and it's incredibly easy to put together. 

There are days when I just want to make easy yet soft and fluffy buns or bread without much fuss. I do have a stand mixer to help me knead the dough, but you know, I can be lazy to even mess with that sometimes LOL! I really like this no-knead milk buns/bread recipe because of how easy it is. Most no-knead bread/buns recipe requires long hours of resting or even overnight, but not this. You still need about 2 hours total from beginning to the end, but I think it's a reasonable amount of time considering we don't knead, no tangzhong, and it's yeasted.
IF YOU KNOW HOW TO STIR, YOU CAN DO THIS RECIPE!
I love soft milk buns or bread, seriously, who doesn't? I've always used my soft and fluffy Hokkaido milk bread recipe for lots of my Asian bread/buns recipe. It does require a bit of work. Now that I have been introduced to this no-knead no-tangzhong softest milk buns by my mom, I can pretty much have soft and fluffy milk buns without much work anytime I want. Like I said, if you know how to stir, you can survive this recipe and impressed everyone thinking that you have just been slaving half of the day in the kitchen 😉
A NO-KNEAD BREAD/BUNS YOU "KNEAD" (NEED) IN YOUR LIFE 🙂
1. It's super easy
I can't stress enough how easy this recipe really is. You just need to stir the dough and proof it twice like you would making bread or buns (except for steamed buns) and bake you go!
2. No tangzhong
Tangzhong method is known to produce one of the softest fluffiest bread/buns. It's not hard to prepare tangzhong, but it's an additional step and I know sometimes, we just don't feel like doing it!
3. No kneading
Yes, this is probably a lot of relief for those of you who do not have a stand mixer or hand mixer to knead the dough. No elbow grease is needed, well, only for stirring the dough, but I think we can handle that
4. No resting overnight
You don't need to rest the dough for 8-12 hours or longer with this recipe either.
5. You can use butter or oil
If you are concerned about using butter in the recipe, you can use cooking oil of your choice instead.
6. Soft and fluffy buns/bread
And it is really soft and fluffy! My family was blown away!

HOW IN THE WORLD THE BUNS ARE SOFT AND FLUFFY THEN?
I know right? how in the world? It's like it's too good to be true.
1. HYDRATION
The extra liquid in the dough makes it moist and hence soft and fluffy when you bake it. Yes, that also means a sticky dough compared to "normal" dough. But know that, this slight stickiness makes for very light and fluffy buns and not greasy
2. LESS HANDLING
The less you handle the dough, the softer it's going to be. Don't be obsessed trying to shape it all perfectly round. It doesn't matter, once you put them in the pan and they rise, they'll take up space and even out.
I hope those are enough reasons to get going and try this recipe for real!
HOW TO MAKE NO-KNEAD NO-TANGZHONG SOFTEST MILK BUNS/BREAD
1. PREPARE THE DOUGH
Mix all the dry ingredients in a large mixing bowl and stir to combine


In another mixing bowl, whisk eggs with milk, and oil (if using oil instead of butter) until combined


Pour the wet ingredients into the dry ingredients. Add softened butter (if using butter instead of oil)


Use a rubber spatula (don't use your hands) to stir to mix until you get a mass of dough s


Dough is sticky to touch than usual dough. You are on a right track, don't panic


2. FIRST PROOFING
Cover and let the dough rise in a warm place


After 1st proofing, about 1 hour at a warm place, it has doubled in size


3. SHAPING
After first proofing, dip your oiled finger into the dough, if the indentation stays, the dough is ready


Spray your work surface with non-stick cooking spray or put a bit of oil and smear it on your work surface. Alternatively, you can dust with a bit of flour too. Scoop the dough out


Punch the air out and give it a knead few times and shape the dough into a dough ball and put a bit of oil on your palms too to help you work through stickiness and to roughly shape into a large round ball


Use a dough cutter to cut into 12 pieces or 9 pieces if you want larger rolls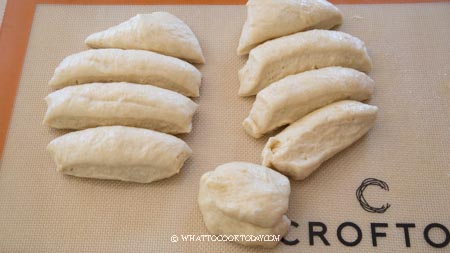 Work with one dough at a time. Gently flatten the dough and then pull and tuck the dough to form a dough ball


Place them on a prepared pan, seam side down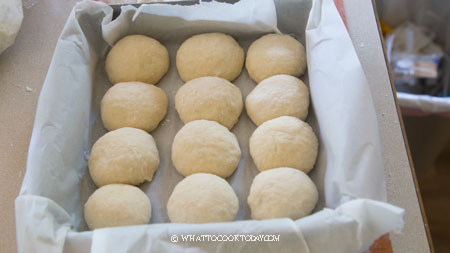 4. SECOND PROOFING
Cover and let them proof again


This has double in size again in about 30 minutes or so at a warm place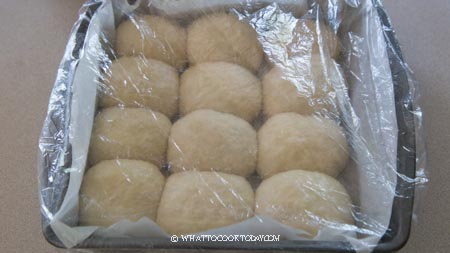 5. BAKING
10 minutes before the end of second proofing, preheat your oven to 375 F. Brush the proofed buns with egg wash and then sprinkle with white sesame seeds if you like or you can leave them plain


Place this on the 3rd rack from the top (or middle of the oven) and bake for the next 15-18 minutes or until the top is just lightly golden brown. Remove from the oven and let them cool on the pan for 5 minutes and then transfer to a cooling rack to let them cool down completely

And, now of course the fun part is to tear the buns and put it inside my mouth ha.ha…! Well, I made my husband did it and torturing him not to eat it until the photo session was over 🙂

HOW TO STORE AND REHEAT MILK BREAD/BUNS
STORING AT ROOM TEMPERATURE: Let the buns cool down completely. Wrap them up with an aluminum foil or put them in a zipper bag. If it's not humid where you are, they can be kept at room temperature for 3-5 days. If it's humid, it's better to keep them no more than 3 days at room temperature
STORING IN THE FREEZER: For longer storage, after they cool down completely, wrap them up tightly in a cling wrap, then place in a freezer bag and they can be kept frozen for up to 1 month max.
REHEATING: You can thaw them overnight in the fridge or reheat straight from the freezer. Loosely wrap them up in an aluminum foil and reheat in a preheated oven/toaster oven at 300 F for 10 minutes or until heated through
FREQUENTLY ASKED QUESTIONS
1. CAN I MAKE BREAD LOAF WITH THIS?
Yes, this will fit into 8 1/2″ x 4 1/2″ loaf pan perfectly. Bake at 350 F for 30-35 minutes or until the top is golden brown and bread sounds hollow when you tap the bottom
2. CAN I SUBSTITUTE WITH BREAD FLOUR?
You certainly can. In fact, if you use bread flour, you dough may rise "taller" because of a stronger gluten network produced by bread flour (higher gluten content).
3. CAN I SUBSTITUTE WITH WHOLE WHEAT FLOUR?
Yes and No. I mean, you don't want to completely use all whole wheat flour, but you can swap about 1/2 of the amount of white flour with whole wheat flour and add 1 Tbsp of more liquid. This flour combination will produce a nuttier buns/bread because of the whole wheat flour. The result is still acceptable, but don't expect it to be super fluffy and soft compared to using only all-purpose flour.
4. CAN I USE FLOUR TO SHAPE THE DOUGH ?
You can use non-stick cooking spray or manage with a bit of flour. The dough isn't as sticky as it used to be (compared to  when I first posted this recipe) so you shouldn't need that much flour to shape the dough
5. CAN I LEAVE THE SUGAR OUT?
I won't recommend no sugar at all in the recipe if possible. Here is the amount of sugar I've tested (keep in mind that we don't have a very sweet tooth, to begin with):
1. 1 Tbsp of sugar: the family complained it's too bland
2. 2 Tbsp of sugar: the same complaint
3. 4 Tbsp of sugar: just the right amount of sweetness I think. But you should follow your taste preference
6. CAN I LEAVE THE SALT OUT?
I hope you don't leave everything out LOL!, but yes you certainly can. A small amount of salt really brings out the overall flavor, but if you must leave it out, then I guess you don't mind a more bland taste
7. WILL THE BUNS STAY SOFT COMPARED TO TANGZHONG MILK BUNS?
Tangzhong milk buns stays soft for days at room temperature. This version doesn't. It is the softest when it's still warm. Once they cool down, they won't be as soft and fluffy as when they just came out from the oven, but it's not like they turn hard-rock either. They are still very reasonably soft considering how easy it is to make

I used the same recipe to make it into larger hamburger buns and they are delicious too. I dusted with a bit of all-purpose flour on top of the buns before baking. Just for aesthetic reason, you don't have to do this and brush with egg wash before baking or some butter when they come out from the oven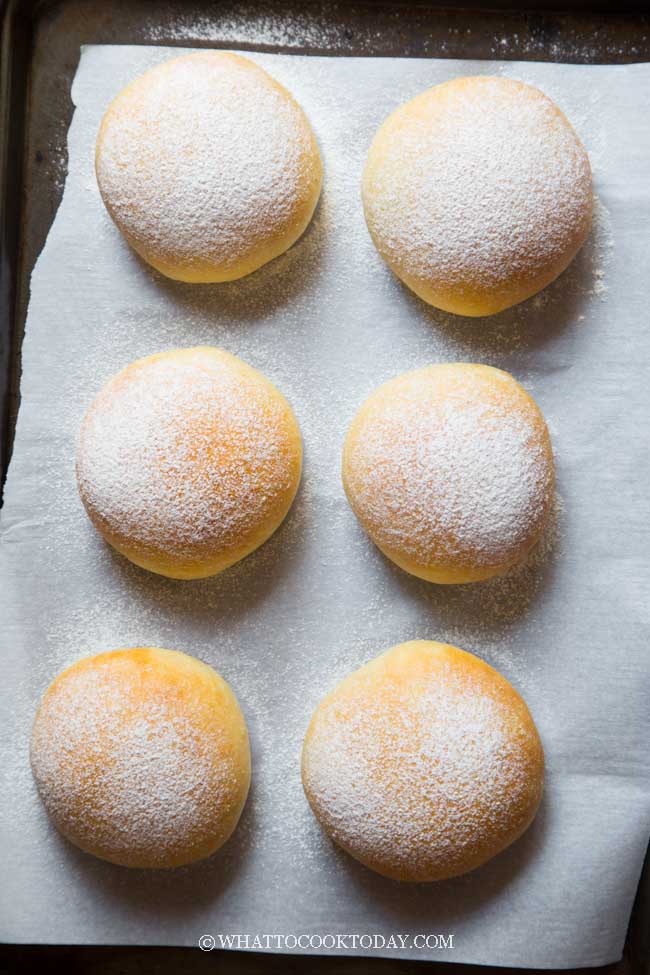 DID YOU MAKE THIS NO-KNEAD NO-TANGZHONG MILK BUNS/BREAD RECIPE?
I love it when you guys snap a photo and tag to show me what you've made 🙂 Simply tag me @WhatToCookToday #WhatToCookToday on Instagram and I'll be sure to stop by and take a peek for real!


Recipe has been improved and updated to reduce the stickiness of the dough so it's much much easier to work with now and still yield soft buns or rolls*
Easiest No-Knead No-Tangzhong Softest Milk Buns/Bread/Dinner Rolls
Ingredients
Wet ingredients:
170

ml

milk

11 Tbsp+ 1 tsp , low fat (dairy or non-dairy)

1

large

egg

about 55 grams (2 oz) with shell

50

gr

softened butter

about 3 1/2 Tbsp (or use 40 gr or 3 Tbsp of cooking oil)
If using egg wash:
1

large

egg

beaten

1

tsp

milk
For topping (optional):
If using all-purpose flour for dusting on top:
If using butter to brush on top:
Instructions
Prepare the dough:
Mix all the dry ingredients in a large mixing bowl and stir to combine

In another mixing bowl, whisk eggs with milk, and oil (if using oil instead of butter) until combined

Pour the wet ingredients into the dry ingredients, add softened butter (if using butter instead of oil) and use a rubber spatula (don't use your hands) to stir to mix until you get a mass of dough that is sticky to touch than usual dough. You are on the right track, don't panic
First Proofing:
Spray the side of the bowl with non-stick cooking spray or you can use a bit of oil to smear the side of the bowl. Cover and let the dough rise in a warm place for about 1 hour or until it doubles in size. It may take up to 2 hours too if the temperature is cooler. I use my oven "bread proof" function. If you don't have this option, turn the light bulb inside your oven and place the dough in there. The light bulb helps to warm the oven up in a controlled environment, or you can turn on your oven to the lowest temperature and then turn it off and open the door a little bit and wait for 15 minutes or so until it's warm and not hot before proofing the dough in there. We don't want to kill the yeast
Shaping:
Line a 9 x 9 inch pan with a parchment paper. Alternatively, you can grease the pan with some oil

After first proofing, the dough should double in size, if not, let it proof a bit longer. Spray working surface and a bit on your palms with a non-stick spray or drizzle just a bit of oil on your work surface and a bit on your palms. Use a rubber spatula to scoop the dough out on the working surface.

Punch the air out and give it a knead few times and shape the dough into a dough ball and put a bit of oil on your palms too to help you work through stickiness and to roughly shape into a large round ball

The dough should be easy to work with now. Give it a knead a few times and then cut into 9 or 12 equal size doughs. Keep them covered

Work with one dough at a time. Gently flatten the dough and then pull and tuck the dough to form a dough ball. They don't have to be perfect really. The less you handle the dough, the softer it's going to be. Don't be obsessed trying to shape it all perfectly round. It doesn't matter, once you put them in the pan and they rise, they'll take up space and even out

Place this inside a pan, seam side down. Continue with the rest of the dough
Second proofing:
Cover and let them proof again until doubles in size, about 30-40 minutes or longer
Baking:
If you plan to use egg wash, whisk the egg with milk for egg wash

10 minutes before the end of second proofing, preheat your oven to 375 F. Brush the proofed buns with egg wash and then sprinkle with white sesame seeds if you like OR you can lightly dust the top with some all-purpose flour using a sieve for a more snow-like effect OR just leave them plain and brush with melted butter on top after baking later

Place this on the 3rd rack from the top (or middle of the oven) and bake for the next 15-18 minutes max or until the top are just light golden brown. The first few round I baked them for almost 20-25 minutes and they make the buns a bit drier. Remove from the oven and brush them with some melted butter on top if you leave them plain earlier

Let them cool on the pan for 5 minutes and then transfer to a cooling rack to let them cool down completely
Storing:
Let the buns cool down completely. Wrap them up with an aluminum foil or put them in a zipper bag. If it's not humid where you are, they can be kept at room temperature for 3-5 days

For longer storage, after they cool down completely, wrap them up tightly in a cling wrap, then place in a freezer bag and they can be kept frozen for up to 1 month max
Reheating:
You can thaw them overnight in the fridge or reheat straight from the freezer. Loosely wrap them up in an aluminum foil and reheat in a preheated oven at 300 F for 10 minutes or until heated through
Notes
You can use active dry yeast, but make sure to rehydrate the yeast in water or milk with 1 tsp of sugar. It will dissolve and be all foamy, about 10 minutes. If it's not, your yeast is no longer good. You can add the rest of the sugar into the dough later
You can also use fresh yeast, the amount would be 4 x the amount of instant yeast. So you'll need 24 grams of fresh yeast
I highly recommend testing the yeast for activity before starting to work on this recipe. You don't want to wait for hours only to find out your yeast is no longer good. Here's how:Add 1 teaspoon of sugar and 2 1/4 teaspoons of yeast (one envelope) to 1/4 cup of warm water. Wait for 10 minutes and if you see foams and bubbles and you smell that yeast aroma, your yeast is still good to go. If not, then you need to get fresh yeast.
If using measuring cup: Make sure you spoon the flour into the measuring cups and then level with a knife. The measurement is based on unsifted all-purpose flour. 1 cup of unsifted all-purpose flour is 140 grams
Recommended products: