This popular Penang street food is undeniably good and you can make this char kway teow at your very own kitchen with this easy to follow step-by-step photo instructions.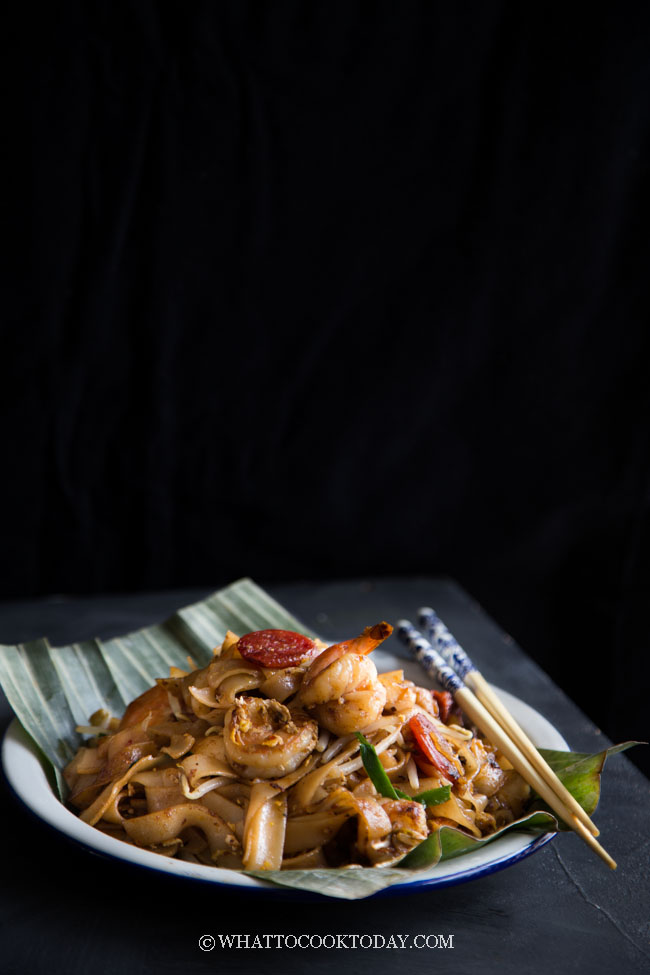 Char kway teow is a big deal in Southeast Asia. It is a super popular hawker food/street food in Indonesia, Malaysia, and Singapore. In Indonesia, we call this Kwetiau Goreng. Some kwetiau goreng are made plain without any protein and some are made similar to this version. It's similar to the Chinese Beef Chow Fun, or the Thai Pad See Ew.
It's hard to find anybody that will tell you they don't like char kway teow. I can easily down two plates of char kway teow if calories do not count LOL!
Penang is known for its char kway teow, which is very similar to our Medan-style. Char kway teow is always on everyone's to-eat-list when he/she visits Penang. I mean..how can you say no to that?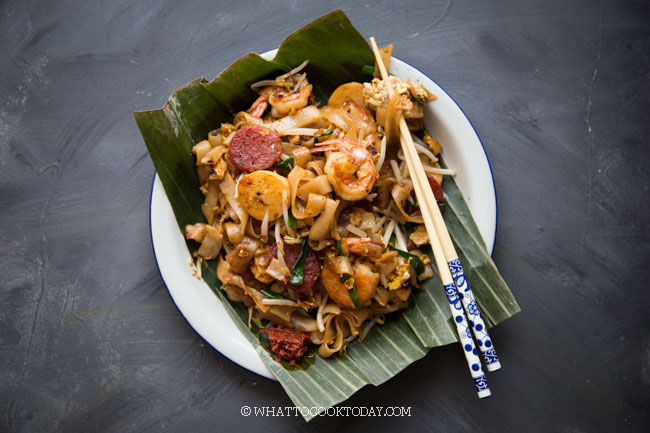 Let's take a look at what we need to make a basic Penang char kway teow
INGREDIENTS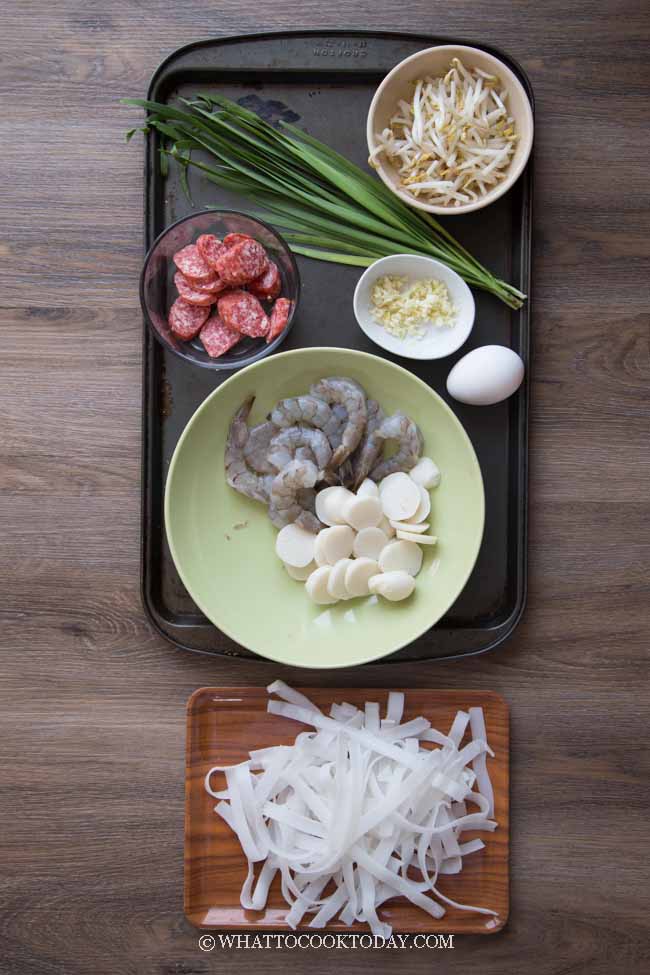 1. FLAT RICE NOODLES
I like the "wet" version compared to dry. The texture is somehow different, but this is just my personal preference. This is usually available at the refrigerated section


2. CHINESE SAUSAGE
Chinese sausage has a sweet tone to it and some are made a bit spicy too. You can omit if you can find any
3. LARGE SHRIMP
Use uncooked shrimp and do not use a precooked shrimp or cocktail shrimp, they will not taste good in char kway teow
4. FISH BALLS
I use store-bought fish balls. You can also use fried fish cakes
5. BLOOD COCKLES
I didn't use blood cockles in this recipe because I'm allergic to blood cockles. But many people love to have blood cockles in their char kway teow
6. EGGS
If you can get raw duck eggs, that's awesome. Otherwise, you can use chicken eggs
7. MUNGBEAN SPROUTS
Definitely use fresh mungbean sprouts here. Do not use pickled version
8. GARLIC CHIVES
The Chinese garlic chives usually have flat leaves. The round leaves are onion chives
9. DARK SOY SAUCE
Dark soy sauce is used mainly to add dark brown color to the dish. They are usually not as salty compared to the regular soy sauce. The consistency is thicker too. In Indonesia, we would use kecap manis instead, which is sweeter compared to regular dark soy sauce
10. SOY SAUCE
This is the regular soy sauce that is salty in taste. Some calls it light soy sauce, because it's lighter in color and less viscous compared to dark soy sauce
11. OYSTER SAUCE
Oyster sauce is added for additional umami flavor
12. SAMBAL OELEK
Usually a chili paste or chili boh is used to add spicyness. For convenience, I just use store-bought sambal oelek because I always have it around
13. GARLIC
Used fresh minced garlic. Try not to use garlic powder, trust me, not in char kway teow!
HOW TO MAKE PENANG CHAR KWAY TEOW
It is important to have everything ready within your reach when you get ready to cook. The whole process of cooking is a quick one.
1. PREPARE THE SEASONING
Mix all ingredients for seasonings in a bowl and stir to mix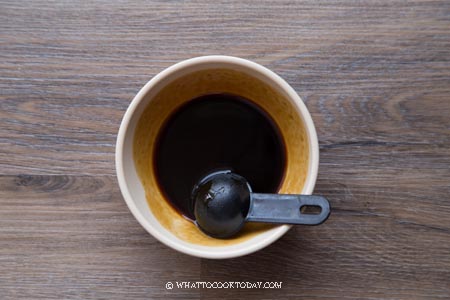 2. PREHEAT WOK OVER VERY HIGH HEAT
It needs to be stonking hot. When you see smoke started to rise. Add cooking oil or lard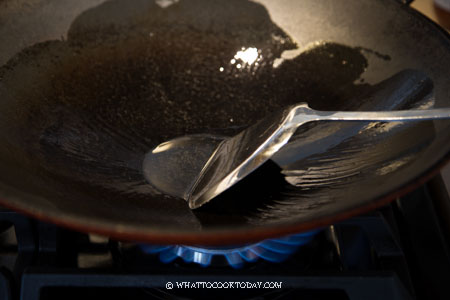 3. COOKING
Add garlic and quickly stir fry for about 10 seconds or the garlic might get burn
Add slices of Chinese sausage, fish cake, and shrimp, stir fry until the shrimp just turn pink and not fully cooked yet. Push them to the side of the wok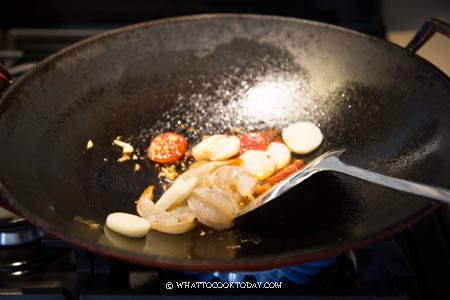 In the video, I actually cracked in eggs here before adding the noodles. You can do that too. Either way is fine. In this step-by-step instruction I add rice noodles followed by seasonings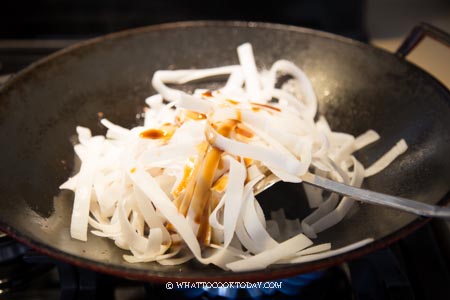 Continue to stir fry to make sure sauce is coating the noodles and the noodles get some "charred" on some spots, about 1 minute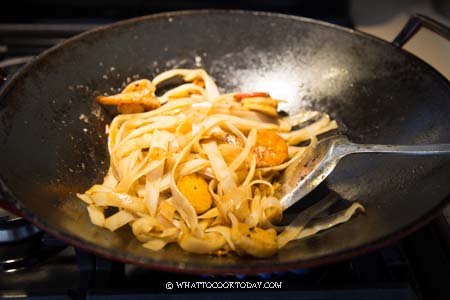 Crack in two eggs and let them cook undisturbed for about 20 seconds. If you use blood cockles, add them here in this step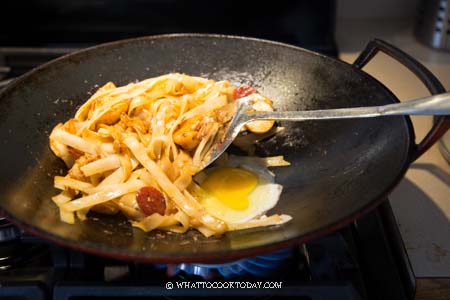 Then break the yolk and mix it with the noodles and everything else in the wok. Quickly have a taste and add more soy sauce if needed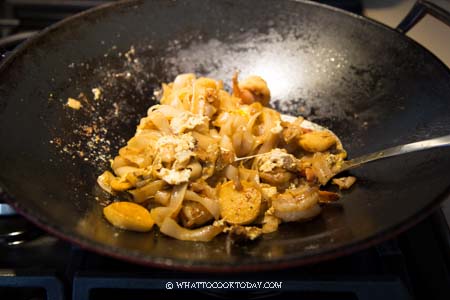 Turn off the heat and add beansprouts and garlic chives


Stir to mix everything. The residual heat will continue to soften the chives and the beansprouts are still crunchy but do not taste raw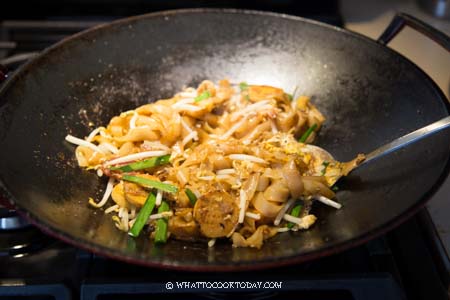 4. SERVE IMMEDIATELY
Dish out from the wok and portion it out onto a plate lined with banana leaves (optional) and top with some fried lard pieces if you want. Serve immediately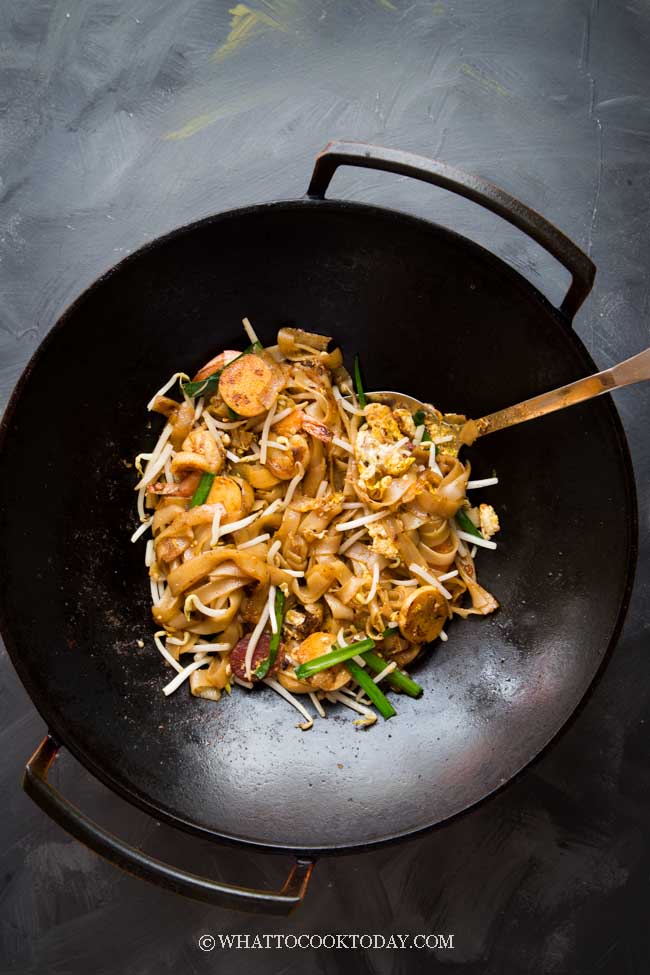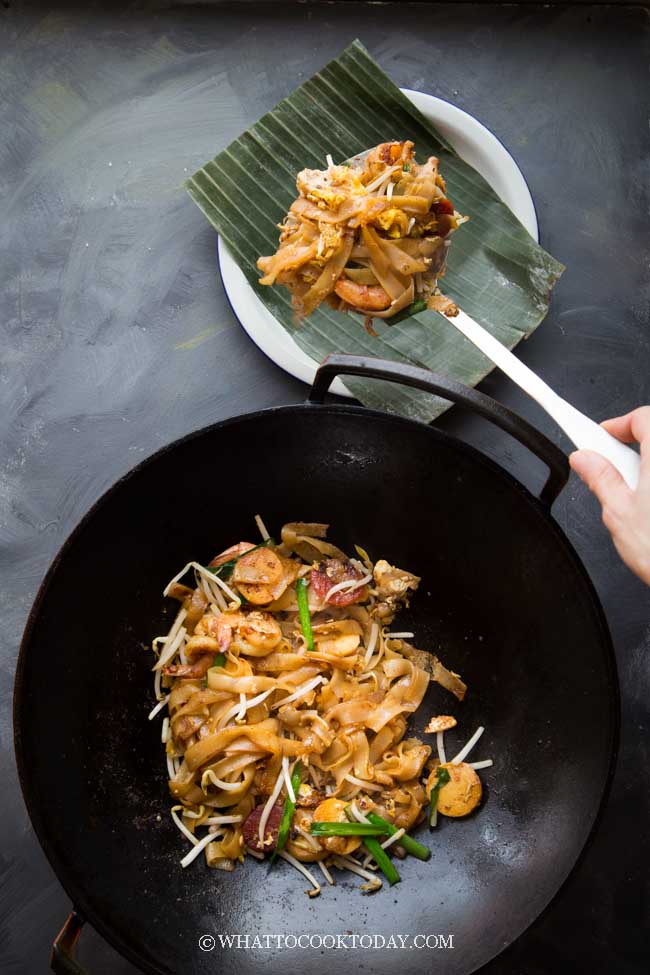 Now you can see what I mean by "quick". Boom.boom..boom..done! The actual cooking itself takes probably about 7 minutes or less. So it is important to have everything ready within rich before you start cooking.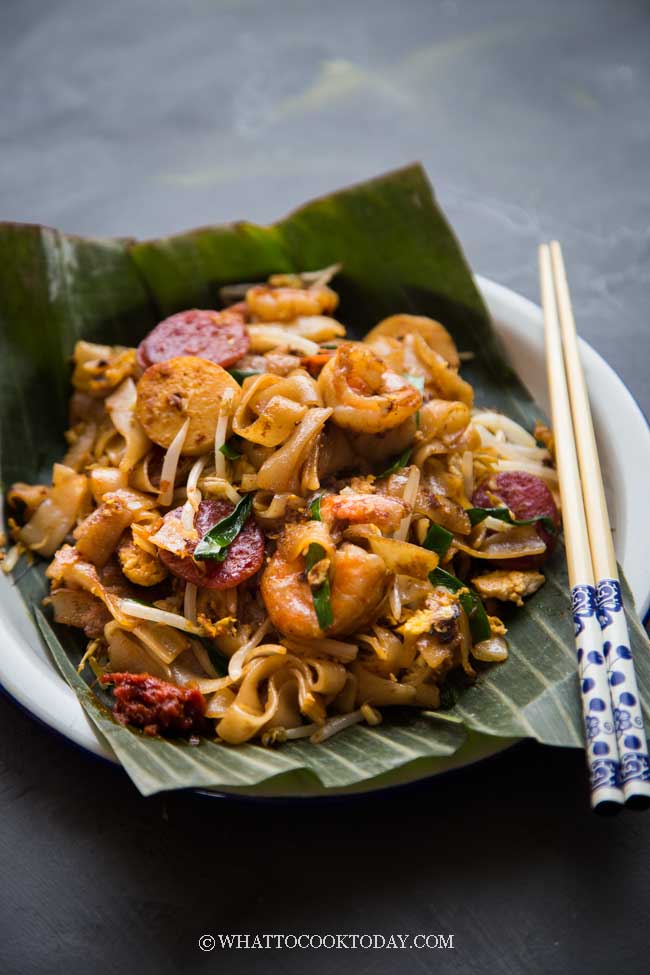 IMPORTANT TIPS
1. Use fresh /fresh refrigerated rice noodles if possible
2. Only cook no more than 2 servings at a time
If you try to cook more than that, the taste and flavor will be as nice and your wok will not be hot enough to give you that slightly "charred" look
3. Make sure the wok is really hot before you start cooking
3. Have everything ready within reach before you start cooking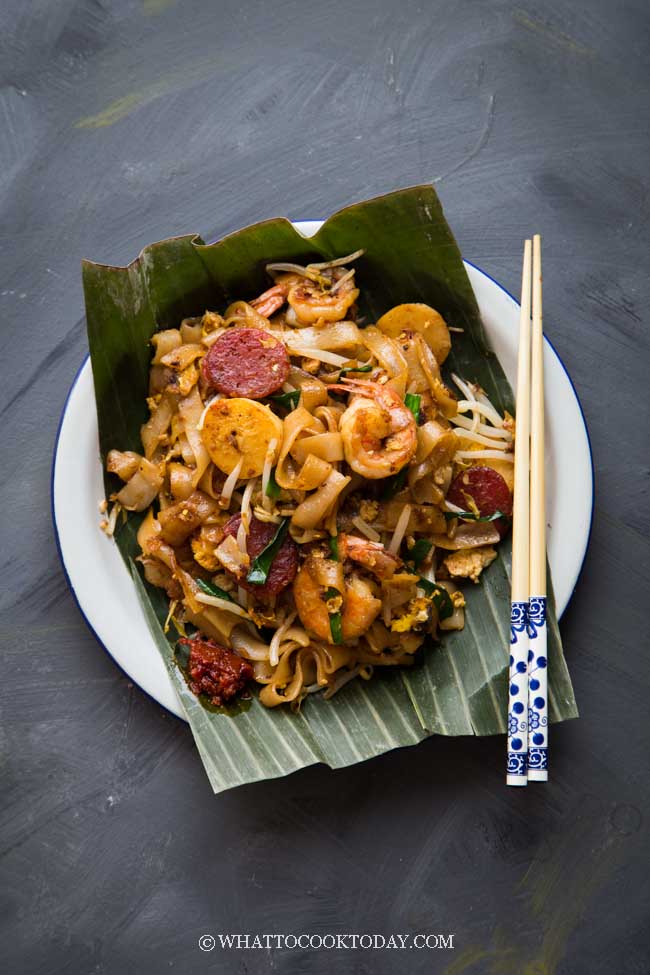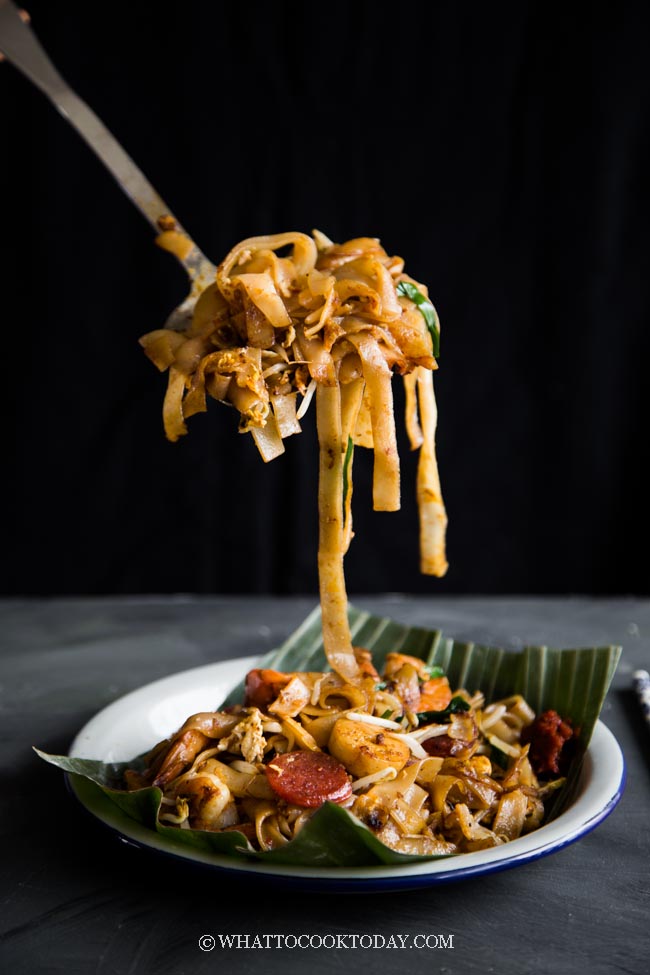 DID YOU MAKE THIS PENANG CHAR KWAY TEOW RECIPE?
I love it when you guys snap a photo and tag to show me what you've made 🙂 Simply tag me @WhatToCookToday #WhatToCookToday on Instagram and I'll be sure to stop by and take a peek for real!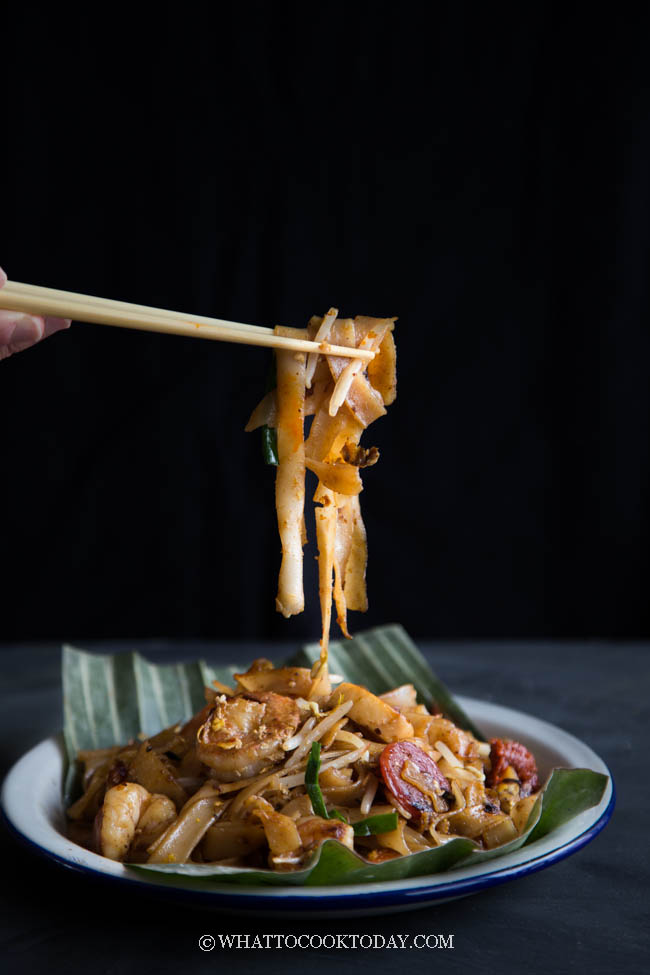 Penang Char Kway Teow (Stir-fried Flat Rice Noodles)
Ingredients
300

gr

Flat rice noodles

about 1 lb, fresh or refrigerated. See notes

3

Tbsp

cooking oil or lard
Protein:
1

link

Chinese sausage

thinly sliced

12

large shrimp

peeled and deveined

6

fish balls

thinly sliced

2

duck eggs

use chicken eggs if you can't find duck eggs
Veggies:
3

cups

beansprouts

5

stalks

garlic chives

cut into 1-inch length
Instructions
Prepare the rice noodles:
I used pre-cut refrigerated rice noodles. They are stiff when cold. You can microwave briefly to soften the noodles. Loosen the noodle strands. This is important so that they won't clump together and break when you stir fry

If you use dried noodles, simply soak them in water for 30 minutes or until they are softened and pliable. Discard the soaking water
Prepare the seasonings:
Mix all ingredients for seasonings in a bowl and stir to mix
Cooking:
Get everything ready within your reach. Preheat your wok over high heat. It needs to be stonking hot. When you see smoke started to rise. Add cooking oil or lard. Add garlic and quickly stir fry for about 10 seconds or the garlic might get burn

Add slices of Chinese sausage, fish cake, and shrimp, stir fry until the shrimp just turn pink and not fully cooked yet. Push them to the side of the wok. Crack in two eggs and let them cook undisturbed for about 20 seconds. Break the yolk and scramble into large chunks

Add rice noodles followed by seasonings. Continue to stir fry to make sure sauce is coating the noodles and the noodles get some "charred" on some spots, about 1 minute. If you use blood cockles, add them here. Make sure the cockles are cooked through, it should be quick. Quickly have a taste and add more soy sauce if needed

Turn off the heat and add beansprouts and garlic chives. Stir to mix everything. The residual heat will continue to soften the chives and the beansprouts are still crunchy but do not taste raw
Serve:
Dish out from the wok and portion it out onto a plate lined with banana leaves (optional) and top with some fried lard pieces if you want. Serve immediately
Notes
If using dried flat rice noodles, use about 250 gr, soak them in water for about 30 minutes until they are soft and pliable and then drain off water
Recommended products:
Nutrition
Serving:
1
serving
|
Calories:
1089
kcal
|
Carbohydrates:
149
g
|
Protein:
29
g
|
Fat:
41
g
|
Saturated Fat:
8
g
|
Polyunsaturated Fat:
8
g
|
Monounsaturated Fat:
22
g
|
Trans Fat:
1
g
|
Cholesterol:
649
mg
|
Sodium:
2020
mg
|
Potassium:
637
mg
|
Fiber:
6
g
|
Sugar:
15
g
|
Vitamin A:
628
IU
|
Vitamin C:
29
mg
|
Calcium:
117
mg
|
Iron:
6
mg
CHECK OUT THESE OTHER STIR-FRIED KWAY TEOW RECIPES
Easy and Quick Stir-fried Flat Rice Noodles with Chili Bean Sauce


Thai Pad See Ew