Easy and Quick Stir-fried Flat Rice Noodles with Chili Bean Sauce – Flat rice noodles are stir-fried with eggs and spicy chili bean sauce. Super simple to make and totally delicious.
Flat rice noodles or what we call kwe tiau in Hokkien or fun in Cantonese is one of our family's favorite noodles. It's something that I make on a weekly basis when I don't feel like cooking up a storm. Like stir-fried noodles or rice, this is one of my easy solution for the day I don't want to spend so much time at the kitchen. This stir-fried flat rice noodles with chili bean sauce is just one of the many varieties of stir-fried kwe tiau out there.

This blog post contains affiliate links. I earn a small commission when you made purchase at no extra cost to you. Learn more.
SPECIAL INGREDIENT USED IN THIS STIR-FRIED FLAT RICE NOODLES WITH CHILI BEAN SAUCE.
Chili bean sauce
Chili bean sauce is also known as
dou ban jiang
in Mandarin. Sometimes also known as broad bean paste. It is made of fermented broad beans, soy beans, salt and chili. It is has salty and spicy taste profile
VARIATIONS YOU CAN DO WITH THIS STIR-FRIED FLAT RICE NOODLES WITH CHILI BEAN SAUCE
1. To make it not spicy
What makes this recipe special is the addition of the chili bean sauce (dou ban jiang), which adds that savory and spicyness to the overalldish. You can just use regular fermented bean paste without chili if you want to make it not spicy. It just adds saltiness though. If you really want to make it not spicy, I highly recommend this restaurant-style beef chow fun instead.
2. Veggies
I used snap peas, but you can use other greens like brocollini, broccoli, bok choy, yu choy, mung bean sprouts
3. Add meat
I only use eggs in this recipe, which is very common in the little home town where I grew up to have stir-fried kwe tiau with eggs (usually duck eggs). You can add in slices of beef, chicken, pork, or even seafood. Just remember to cook the seafood or meat first and then dish out to preven overcooking. Refer to this beef chow fun recipe. It has pretty similar cooking method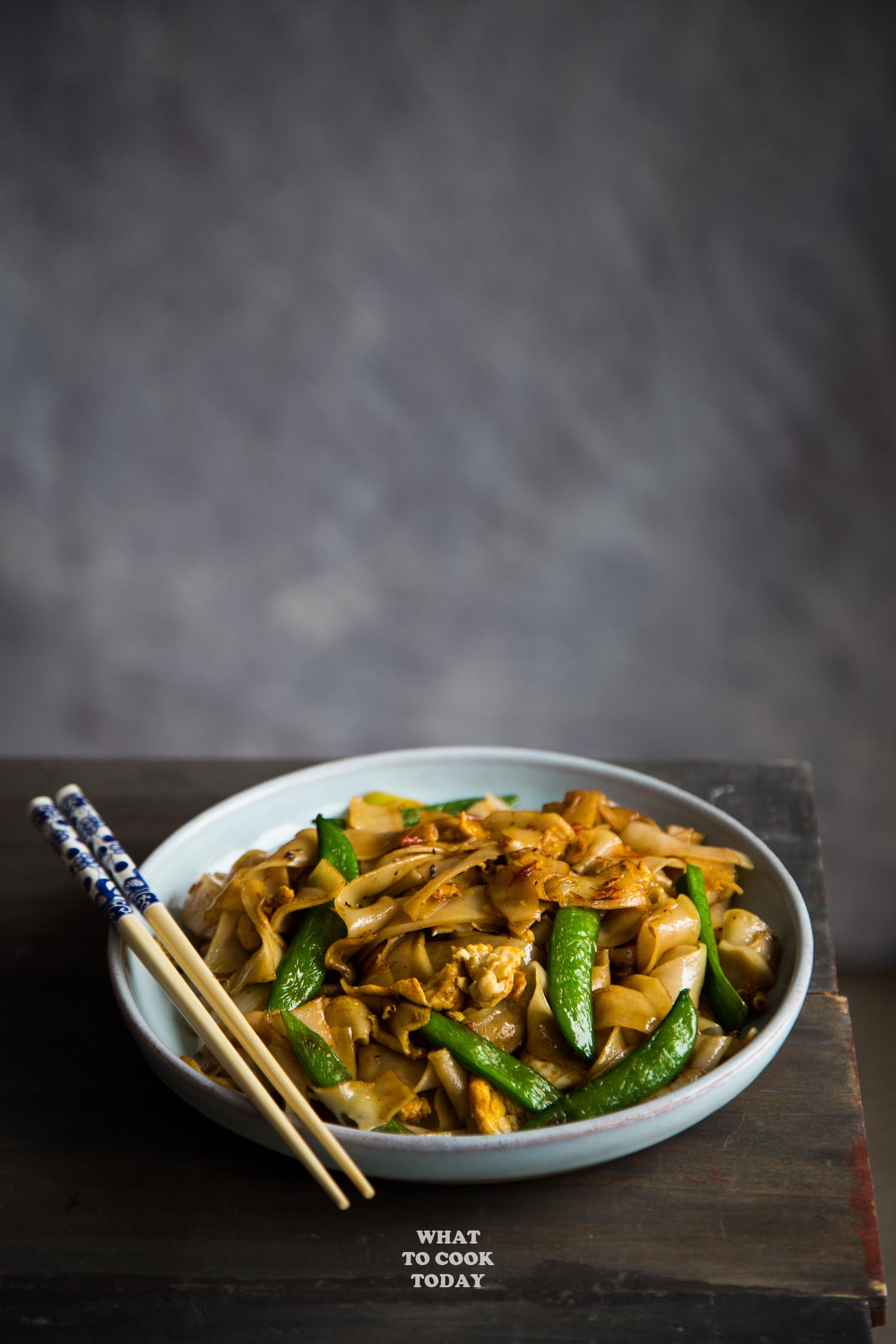 TIPS ON HOW TO MAKE GOOD STIR-FRIED FLAT RICE NOODLES WITH CHILI BEAN SAUCE
1. Use fresh/refrigerated flat rice noodles
The texture is just not the same when you use dried noodles. But I know fresh/refrigerated flat rice noodles may not always be available especially if you live outside of Asia (like me!)
2. Bring on the heat
Yes, I've said it too many times. You need a good wok or skillet that can withstand high heat, for example cast-iron pan or carbon steel wok. I wrote a bit about "wok hei" if you are interested to read more about it
3. Don't cook a large portion at one go
This is very important because when you cook a large portion, usually it's hard to maintain that high heat and more often than not, temperature is lowered and your stir-fried noodles is going to taste sad! It tastes so much better when you cook 1-2 portion at one time.
HOW TO STORE AND REHEAT LEFTOVER
Let me tell you up front that stir-fried flat rice noodles (kwe tiau) usually doesn't taste as good anymore after reheating or the next day. They tend to clump together when they are cold. But, it's life and I know we tend to have leftover from time to time, you can reheat them in the microwave. If you don't own a microwave (like me), you can reheat on the pan with a bit of oil. Let me warn you, re-stir frying it will break up the noodles into pieces though.
Stir-fried Flat Rice Noodles with Chili Bean Sauce
Ingredients
300

gr

fresh/refrigerated flat rice noodles

120-180 gr dried flat rice noodles

2

Tbsp

cooking oil

2

cups

snap peas

trim both ends
Aromatics:
1-

inch

knob of ginger

peeled and finely minced

1

medium

onion

peeled, quartered and separate
Instructions
Prepare the noodle and seasonings:
If using dried rice noodles, soak in water for at least 2 hours. If you are using refrigerated sheets of rice noodles, they come in one large sheet or pre-cut. Microwave them for about 1 minute and then cut (if you need to) and then separate and loosen the noodle.

Mix all the ingredients for seasonings in a bowl and set aside
Cooking:
Preheat your wok or skillet until very hot. You should see some smoke started to rise. Add in 2 Tbsp of the cooking oil. Add the aromatics and stir fry for about 30 seconds. Push them to the side and then crack in two eggs. Let them cook until the bottom started to settle and then scramble the yolk and break the eggs into large chunks and continue to stir fry for few seconds. Add sugar snap peas and stir fry for about 3-4 minutes until they are soft but still have some crunch

Add the rice noodles along with the seasonings. Stir to mix everything. The amount of seasonings may vary according to your taste buds. You may need to add more soy sauce to your taste. Stir to mix everything. The noodles will start to soften. It may take longer if you use dry noodles. Have a final taste and add more seasonings as needed. Dish out and serve immediately