Learn how to make restaurant-style beef chow fun / hor fun in your very own kitchen. It's seriously easy and no fuss recipe. All the tips you need to know to recreate this.
I got hooked on beef chow fun the first time hubby ordered beef chow fun at this Chinese restaurant we still frequent to this date. The first bite into beef chow fun was simply unforgettable. I had been wanting to recreate it at home for so long and finally I did. Beef chow fun is a popular Cantonese stir-fried rice noodle dish.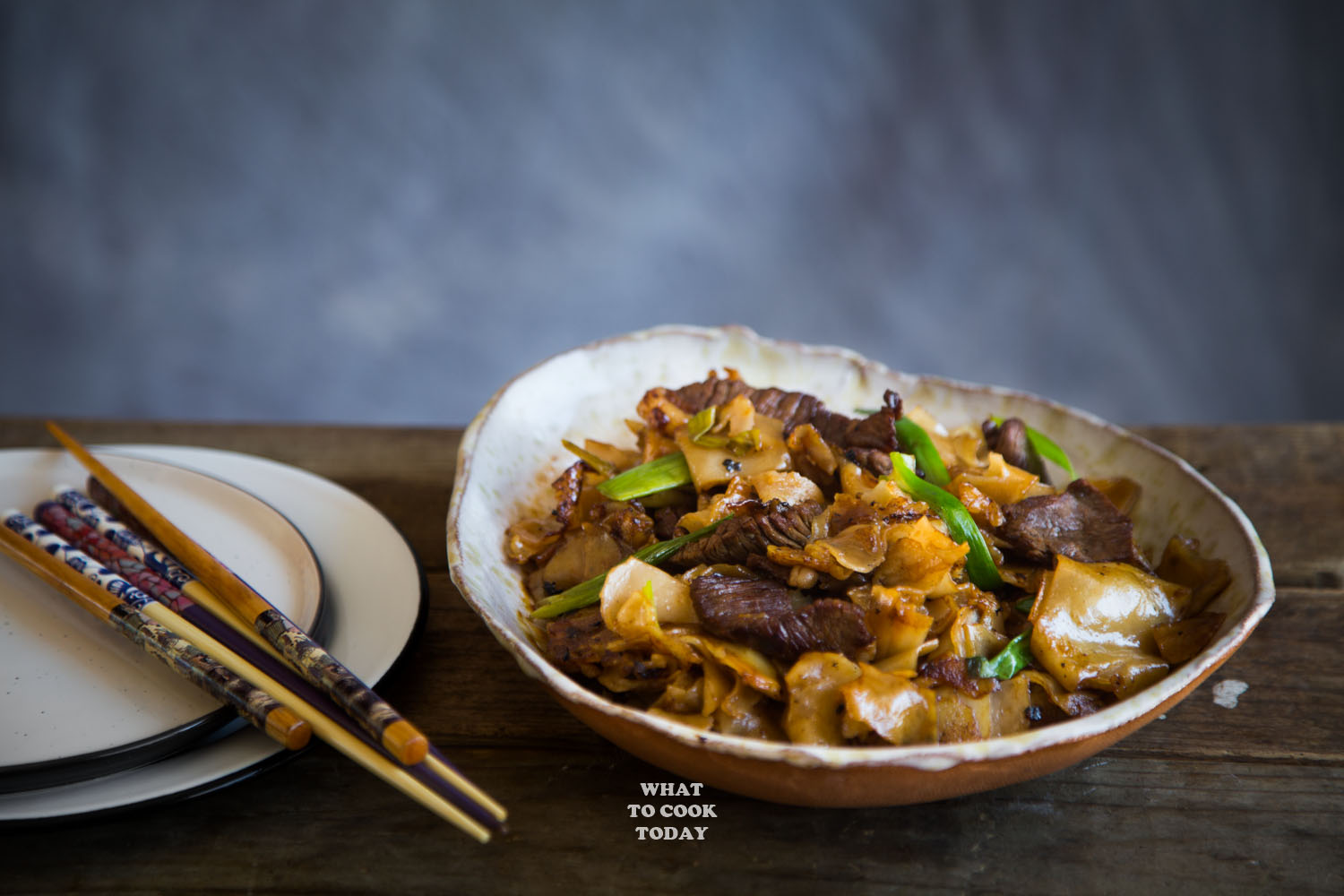 WHAT MAKES A GOOD BEEF CHOW FUN?
1. WOK HEI
I've heard from a Chinese chef that one of the skills that the Chinese chefs are tested on is to make chow fun. Their ability to impart that "wok hei" to the finished dish tells a lot about their skills. The fire usually "lick" the food to give that "smoky" flavor (wok hei). Chefs spent years perfecting their wok hei skills. It's not easy to create wok hei at home. Not with our ordinary stove. It needs high heat and flame, somewhere around 1000-1200 Fahrenheit! No joke!
2. TENDER BEEF
The cut of the beef is important but knowing how to cut the beef is also important. The beef is usually thinly sliced across the grain. The beef slices are usually marinated in seasonings and cornstarch. Mom said corn starch help to tenderize the meat. It's common practice in Asia to marinate meat with cornstarch actually.
3. SMOOTH NOODLES
One of the things my kids like about eating flat rice noodles (fun) is the smoothness. Usually chow fun looks kinda "greasy", but you need the oil or you won't be able to achieve that smoothness. Trying not to stir the noodles too much while cooking is important too so that the noodles won't turn into mush from too much handling
While we might not be able to achieve wok hei at home, you can still make a really good restaurant-style beef chow fun.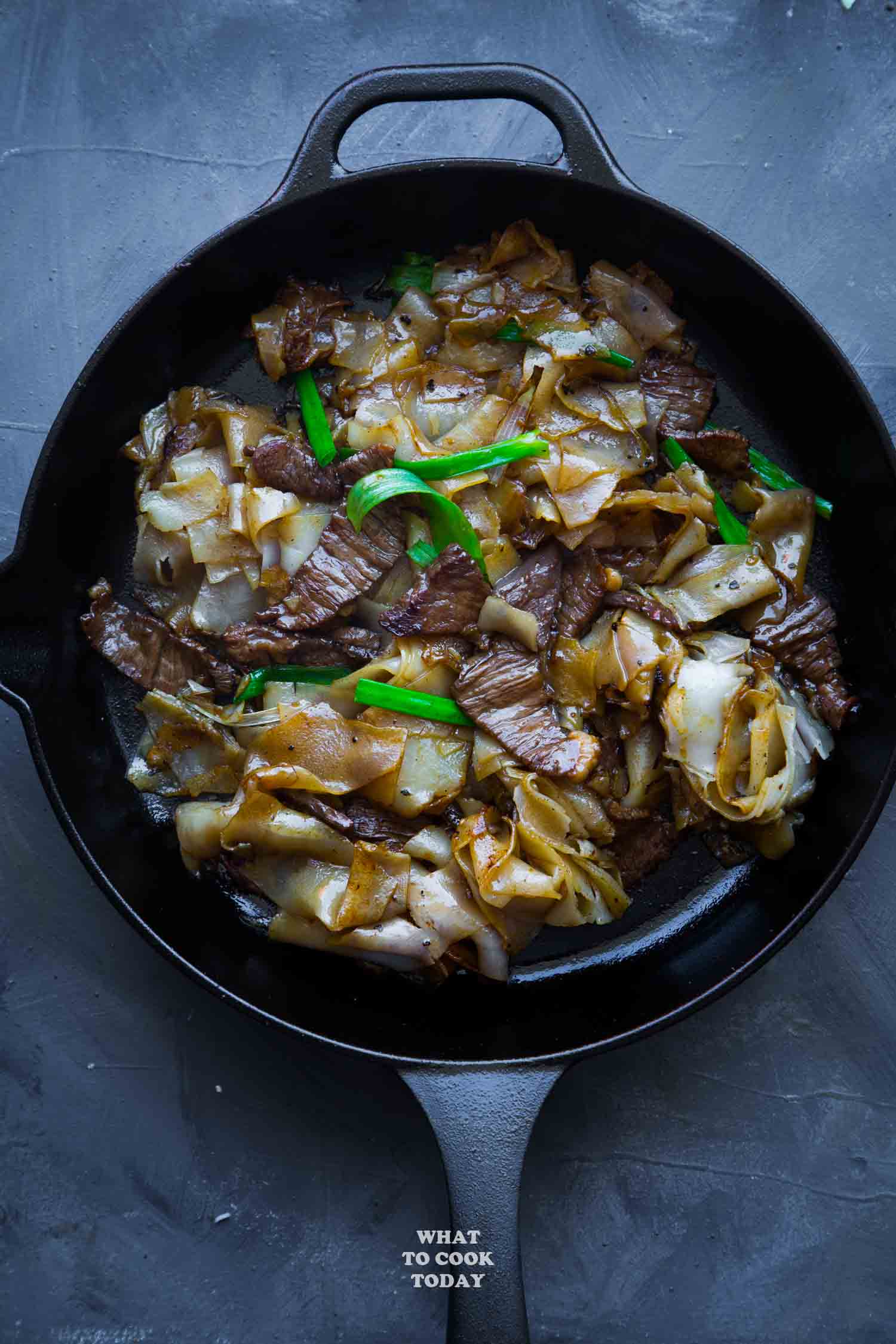 HOW TO MAKE GOOD BEEF CHOW FUN AT HOME
1. Use cast-iron or steel skillet/wok to cook chow fun
You don't own a wok, it's ok, but I highly suggest using cast-iron skillet or carbon steel skillet to make chow fun. They are highly suitable for high heat cooking in this case
2. High heat
Which points back to no. 1. The skillet/wok you use to cook the chow fun is the heat conductor here and hence you want to preheat them dry (without oil) to pretty much what they call stonking hot (smoking hot)
3. Cook in small batch
I seriously can't stress enough the importance of trying not to cook like 2 lbs of rice noodles all in one go. This will lower the overall temperature. The chef at the restaurant is able to create good wok hei because they usually cook 1 to 2 portion at a time. I suggest cooking 2 portion max at one time for best result.
4. The sequence is important
You don't just dump everything in there of course. I like to cook the beef first so it won't overcook and still tender, followed by aromatics, rice noodles, seasonings and then meat back to the skillet and veggies like bean sprouts the last.
5. Use fresh flat rice noodle if possible
I know they aren't always available and probably difficult for you to find or impossible for you to find especially if you don't live in Asia. Fresh flat rice noodle is just so good when you make beef chow fun with it. The dried noodles don't give the same texture, but it's still acceptable if you are not super picky about it.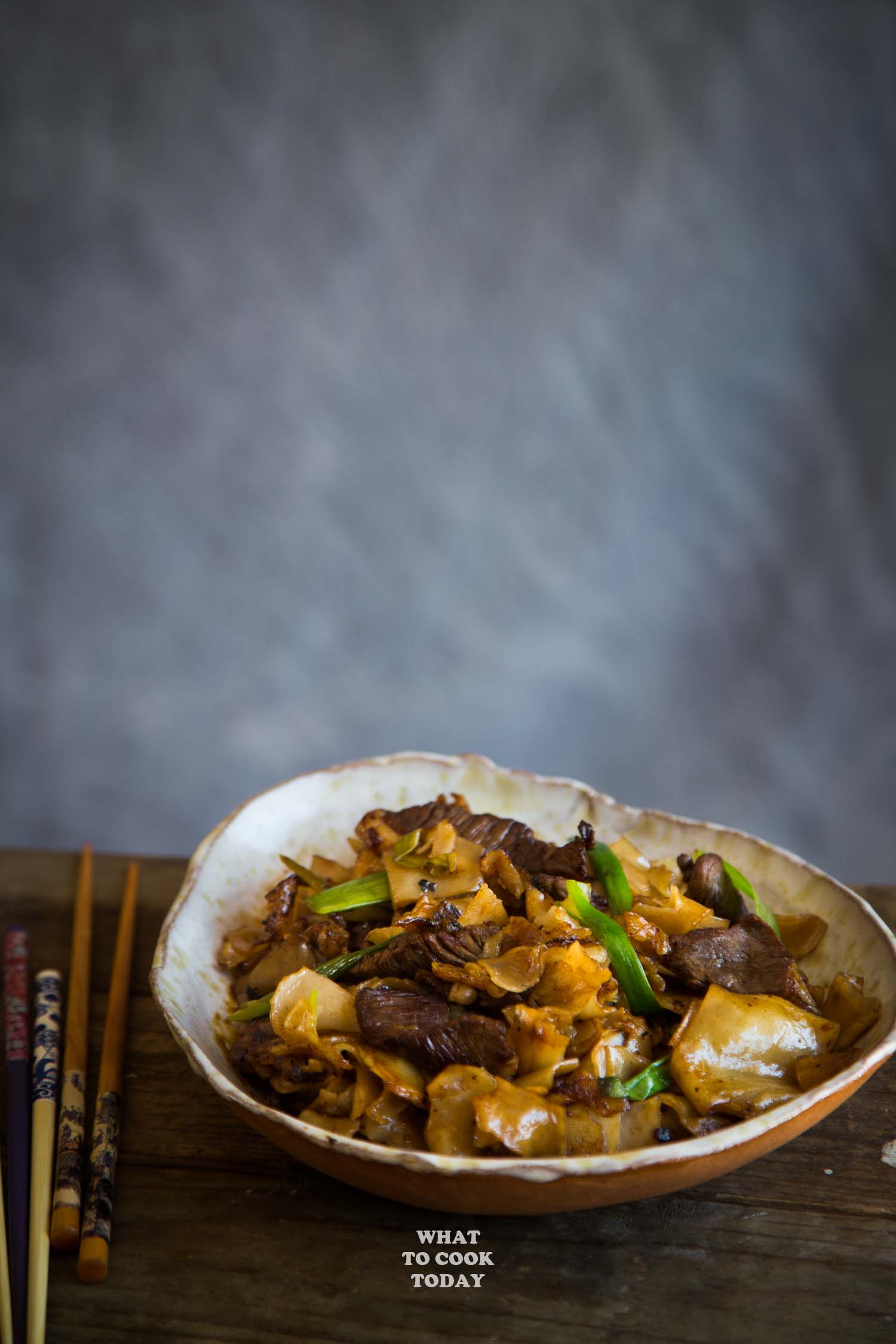 If you look at the ingredient for beef chow fun, they are very simple and don't require much, yet they are highly delicious. With the step-by-step instructions and few pointers, I hope you will be able to create restaurant-style beef chow fun in your very own kitchen. It's not as intimidating as you think (minus the wok hei ha..ha..).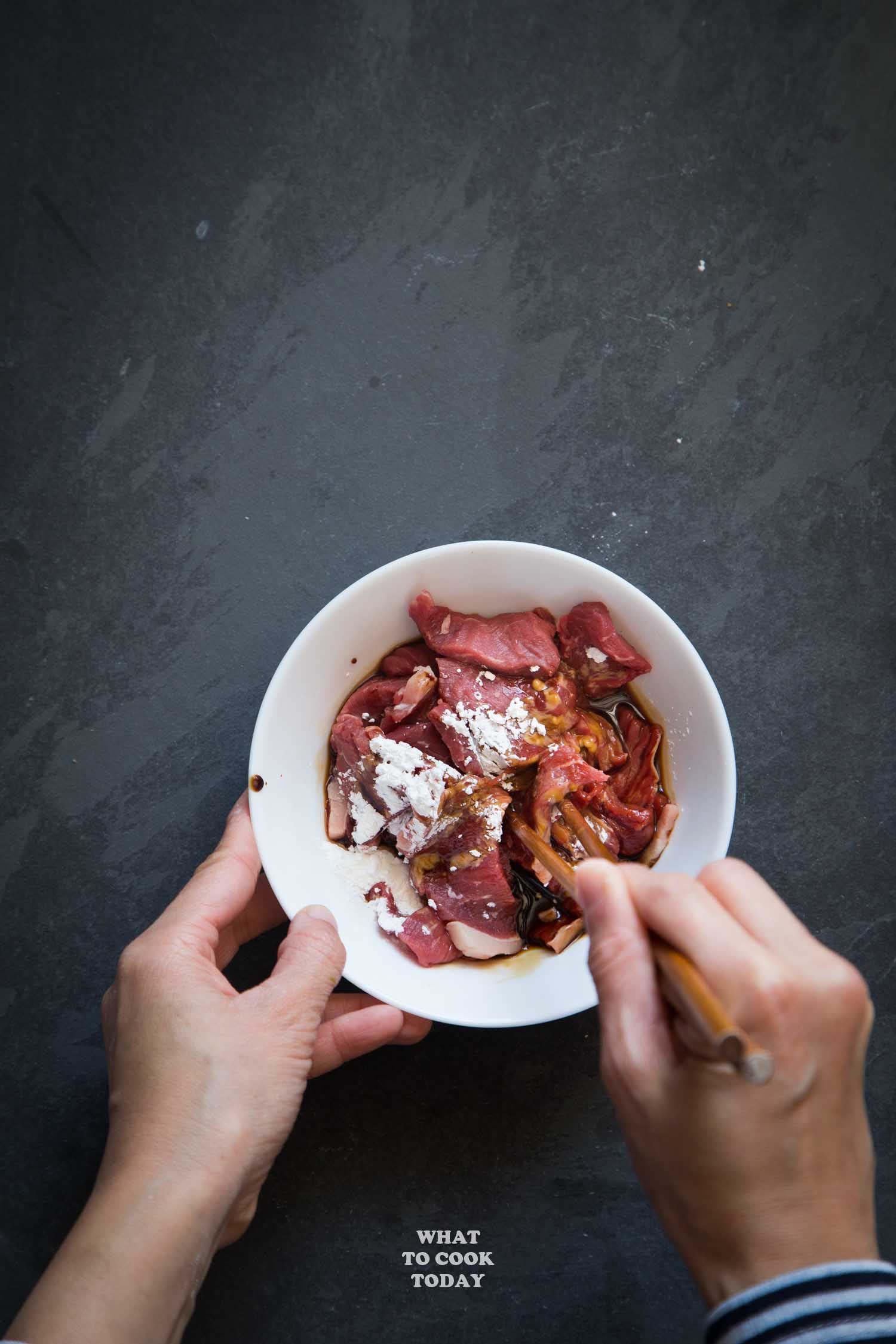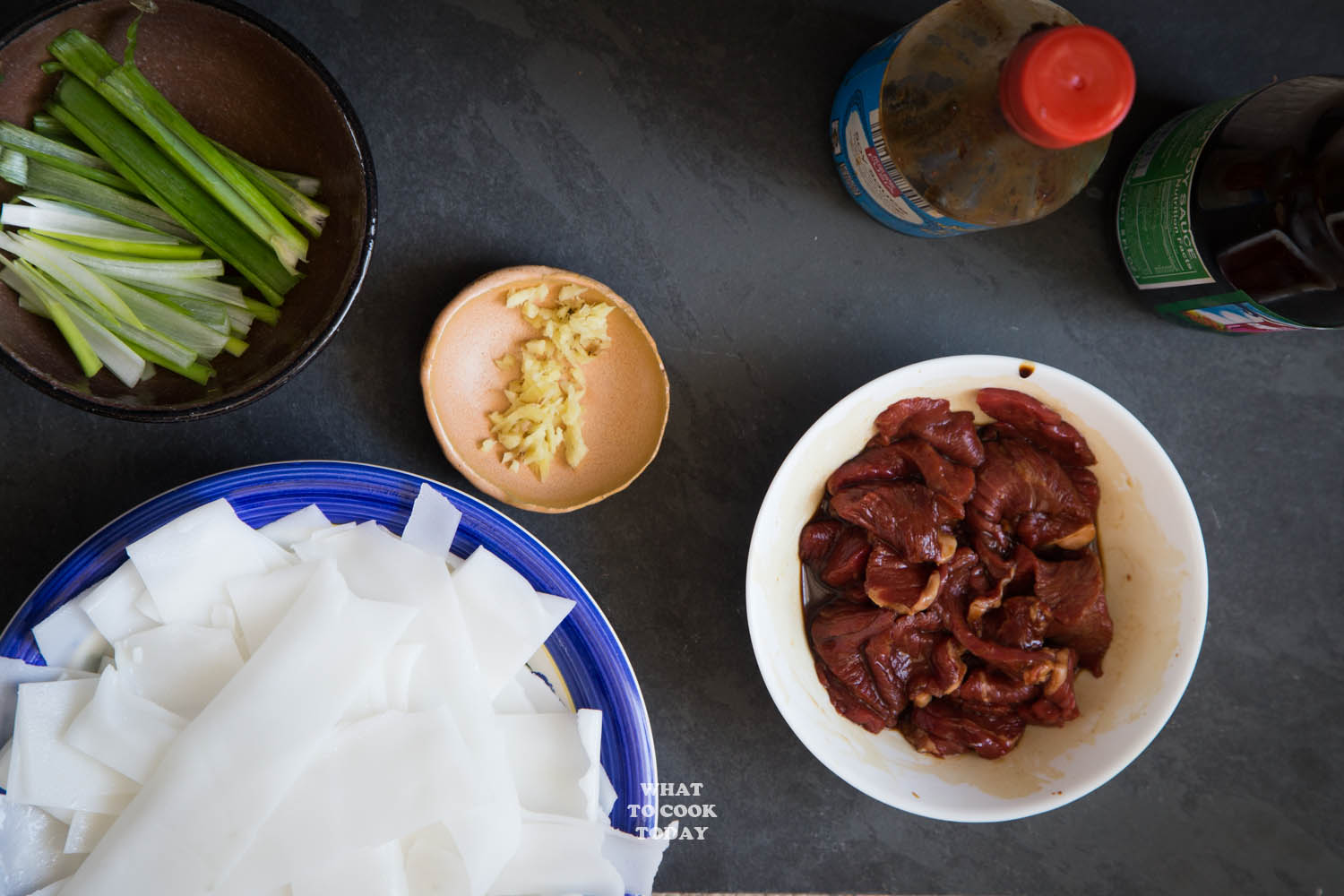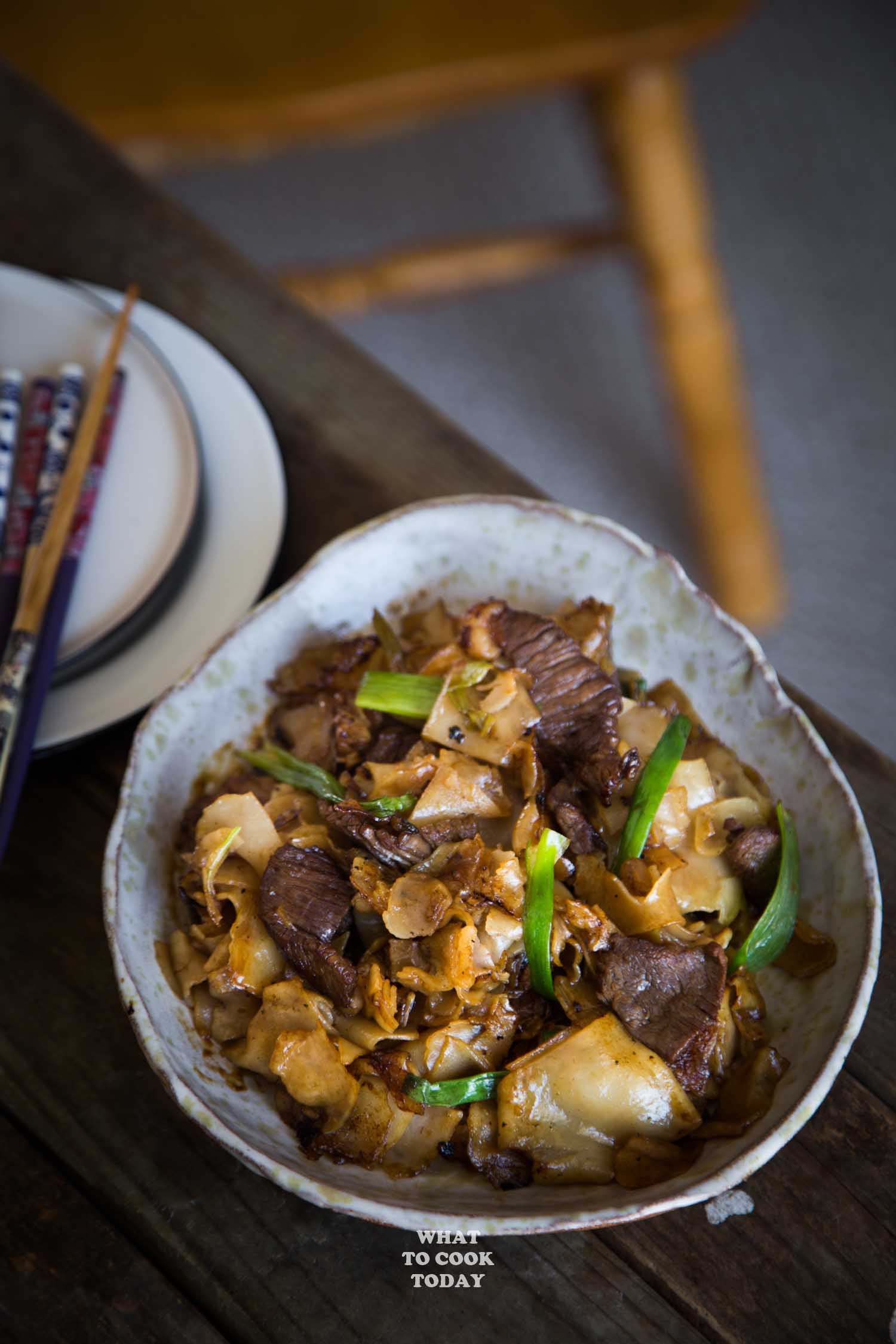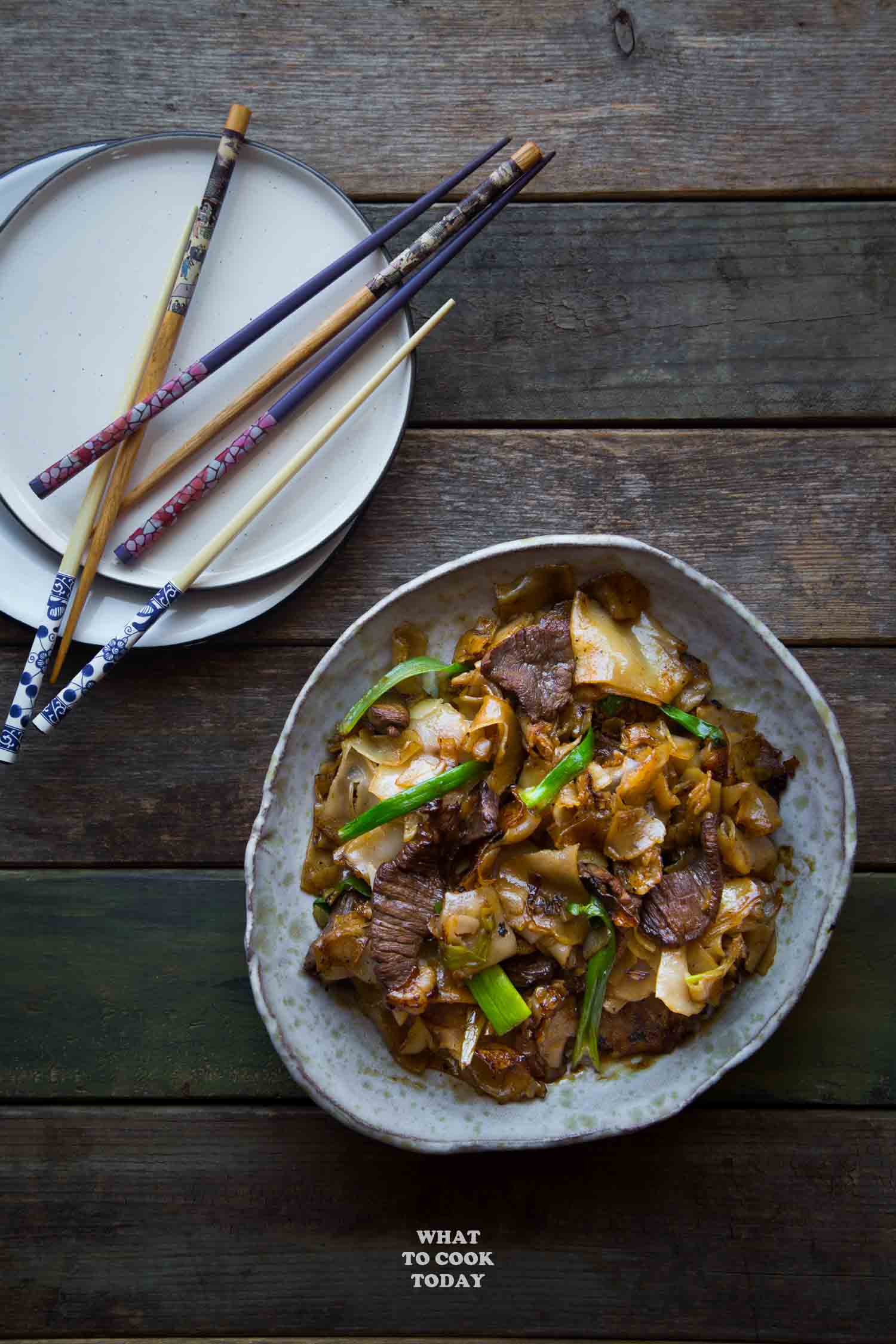 This blog post contains affiliate links. I earn a small commission when you made purchase at no extra cost to you. Learn more.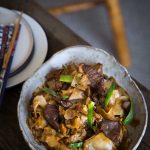 Restaurant-style Beef Chow Fun
Ingredients
1

lb

flat rice noodles

fresh or dried (1/2 lb if dried)

6

oz

beef sirloin

(freeze in the freezer for about 15 minute and cut very thinly)

2

Tbsp

cooking oil

6

oz

beansprouts
Aromatics:
4

stalks

green onion

1

inch

fresh ginger
Instructions
Prepare beef and rice noodles:
I found it helpful to put the sirloin in the freezer for 15 minutes before cutting. This helps me to cut it thinner. Make sure you cut the meat across the grain so you get a tender meat. Put all ingredients for marinating the beef and let it marinade for 30 minutes while you are preparing other things

If using dried rice noodles, soak in water for at least 2 hours. If you are using fresh sheets of rice noodles, they come in one large sheet or pre-cut. If you are using one large sheet like me, cut into 1-2 inch wide (I like it 2-inch wide, but it's up to you)
Prepare aromatics:
Separate the white and green parts of the green onions. Cut into a 3-inch length. Halve the white part of the onion. Set aside

Peel and finely chop the ginger
Prepare seasonings:
Place all the ingredients for seasonings in a bowl and stir to mix. Set aside
Cooking:
Preheat the skillet/wok over high heat until really hot. You can start seeing smoke rising from the wok. Add in about 2 Tbsp of oil, swirl it quickly to cover the base and add the beef slices. Don't stir and let them cook for about 1 minute and then a quick stir to separate them and dish out and set aside. Do not overcook the beef

Scrap any crust off the skillet/wok, if any. Heat the skillet back until it's stonking hot and smoking again, add another 1 Tbsp of oil (if needed) and add the ginger and white part of green onions, stir fry for about 30 seconds. Add the rice noodles, spreading it across the skillet/work and stir fry quickly for about 20-30 seconds, it might be longer for dried noodles. The noodles will continue to get soften. Don't over stir the noodles or they will break apart and turn choppy. Pour in the seasonings and give it a stir and cook for another 30 seconds

Add the beef slices back and stir fry again for another 10 seconds. Add the bean sprouts and green part of green onions. Stir to mix briefly. Stir to mix everything. Dish out into a serving platter and serve immediately