Make this super easy naturally gluten-free and vegan soft and chewy mochi rolls with sweet red bean paste filling or any sweet filling you like.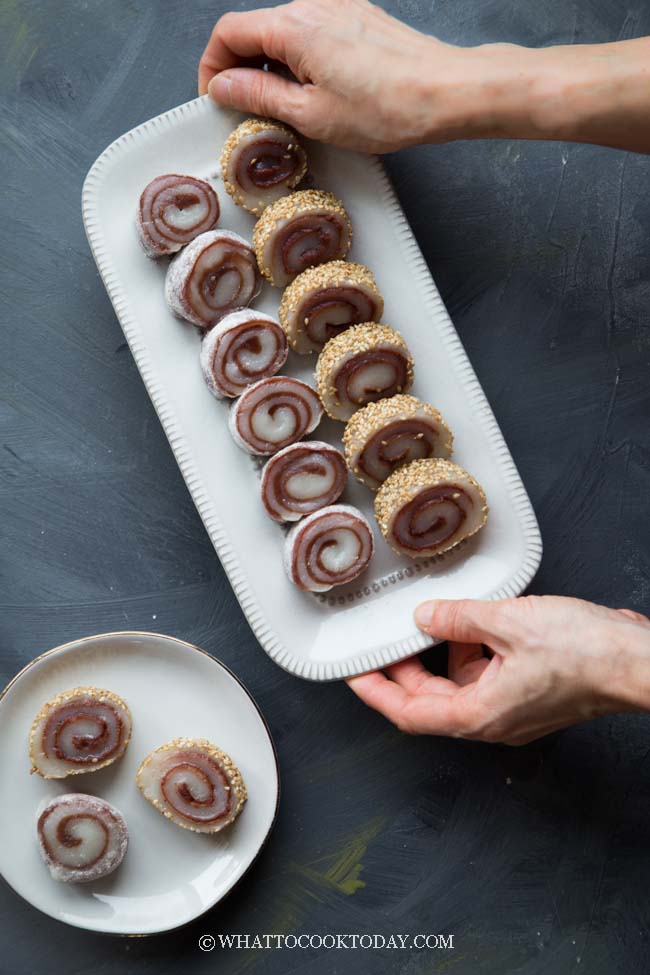 ALSO KNOWN AS NUI KO OR NENG KO (WHEN I WAS A KID ANYWAY!)
I ate tons of mochi rolls or what we called mochi gulung in Indonesia when I was a kid. They were such a popular snack or treats when I was a kid. I couldn't find the image to show you how the cut mochi rolls, usually in 4 pieces per pack and in assorted colors of pastel green and pink, were wrapped in a plastic wrapper to showcase the colors and the patterns. We call it "Nui Ko" or "Neng Ko" in Hokkien language. Nui or Neng means soft. The Ko means it's paste-like. They are like my favorite thing ever! They are called mochi gulung these days and it doesn't seem like they make this nui ko the way they used to look like anymore.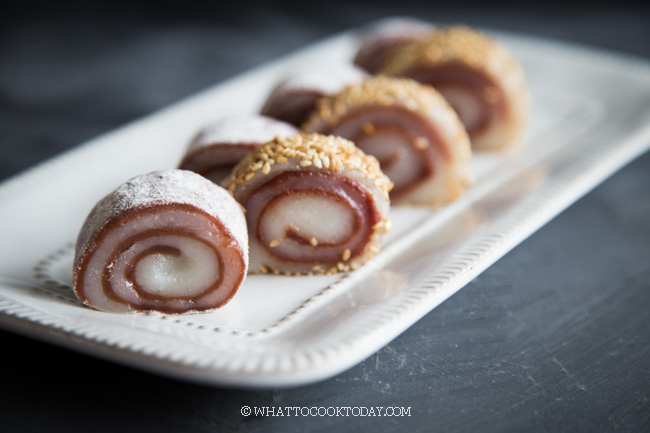 INGREDIENTS
1. GLUTINOUS RICE FLOUR
Glutinous rice flour is similar to mochiko flour or sweet rice flour. DO NOT USE regular rice flour. They will not turn out!
2. CORNSTARCH
Cornstarch adds softness and helps to bind everything together
3. OIL
You can use any neutral-tasting oil. I use grapeseeds oil
4. SUGAR
The sugar adds a light sweetness to the mochi gulung. I use regular white fine sugar
5. COCONUT MILK
Use Asian canned coconut milk for the best flavor. DO NOT USE coconut milk made for drinking. Those are not suitable for cooking or baking in most Asian recipes
6. SWEET FILLING
I use sweet red bean paste (dou sha) to spread on the mochi rolls.
HOW TO EASILY MAKE MOCHI GULUNG FROM SCRATCH
1. PREPARE MOCHI DOUGH
Mix all ingredients for mochi dough in a mixing bowl


Stir to mix into a thick paste


2. STEAM
Bring water in the steamer to a boil and place the bowl with mochi batter inside


Steam for 25-30 minutes or until the batter turns into a solid mass


3. FLATTEN THE DOUGH
Place the dough on top of a parchment paper. They look unattractive and like a blob of something 🙂 (too early to judge!)


Cover with another piece of parchment paper


Use a rolling pin to roll into about 15 x 15 cm (6 or 7 inches square) sheet, about 1/4-inch thick. Doesn't have to be exact


4. SPREAD THE FILLING
Gently spread the dou sha filling on top with the back of the spoon


5. ROLL THE DOUGH
Roll up from the side near you to the other side to make a roll


6. COAT THE MOCHI ROLL
Spread some sesame seeds or toasted glutinous flour on a parchment paper and gently roll the mochi roll on top. The coating helps to make the mochi rolls not sticky to your fingers

7. CUT THE ROLLS
Cut the mochi rolls to about 6 pieces per roll and serve. They are best served on the same day. Once you refrigerate, they will harden

VARIATIONS
1. COLORS
You can replace the water and coconut milk or just replace the water but keep the coconut milk with equal amount of pandan juice for green color.
You can also use bluepea flower extract for blue color or food coloring like red/pink or whatever color you want
2. FILLINGS
Here are some ideas: raspberry, blueberries, or strawberry jams, creamy peanut butter mixed with white and/or black sesame seeds, chocolate spread like nutella
HOW TO STORE MOCHI GULUNG (OR ANY SWEET MOCHI DESSERT)
STORE AT ROOM TEMPERATURE: They are best consumed the same day they were made. If you have any extra leftovers, they can be kept at room temperature for up to 1 day or 2 days MAX. Longer than that they may start to turn bad especially if it's humid where you are.
FREEZER: You can freeze them and then thaw at room temperature for 15-20 minutes before consuming. DO NOT store in the refrigerator as they will harden (which is just the characteristic of glutinous rice flour) and not suitable for reheating when we make mochi gulung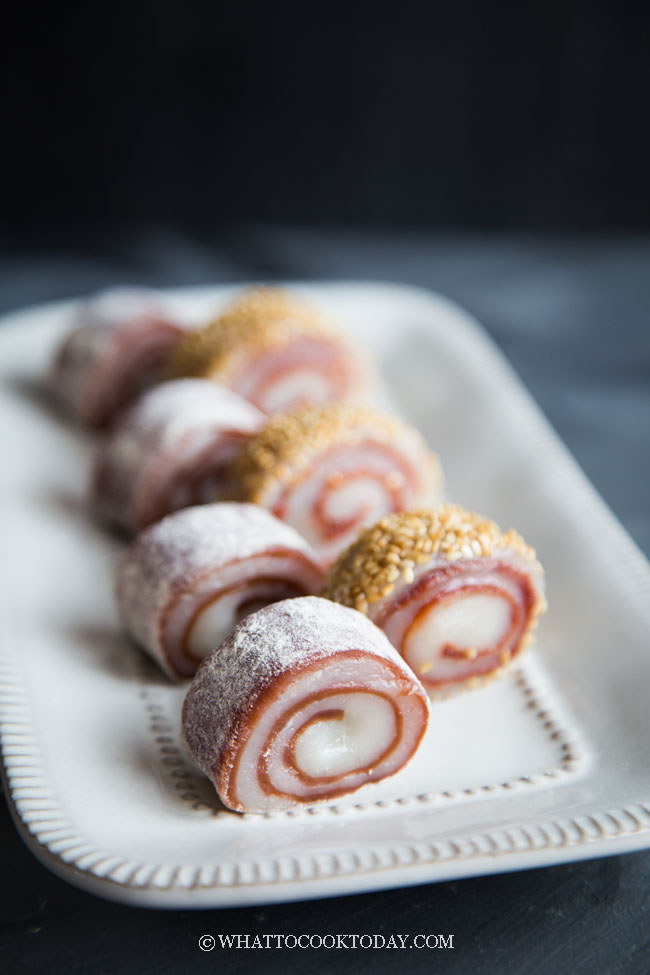 DID YOU MAKE THIS MOCHI GULUNG RECIPE ?
I love it when you guys snap a photo and tag to show me what you've made 🙂 Simply tag me @WhatToCookToday #WhatToCookToday on Instagram and I'll be sure to stop by and take a peek for real!

Mochi Gulung (Steamed Mochi Rolls with Red Bean Paste)
Ingredients
Filling:
200

gr

dou sha

(sweet red bean paste)
Coating (use any of these):
White sesame seeds

2

Tbsp

glutinous rice flour

stir fried to get rid of raw taste

Sweetened coconut flakes
Instructions
If you plan to use glutinous rice flour to coat the mochi:
Stir fry about 2 Tbsp of glutinous rice flour on a dry pan over low-medium heat until the flour is very lightly golden in color and smells slightly nutty. Remove from the heat to let it cools down
Prepare the mochi dough:
Mix all ingredients for mochi dough in a mixing bowl. Stir to mix into a thick paste
Steam in the steamer or Instant Pot:
Bring water in the steamer to a boil and place the bowl with mochi batter inside and steam for 25-30 minutes or until the batter turns into a solid mass. Steaming time may be longer if you use a thick bowl to steam the batter

You can also use instant pot to steam. Fill up with 1 cup of water. Place a trivet in. Place the bowl with mochi batter inside. Close the lid and turn the steam release valve to seal. Press "steam" and set timer to 25 minutes, when it's done, wait 5 minutes then release pressure if any
Flatten the dough:
Place the dough on top of a parchment paper. Cover with another piece of parchment paper and use a rolling pin to roll into about 15 x 15 cm (6 or 7 inches square) sheet, about 1/4-inch thick
Spread the filing:
Gently spread the dou sha filling on top with the back of the spoon. Roll up from the side near you to the other side to make a roll
Coat the mochi rolls:
Spread some sesame seeds or toasted glutinous flour on a parchment paper and gently roll the mochi roll on top. The coating helps to make the mochi rolls not sticky to your fingers
Serve:
Cut the mochi rolls to about 6 pieces per roll and serve. They are best served on the same day. Once you refrigerate, they will harden
Recommended products:
TRY OUT THESE OTHER MOCHI RECIPES
Super Easy Mini Cheddar Mochi Bread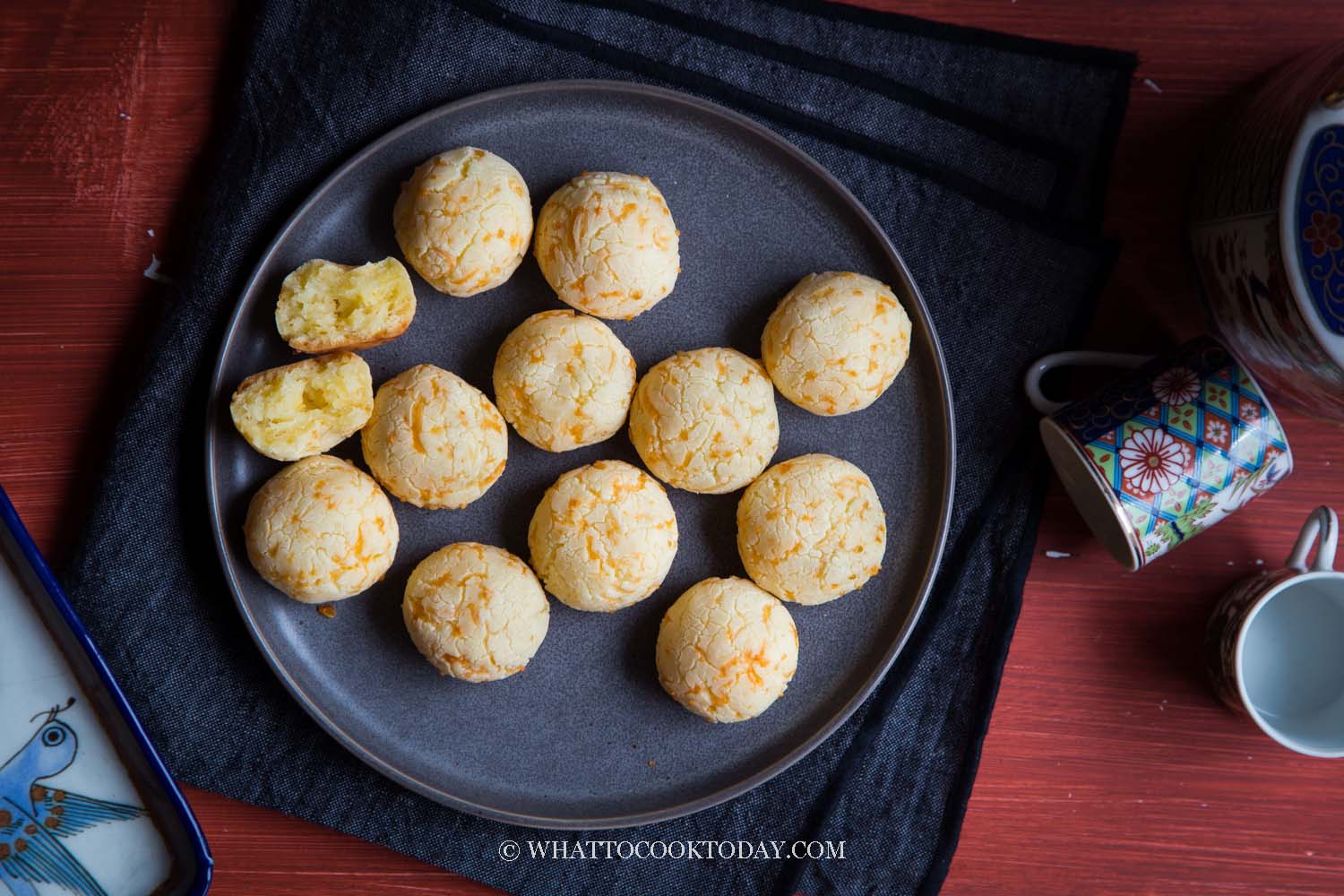 Okinawan Purple Sweet Potato Mochi Cakes with Peanut Fillings

Easy Pandan Mochi Mooncake with Custard Filling (Snow Skin Mooncake)