Okinawan Purple Sweet Potato Mochi Cakes with Peanut Fillings- Simple, delicious, soft and chewy mochi cakes made with glutinous rice flour and mashed Okinawan purple sweet potato are stuffed with sweet peanut fillings.
Mom used to steam purple sweet potatoes for us as snacks. It was my dad's favorite. Mine too. We love to eat them just like that. They are naturally sweet and I just love the taste it has, slightly different with regular orange sweet potato. Grandma liked to deep fry them. Those are hard to resist too!
WHERE TO GET OKINAWAN PURPLE SWEET POTATO
The only place I can find these purple sweet potatoes are at Asian grocery stores. Not all Asian stores carry them too. Sometimes they are hard to come by. If you live in Asia, I suppose this may not be a problem. You can try the farmer's market that carries some Asian ingredients.

HOW TO CHOOSE OKINAWAN PURPLE SWEET POTATO
With so many varieties of sweet potatoes out there, sometimes it's hard to choose the right kind by just looking at the outer appearance. Okinawan purple sweet potato isn't purple on the outside 🙂 Here are few tips on how to choose Okinawan purple sweet potato:
1. Snap the end of the potato. You will be able to see the purple flesh inside.
2. Make sure the outer body of the purple sweet potato doesn't have any bruise or dark spots. Those dark spots are bitter and make the purple sweet potato tastes really bad (I had a taste of that before by accident! yuck!)
PURPLE SWEET POTATO IS NUTRITIOUS
The pretty purple color is not only for show. The beautiful purple color is due to the powerful antioxidant, anthocyanins. Have you ever heard that Okinawan people tend to live longer and healthier too? Okinawan purple sweet potatoes are part of their diet. They are naturally sweet and tastes good too without having to add anything.

TIPS ON HOW TO MAKE OKINAWAN PURPLE SWEET POTATO MOCHI CAKES WITH PEANUT FILLINGS SUCCESSFULLY
These mochi cakes and their fillings are really easy to make. Only a few ingredients and the dough is very forgiving.
1. Mash the potatoes while still hot
2. Make sure you get glutinous rice flour (mochiko flour/sweet rice flour). The regular rice flour will not give you the same texture
3. Add water to the dough if needed. Purple sweet potato can be drier compared to regular sweet potato. Add water teaspoon by teaspoon until you can form a slightly sticky to touch dough
4. Do not overfill. If you fill too much filling, you will have a difficult time wrapping it later
5. Pan fry them 2-3 minutes on each side

VARIETY YOU CAN DO WITH THIS RECIPE
1. Use sweet red bean paste or sweet black bean paste filling.
2. Use regular sweet potatoes
3. Roll the dough into round balls and steam instead of pan frying
4. Decorate with white and/or black sesame seeds if you like
Have I mentioned these Okinawan purple sweet potato mochi cakes are soft and stretchy?

My kids like them with an extra honey drizzled on top because I don't make the filling very sweet. You can adjust the level of sweetness to your taste.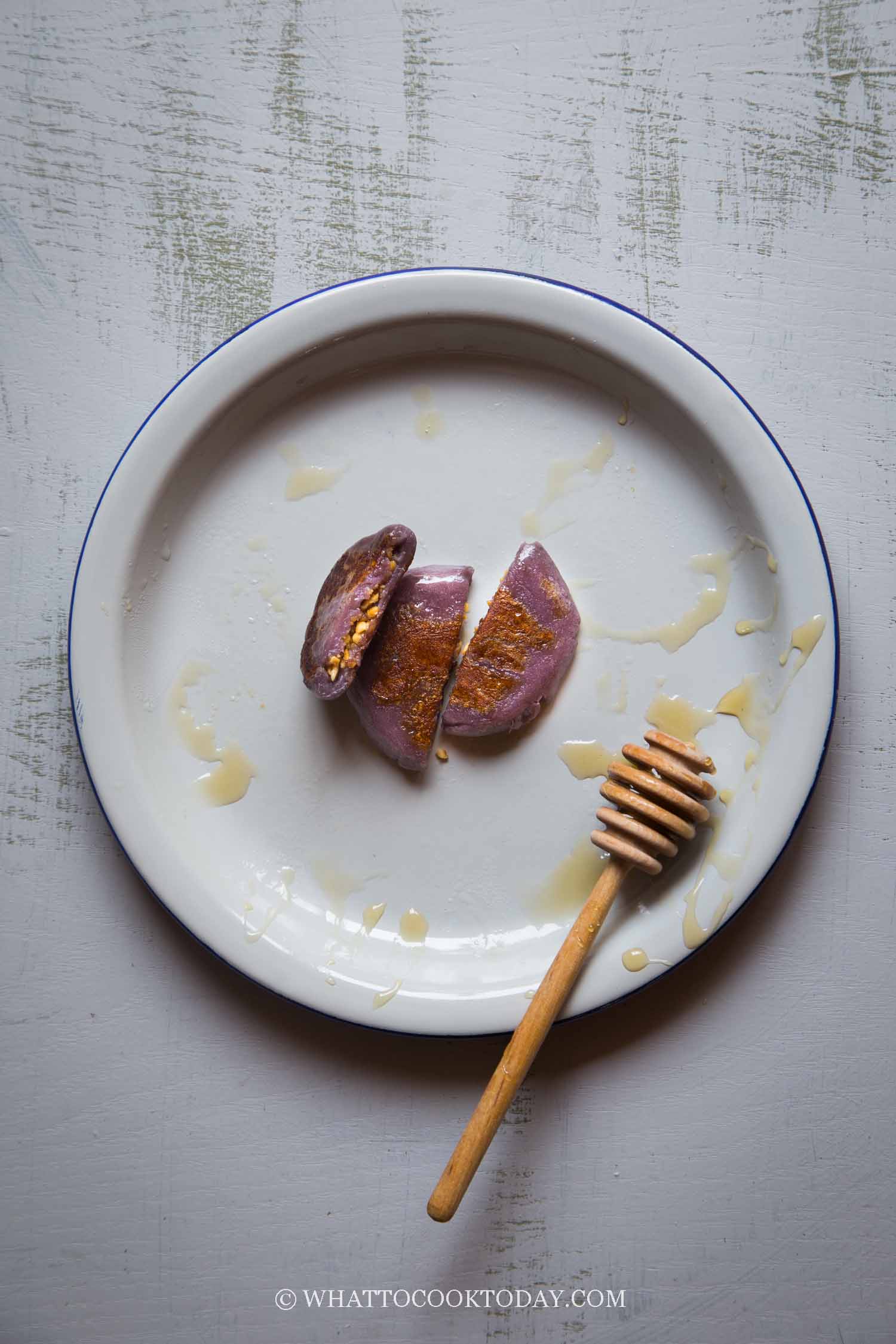 This recipe is inspired by the Savory Chinese Sweet Potato Pancakes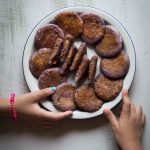 Okinawan Purple Sweet Potato Mochi Cakes with Peanut Fillings
Ingredients
Sweet Peanut Filling:
150

gr

peanuts

90

gr

honey

adjust the amount of sweetness to your liking
Instructions
PREPARE THE FILLING: (Can be done the day before):
Place the peanuts in food processor and chop the peanuts. I like to be able to bite into some of the peanuts, so I roughly chopped them. Mixed the chopped peanuts with honey and set aside
MAKING THE DOUGH:
Peel about 550 gr of sweet potato. Cut into 1-inch slices and steam for 15 minutes until soft and mashable. Make sure you get about 450 grams. Use the back of the fork or potato masher to mash the sweet potato while it's hot, until smooth.

Add glutinous rice flour and use a spoon to stir to mix. While the sweet potato is cool enough to handle, use your clean hands to mix the flour and the sweet potato to form a smooth dough. Purple sweet potato usually a bit drier compared to regular sweet potato. So add hot water teaspoon by teaspoon until the dough is no longer crumbly. The dough will be slightly sticky to touch. If your dough is very sticky, add a bit more flour. The water content in sweet potato also affects how much flour and/or water you need to add. Cover with a plastic wrap and rest the dough for 15 minutes
SHAPE AND FILL PANCAKES:
Lightly dust your both hands with some glutinous flour. Pinch a small amount of dough to form about 2-inch ball. Then press the dough with the palm of your hand to flatten into small pancakes and then gently stretch it into about 4-inch diameter circle. If your dough feels dry and cracks when you flatten, wet your palms with some water and roll the dough again to moisten it. The dough is quite forgiving

Scoop about 1 to 1 1/2 tsp of the sweet peanut fillings and place on the middle of the dough and then gather the edge to wrap. Roll again to smooth into a round ball and then slightly flatten with your palm. Repeat with the rest of the dough and filling
COOKING THE PANCAKES:
Preheat about 1 Tbsp of oil in a large non-sticky pan. When it's hot, lower the heat to medium and arrange pancakes on top of the pan, try not to overcrowd the pan. Cook for about 2-3 minutes on each side until golden brown. Repeat with the rest of the pancake and add more oil as needed
STORING AND REHEATING:
Leftover can be stored in the refrigerator for up to 3 days. They can be reheated in the microwave, air fryer (350 F for 5 minutes), or in the oven by placing them in a baking sheet and bake at 350 for 5-8 minutes
Nutrition
Serving:
1
cake
|
Calories:
160
kcal
|
Carbohydrates:
26
g
|
Protein:
4
g
|
Fat:
5
g
|
Saturated Fat:
1
g
|
Sodium:
19
mg
|
Potassium:
179
mg
|
Fiber:
2
g
|
Sugar:
6
g
|
Vitamin C:
1
mg
|
Calcium:
11
mg
|
Iron:
1
mg