Khao Piak Sen (Lao Tapioca Noodle Chicken Soup) – Lao style homemade tapioca noodle is served in aromatic chicken broth. Incredibly comforting and you will learn how to easily make this naturally gluten-free khao piak sen noodles at home too.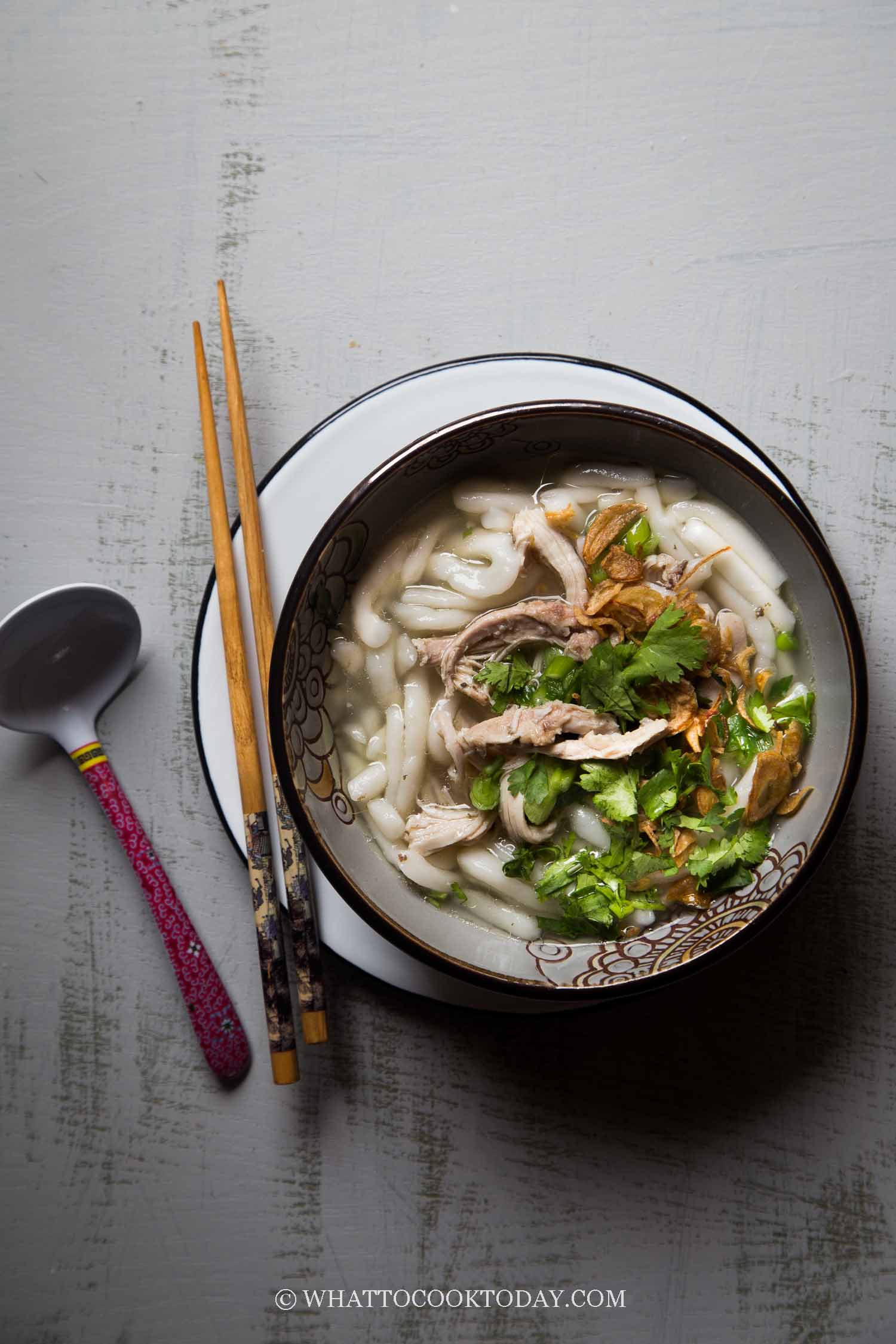 A visit to a Lao restaurant a few months ago got me obsessed with making my own khao piak sen. We didn't know what to order at the restaurant. The waiter recommended khao piak sen and we obliged and did not regret it. The waiter told us the chef freshly make the tapioca noodles everyday. I experimented a lot to get the texture of the noodles right by playing with the rice flour and tapioca flour ratio. Before I go further into details on that, let's get you acquainted with khao piak sen 😉
WHAT IS KHAO PIAK SEN?
Khao piak sen is lao style chicken noodle soup. It's such a simple chicken soup served with udon-like soft and chewy tapioca noodles. Traditionally, the noodles are cooked directly in the chicken broth to give the broth its slightly thick starchy consistency.
HOW TO MAKE KHAO PIAK SEN NOODLES FROM SCRATCH SUCCESSFULLY
Khao piak sen noodles are made with only 3 ingredients: Rice flour (regular not the glutinous kind), tapioca flour, and hot boiling water. That's all you need. It is commonly called tapioca noodle in English.
The most important thing in making good khao piak sen noodles are
1. The ratio of the flours. I've experimented with different rice to tapioca flour ratio and here's what I found:
Rice:Tapioca flour ratio
1:1 = very starchy noodles and the texture is too soft and mushy
1:2 = The noodles are too chewy and tough
1: 1.5 = The noodles are soft, but still slightly chewy
1: 1.3 = The noodles are soft with the right balance of chewiness
This recipe uses 1: 1.3 ratio. I would say 1: 1.5 and 1: 1.3 ratios gives the best result for khao piak sen noodles
2. Hot boiling water
You can't make this noodle with just warm water. You actually need hot boiling water. Why? When the water is not hot enough, the dough is not elastic and will crumble easily. The hot boiling water will make the flour becomes elastic and easy to work with. So remember, hot boiling water!
3. Use a pizza cutter
You can use a knife to cut too, but I love doing it with a pizza cutter. So much easier and faster. It's a personal preference though, you can stick with using a knife if that's what you are comfortable with.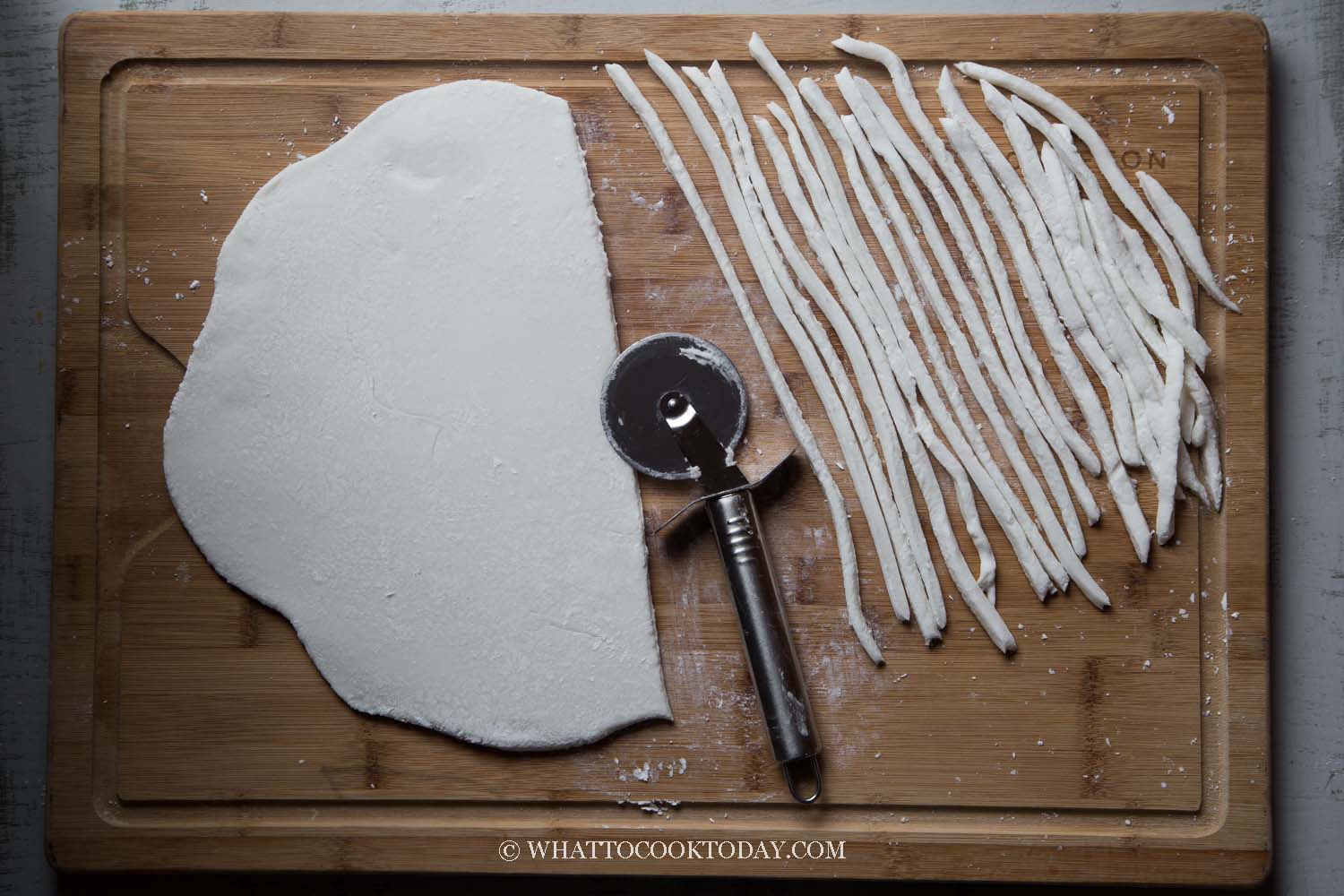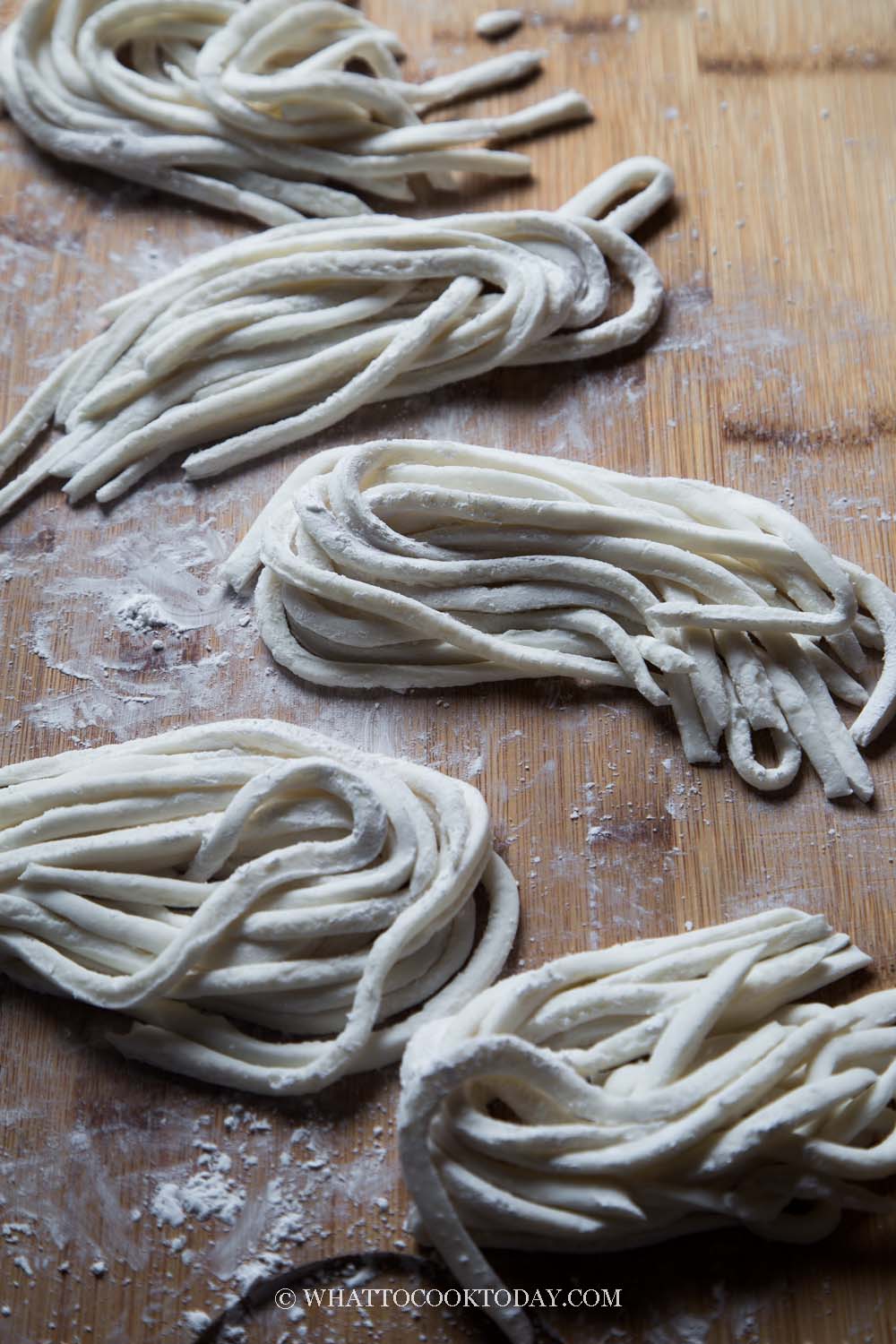 KHAO PIAK SEN NOODLES ARE NATURALLY GLUTEN-FREE
The noodles are made with a combination of rice and tapioca flour, which are naturally gluten-free. The recipe for the broth does call for a fish sauce, which is not gluten-free, but you can use vegan fish sauce to make this vegan-friendly.
SPECIAL INGREDIENTS USED IN KHAO PIAK SEN
1. Rice flour
2. Tapioca flour
3. Fish sauce
4. Galangal powder
5. Lemongrass stalks or lemongrass powder
6. Kaffir Lime Leaves

TIME-SAVING TIPS FOR MAKING KHAO PIAK SEN
Traditionally the soup is made with chicken bone, but I can tell you using a good-quality store-bought chicken bone broth makes equally delicious broth
MEAL PREP TIPS FOR KHAO PIAK SEN NOODLES AND BROTH
Storing noodles:
Portion the uncooked khao piak sen and place them in a freezer bag, kinda spread them flat on the bag and lay the freezer bag flat in the freezer. They can be frozen up to one month.
Storing the chicken broth:
The chicken broth can be portioned as well in containers or freezer bag. Make sure it has cooled down before storing. If using a freezer bag, lay them flat and they will save more space and reheat faster
Cooking:
When ready to cook, place the broth (without thawing) in a saucepan and bring to a boil. As for the noodles, you don't need to thaw. Just bring the broth to a boil and put the noodles in and cook until the noodles turn slightly translucent and float to the top.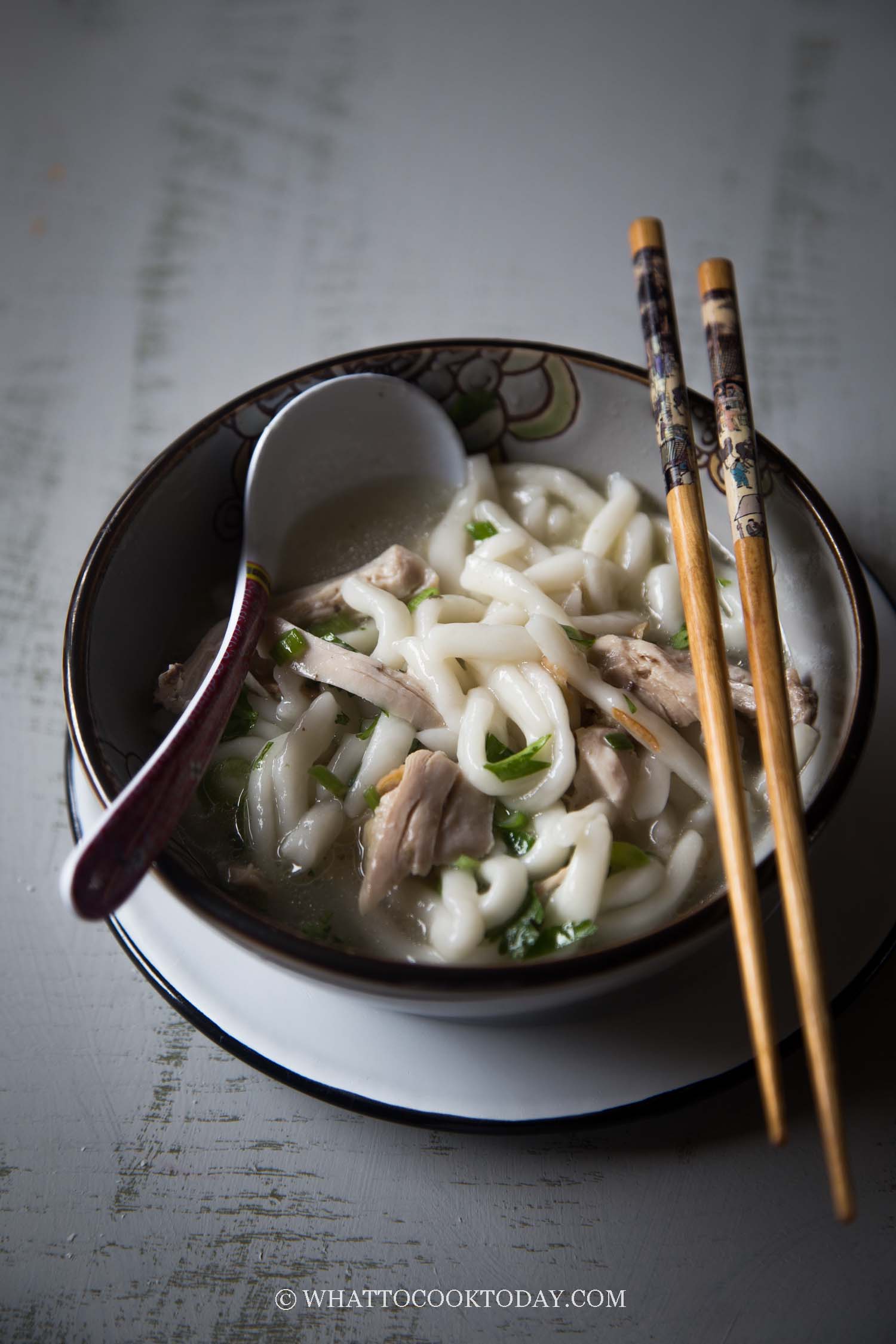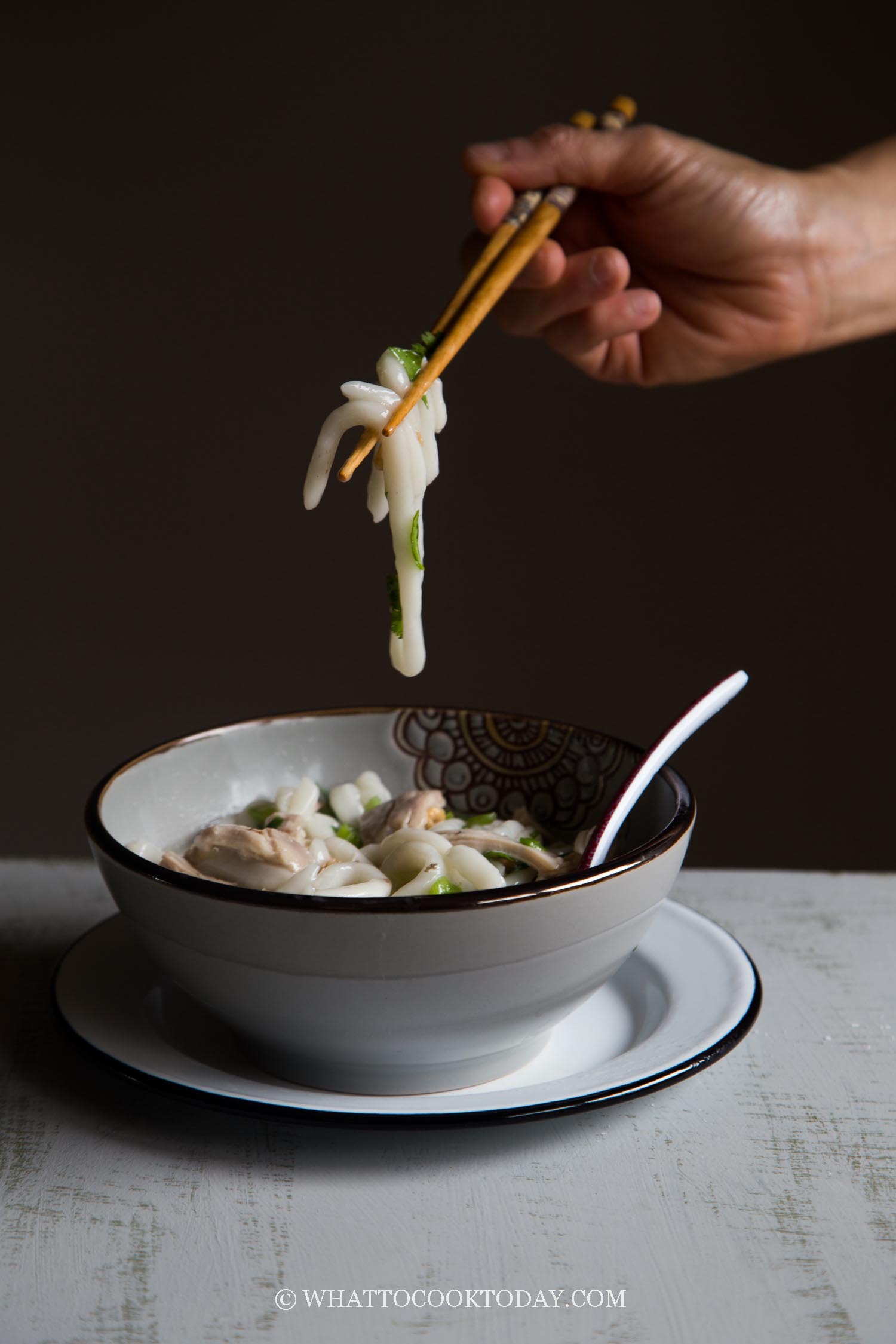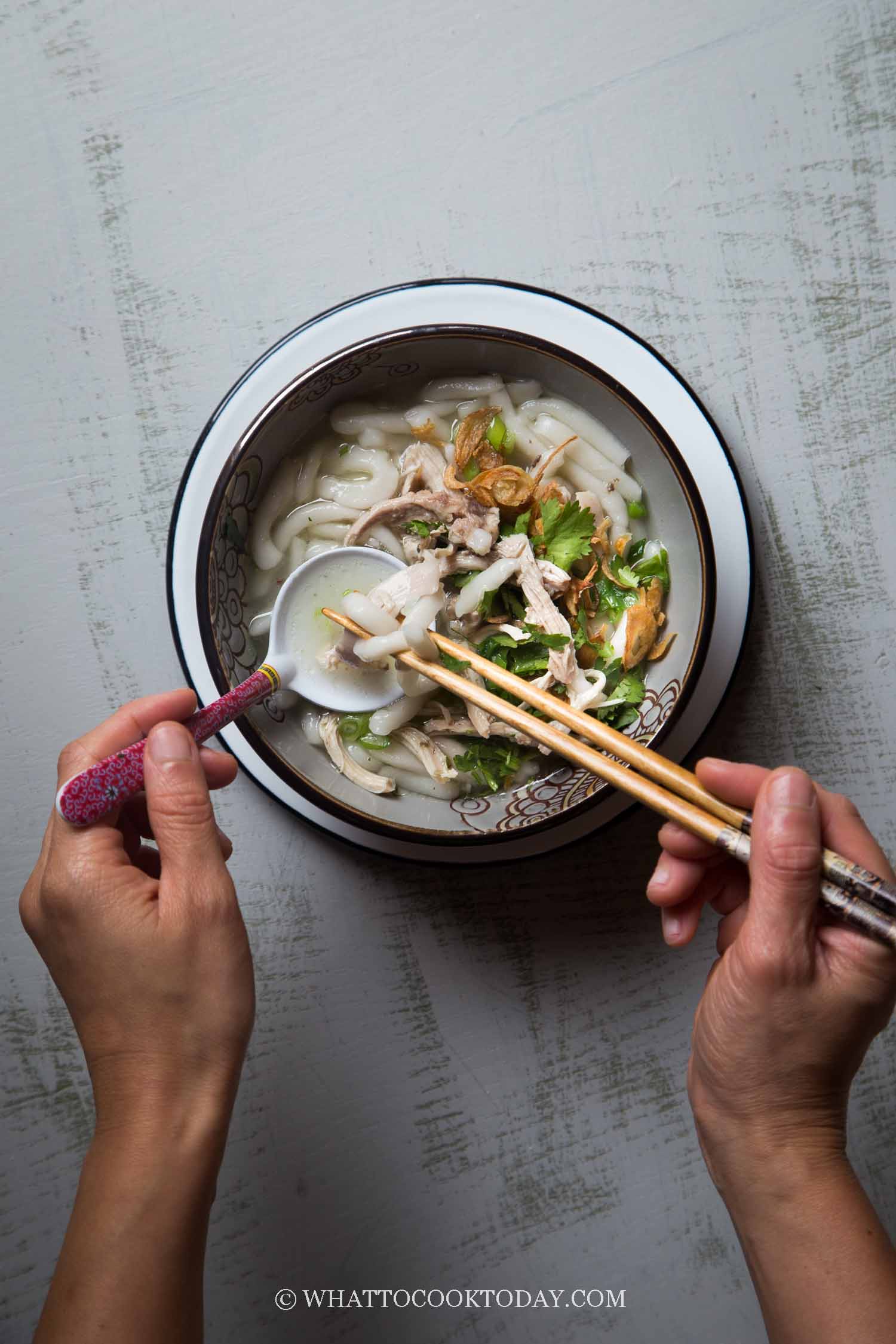 Khao Piak Sen (Lao Tapioca Noodle Chicken Soup)
Lao style homemade tapioca noodle is served in aromatic chicken broth. Incredibly comforting and you will learn how to easily make khao piak sen noodles at home too.
Making noodles::
30
minutes
Total Time:
1
hour
12
minutes
PIN RECIPE
PRINT RECIPE
Ingredients
Tapioca Noodles (Make about 500 gr noodles):
130

gr

tapioca flour

(about 1 cup) plus more for dusting

100

gr

rice flour

(about 2/3 cup)

250

ml

hot boiling water

(about 1 cup)
Chicken Broth:
8

cups

chicken bone broth

homemade or store-bought

3

boneless skinless chicken thighs

or use chicken breast if you like
Aromatics:
1

large

lemongrass stalks

trim off woody ends and bruise with heavy object or use 3 Tbsp lemongrass powder

2

Tbsp

galangal powder

4

kaffir lime leaves

tear edges to release flavor
Instructions
Prepare chicken broth:
Place the chicken broth in a large pot follow by chicken thighs and the aromatics. Bring to a boil and then lower the heat to let it gently simmer for the next 15 minutes or until the chicken thighs are cooked through (do not overcook the chicken). Remove the chicken thighs to a plate

Stir in the seasonings. Have a taste and adjust to your taste by adding more fish sauce and/or salt if needed

When the chicken thighs are cool enough to handle, shred the meat. Cover and set aside
Make tapioca noodles:
Make sure you boil at least 300 ml ( 1 1/4 cups) of water. Make sure the water is rolling boil. This is important or your noodle won't turn out right

Place both types of flour in a large mixing bowl. If you have a stand mixer with dough hook attachment, use this. Pour in the boiling water and knead it. The mixture won't come together just yet. You may need to scrap the side of the mixing bowl halfway. It will continue to form a smooth non-sticky dough. If it's too wet, add a bit more tapioca flour, if it's too dry, add a bit more hot water

Dust your working surface with tapioca flour. Roll the dough out into about 1/4 inch thick. You can use a knife to cut the noodle, but I find that using pizza cutter is way faster and easier. The noodle has kinda square shape, so cut the noodle about 1/4-inch in width too
Cooking the noodles separately:
Bring a large pot of water to a boil. When water comes to rolling boil. Cook the noodles until they start to turn slightly translucent and started to float to the top, about 1 minute or so. The texture will be soft and chewy

Rinse the noodle in cold running water
Cooking the noodles in the broth:
If you do this, I recommend to cook it portion by portion. Get a medium saucepan and pour about 2 cups of broth into the saucepan. Bring to a boil. Add 1 portion of uncooked tapioca noodles and cook until the noodles turn slightly translucent and float to the top. The broth will be thick and slightly gooey too. Transfer to serving bowl and proceed to the next step
Serving:
Portion the noodle out into an individual serving bowl. Top with shredded chicken meat and generously ladle the soup over. Garnish with green onions, cilantro leaves, and some fried shallots crisp. Serve immediately
This blog post contains affiliate links. I earn a small commission when you made purchase at no extra cost to you. Learn more.