"This post has been sponsored by Kemps. All thoughts and opinions are my own."
Super Easy Sour Cream Shrimp Curry- This sour cream and tomato based shrimp curry is so easy to put together and with just a handful of ingredients you can make this delicious and creamy curry that is perfect for any day of the week.
The kids are out of school now and they can't be more thrilled to spend times outside enjoying the weather. I am excited to spend more quality time with them too, which also means I don't want to spend too much time cooking in the kitchen. So, I am excited to partner up with Kemps® using their sour cream to bring you our family's favorite easy recipe, super easy sour cream shrimp curry. It is really easy! No long list of spices.
WHY KEMPS® SOUR CREAM?
Let me back up a bit here to tell you why I'm excited to partner up with Kemps. Kemps is 100% family farmer-owned and I'm happy to support this Minnesota-based company. Kemps is our family's trusted brand for dairy products. Most importantly, Kemps produce high-quality dairy products that are wholesome and fresh. And the creamy texture and consistency makes it a must-have for making this sauce just perfect.
When you taste this sour cream shrimp curry, you will think that it must be complicated to make that sauce. The opposite is true! I use Kemps Sour Cream to make the tomato-based sauce thick and creamy. The end result speaks for itself!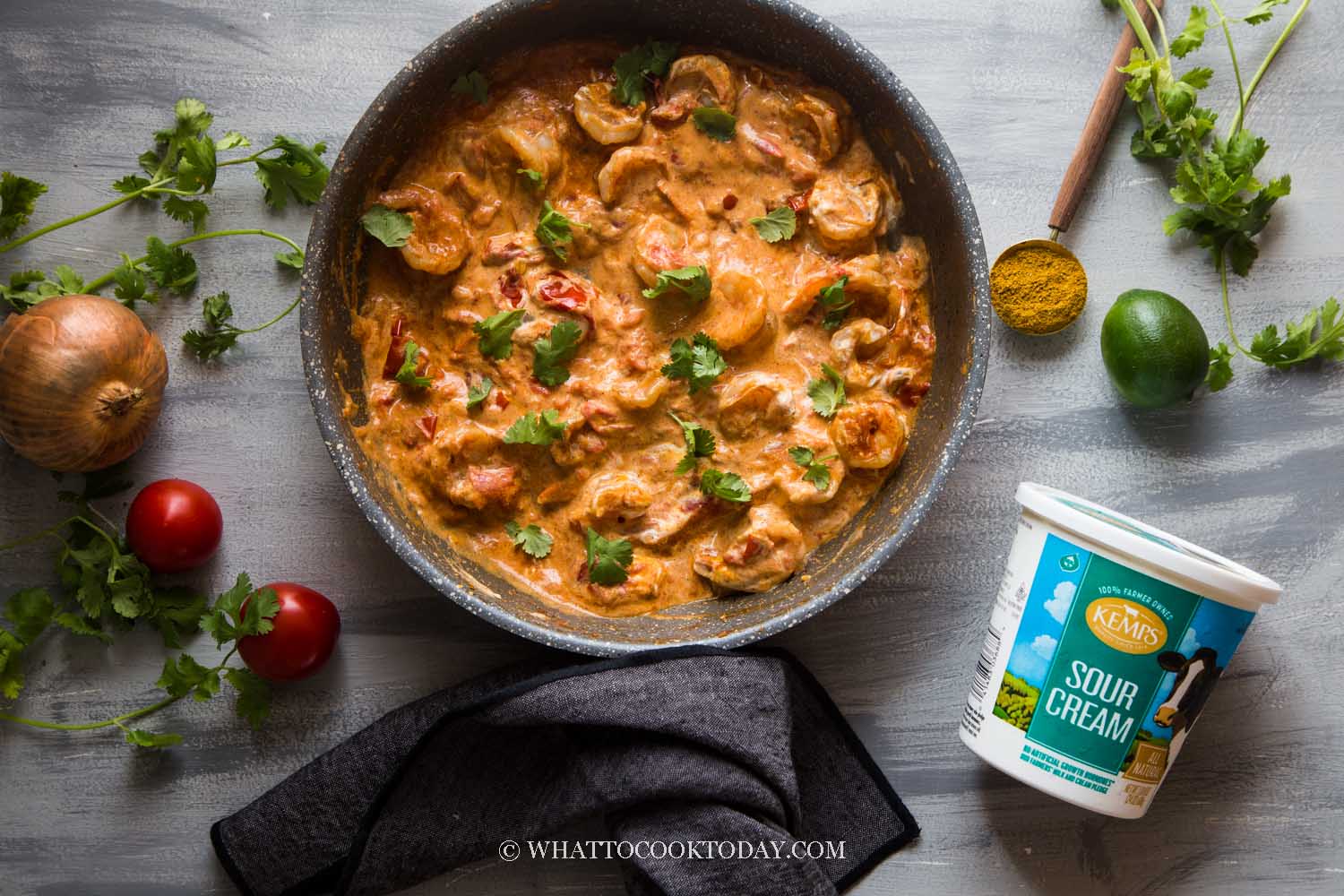 Kemps products are also widely available at grocery stores in the Minnesota and Wisconsin areas. I'm a Hy-Vee frequent and that's where I got Kemps Sour Cream. When a brand new Hy-Vee store opened up nearby our house last year, I couldn't be more excited. I like shopping at Hy-Vee because the store is well-designed with its modern look. Everything is so neatly arranged. There's always helpful smiles throughout the store. I only need to make one stop to get all the ingredients I need for this recipe. Kemps Sour Cream can be found in the dairy aisle, sour cream section.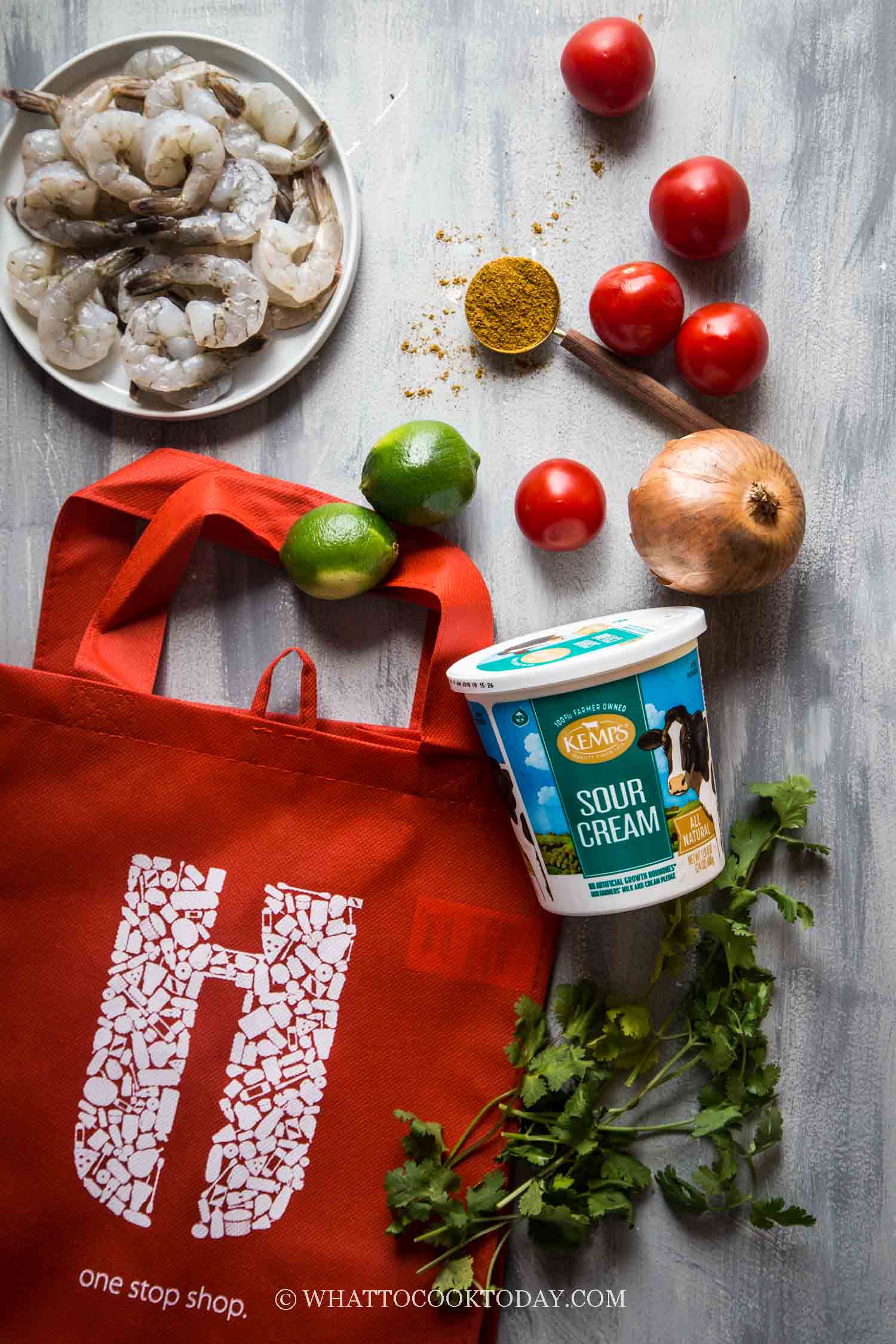 TIPS ON HOW TO SUCCESSFULLY MAKE THIS SUPER EASY SOUR CREAM SHRIMP CURRY
1. Use large shrimp
The shrimp is one of the stars in this recipe, and therefore, I strongly encourage you to use large shrimp, about 31/35. Fresh is best, but if you don't have access to fresh, frozen is acceptable too.
2. Do not overcook the shrimp
Shrimp, like other seafood, doesn't take long to cook. In this recipe I cook the shrimp first and then remove them from the pan to avoid overcooking and continue to make the sauce. If you simmer the shrimp with the sauce together, the shrimp will be way overcooked by the time the sauce is done.
3. Stir in Kemps Sour Cream last
Dairy products will break or separate when you overheat them. It is important to stir in the sour cream last to prevent breaking the cream.

You will not regret if you decide to give this super easy sour cream shrimp curry a try. My family raved about it and I couldn't be happier because it is so easy to make. My husband thought I was using some special ingredient to make the sauce. Well, I told him I did. It's Kemps Sour Cream! He was like "That's it? sour cream?" You better believe it 😉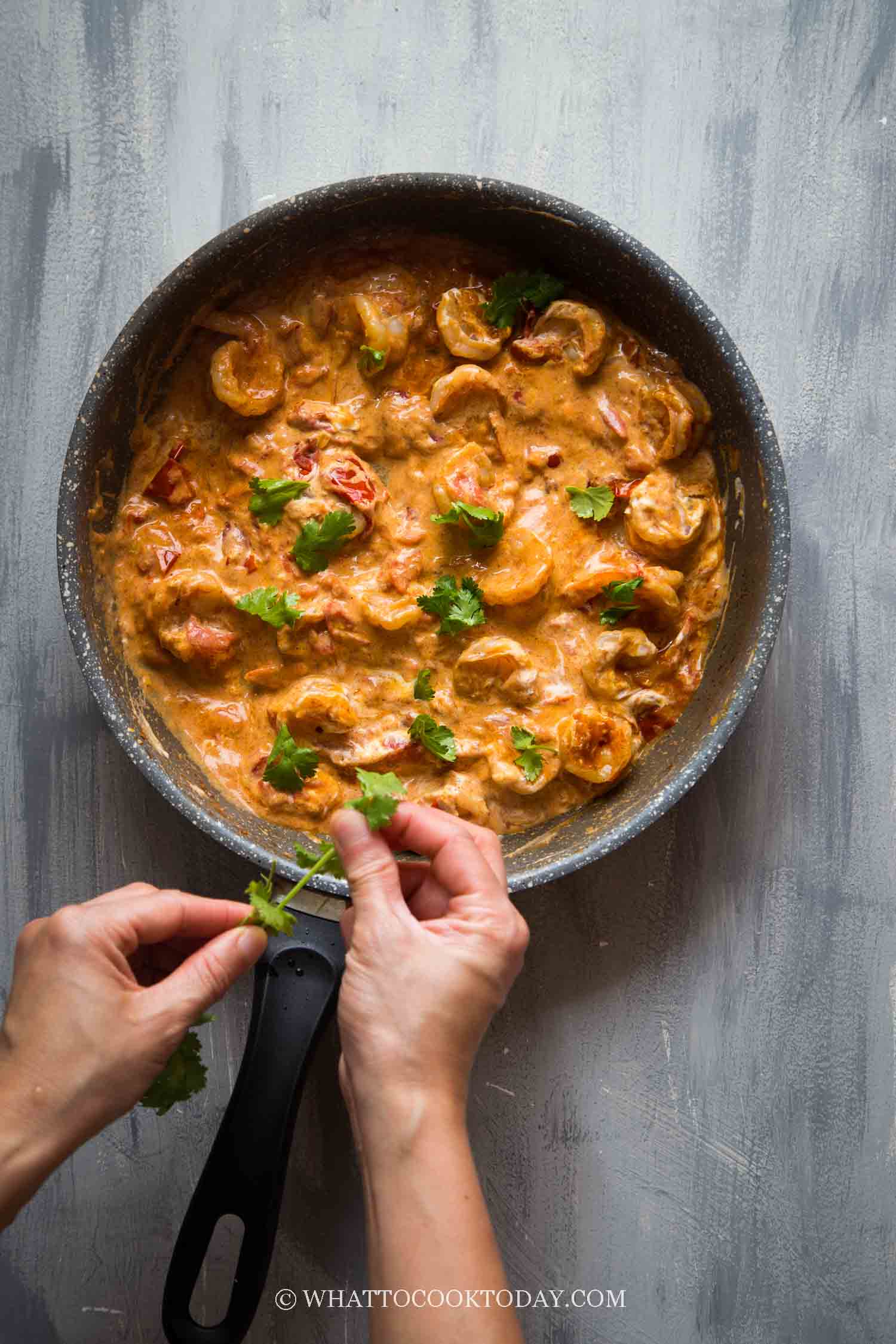 VOILA!!! Looks like I had been slaving at the kitchen to bring you this dish, but…don't tell anyone that I had not!

WHAT CAN I SERVE THIS SUPER EASY SOUR CREAM SHRIMP CURRY WITH?
We love to eat it with rice. My gosh..so good with the rice! But, we have tried it with pasta, noodles, and crusty bread, and they are perfect too! The consistency of the sauce can be adjusted by adding a bit more water if let's say you like the sauce to be thinner.
I like to add a dollop of Kemps Sour Cream to the curry too.

There's also a coupon offer to save $1.00 when you buy TWO (2) Kemps Sour Cream Products. So, make sure you take advantage of that!
Find out more great Kemps Sour Cream recipes here
Super Easy Sour Cream Shrimp Curry
Ingredients
1

lb

large shrimp

peeled and deveined

1

Tbsp

Cooking oil

1

lb

tomatoes

diced

¼

cup

water

see notes

½

cup

Kemps® Sour Cream

(I used the original 24oz variety)
Aromatics:
1

large

onion

peeled and diced

1

tsp

curry powder
Garnish:
Few sprigs fresh cilantro leaves
Instructions
Cooking the shrimp on the pan:
Preheat a pan. Add cooking oil. Add onion and stir fry for about 3 minutes. Add the shrimp and stir fry until they turn pink and cooked through. Remove the shrimp from the pan to serving platter
Cooking the shrimp on the grill:
Brush the shrimp with some cooking oil and then season lightly with salt and pepper. You can thread them on the skewers or if you don't want to use skewers, you can use a grill mat to prevent the shrimp from falling in between the grid. Grill for about 2 minutes on each side and then remove to serving platter
Prepare the sour cream curry sauce:
If you cooked the shrimp on the grill, then you need to preheat a pan and then add cooking oil. Stir fry the onion for about 3 minutes, then add tomatoes. If you cooked the shrimp on the pan, proceed by adding tomatoes to the pan. Add about 1/4 cup of water and cook until the tomatoes are breaking apart and turn mushy

Stir in the curry powder and seasonings. Add the cooked shrimp back to the pan. Give it a quick stir. Turn off the heat. Stir in sour cream and stir to mix everything. Have a taste and add more salt if needed. Garnish with fresh cilantro leaves
Serving:
Serve the sour cream shrimp curry with rice, pasta, or noodles
Storing and reheating:
Leftover can be kept in the refrigerator for up to 3 days. Freeze them in smaller portions in individual freezer bags if you are doing meal prep. They can be freeze for up to one month

They can be reheat in the microwave for few minutes or less or on stove-top
Notes
If you like a "runnier" sauce, add a bit more water to the consistency you prefer.
Nutrition
Serving:
1
serving
|
Calories:
231
kcal
|
Carbohydrates:
11
g
|
Protein:
29
g
|
Fat:
9
g
|
Cholesterol:
193
mg