Stir-fried Shirataki (Miracle Noodles) Pad Thai is cooked the way the original pad Thai is using essential ingredients of pad Thai but with miracle noodles.
My husband walked into the house to see this plate of stir-fried shirataki pad Thai on the dining table, only that, he didn't know it's made with shirataki noodles. I talked more in detail about shirataki in my 15-minute stir-fried shrimp shirataki noodles post. Anyway, he asked me what kind of noodle it was. I asked him if he liked it. He said it's really good. Kinda springy (in a good way!). I told him it's not a real noodle. He couldn't believe me! I told him many call shirataki a miracle noodle because of its low carb content and the fact that it was made to resemble noodle.
If you are ready to move on to something with a more complex flavor, but still relatively easy, try this stir-fried shirataki pad Thai.

SHIRATAKI PAD THAI VERSUS TRADITIONAL PAD THAI
I made it the same way I would the traditional pad Thai using all the "must-have" ingredients in pad Thai. I swapped out the pad Thai rice stick noodles with shirataki noodles. Shirataki noodles do not soak up the pad Thai sauce as much compares to regular pad Thai made with rice noodles. So you will see a bit more sauce, so the overall dish is a bit more "wet", but certainly doesn't turn into noodle soup if you are wondering.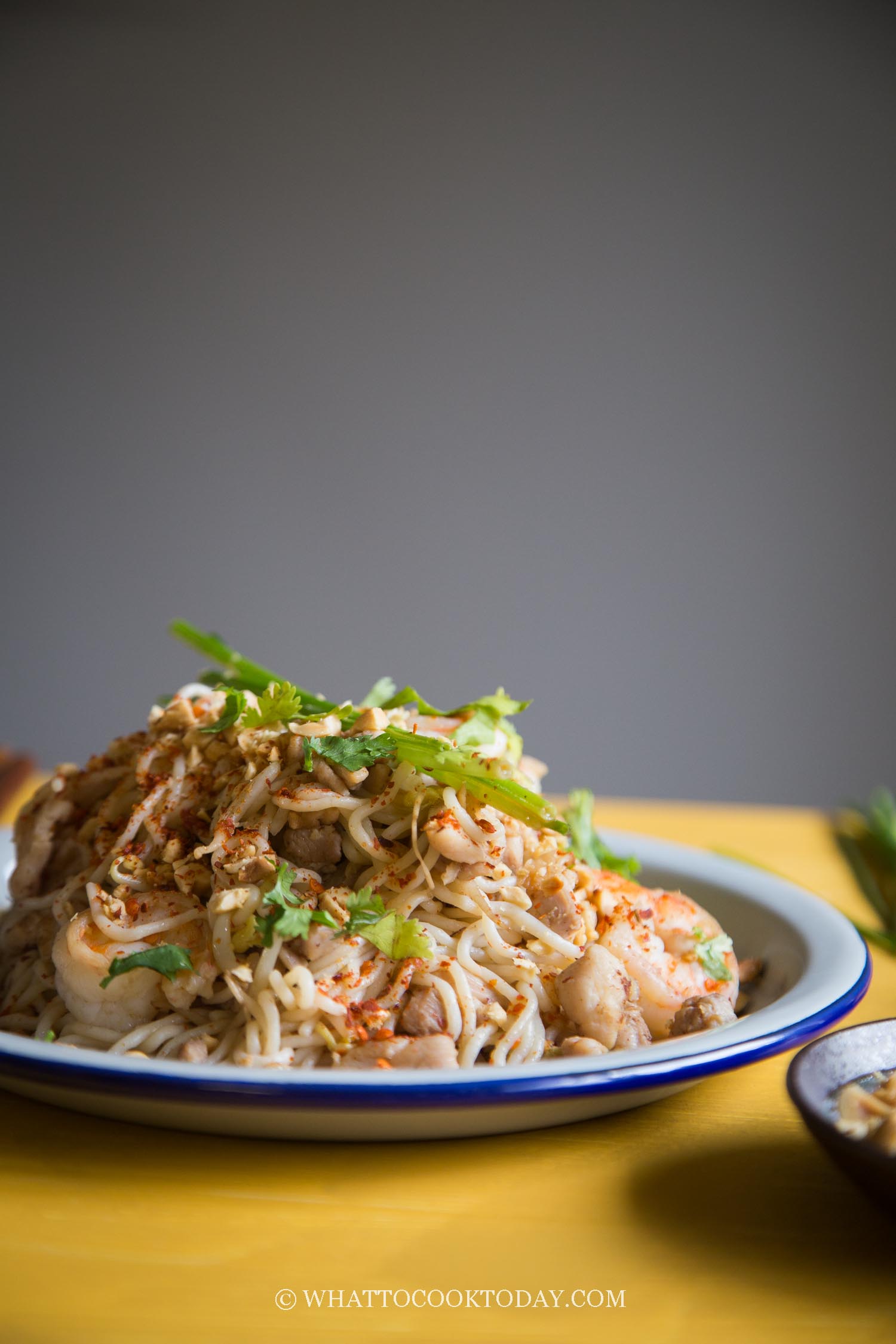 This stir-fried shirataki pad Thai is such a great alternative if you are craving for pad Thai but do not want all the carbs that comes with it. Such a perfect delicious low carb meal you must try to make!

This blog post contains affiliate links. I earn a small commission when you made purchase at no extra cost to you. Learn more.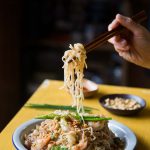 Stir-fried Shirataki (Miracle Noodles) Pad Thai
Ingredients
16

oz

shirataki noodles

3

Tbsp

cooking oil divided

2

cups

fresh bean sprouts or you may use 2 cups shredded cabbage
PROTEIN:
4

oz

extra-firm tofu

¼

lb

medium raw shrimp shelled and deveined

2

eggs lightly beaten

2

oz

ground pork preferrably with some fat
AROMATICS:
2

Tbsp

dried shrimp

¼

cup

preserved radish

finely chopped

2

cloves

garlic peeled and minced

2

shallots peeled and minced

5

stalks Chinese chives cut into 2-inch pieces
SERVE WITH:
1

tsp

crushed red chili flakes or more if you like more heat I added this last so it won't be spicy for my kids

½

cup

chopped roasted peanuts for garnish

fresh limes

3

stalks Chinese chives cut into 2-inch pieces
Instructions
THINGS YOU CAN PREPARE AHEAD:
If you are using tofu, press the tofu down by putting paper towels at the bottom and top of the tofu and then weigh it down by placing a heavy pan/pot on top for about 15 minutes. This will "squeeze" out the water: Discard the excess water and pat the tofu dry and cut into about 1x 1/2 inch pieces

Meanwhile, soak dried shrimp in warm water to cover until softened, about 10 minutes; drain and chop finely

To make pad thai sauce, combine the tamarind paste with water and then use the back of the spoon to keep mashing it until you get thick mash. Add in sugar and fish sauce and stir to combine. Set aside
ON THE DAY OF COOKING:
Shirataki noodles usually come packed in liquid. Discard the liquid and rinse the noodles briefly with cold running water. Set aside

Add 1 Tbsp of oil. Add the noodles and stir fry until they started to get soft. Dish them out and set aside.

Place a wok or cast-iron skillet over high heat until hot. Add dried shrimp and the rest of the aromatics and stir fry for about 30 seconds, crumble in the ground pork and stir fry until they just about to turn color, push them to the side. Add the shrimp and stir fry until they are about to turn pink, not fully cooked yet, do not overcook), push them to the side. Add 1 Tbsp of oil. Add the eggs and let them cook for about 10 seconds and then start scrambling them to big pieces

Add shirataki noodles and pour in pad thai sauce. Continue to stir fry to move the noodles around until the sauce coats everything. Turn off the heat. Add the bean sprouts and stir to mix. The residual heat will soften the bean sprouts but they should be still crunchy

Place noodle mixture on serving platter. Garnish with peanuts, cilantro leaves, red chili flakes, few stalks of chives, squeeze of lime juice and serve immediately