Make this easy low carb shirataki noodles stir fry with veggies and shrimp. You need this miracle noodle stir fry in your life!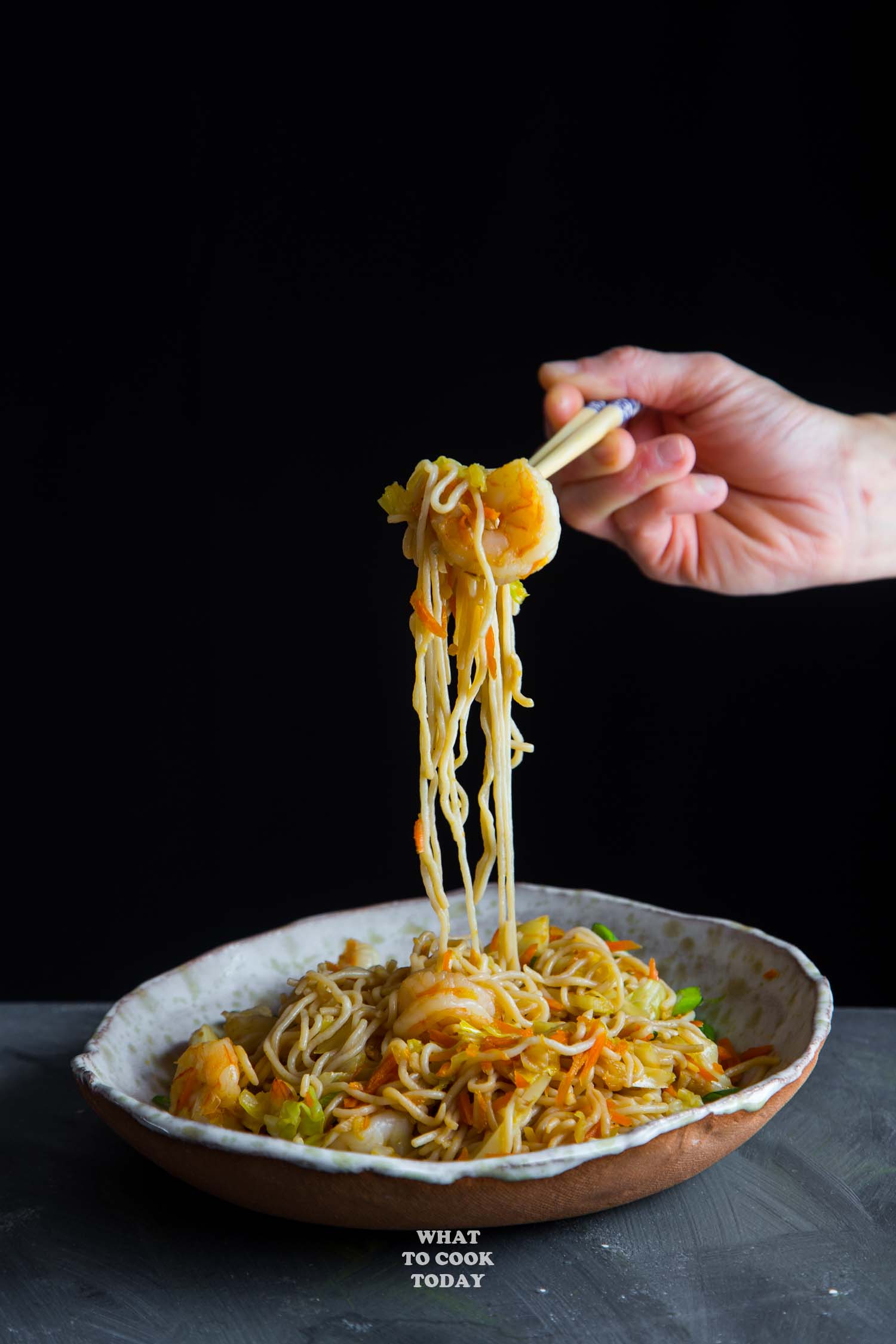 I learned about shirataki noodles after I moved to Minnesota 8 years ago. This noodle look alike shirataki is my favorite substitute for traditional wheat noodles. It looks like noodles and has that chewy bouncy texture that almost feels like noodles.
WHAT IS SHIRATAKI NOODLE (MIRACLE NOODLES)?
Shirataki is originated in Japan. It is made of Konjac Yam or also knowns as konnyaku, elephant yam. and extruded through small holes to give that long strand of noodle appearance. Konnyaku is consumed widely in Japan. They look like a gel cake and comes in white and grayish black color.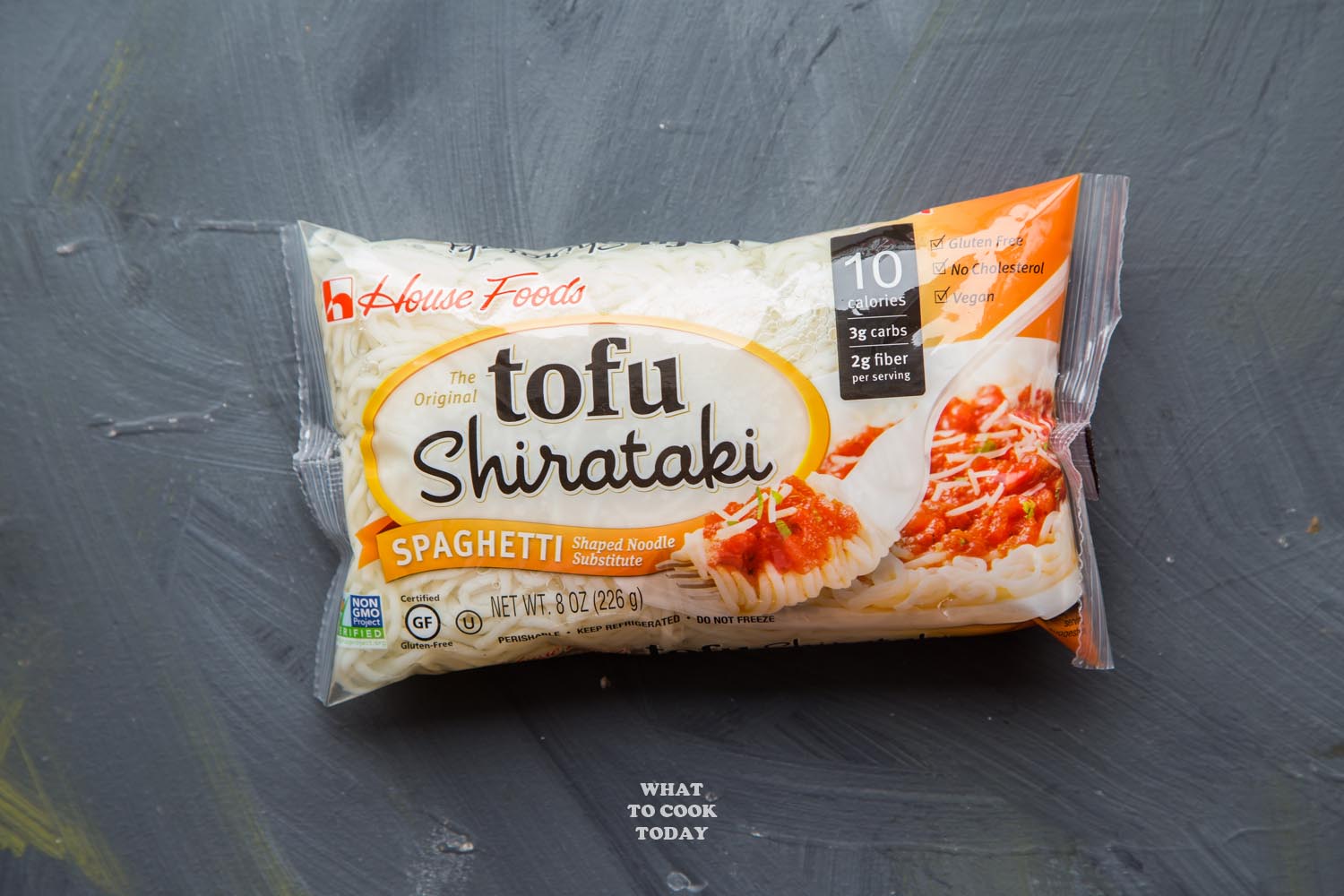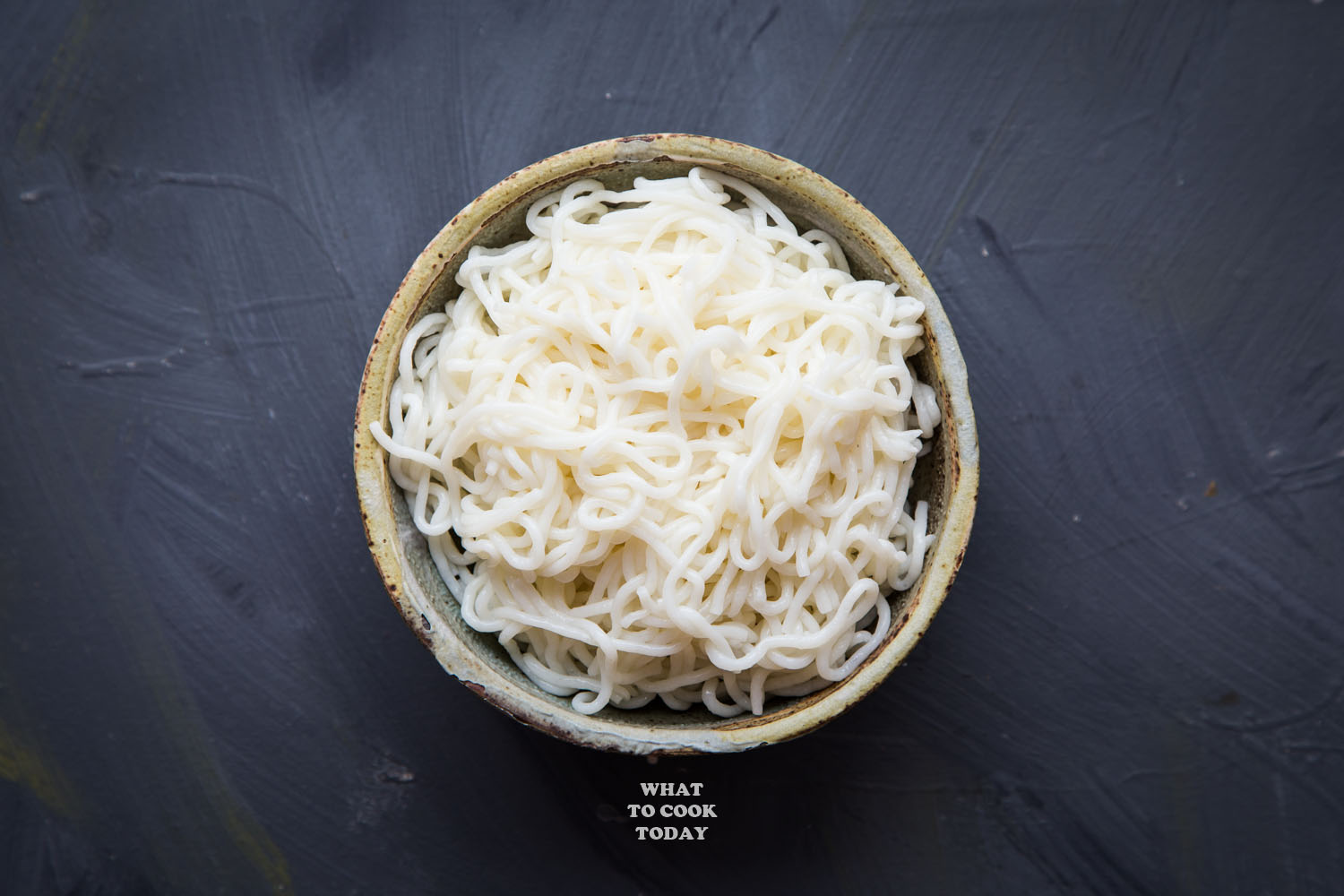 PERFECT LOW CALORIE, LOW CARB NOODLE OPTION
Shirataki is made with Konjac/Konnyaku, which mainly consists of soluble fiber and water and has no taste or flavor on its own. 4 oz (113 gr) of shirataki noodles has 10 calories, 3 gr of carbohydrates, 3 gr of fiber, 5 mg sodium,
0 gr protein. Yup, it's a perfect substitution for noodles or pasta if you ask me.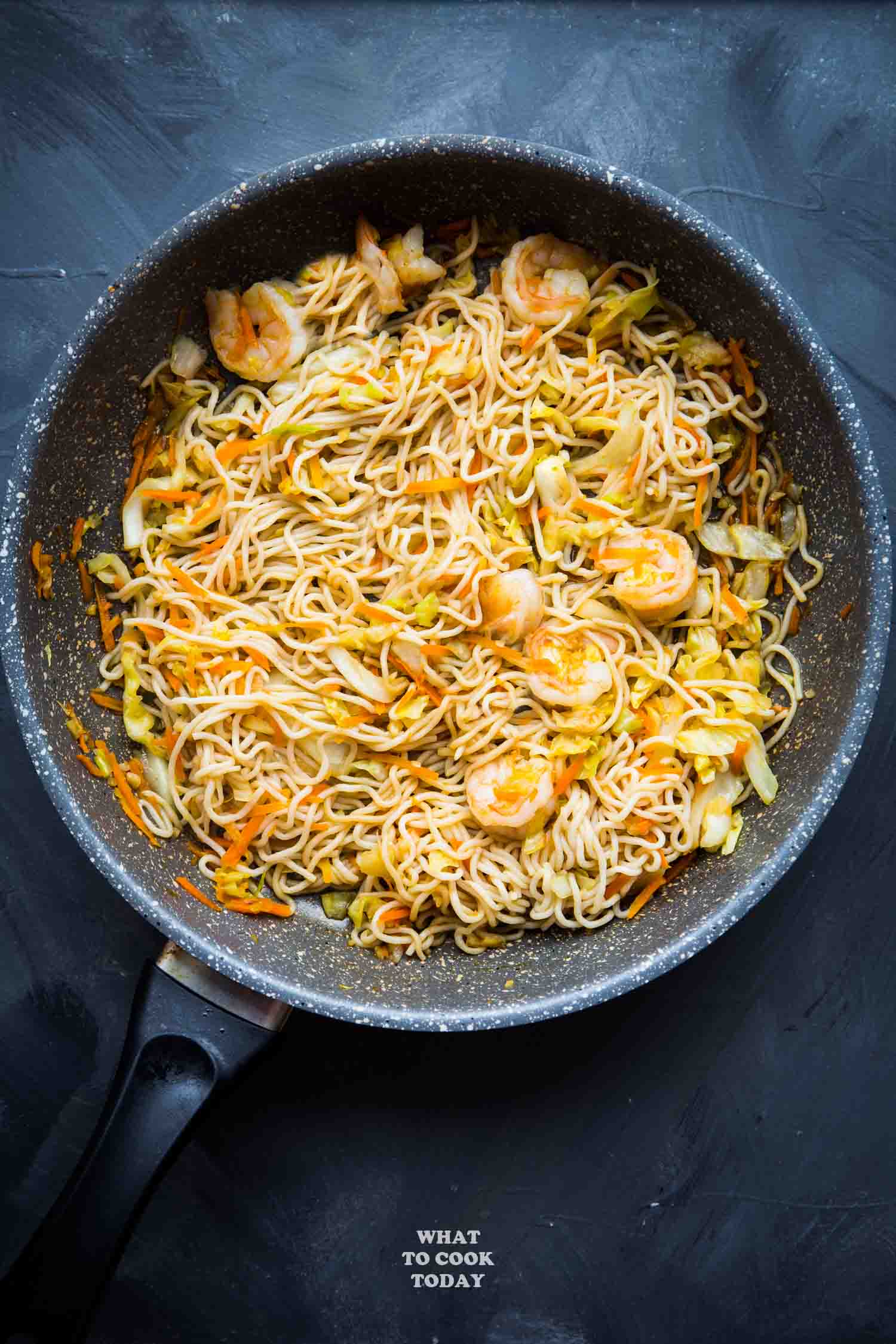 HOW TO PREPARE SHIRATAKI NOODLES?
Generally, the shirataki noodles are packed in liquid to prolong shelf life. This liquid needs to be drained and then depending on the brand, some just require a brief rinsing and some may require brief parboiling to get rid of the mild odor. The odor really isn't bad though if you ask me, especially after rinsing and you definitely won't taste it after cooking. At least not this brand that I purchased (not sponsored)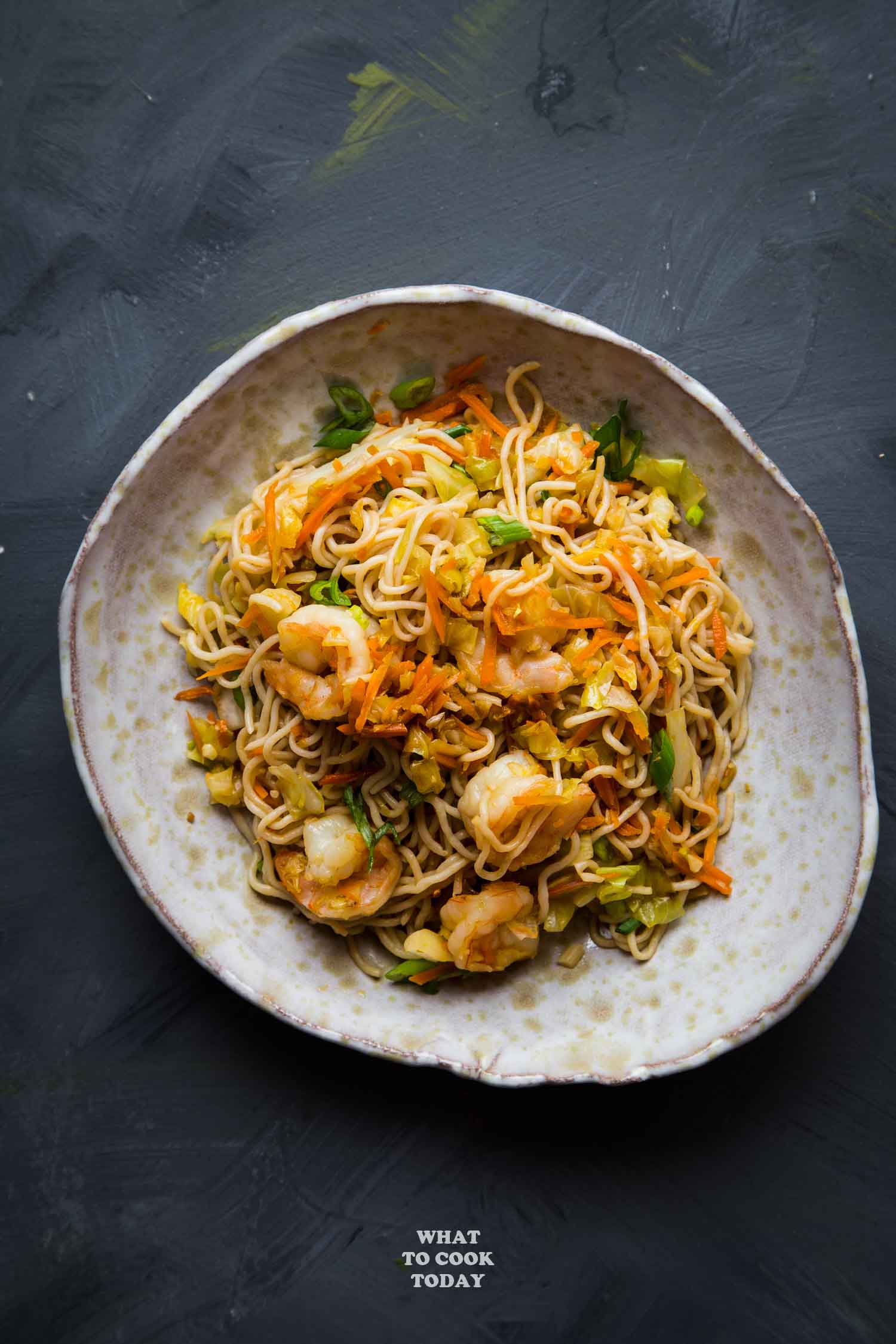 WATCH HOW I MADE STIR-FRIED SHRIMP SHIRATAKI NOODLES
15-MINUTE STIR-FRIED SHRIMP SHIRATAKI NOODLES STEP-BY-STEP COOKING GUIDE
1. PREP THE SHIRATAKI NOODLES: Drain the water of the shirataki noodles. Rinse it briefly with cold water and set aside.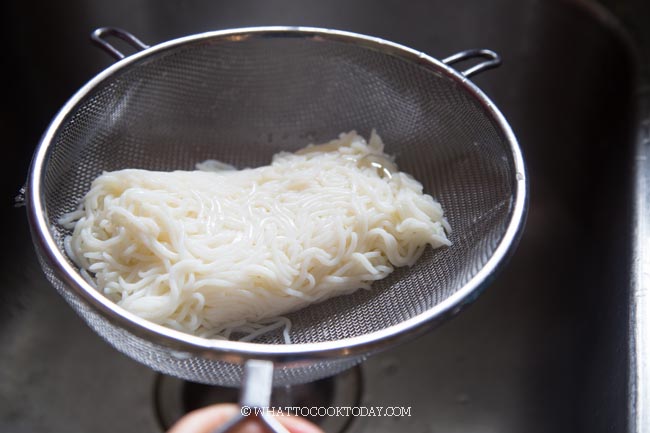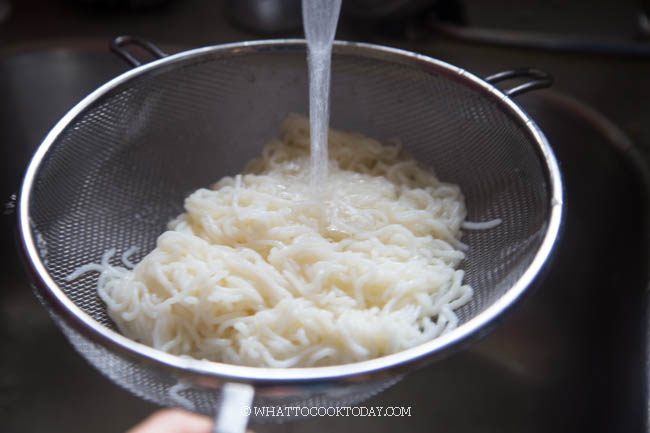 2. COOK THE AROMATICS: Preheat a medium or large pan with cooking oil. Add white part of green onion, garlic, and ginger. Stir fry for about 1 minute.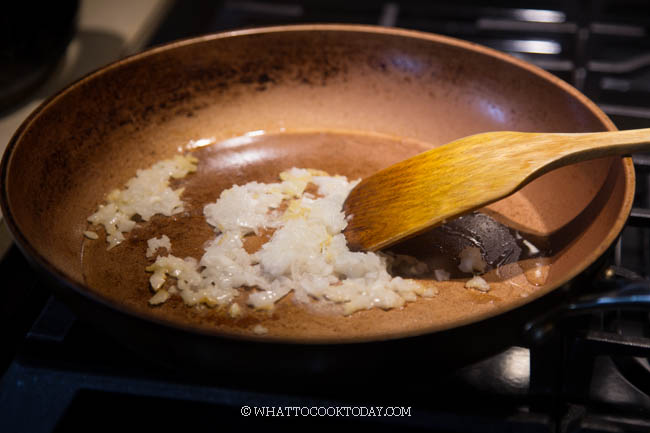 3. COOK THE VEGGIES NEXT: Add shredded cabbage and stir fry for about 2 minutes. Pour in 1/4 cup hot water and cook further to let the cabbage wilt. Add carrots, stir fry for another 30 seconds.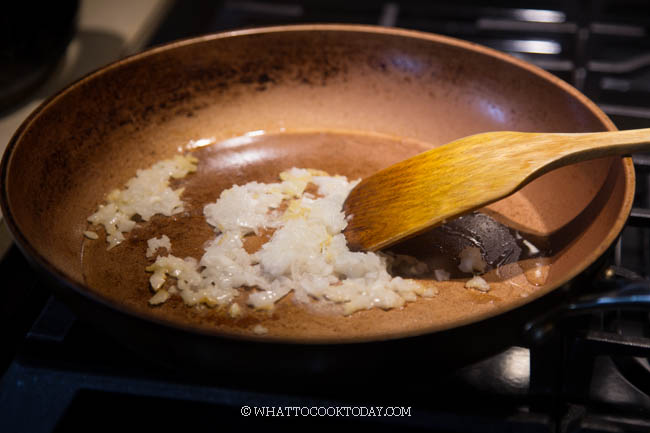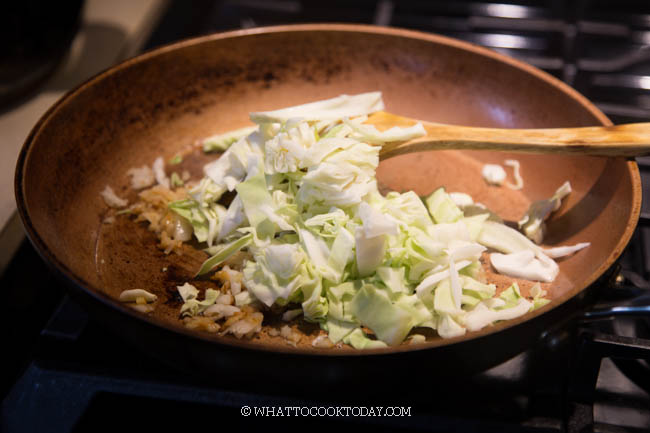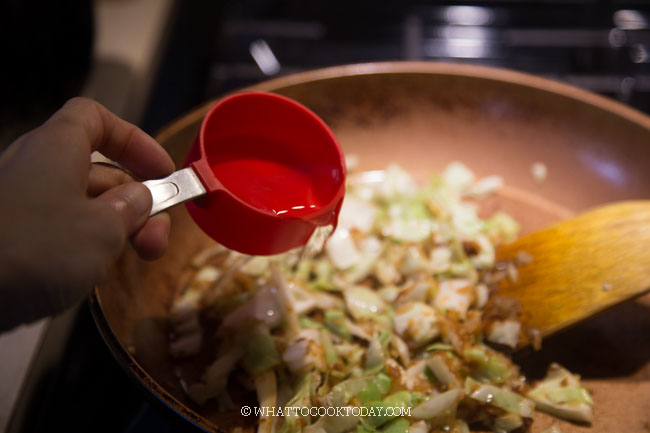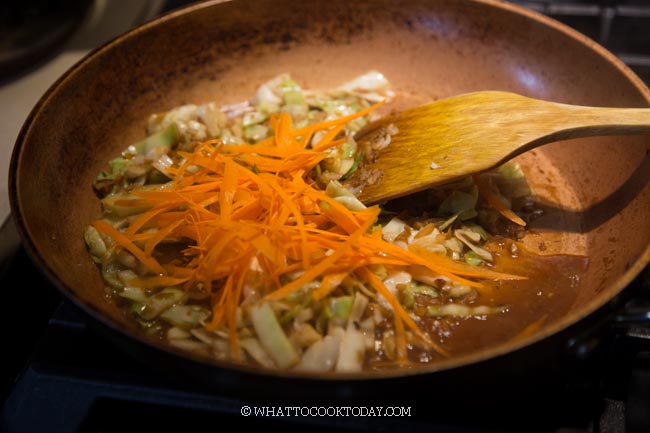 4. COOK THE SHRIMP NEXT: Add shrimp and stir fry until the shrimp turn pink.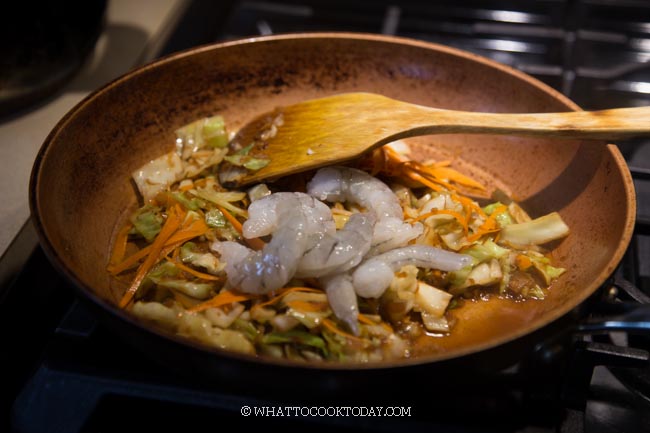 5. ADD SHIRATAKI AND SEASONINGS: Add shirataki noodles. Pour in the seasonings and stir fry to mix everything. Have a taste. Add more soy sauce if needed. Garnish with the green part of sliced green onions. Serve immediately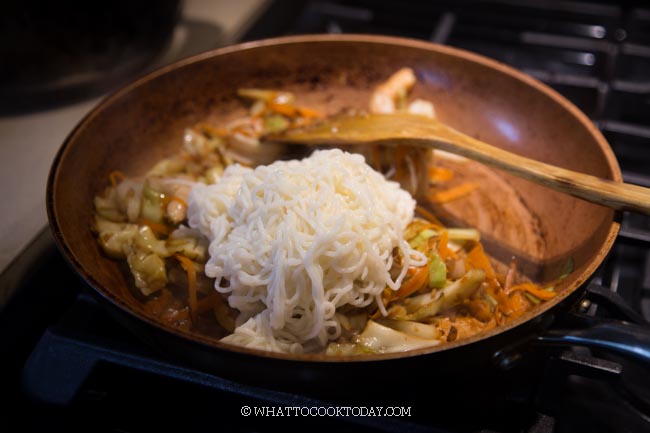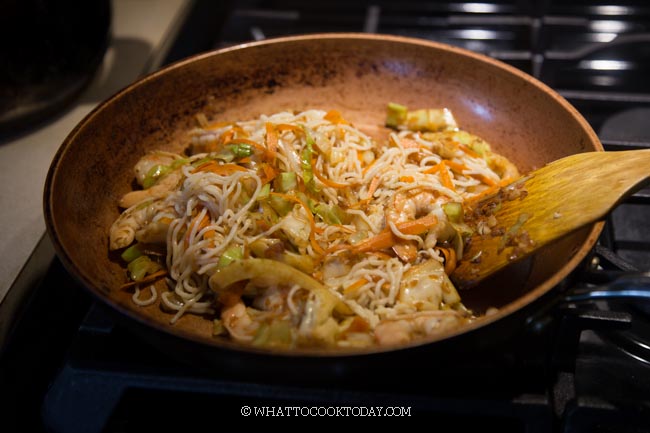 POSSIBLE VARIATIONS
OIL: I use avocado or grapeseeds oil in most of my cooking. You can use more aromatic oil like sesame oil too
VEGGIES: Bokchoy, broccolini or broccoli, snap peas, snow peas are perfect for this recipe
SEASONINGS: You can omit oyster sauce if you want. You can use fish sauce or vegan fish sauce, tom yum paste, red or green curry paste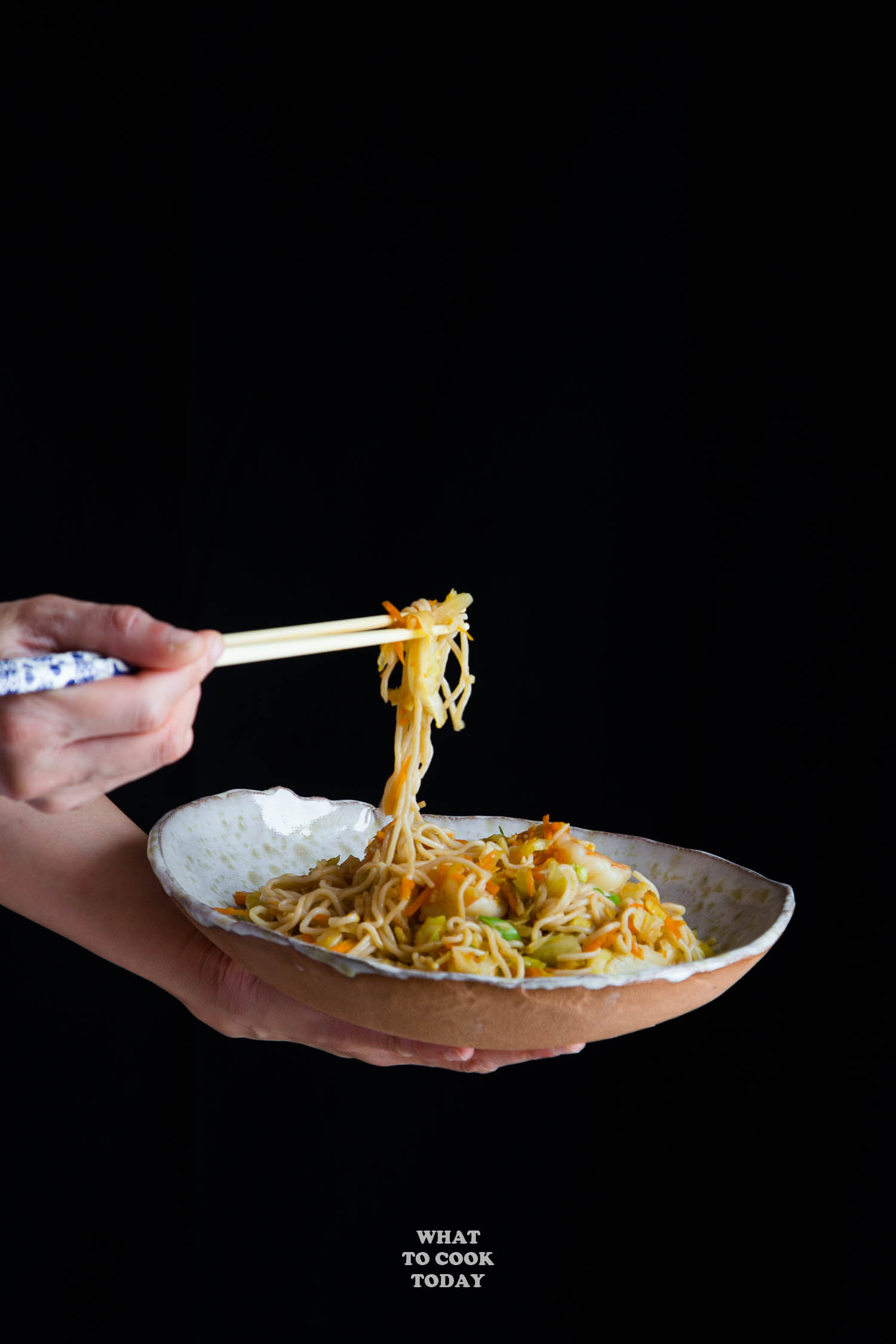 SHIRATAKI RECIPE IDEAS
Shirataki is available in thin (spaghetti, angel hair) and thick (fettuccine) cut at an Asian grocery store or specialty store. Either one is perfect as a substitute for noodle soup, stir-fried noodles, or pasta. You will most likely like this Stir-fried Shirataki Pad Thai too.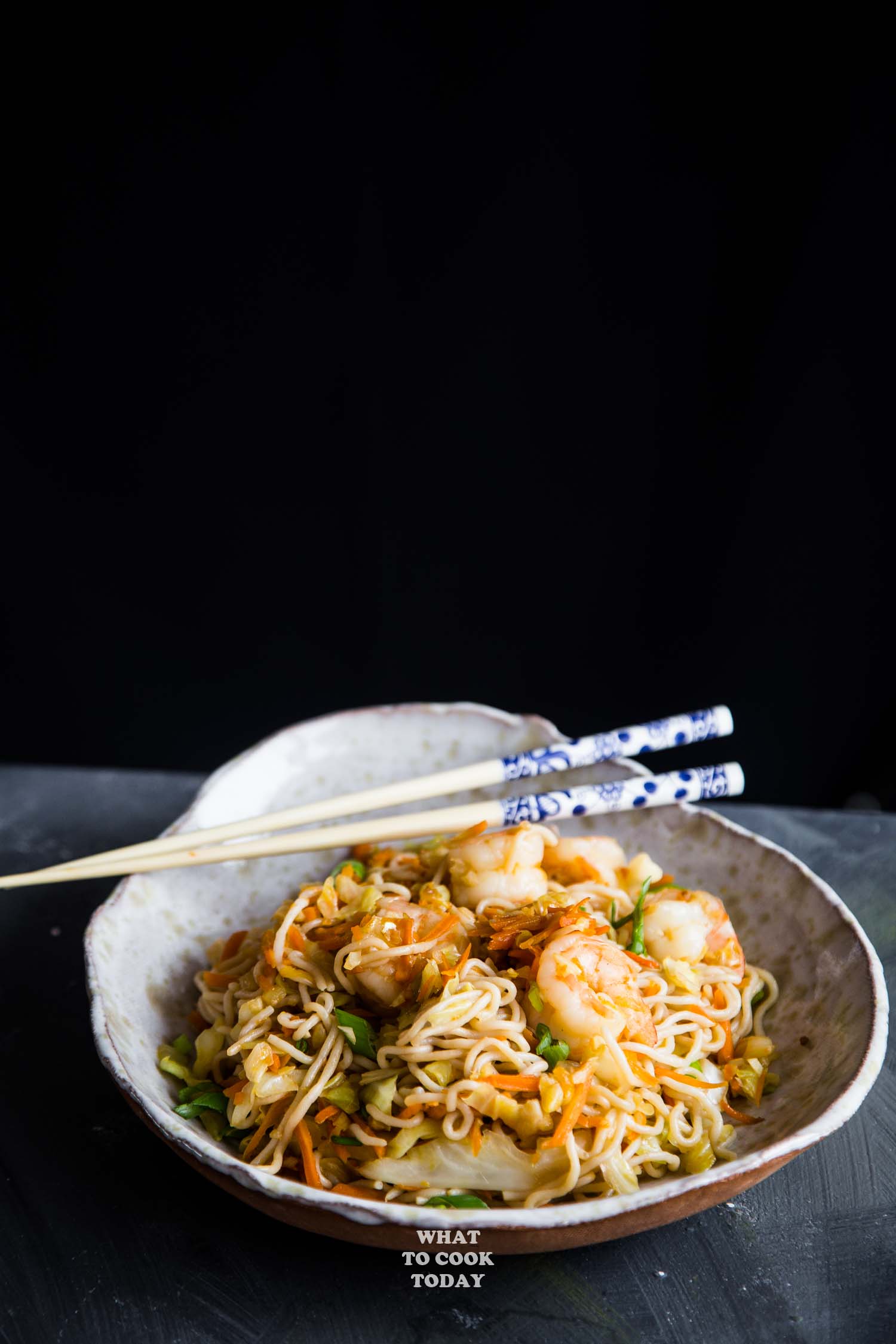 DID YOU MAKE THIS 15-MINUTE STIR-FRIED SHRIMP SHIRATAKI NOODLES RECIPE?
I love it when you guys snap a photo and tag to show me what you've made 🙂 Simply tag me @WhatToCookToday #WhatToCookToday on Instagram and I'll be sure to stop by and take a peek for real!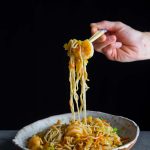 15-minute Stir-fried Shrimp Shirataki Noodles
Ingredients
Aromatics:
1

stalk

green onion

separate green and white, thinly sliced

3

cloves

garlic

finely chopped

½

tsp

finely chopped fresh ginger
Instructions
Drain the water of the shirataki noodles. Rinse it briefly with cold water and set aside

Preheat a medium or large pan with cooking oil.  Add white part of green onion, garlic, and ginger. Stir fry for about 1 minute. Add shredded cabbage and stir fry for about 2 minutes. Pour in 1/4 cup chicken broth and cook further to let the cabbage wilt. Add carrots, stir fry for another 30 seconds

Add shrimp and stir fry until the shrimp turn pink. Add shirataki noodles. Pour in the seasonings and stir fry to mix everything. Have a taste. Add more soy sauce and/or oyster sauce if needed. Garnish with the green part of sliced green onions. Serve immediately
Nutrition
Serving:
1
serving
|
Calories:
284
kcal
|
Carbohydrates:
17
g
|
Protein:
26
g
|
Fat:
9
g
|
Fiber:
9
g