This shop has been compensated by Collective Bias, Inc. and its advertiser. All opinions are mine alone. #StartAHealthyRelationship #CollectiveBias
Tofu Satay with Almond Butter Sauce – Tofu is marinated in aromatic spices and serve with super easy, tasty, and creamy almond butter sauce. You will not think of tofu the same way again.
I have been on a mission to get my family to eat a meatless meal more often and enjoy meat alternative like tofu. I grew up in Asia and so tofu was part of my life because it's a very common ingredient used in home cooking. It's also a great and cheap source of protein. My mom cooked it so often. My husband loves his meat and feels like a meal is not complete without it. Of course, until I made this tofu satay with an almond butter sauce few days ago. This tofu satay seriously gets his vote! Even the kids love it! The inspiration came from the popular satay dish that I grew up eating.
WHAT MAKES THIS TOFU SATAY WITH ALMOND BUTTER SAUCE SO GOOD!
1. Well, hello…the almond butter sauce!
The family loved the almond butter sauce. The good news is, you don't need to be grinding your own almond to do that. I used MaraNatha Creamy No Stir Almond Butter. It is no stir, so creamy, easily spread, and so delish!!!! You can also use MaraNatha Creamy No Stir Almond Butter too. There is no salt or additives added in this version, so you can enjoy the natural almond taste.
The sauce comes together so quickly and tasty, yet no one will know that you haven't spent half of the day at the kitchen making this almond butter sauce Thanks to MaraNatha 🙂
Hover over the image below and you will be able to click through to shop for MaraNatha Creamy No Stir Almond Butter and MaraNatha Creamy No Stir Almond Butter directly .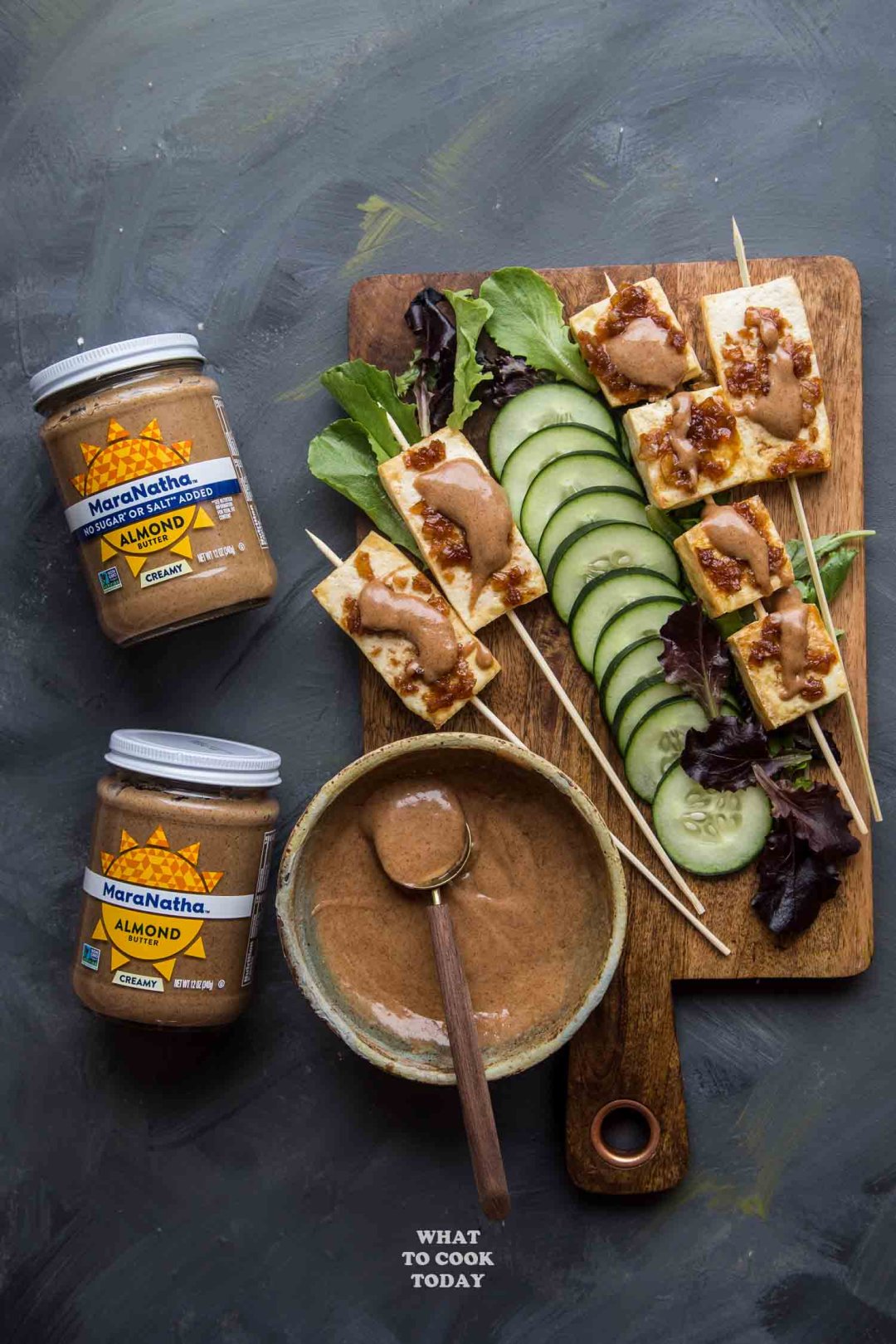 2. Marinade
The marinade has onion in it and when baked with the satay will slowly caramelize and make the tofu satay tastes even better. There is also coriander powder in the marinade. My mom likes to add ground coriander in the satay and so that's what I use in this tofu satay recipe. Even for those who dislike coriander leaves/cilantro leaves, you will like this. WHY? Despite coming from the same plant, coriander seeds that are ground into powder has an AMAZING lemony and sweet aroma that you will like and have different aroma altogether with the leaves.
I've been hooked with MaraNatha Almond Butter ever since I knew about it a few years ago. MaraNatha is the largest producer of high-quality nut butter in America. MaraNatha nut butter is made with high-quality California almonds, roast them to perfection and double-grind them to velvety smoothness. Now the No Stir Almond Butter gets even better! They can be enjoyed right from the jar! My husband and I like to have MaraNatha Nut Butter as a post-workout snack too.
A QUICK RUNDOWN ON HOW TO EASILY AND SUCCESSFULLY MAKE TOFU SATAY WITH ALMOND BUTTER SAUCE:
1. Press the tofu to get rid of excess liquid
2. Marinade and thread onto skewers
3. Bake and turn the satay halfway through baking
4. Serve with refreshing cucumber and easy almond butter sauce. That's it!

The next time you are at Walmart, stop by the peanut butter aisle and you will find MaraNatha No Stir Almond Butter and
MaraNatha No Salt or Sugar Added Almond Butter there. You can also earn a Cash Back with Ibotta offer.

If you haven't started a healthy relationship with MaraNatha No Stir Almond Butter or MaraNatha No Salt or Sugar Added Almond Butter as part of your healthy snack options, you should! It is a better-for-you Nut butter with incredible taste! This tofu satay, for example, won't be as exciting without the tasty almond butter sauce!
What is your favorite recipe using almond butter? I would love to hear all about it!
Tofu Satay with Almond Butter Sauce
Ingredients
Marinade :
½

large

onion

peeled and finely chopped

1

Tbsp

coconut sugar

or use brown sugar

1

Tbsp

gluten-free tamari

1

tsp

ground coriander powder
Almond butter sauce:
4

oz

MaraNatha Creamy No Stir Almond Butter

1

tsp

honey

or use 1 tsp of coconut/brown sugar for vegan

¼

tsp

salt

¼

tsp

chili flake

optional

3

-4 Tbsp unsweetened coconut milk

or just use water if you prefer
Serve with:
Fresh cucumber

thinly sliced

Fresh salad greens

optional
Instructions
Prepare tofu:
Pressing the tofu: Remove tofu from packaging. Drain off liquid. Put a folded clean kitchen towel on a cutting board. Place tofu on top of the towel. Place a layer or two of an absorbent paper towel on top of the tofu and place a heavy cast-iron skillet or something heavy on top. This step is to remove excess liquid from the tofu. You will be surprised by how much liquid is still in there

After 15 minutes. Remove the heavy skillet and wring the liquid out from the towel. Fold it back and repeat again for another 15 minutes

Cut the tofu: Cut the tofu into about 3/4-1 inch thickness. Minimum of 3/4 inch because they don't break easily when you skewer them later. You can cut into long piece of smaller piece as shown in the photo. It's up to you

Place all the marinade ingredient in a bowl and stir to mix. Pour this on top of the cut tofu and gently rub to make sure it coats the tofu. Let it marinade for 15 minutes

Line a large baking sheet with parchment paper. Gently and carefully thread one piece of large tofu onto the bamboo skewers. Save the marinade leftover. Place the tofu satay on the baking sheet

Prepare almond butter sauce:
Place the almond butter and the rest of the ingredients in a bowl. Stir to mix. The consistency should be a creamy and pourable sauce. Add more coconut milk to get to the consistency you like. Set aside
Cooking:
Preheat oven to 425F. Place the baking sheet 3rd rack from the top and let it bake for 15 minutes. Turn over. Baste with some marinade juice and let them bake for another 15 minutes until lightly golden brown. If you like a bit more brown, turn off the oven and turn the broiler on low and let them broil briefly until you are happy with the color. Take care not to burn them. Remove from the oven and let them rest for 5 minutes before transferring to a serving platter
Serving:
For presentation, you can line your serving platter with some lettuce or salad. Place the tofu satay on top and slices of cucumber around them and serve with the almond butter sauce on the side and some drizzled on the satay. It's up to you.