Chai Poh Neng (Preserved Radish Omelet) – Preserved radish (Chai Poh) is cooked with eggs to make an omelet. A delicious and popular home cooking dish in Asia. 
Chai Poh Neng is one of the dishes that mom made often when we were kids. It's such a simple dish with only 4 ingredients, but with intense flavor coming from the preserved radish (Chai poh)
WHAT IS PRESERVED RADISH/PRESERVED TURNIP?
Preserved radish is also known as chai poh in Hokkian languange. You will see it written as choi poh (in Cantonese), chye poh or cai poh. They mean the same thing. It is made with the large Chinese white daikon/radish. The daikon is salted and then left at room temperature to ferment for weeks. The sweetened radish is then soaked in syrup and then dried before packaged. There are salty chai poh and sweeten chai poh (like the one I got below). Different brands have a different level of saltiness, so you really need to taste it to know how much to use.
WHAT DOES CHAI POH TASTE OR SMELL LIKE?
It is very salty with some sweetness (if it is sweetened). It has a pungent aroma. It's hard to describe but it's not like something has gone bad kinda aroma, but it has that fermentation aroma in it…in a pleasant way I think! The addition of chai poh in cooking sure adds that extra crunch, savory and sweet to the dish.
WHAT TO COOK CHAI POH WITH?
Chai poh is typically use in stir-fried rice noodles, omelete like in this recipe, steamed fish, chwee kueh. Mom also like to stir fry it with pork belly and chili, which is my absolute favorite!
HOW TO MAKE GOOD CHAI POH NENG IN A NUTSHELL
1. Know your chai poh
Like I mentioned before, some brands are saltier than the other. I like to use the sweetened version so it's not that salty, but I have tried some sweeten version that was still too salty. They need to be soaked in water briefly to get rid of that extra saltiness, but you don't want it to be completely bland either.
2. Separate yolks from whites
If you want a soft fluffy omelet, whisk the egg whites until they are really foamy and turning pale and then fold in the yolks gently. This will incorporate more air and give you a soft and fluffy omelet
3. Do not overcook
The first side usually takes about 2-3 minutes to cook and once you flip over it takes less than 1 minute to cook.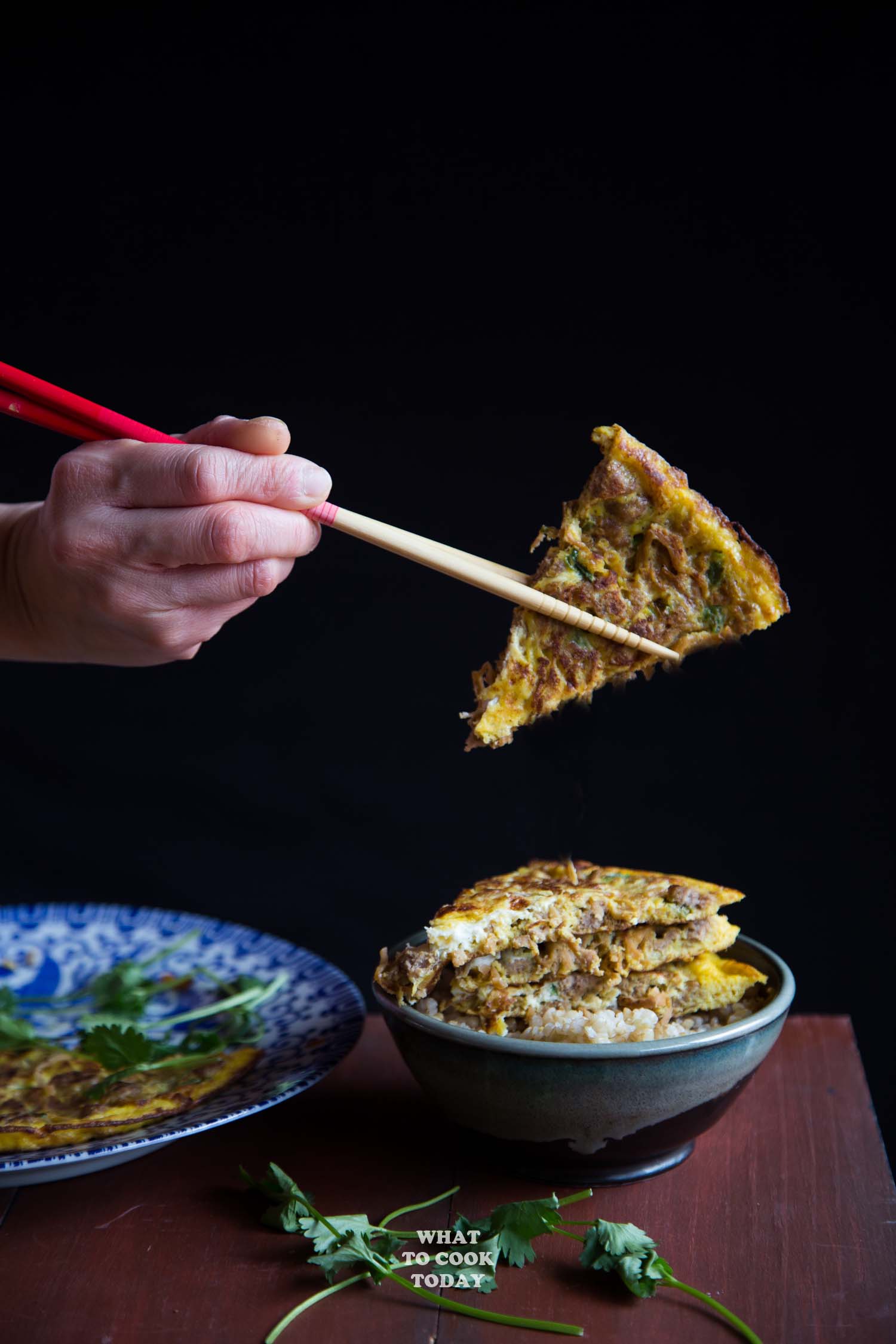 This blog post contains affiliate links. I earn a small commission when you made purchase at no extra cost to you. Learn more.
Chai Poh Neng (Preserved Radish Omelet)
Ingredients
100

gr

sweet chai poh (preserved turnip)

You may need less if yours is salty

50

gr

ground/minced pork + 1 tsp dark soy sauce + 1 tsp brown sugar + 1/2 tsp corn starch

optional

4

large

eggs

separate

3

Tbsp

cooking oil

divided

1

stalk

green onion

thinly sliced

¼

tsp

sugar

if you use salty chai poh
Instructions
Prepare the chai poh:
Place the chai poh in a mixing bowl. Cover with clean water and let it soak for about 3 minutes. Drain off the water completely and squeeze out the water as much as you can. Set aside. If using pork, mix the pork with dark soy sauce, sugar, and corn starch. Set aside

Roughly chop the chai poh into smaller pieces. You can chop it really fine too if you want to
Prepare the eggs:
Separate the yolks from the white. Beat the yolks briefly with a fork or chopsticks and then whisk the white until frothy and pale using a whisk. Then gently fold in the yolks into the white
Cooking:
Preheat a large non-stick pan, about 8-10 inch wide. Add 1 Tbsp cooking oil. Stir fry the ground pork and breaking it up with the spatula. Cook until they turn color, about 1 minute. Add chai poh until fragrant and dry, about 10 minutes or so. Add sugar if you use salty chai poh. Have a taste and add more sugar as needed. Dish out the chai poh and pork mixture and set aside

Wipe the pan clean if necessary. Bring it back to hot again. It's important that the pan is hot so your omelet won't be greasy. Add another 1 Tbsp cooking oil. Pour in half of the beaten egg and swirl the pan to cover the base of the pan. Use a rubber spatula to push the edge of the omelet to let the runny batter flow in. Repeat as needed to let the runny batter cooks

When the egg started to set at the edge but still a bit "wet" in the middle, add half of the chai poh you stir-fried earlier. Sprinkle half of the chopped green onion. Cook until the middle started to set, about 2 minutes and then gently but quickly flip the omelet over to let it cook for another 1 minute or less. Dish out. Bring the pan back to hot again and repeat with another half of the egg and chai poh