Soft and chewy large tapioca pearls are served in creamy and sweet coconut milk is a simple yet delicious dessert and learn how to cook tapioca pearls with a pressure cooker or on the stove the right way.
Tapioca pearls are one of those things that you can be assured many Asians enjoy to eat (including myself). I remember the days back when I was still in college, the bubble tea pearls or 珍珠奶茶 that was originated from Taiwan (I believe!) was crazy popular. It seemed like everyone had bubble tea whenever I went. It seems like the bubble tea fever is back again lately. Or has the bubble tea fever ever gone down at all? Anyway, I never really into bubble tea, but I do love tapioca pearls coconut milk dessert 🙂 Anything in coconut milk really!
WHAT ARE TAPIOCA PEARLS?
Tapioca pearls are also known as boba pearls. They are basically made of tapioca starch that is extracted from cassava roots. They come in different sizes and different colors, from tiny pearls to the large pearls (like shown in the photo below). They are usually available in dried form in Asian grocery store. When they are cooked, they will gel and turn translucent.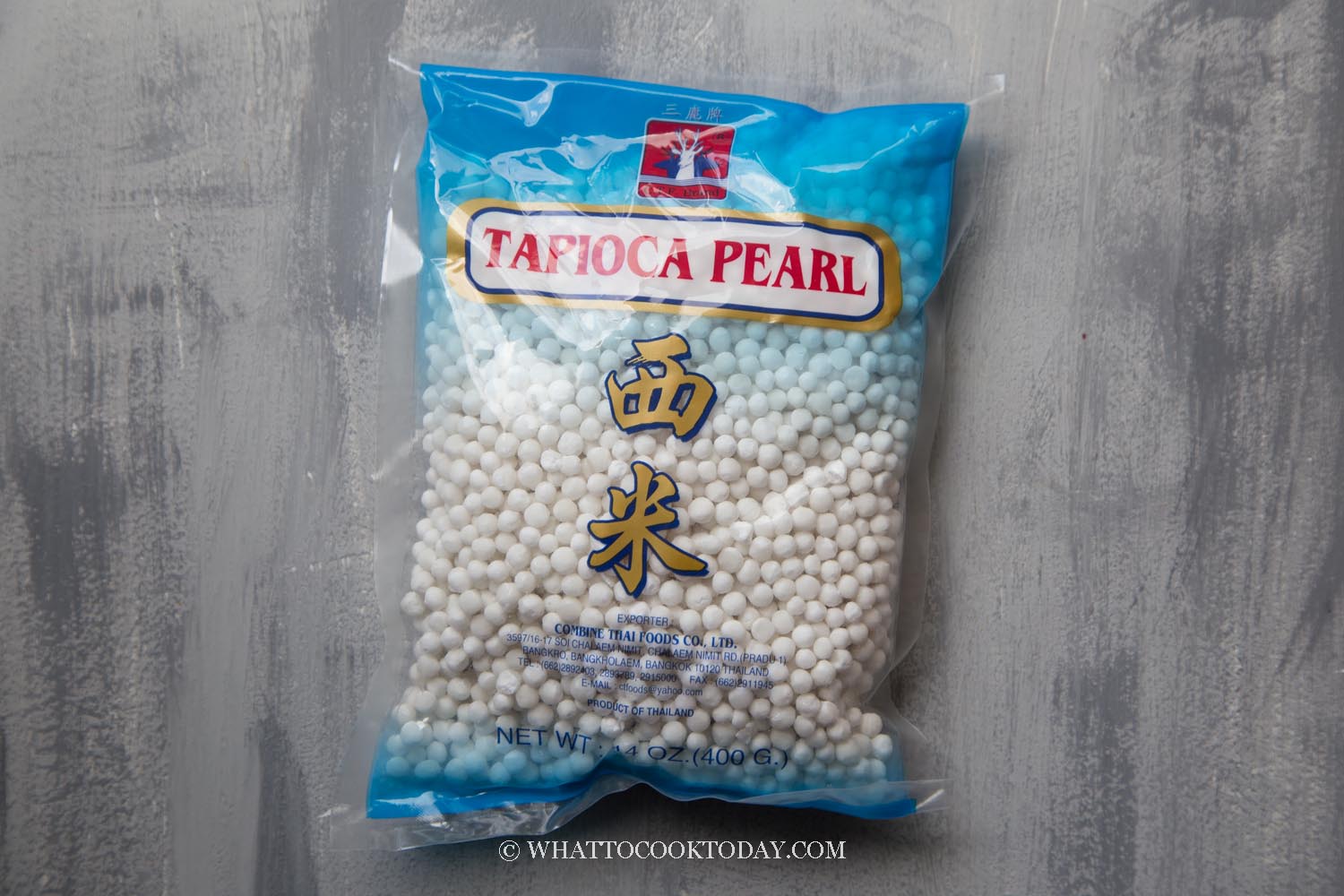 DO TAPIOCA PEARLS HAVE ANY TASTE?
They actually have no taste on their own. They are most commonly seen used in bubble tea, but also widely used in many desserts in Southeast Asia.
HOW DO I KNOW THE TAPIOCA PEARLS ARE DONE COOKING?
Small pearls will cook faster than the large pearls, like the one I used in this recipe. You will commonly hear that when the middle whitish part disappears and they turn completely translucent, they are done. Well, the majority of them will turn completely translucent. BUT, don't be surprised to find there might be still a couple that still has little whitish in the middle. You should go by how the texture is like when you take a bite instead of the look. It should be chewy/toothsome, but the middle part shouldn't be starchy or hard anymore even though there might still some cloudiness.
DO I NEED TO SOAK THE TAPIOCA PEARLS BEFORE COOKING?
I'm glad you ask! because I've seen many videos that do that and so I tried. Mine turn into mush when I soak these large pearls! The starch literally dissolves in the soaking water! If you purchase the dried tapioca pearls from Asian store like the one I shown here in photo, DO NOT soak them in water. They need to go into a boiling water. The ones that require soaking usually a quick-cook variety. I've never purchased those before because I usually got mine from the Asian stores, which usually doesn't require soaking if you are making this recipe.

HOW TO COOK LARGE TAPIOCA PEARLS ON THE STOVE
1. Bring 10 cups of water to boil
Do not add tapioca pearls to cold water or they will turn into mush
2. Add tapioca pearls
Add 1 cup of tapioca pearls in the boiling water and then lower the heat to medium and let the large pearls cook for the next 1 hour or until they are soft to bite. The majority of them will turn completely translucent. You might find a few that still have a little whitish in the middle. Do not worry about that. They should be soft to bite too.
3. Drain cooking water
4. Refresh
Once you drain off the cooking water, refresh with clean water to stop the cooking process
5. Soak in water
Soak the cooked tapioca pearls in water to prevent them from sticking to each other
HOW TO COOK LARGE TAPIOCA PEARS WITH INSTANT POT PRESSURE COOKER
This is actually my favorite way of cooking large tapioca pearls from now on. It's not any faster, but you can pretty much set and forget.
1. Pour 10 cups of water into the inner pot of Instant Pot. Press saute mode and bring it to a boil
2. Add tapioca pearls. Turn off the saute mode
3. Close the lid and turn the steam release valve to "sealing". Press "pressure cooker" and then make sure it's on "high pressure". Set timer to 1 hour 15 minutes
4. After 1 hour 15 minutes, release the pressure immediately
5. Drain off the cooking liquid and refresh the cooked tapioca pearls with clean water
6. Soak them in water to prevent them from sticking to each other
HOW TO STORE COOKED TAPIOCA PEARLS
I don't recommend cooking tapioca pearls in a big batch. Cooked tapioca pearls are best used on the same day, but if you have extra, they can be stored in the refrigerator for 2-3 days max. The longer you store them, the harder they become. Here's how to store them:
After rinsing them with water they won't clump together anymore and this also stops the cooking process and they won't get mushy. Keep them covered in a simple syrup solution. I usually do 1:1 ratio of sugar and water and boil them in a pan until the sugar dissolves then let them cool down and pour over the cooked tapioca pearls. Don't store them in the fridge as they will harden. That's just the way tapioca is.

Now are you ready to join the tapioca pearls club? 🙂
Soft and chewy tapioca pearls are served in creamy and sweet coconut milk is a simple yet delicious dessert and learn how to cook tapioca pearls correctly
For baking/ kueh making: I highly encourage to weigh ingredients with a digital kitchen scale instead of using measuring cups as they are not very accurate especially when it comes to recipe that requires precision.
GRAMS TO CUPS CONVERSION (UNSIFTED)
INGREDIENTS
Coconut sauce:
400

ml

coconut milk

100

gr

sugar

-

more or less the amount to your preference

1/4

tsp

salt

2

pandan leaves

-

knotted
INSTRUCTIONS
Cook the large tapioca pearls in Instant Pot pressure cooker:
Pour 10 cups of water into the inner pot of Instant Pot. Press saute mode and bring it to a boil. Add tapioca pearls. Turn off the saute mode. Close the lid and turn the steam release valve to "sealing". Press "pressure cooker" and then make sure it's on "high pressure". Set timer to 1 hour 15 minutes

After 1 hour 15 minutes, release the pressure immediately. Drain off the cooking liquid and refresh the cooked tapioca pearls with clean water and they won't be sticky anymore and ready to be used
Cook the tapioca pearls on the stove:
Bring 10 cups of water to a rolling boil. Add tapioca pearls in and lower the heat to medium to let it gently simmer for the next 1 hour. You need to stir them every now and then. The pearls will turn translucent when they are cooked. There might be some that still have that very little whitish part in the middle. Don't worry about those. They should be cooked through and no longer starchy too

Once the tapioca pearls are cooked, strain off the cooking liquid and rinse with clean running water to stop the cooking process and they won't be sticky anymore too. They are ready to be used
Make the coconut sauce (can be made ahead):
Place the sauce ingredients in a saucepan. Do not bring to a boil, just let it come to a gentle simmer to dissolve sugar. Remove from the heat. Store in a glass container and they can be kept in refrigerator for up to 1 week max
Serving:
Scoop few tablespoons of the tapioca pearls onto a small serving bowl. Ladle the coconut sauce over and serve
RECOMMENDED PRODUCTS: