Make this absolutely thick and creamy pudding using Asian large tapioca pearls the old-fashion way. No more mushy tapioca pearls. If you like slightly chewy tapioca pearls, this recipe does it. Recipe includes vegan version.

After making this easy tapioca pearl coconut milk dessert, I decided to use the same large tapioca pearls to make this old-fashion tapioca pudding. I love tapioca pudding, the one with large pearls. I like large pearls because they give more texture, especially that chewy bouncy texture. I wrote in more detail about tapioca pearls in this post if you are interested to read more.
Large pearl tapioca pudding is not as common anymore compared to the small pearls these days. Large tapioca pearls do take longer to cook, but it's so much better IMHO. Again, everyone is different.
WHY YOU'LL LIKE THIS LARGE PEARL TAPIOCA PUDDING RECIPE
1. Dairy-free
I'm a coconut milk freak and the coconut milk lends its amazing aroma to this pudding, which I absolutely love it.
2. No soaking required
Please note that if you buy the large tapioca pearls from Asian store, you DO NOT soak the tapioca pearls in water for hours or overnight. They will literally turn into mush and dissolves in water. Unless you want tapioca porridge!!!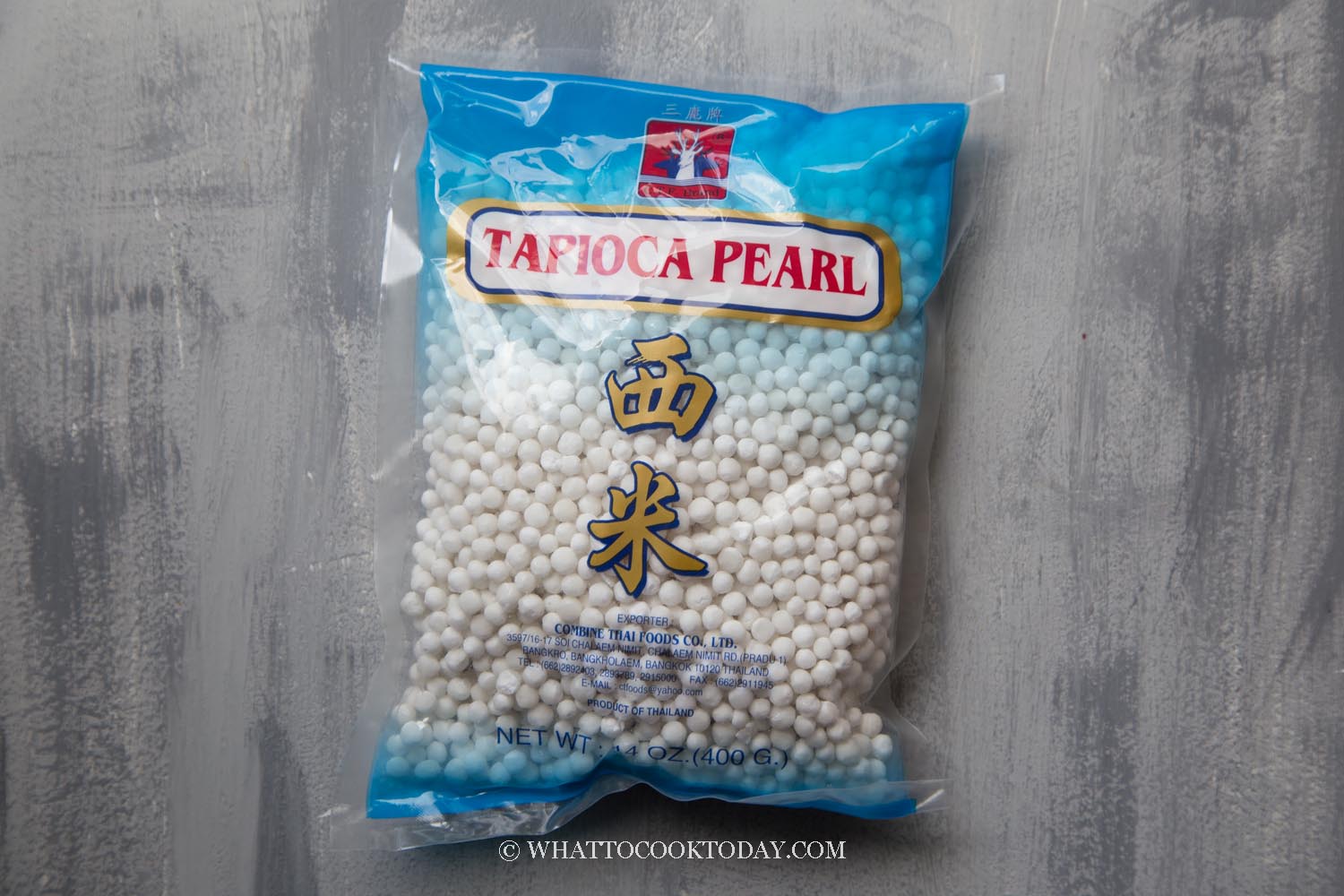 3. Rich smooth pudding.
I like the smooth rich texture of pudding and so I only use egg yolks in this recipe and save the egg whites for other use. Many recipes call for whipping egg whites separately and then fold them into the pudding for that airy texture. You can do so too if you want, but I prefer a rich and smooth texture.
4. Chewy tapioca pearls texture
That's what I like about tapioca pearls, they are chewy. Don't be mistaken with hard. If they are hard in the center, your tapioca pearls are undercooked. When properly cooked, they will be chewy but not starchy or hard.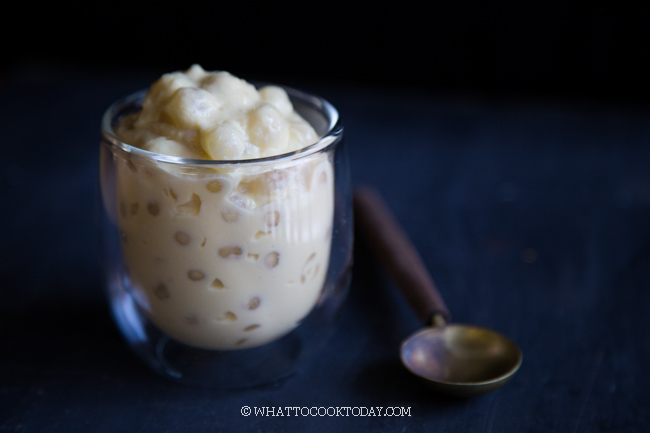 HOW TO MAKE OLD-FASHION LARGE PEARL TAPIOCA PUDDING WITH COCONUT MILK
1. COOK THE TAPIOCA PEARLS
DO NOT SOAK THE TAPIOCA PEARLS. Place coconut milk, water, and salt in a saucepan with a lid. Bring to a boil and add the tapioca pearls in. Bring it back to a boil and then immediately lower the heat to low to let them gently simmer.


Cover the lid. Make sure the heat is on low so it won't boil over. Stir the tapioca pearls every 10-15 minutes


This is after about 30 minutes of simmering. They need to be cooked for about 45 minutes to 1 hour or until the tapioca pearls are no longer hard in the center. They may still have some cloudiness in the center, but as long as the tapioca pearls are soft and chewy the way you like them, they are done


2. STIR IN SUGAR AND VANILLA EXTRACT
When you are happy with the texture of the tapioca pearls, stir in sugar until it melts and also add vanilla extract. Have a taste and add more sugar if you want it sweeter. Keep the heat on low. The tapioca pearls have slightly thickened the coconut milk too


3. TEMPER THE EGGS
Scoop about 1 Tbsp of the coconut milk onto the egg yolks while whisking the yolks at the same time. Do this about 2 more times. This is to temper the egg yolks so they won't curdle when you add them into the coconut milk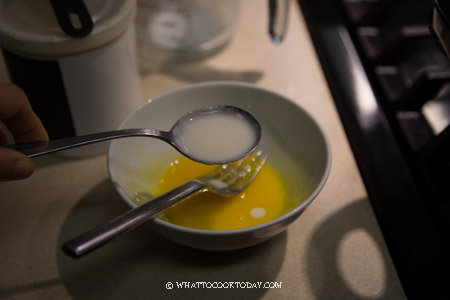 After that, gradually pour the yolks into the coconut milk and continue to stir until everything is well-combined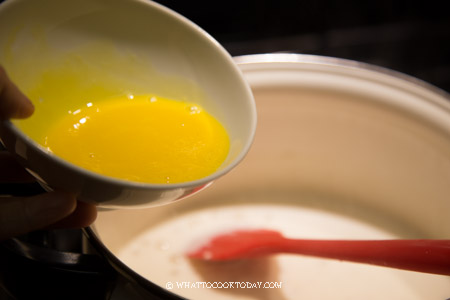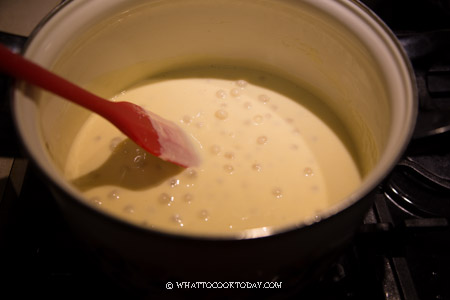 The mixture may still appear a bit runny at first, but it should be smooth and creamy. It will thicken considerably when it cools down


4. COOL DOWN
Let the tapioca pudding cool down for 15 minutes before serving or storing them in the fridge. They can be served warm or chilled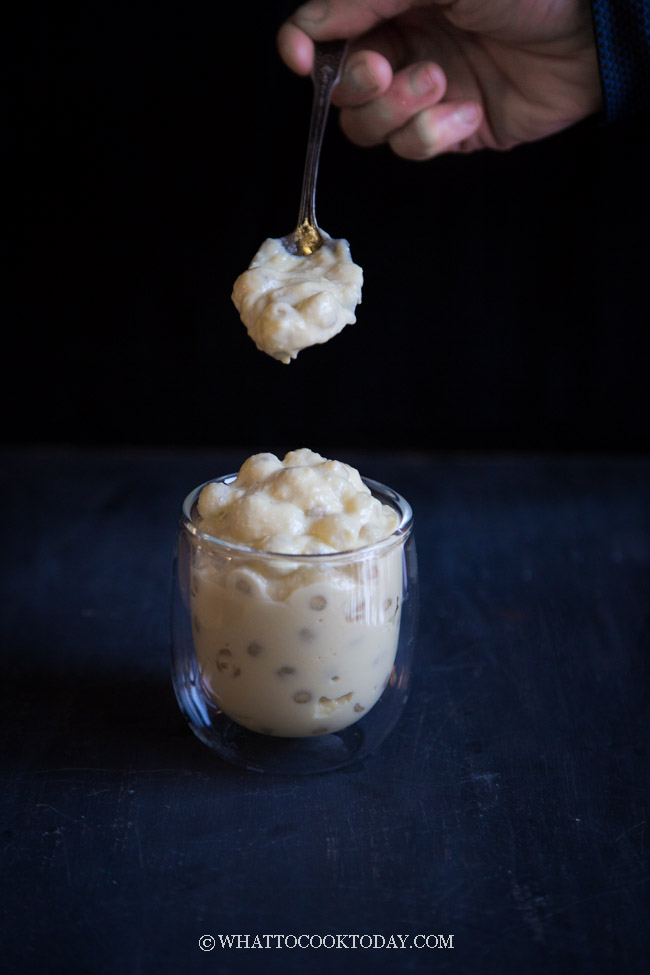 CHANGE IN TEXTURE AFTER REFRIGERATION
It is best not to prepare large pearl tapioca pudding in a big batch. It is best to serve on the same day. You may not notice many changes in texture with small tapioca pearls, but with large ones, the pearls will harden when they are chilled, especially if it's been chilled overnight. However, they can be reheated to bring back the soft and chewiness.
HOW TO REHEAT LARGE PEARL TAPIOCA PUDDING
You can reheat them again in a saucepan over LOW heat and keep stirring to prevent the pudding from catching at the bottom. You will notice the pudding will turn slightly runny again but still smooth and the tapioca pearls will be soft and chewy again. Turn off the heat and let it cool down again at room temperature before serving or eat them warm.

DID YOU MAKE THIS EASY LARGE PEARL TAPIOCA PUDDING RECIPE?
I love it when you guys snap a photo and tag to show me what you've made 🙂 Simply tag me @WhatToCookToday #WhatToCookToday on Instagram and I'll be sure to stop by and take a peek for real!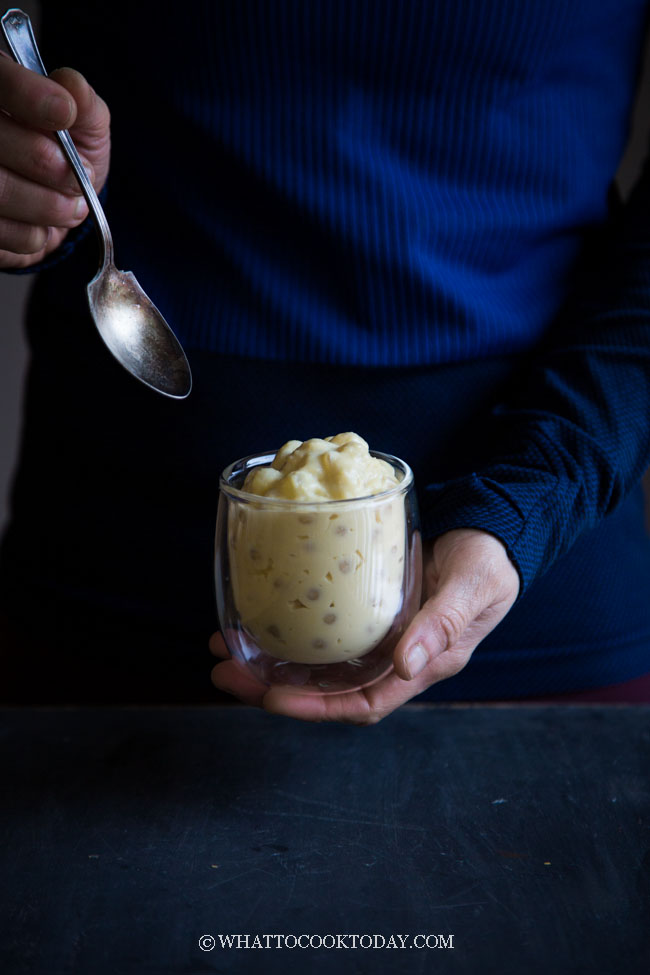 The recipe is updated on January 2020 to improve taste and to include a vegan version.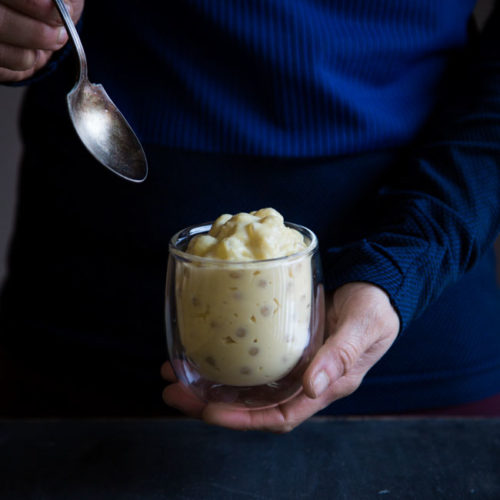 Make this absolutely creamy pudding using Asian large tapioca pearls the old-fashion way. No more mushy tapioca pearls. If you like chewy or toothsome tapioca pearls, this recipe does it.
For baking/ kueh making: I highly encourage to weigh ingredients with a digital kitchen scale instead of using measuring cups as they are not very accurate especially when it comes to recipe that requires precision.
GRAMS TO CUPS CONVERSION (UNSIFTED)
INGREDIENTS
For vegan version (omit egg yolk):
2

Tbsp

cornstarch + 2 Tbsp water
INSTRUCTIONS
Cook tapioca pearls (NO soaking):
Place coconut milk, water, and salt in a saucepan with a lid. Bring to a boil and add the tapioca pearls in. Bring it back to a boil and then immediately lower the heat to low to let them gently simmer. Cover the lid. Make sure the heat is on low so it won't boil over. Stir the tapioca pearls every 10-15 minutes

They need to be cooked for about 45 minutes to 1 hour or until the tapioca pearls are no longer hard in the center. They may still have some cloudiness in the center, but as long as the tapioca pearls are soft and chewy the way you like them, they are done

When you are happy with the texture of the tapioca pearls, stir in sugar until it melts and also add vanilla extract. Have a taste and add more sugar if you want it sweeter. Keep the heat on low. The tapioca pearls have slightly thickened the coconut milk
Temper the egg yolk (skip for vegan version):
Scoop about 1 Tbsp of the coconut milk mixture to the egg yolk while whisking the yolks at the same time. Do this about 2 more times. This is to temper the egg yolk so it won't curdle when you add it into the coconut milk. After that, gradually pour the yolk into the coconut milk and continue to stir until everything is well-combined. The mixture may still appear a bit runny but it should be smooth and creamy, but it will thicken considerably when it cools down
Thicken with cornstarch (for vegan version):
Mix cornstarch with water and stir until mix. Stir this into the tapioca pudding and cook over medium heat until the mixture is thickened. It will thicken further when it cools down completely
Serving:
Let it cool down for about 15 minutes at room temperature. I love to eat my tapioca pudding warm, but you can chill it in the fridge after it has cooled down for about 15 minutes