Thick, soft, and slightly chewy sugar cookies decorated with an easy sugar cookie frosting and robin's egg candy and Cadbury mini eggs are adorable and perfect for the Easter celebration.

These easy Easter egg sugar cookies are so easy and fun to make. I love the beautiful pastel colors too. My kids have requested to decorate some cookies for Easter. I usually just get the cookie decorating kit (because it's convenient and easy), but this year, I told myself I wanted to bake some sugar cookies for them to decorate.
Why you'll like this sugar cookie recipe
The cut-out sugar cookies are suitable for any occasions. I love this sugar cookie recipe because it's so easy to make and the cookie doesn't spread when you bake them. It is easy to roll out and not messy at all. The cookies have the right amount of sweetness. I don't want to make it too sweet because these cookies will be decorated with frosting and candies on top.
The frosting is a bonus too!
The frosting comes together very easily. A little bit of butter, icing/powdered sugar, almond and vanilla extract and a bit of milk to adjust the consistency of the frosting. That's it! I really enjoy the almond extract in the frosting though and so do my kids.
You can add another extract such as peppermint, orange, etc.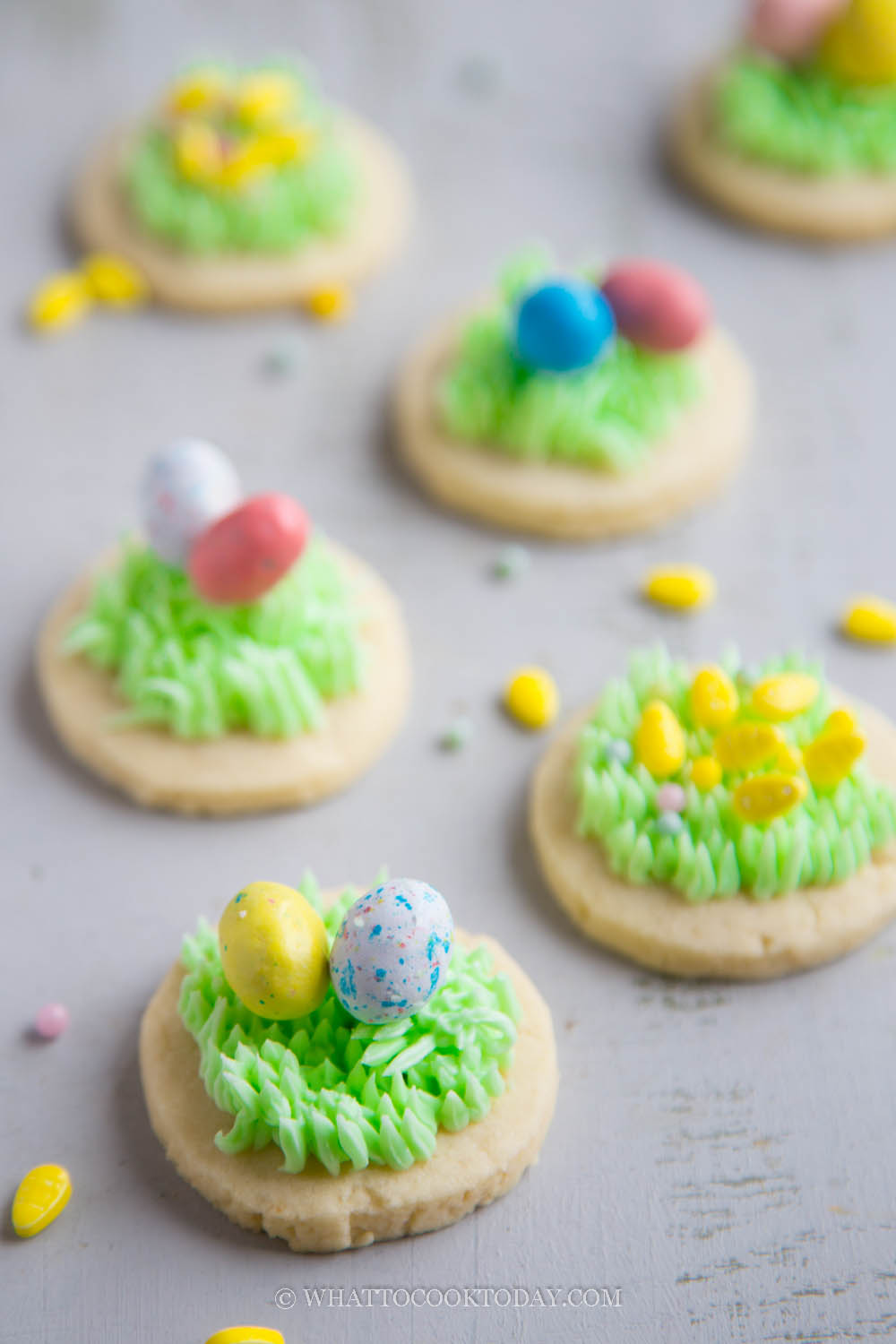 Tips for success
This is an easy sugar cookie recipe and so it's pretty straightforward. Just take notes on a few things here:
1. Make sure butter is soft but not melting and the egg is at room temperature
2. Chill the cookie dough will firm it up making it easier to roll out, just 30 minutes will do the trick
3. Rotate the baking pan halfway so they bake evenly and do not overbake the cookies
4. Let the cookies cool down on the pan for 10 minutes before moving them to a cooling rack
5. The cookies need to cool down completely before frosting them

How to bake easy Easter egg sugar cookie
1. Make sure the butter is softened but not melting. The egg needs to be at room temperature
Combine flour, cornstarch, and salt


2. Put the butter and sugar in a mixing bowl. Use a paddle attachment if you use a stand mixer. Cream/beat the butter and sugar until pale and creamy over medium speed for about 2-3 minutes. Scraping the side of the bowl if necessary


3. Add the room temperature egg and vanilla and continue to cream/beat until the mixture is creamy, about 2 minutes


4. Add the flour mixture. Use the whisk or paddle attachment to mix it around with the butter mixture so it won't fly around when you start mixing it later. Start on the lowest speed and mix until just combined. There might be some flour on the side of the bowl, it's okay. We don't want to overmix this. Scrape the side of the bowl and gather the dough into a ball. The dough shouldn't be sticky


5. Flatten the dough into a disc and wrap with a cling wrap and chill in the fridge for about 30 minutes to firm up the dough. It can be kept in the fridge for 5 days or in the freezer for up to one month. Simply let it come to room temperature to soften a bit before rolling it out


6. Preheat the oven to 375 F (190 C). Line a large baking sheet with parchment paper. This sugar cookie recipe doesn't spread at all and maintains the shape very well. Lightly dust your work surface and a rolling pin with some flour. Roll the dough out to about 1/4 inch thick. I like my sugar cookies to be on a thicker side. Use a round cookie cutter or whatever shape you like to cut out the cookie dough. Cut the cookie dough as close as possible so you don't have to re-roll the dough too many times. Use an offset spatula to help you lift the dough up and put the cut-out dough on the baking sheet, about 1/4 inch apart is good. Gather the scrap dough and roll it out again and cut out more cookies


7. Bake the cookies on the middle rack for 10 minutes. I rotated the pan halfway through baking. You may need an extra 1-2 minutes if your cookies are larger. The cookies won't brown much and till appear soft when you pull them out from the oven. Let them cool down on the pan for 10 minutes and then remove to cool down completely on a cooling rack
8. Combine the butter and icing sugar in a mixing bowl. Start with half of the amount of milk and stir until you get to the consistency you want. If you just want to spread the icing on top of the cookie, you can add more milk to reach the consistency you want. Since I want to pipe the frosting to resemble grass, I make it a bit thicker and I use about 4 teaspoons total of milk. The frosting can be kept in the fridge for up to one week or in the freezer for up to one month. Simply thaw at room temperature before using and give it a stir again


9. If you want to pipe, transfer to a piping bag fitted with a grass icing tip (such as Wilton 233). Gently squeeze out the frosting and pull it up slightly to make the grass a bit longer if you want. Decorate with Easter egg candies of your choice

Did you make this easy Easter sugar cookie recipe?
I love it when you guys snap a photo and tag to show me what you've made 🙂 Simply tag me @WhatToCookToday #WhatToCookToday on Instagram and I'll be sure to stop by and take a peek for real!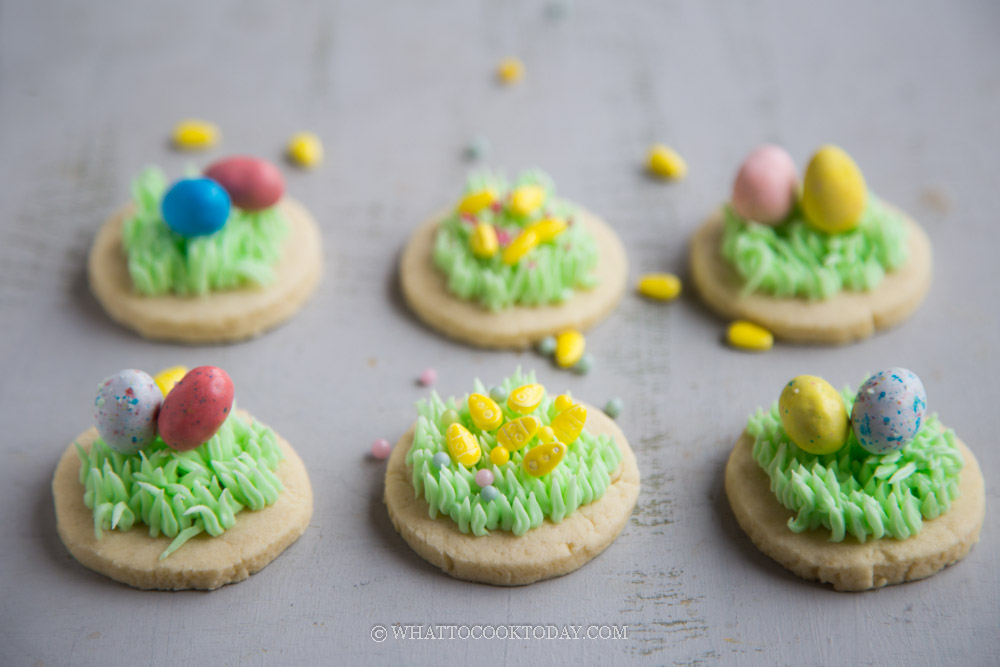 Easy Easter Egg Sugar Cookies
Ingredients
Easy frosting (makes about 3 cups):
Decoration (you can use whatever you wish):
Easter-theme decorating candies
Instructions
Prepare the cookie dough:
Make sure the butter is softened but not melting. The egg needs to be at room temperature

Combine flour, cornstarch, and salt. Put the butter and sugar in a mixing bowl. Use a paddle attachment if you use a stand mixer. Cream/beat the butter and sugar until pale and creamy over medium speed for about 2-3 minutes. Scraping the side of the bowl if necessary

Add the room temperature egg and vanilla and continue to cream/beat until the mixture is creamy, about 2 minutes

Add the flour mixture. Use the whisk or paddle attachment to mix it around with the butter mixture so it won't fly around when you start mixing it later. Start on the lowest speed and mix until just combined. There might be some flour on the side of the bowl, it's okay. We don't want to overmix this. Scrape the side of the bowl and gather the dough into a ball. The dough shouldn't be sticky

Flatten the dough into a disc and wrap with a cling wrap and chill in the fridge for about 30 minutes to firm up the dough. It can be kept in the fridge for 5 days or in the freezer for up to one month. Simply let it come to room temperature to soften a bit before rolling it out
Shaping:
Preheat the oven to 375 F (190 C). Line a large baking sheet with parchment paper. This sugar cookie recipe doesn't spread at all and maintains the shape very well

Lightly dust your work surface and a rolling pin with some flour. Roll the dough out to about 1/4 inch thick. I like my sugar cookies to be on a thicker side. Use a round cookie cutter or whatever shape you like to cut out the cookie dough. Cut the cookie dough as close as possible so you don't have to re-roll the dough too many times. Use an offset spatula to help you lift the dough up and put the cut-out dough on the baking sheet, about 1/4 inch apart is good

Gather the scrap dough and roll it out again and cut out more cookies
Baking:
Bake the cookies on the middle rack for 10 minutes. I rotated the pan halfway through baking. You may need an extra 1-2 minutes if your cookies are larger. The cookies won't brown much and still appear soft when you pull them out from the oven. Do not overbake the cookies or they won't be soft and slightly chewy. Let them cool down on the pan for 10 minutes and then remove to cool down completely on a cooling rack

The baked cookies can be kept frozen too once cool down completely. I store them in an air-tight container for up to one month. I don't recommend freezing them for too long. Simply let them thaw at room temperature before serving
Prepare the frosting:
Combine the butter and icing sugar in a mixing bowl. Start with half of the amount of milk and stir until you get to the consistency you want. If you just want to spread the icing on top of the cookie, you can add more milk to reach the consistency you want. Since I want to pipe the frosting to resemble grass, I make it a bit thicker and I use about 4 teaspoons total of milk. The frosting can be kept in the fridge for up to one week or in the freezer for up to one month. Simply thaw at room temperature before using and give it a stir again

If you want to pipe, transfer to a piping bag fitted with a grass icing tip (such as Wilton 233). Gently squeeze out the frosting and pull it up slightly to make the grass a bit longer if you want.

Decorate with Easter egg candies of your choice
Nutrition
Serving:
1
cookie with frosting without candies
|
Calories:
262
kcal
|
Carbohydrates:
35
g
|
Protein:
3
g
|
Fat:
12
g
|
Saturated Fat:
8
g
|
Polyunsaturated Fat:
1
g
|
Monounsaturated Fat:
3
g
|
Trans Fat:
1
g
|
Cholesterol:
47
mg
|
Sodium:
165
mg
|
Potassium:
34
mg
|
Fiber:
1
g
|
Sugar:
18
g
|
Vitamin A:
386
IU
|
Calcium:
11
mg
|
Iron:
1
mg