Marinated chicken pieces along with lotus seeds, ginger, goji berries, mushrooms, scallions are wrapped in lotus leaves and then steamed to give you an aromatic and super easy chicken dish. The recipe can be made with Instant Pot too.

LOTUS LEAF ADDS AMAZING FLAVOR TO FOOD
I was so excited to see how some of the lakes here in Minnesota are covered with lotus leaves with the lotus flowers blooming on top during the summertime. They are so pretty. Apparently, this is also the case in Hunan, China (and other parts of China too). The surface of the ponds in the Hunanese countryside. The lotus leaves are sold in dried form in large package. The leaf itself is packed in half circle, but when you unfold it into a full circle, it's really large in size. Using it as a wrapper is simply a gorgeous idea. The lotus leaf will impart flavor to your dish and it is simply amazing.
SUBSTITUTE FOR LOTUS LEAF
I understand that some of you may not be able to find dried lotus leaves where you are, especially if you are not in Asia. You can still make this dish by using a parchment paper or aluminum foil or banana leaves if you can find them. If you use parchment paper or aluminum foil, they won't have the aromatic scent comes from the lotus leaf, but the dish itself is still pretty tasty.
When I just had our first-born, my mom made Lo Mai Gai , which is very similar to this dish with the exception that there are sticky rice added. This steamed chicken in lotus leaf is incredibly easy to put together.
HOW TO MAKE STEAMED CHICKEN IN LOTUS LEAF
1. MARINATE THE CHICKEN
Place the chicken pieces in a large bowl or zip lock bag. Add the marinade ingredients and toss to mix to make sure the marinade coats the chicken. Let the chicken marinate for at least 30 minutes to overnight if you have the time


2. PREPARE LOTUS LEAVES
Soak the lotus leaves in hot boiling water until they are soft and pliable


3. HOW TO WRAP WITH LOTUS LEAF
Place half of the chicken on top of lotus leaves, top with half of the other ingredients like goji berries, lotus seeds, mushrooms, scallions and ginger slices/strips


Wipe the leaves dry

Trim off the tough spiny bottom of the leaf so you can fold it easier later

Place half of the chicken on top of lotus leaves, top with half of the other ingredients like goji berries, lotus seeds, mushrooms, scallions and ginger slices/strips

Fold two sides of the leaf up


Fold them down like a parcel. Repeat with another parcel. Place the parcel on top of a plate


4. STEAM WITH STEAMER OR INSTANT POT
Set the bowl in a steamer and steam over high heat for 25-30 minutes, until the chicken pieces are cooked through and infused with the fragrance of the leaves or pressure cook with Instant Pot for 10 minutes on high pressure

HOW TO SERVE
Unwrap the parcel just before you are ready to serve them with rice as part of a multi-course meal

VARIATIONS
This dish is very flexible and you can add or take out whatever you want.
Meat: you can use boneless skinless chicken thigh pieces, boneless pork shoulder, pork ribs cut into smaller pieces
Things you can add: lap cheong (Chinese sausage), water chestnuts, different types of mushrooms such as oyster mushrooms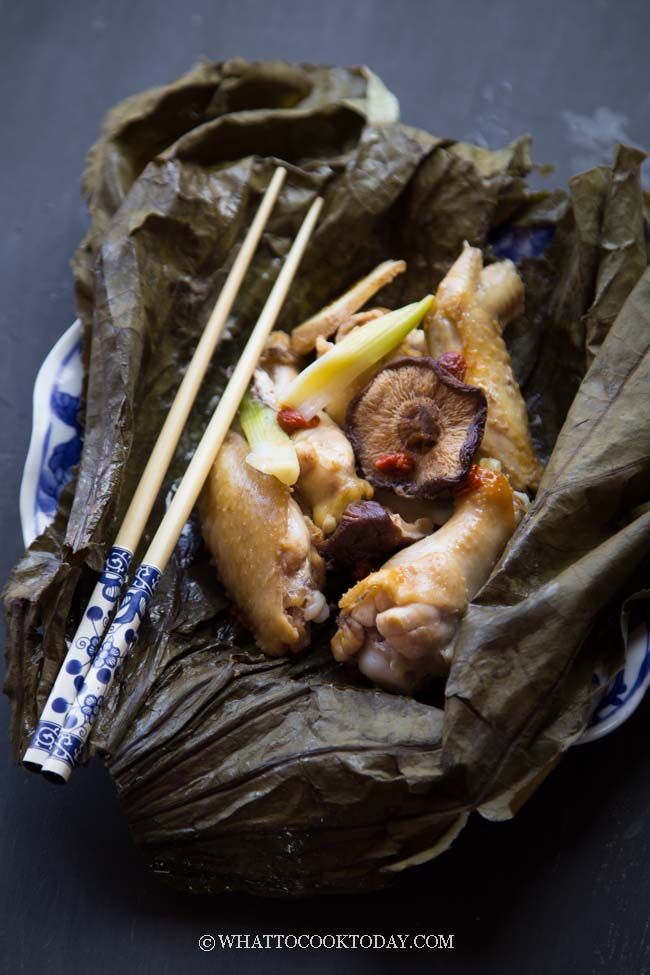 DID YOU MAKE THIS STEAMED CHICKEN IN LOTUS LEAVES RECIPE?
I love it when you guys snap a photo and tag to show me what you've made 🙂 Simply tag me @WhatToCookToday #WhatToCookToday on Instagram and I'll be sure to stop by and take a peek for real!

Steamed Chicken in Lotus Leaves ( 荷 葉 蒸 雞)
Ingredients
1

lb

boned-in chicken wings

2

large

dried lotus leaves
Instructions
Marinate the chicken:
Place the chicken pieces in a large bowl or zip lock bag. Add the marinade ingredients and toss to mix to make sure the marinade coats the chicken. Let the chicken marinate for at least 30 minutes to overnight if you have the time
Soak lotus seeds, mushrooms, and goji berries:
Soak lotus seeds in hot boiling water for 10 minutes or so until they are soft. Do the same with the mushrooms and soak until they are soft. Goji berries only need to be soaked briefly for 2-3 minutes until they are plump. Discard the soaking water
Prepare the lotus leaves:
Soak the lotus leaves in hot water until they are soft and pliable. Wipe the leaves dry. Trim off the tough spiny bottom of the leaf so you can fold it easier later
Wrapping:
Place half of the chicken on top of lotus leaves, top with half of the other ingredients like goji berries, lotus seeds, mushrooms, scallions and ginger slices/strips

Fold two sides of the leaf up and then fold them down like a parcel. Repeat with another parcel. Place the parcel on top of a plate
Steaming using steamer:
Set the bowl in a steamer and steam over high heat for 25-30 minutes, until the chicken pieces are cooked through and infused with the fragrance of the leaves
Pressure cook with Instant Pot:
Pour 1 cup of water into the inner pot of Instant Pot. Set the trivet in there. Place the parcel that you place on a plate on top of the trivet. Close the lid. Press "pressure cooker" and make sure it's on "high pressure". Set timer to 10 minutes. Wait 5 minutes and then fully release pressure
Serving:
Unwrap the parcel just before you are ready to serve them with rice as part of a multi-course meal
Recommended products: