Try another variation of Cantonese fried doughnuts known as ma kiok (马脚) with sweet paste filling using the same basic ham chim peng recipe.

I think I can safely conclude that fried doughnuts/donuts are popular food worldwide. Most kids who grew up in Asia would know these Chiense style fried doughnuts like ham chim peng, fried you tiao (fried crullers), and this horseshoe fritters. Usually, the same seller will sell all these varieties. They are popular breakfast food (and as snack too)! Who doesn't like doughnuts especially, the fried ones especially (let's forget about the calories or a while) 🙂 I don't like doughnuts glazed with tons of icing sugar though. I like doughnuts like these, just lightly sweetened with airy and puffy dough!
WHAT'S WITH THE NAME
It is called horseshoe fritters or horse hoof fritters because of its shape, like a horseshoe (or horse hoof I supposed). Some also called it ox tongue pastry? In Chinese it's known as 马脚 (ma jiao) "ma"= horse and "jiao"= hoof/feet or ma kiok in Cantonese.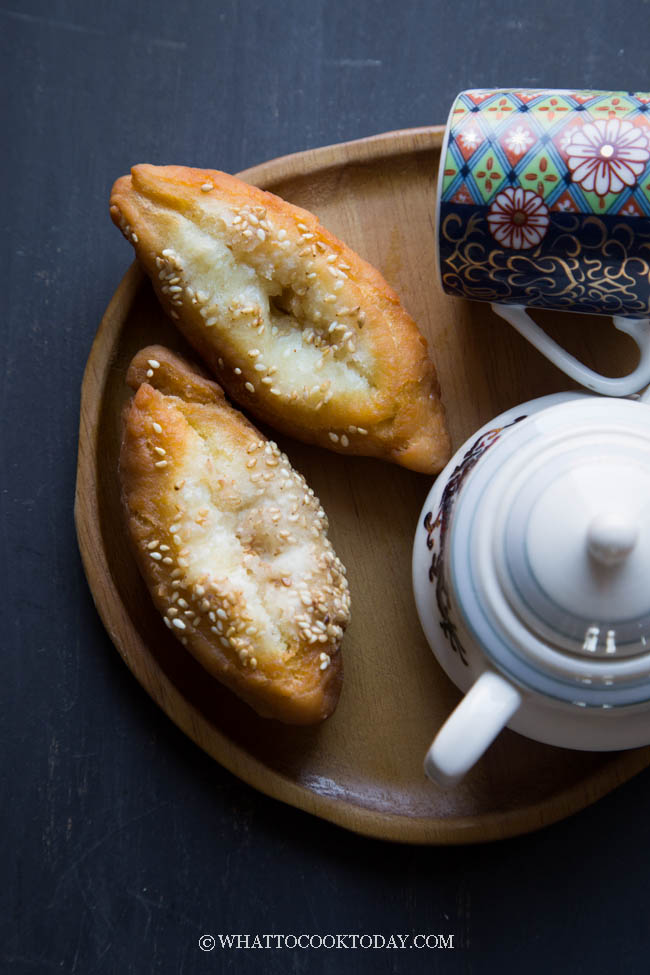 HOW TO MAKE MA KIOK
1. PREPARE SWEET PASTE
Put all ingredients for sweet paste filling, except for white sesame seeds, and stir to mix. Set aside
2. PREPARE STARTER
Place ingredients for starter in a mixing bowl and stir to mix everything


Covered with plastic wrap at put in a warm place. I put it in my oven using "bread proof" function


The starter will double in size in about 2 hours


3. PREPARE THE DOUGH
Mix all the dry ingredients for the dough from all-purpose flour all the way to baking soda in a large mixing bowl. Whisk to mix. Make a small well in the middle


Add the starter, water and alkaline water, oil and stir to mix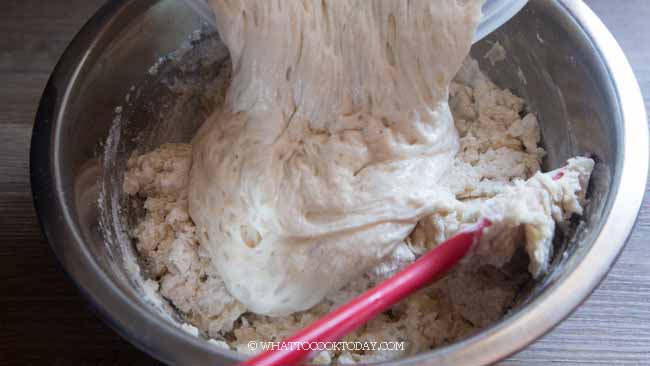 You will still have a very sticky and wet dough, don't panic


Generously flour your working surface with flour


Use a spatula to scoop the dough out onto the floured surface


Use the flour to help you shape the dough into a large dough ball. You need to flour your fingers too


At any point if it's sticky, lightly dust with flour until you can form a large dough ball


Cover with a cloth or plastic wrap and let it rest for 20 minutes


4. SHAPING
After resting, dust your working surface with some flour again. Cut the dough into two. Keep the other covered. Roll the dough out into a rectangle, about 1 cm in thickness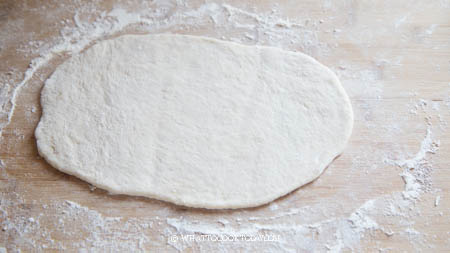 Cut into about 10 strips.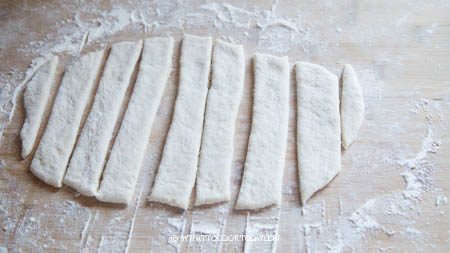 Brush with the sweet paste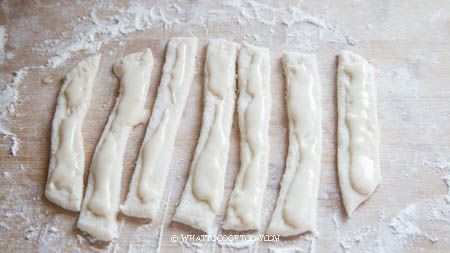 Bring the two ends together and seal the end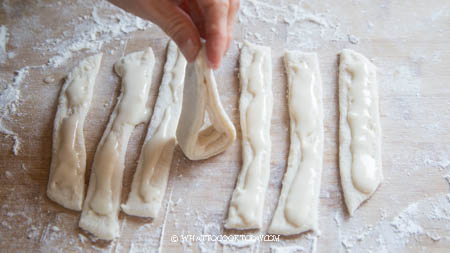 Dip the front part with sesame seeds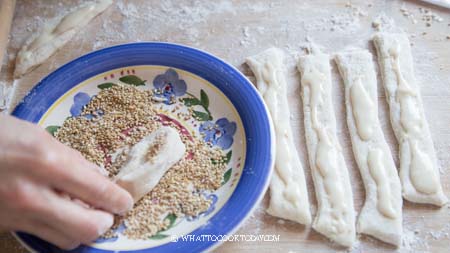 Continue with the rest of the strips and repeat with the other dough. You will have a total of 15-20 pieces total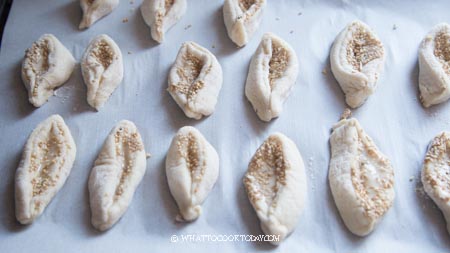 5. FRYING
Preheat oil over medium heat. Fry 2-3 pieces at a time over medium heat. Watch the heat so they won't get too dark on the outside but the dough is not cooked inside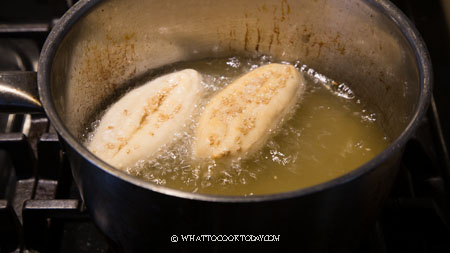 When dough floats to the top, use the chopsticks to turn the dough as frequently as possible so they brown evenly and it also allows even puffiness. Fry until dough is golden brown. Place on an absorbent paper towel to absorb extra oil. Transfer to a serving plate. Serve warm or room temperature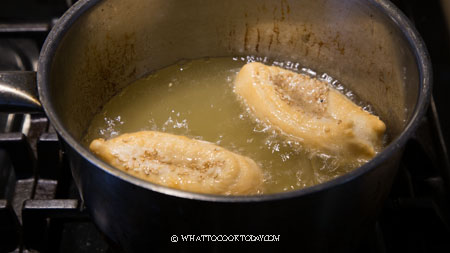 MAKE AHEAD
You can prepare the dough and shape them ahead of them and thaw them when you are ready to fry them. Here's how:
1. Prepare as instructed up to the step where you have brushed with sweet paste and shaped the dough into a horseshoe and sprinkle on some sesame seeds
2. Placing them on a large baking sheet lined with parchment paper in a single layer until they are firm and hardened and then wrap each one in a plastic wrapper and place in a freezer bag.
3. 1-2 hour before you plan to cook them, bring them out and let them thaw completely on the counter before frying
4. You may need to dust with a bit of flour if they get too sticky for you to pick up with your fingers after thawing

HOW TO REHEAT FRIED DONUTS
OVEN/TOASTER OVEN/AIR-FRYER: Bake them in the oven at 375 F for 8-10 minutes in the oven.

DID YOU MAKE THIS HORSESHOE FRITTERS RECIPE?
I love it when you guys snap a photo and tag to show me what you've made 🙂 Simply tag me @WhatToCookToday #WhatToCookToday on Instagram and I'll be sure to stop by and take a peek for real!

Recipe for the dough is adapated from Katherine Kwa's. The same recipe I used for ham chim peng- 3 ways!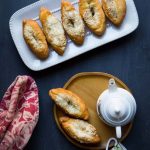 Cantonese Horse Shoe Fritters (Ma Kiok)
Instructions
Sweet paste:
Put all ingredients for sweet paste filling, except for white sesame seeds, and stir to mix. Set aside
Prepare the starter (needs 2 hours to proof):
Place ingredients for starter in a mixing bowl and stir to mix everything. Covered with plastic wrap at put in a warm place. I put it in my oven using "bread proof" function. The starter will double in size in about 2 hours
Prepare the dough:
Mix all the dry ingredients for the dough from all-purpose flour all the way to baking soda in a large mixing bowl. Whisk to mix. Make a small well in the middle. Add the starter, water and alkaline water, oil and stir to mix. You will still have a very sticky and wet dough, don't panic

Generously flour your working surface with flour. Use a spatula to scoop the dough out onto the floured surface. Use the flour to help you shape the dough into a large dough ball. You need to flour your fingers too. At any point if it's sticky, lightly dust with flour until you can form a large dough ball. Cover with a cloth or plastic wrap and let it rest for 20 minutes
Shaping:
After resting, dust your working surface with some flour again. Cut the dough into two. Keep the other covered. Roll the dough out into a rectangle, about 1 cm in thickness

Cut into about 10 strips. Brush with the sweet paste. Bring the two end together and seal the end. Dip the front part with sesame seeds. Continue with the rest of the strips and repeat with the other dough. You will have a total of 15-20 pieces total
Frying:
Preheat oil over medium heat. Fry 2-3 pieces at a time over medium heat. Watch the heat so they won't get too dark on the outside but the dough is not cooked inside. When dough floats to the top, use the chopsticks to turn the dough as frequently as possible so they brown evenly and it also allows even puffiness. Fry until dough is golden brown. Place on an absorbent paper towel to absorb extra oil. Transfer to a serving plate. Serve warm or room temperature
Recommended products: