Make this delicious Indonesian style pastel ayam or empanadas enclosed in crispy puff pastry and delicious savory filling. They can be fried or baked.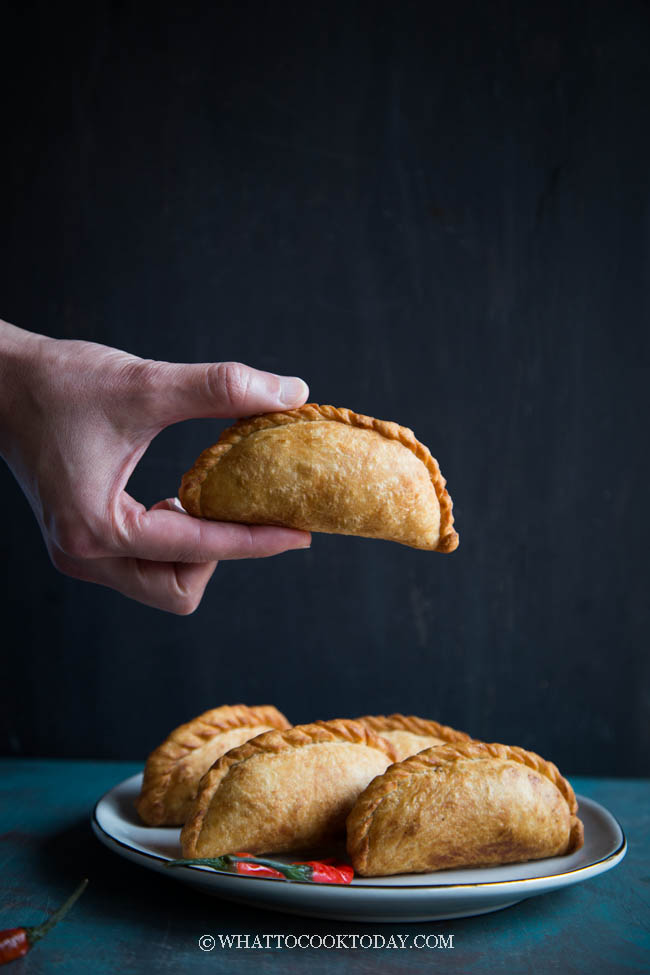 Pastel ayam is a popular snack (jajanan pasar) throughout Indonesia. They are usually filled with savory fillings and enclosed in flaky buttery pastry dough, but there are also versions made with more like a pie crust texture. Traditional pastel ayam is deep-fried until golden brown and crispy but you can bake or air-fried the pastel for a healthier version. Filipino also has what they call chicken pastel, but it's totally different from Indonesian pastel ayam, well in term of presentation anyway. The chicken pastel is more like a chicken pot pie.
HOW TO MAKE PASTEL AYAM FROM SCRATCH
1. MAKE THE DOUGH (IF NOT USING READY-MADE DOUGH)
Cut the butter into small cubes and then place in the freezer for about 10 minutes while you prepare other things.


Place flour, salt, cold cubed butter, and salt in a food processor.


Pulse a few times until the mixture resembles coarse crumbs.


Continue to pulse while adding in cold water until when you press on the crumbs with your fingers, it can form a dough.


Knead with your hands into a dough. Flatten into a disc shape. Wrap with a plastic wrap and put it in the freezer for 30 minutes.


2. PREPARE THE FILLING
Preheat 1 Tbsp of oil. Add garlic and onion and saute until fragrant, about 3 minutes. If using raw chicken meat, add it here and saute until they turn opaque.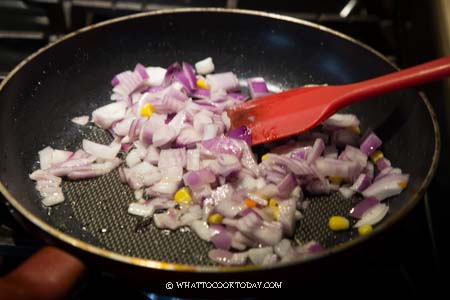 Add carrots, potatoes, and sweet corn. Stir to mix everything.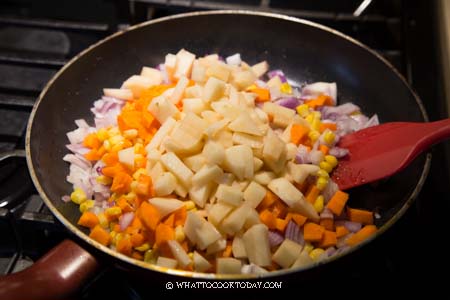 Add chicken broth/water and cover with a lid to let the steam cook soften the potatoes and carrots.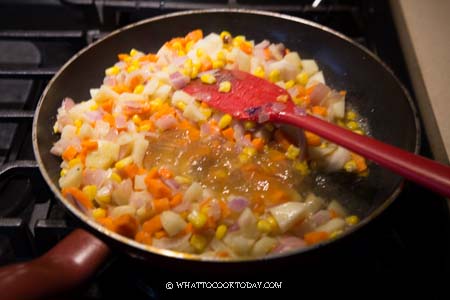 Uncover the lid and add the shredded chicken meat (if using), bean thread noodles, and chopped green onion.


Sprinkle in the all-purpose flour and stir to mix. This will help the filling to stick together better and it's easier to wrap later. Remove from the heat and let the filling cool down before wrapping.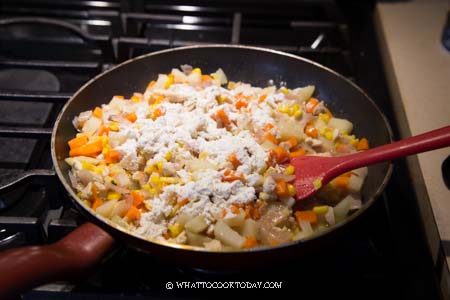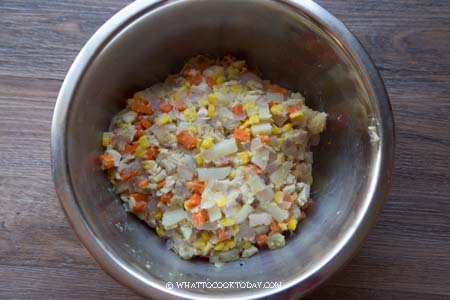 3. WRAP AND SHAPE THE DOUGH
Cut the dough into 8 equal pieces. Keep the rest in the fridge. Work with one dough at a time.


The dough might be stiff and hard initially. As you handle it with your hands, your body heat will soften it. Knead it a few times and shape into a ball. Working with a cold dough will make your life easier (trust me on this one!)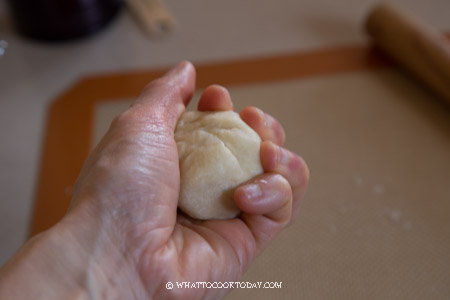 Roll it out into a 5-inch round or oval shape, about 1/5 mm thick with a rolling pin.


Place about 1 Tbsp of the filling or more (depending on how big you want it to be, cut don't fill up too much). Brush the edge with egg wash.


Fold into half to form a half-circle and then press to seal the edge with your fingers. Press the edges until it's quite thin


Fold and press to crimp the edge. Alternatively, you can use a fork to imprint and seal the edge too. Continue with the rest of the filling and the dough.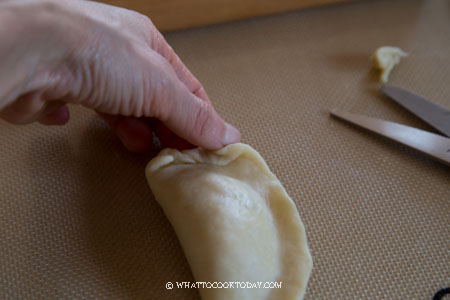 4. FRY THE PASTEL AYAM
Preheat about 3 inches of cooking oil over high heat. Once the oil is hot, lower it to medium and then carefully fry one pastel over medium heat until golden brown on one side and then flip over to fry until golden brown on the other side. Watch the heat as we don't want it to burn the pastel.


5. IF YOU CHOOSE TO BAKE
Preheat oven to 375 F. Place pastel on a baking sheet lined with parchment paper. Brush the shaped pastel with egg wash on one side and then bake for 10-15 minutes until golden brown and then flip over and brush egg wash on the other side and bake again for another 10-15 minutes until golden brown.


6. SERVE
They are the best when you eat them warm. We usually eat it with cabe rawit (Thai chili), but you can serve it with yoru favorite chili sauce or sweet chili sauce.

TOP TIPS YOU NEED TO KNOW
1. Make sure you chill the butter. This will make your pastry flaky and crispy
2. Work with cold dough. This will make your life easier and the dough is easy to roll and won't be easily torn apart
3. Roll the dough thin but not too thin that it tears easily when you fill it up with the filling
4. Fry the pastel over medium heat instead of high heat or the outside will get burn before the inside is cooked

POSSIBLE VARIATIONS
CRUST: You can use all-butter puff pastry dough or pie crust dough.
FILLING: You can make it meatless by using tofu or hard-boiled eggs or to include your favorite vegetables. You can also use other types of meat like ground beef, pork, or seafood like shrimp.
PASTEL AYAM CAN BE MADE AHEAD
This is perfect when you are hosting a party or during busy holiday times. Here's how:
1. Wrap and shape the pastel per instruction above or in the recipe card
2. Place them on a baking sheet lined with parchment paper, not touching each other
3. Place this inside the freezer for 1 hour. They won't be completely frozen yet
4. Transfer to a freezer bag to save freezer space. Push out all air and seal. They won't stick to each other anymore
5. On the day of serving, do not thaw and brush with egg wash if you choose to bake. Add about additional 5-8 minutes to the cooking time or until the pastel is golden brown and cooked through
6. If you choose to fry, preheat oil until hot and then lower to medium and then fry frozen pastel until golden brown. Watch the heat. You don't want the outside to get burn and it's still frozen inside
HOW TO REHEAT LEFTOVER PASTEL AYAM
Leftover fried or baked pastel ayam can be kept in the fridge for up to one week. Simply reheat in the oven or air fryer at 375 F for 10-15 minutes.

DID YOU MAKE THIS INDONESIAN PASTEL AYAM RECIPE?
I love it when you guys snap a photo and tag to show me what you've made 🙂 Simply tag me @WhatToCookToday #WhatToCookToday on Instagram and I'll be sure to stop by and take a peek for real!

Pastel Ayam / Indonesian Empanadas (Baked or Fried)
Ingredients
If not making puff pastry from scratch:
500

gr

ready-made all-butter puff pastry dough
Puff pastry dough (if making from scratch):
200

gr

all-purpose flour

90

gr

cold unsalted butter

cut into cubes

90

gr

cold water

¼

tsp

salt

Cooking oil

for deep-frying

1

large

egg

beaten, for egg wash (and for baking if you choose to bake)
Chicken filling:
1

Tbsp

cooking oil

1

large

onion

peeled and diced

6

cloves

garlic

finely minced

1

bunch

bean thread noodles (soun)

soak in warm water for 10 minutes and cut into shorter pieces, optional

⅓

cup

sweet corn kernels

1

large

carrot

peeled and diced

1

large

potato

peeled and diced

¼

cup

chicken broth/water

100

gr

shredded cooked chicken meat

or use 200 gr chicken meat (diced)

¼

tsp

ground white pepper

Salt to taste

3

Tbsp

all-purpose flour

1

stalk

green onion

finely chopped
Instructions
Prepare the filling (can be done a few days before):
Preheat 1 Tbsp of oil. Add garlic and onion and saute until fragrant, about 3 minutes. If using raw chicken meat, add it here and saute until they turn opaque. Add carrots, potatoes, and sweet corn. Stir to mix everything. Add chicken broth/water and cover with a lid to let the steam cook soften the potatoes and carrots. Uncover the lid and add the shredded chicken meat (if using), bean thread noodles, and chopped green onion. Season with pepper and salt and adjust the taste to your preference. Cook until the noodles are softened

Sprinkle in the all-purpose flour and stir to mix. This will help the filling to stick together better and it's easier to wrap later. Remove from the heat and let the filling cool down before wrapping
If using ready-made puff pastry dough:
Follow the instruction on the puff pastry box you bought. Most likely you need to leave the puff pastry at room temperature for a few minutes to let it soften a bit before you can roll and cut

Unroll the puff pastry sheet and roll out with a rolling pin to about 1.5 mm in thickness. Use a round cutter, about 4-5 inches in diameter to cut the dough. Gather all the extra dough and roll it out again and cut more. Proceed to wrap and shape
Prepare the puff pastry dough:
Cut the butter into small cubes and then place in the freezer for about 10 minutes while you prepare other things

Place flour, salt, cold cubed butter, and salt in a food processor. Pulse a few times until the mixture resembles coarse crumbs. If you don't have a food processor, just use a pastry cutter to mix the flour mixture with the cold butter. Continue to pulse while adding in cold water until when you press on the crumbs with your fingers, it can form a dough. Knead with your hands into a dough. Flatten into a disc shape. Wrap with a plastic wrap and put it in the freezer for 30 minutes.

Cut the dough into 8 equal pieces. Keep the rest in the fridge. Work with one dough at a time. The dough might be stiff and hard initially. As you handle it with your hands, your body heat will soften it. Knead it a few times and shape into a ball and then roll it out into a 5-inch round or oval shape. Proceed to wrap and shape
Wrap and shape the pastel:
Place about 1 Tbsp of the filling or more (depending on how big you want it to be, cut don't fill up too much). Brush the edge with egg wash. Fold into half to form a half-circle and then press to seal the edge with your fingers. Press the edges until it's quite thin and then fold and press to crimp the edge. Alternatively, you can use a fork to imprint and seal the edge too. Continue with the rest of the filling and the dough
Fry the pastel:
Preheat about 3 inches of cooking oil over high heat. Once the oil is hot, lower it to medium and then carefully fry one pastel over medium heat until golden brown on one side and then flip over to fry until golden brown on the other side. Watch the heat as we don't want it to burn the pastel

Remove with slotted spoon and place on an absorbent paper towel and repeat with the rest
Bake the pastel:
If you choose to bake, preheat oven to 375 F. Place pastel on a baking sheet lined with parchment paper. Brush the shaped pastel with egg wash on one side and then bake for 10-15 minutes until golden brown and then flip over and brush egg wash on the other side and bake again for another 10-15 minutes until golden brown
Serve the pastel:
Serve the pastel with your favorite chili sauce
Recommended products:
You may also like this
Pastel Tutup