You have to try this amazing salty and sweet soy sauce chocolate chip cookies. They are possibly the best chocolate chip cookies I have ever made and my kids highly approve of these amazing cookies. I dare you to eat no more than one 🙂 It's gonna be hard!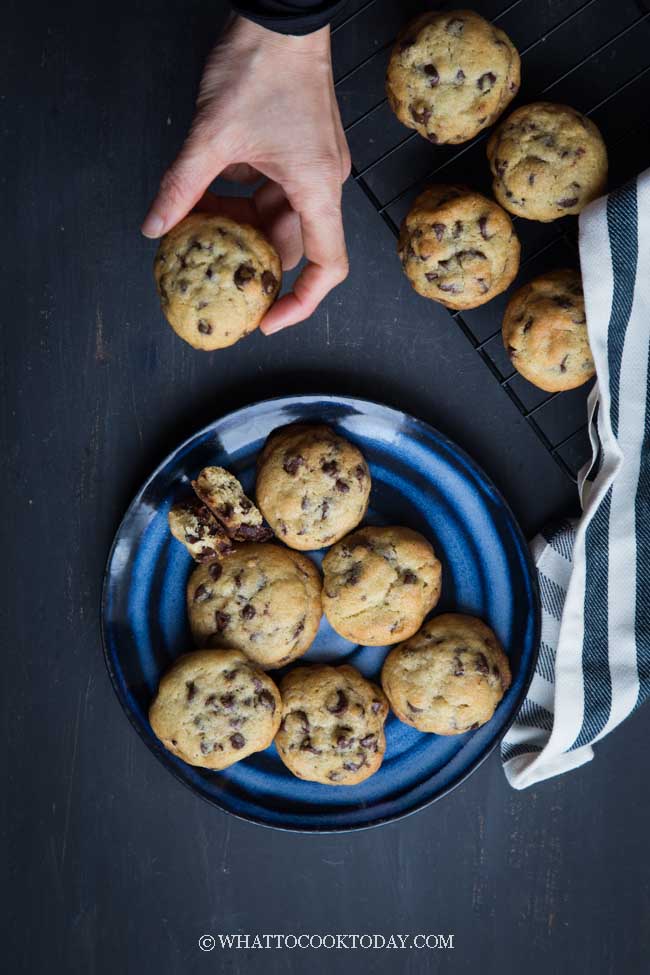 MY KIDS TAKE THEIR COOKIES VERY SERIOUSLY
Soy sauce what?? yes, soy sauce chocolate chip cookies! As bizarre as it sounds, this thing is LEGIT to the max! I'm not making this up. I saw Lan posted this on her Instagram and immediately I knew I gotta try this out.
It's truly quite possibly one of the best chocolate chip cookies I've ever tasted so far! My kids take their cookies very seriously and when they told me "These are amazing mom!". I knew this recipe is a keeper forever! I told them "there's soy sauce in the cookies?" With their mouths wide opened they said "really? no wonder it tastes so good" LOL!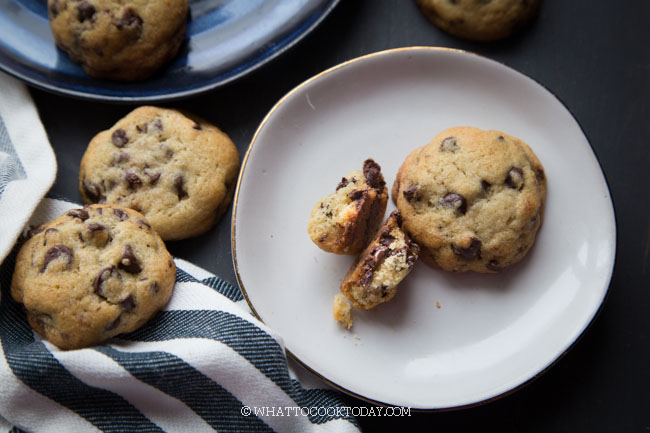 SWEET AND SALTY PROFILE AT ITS BEST
The soy sauce never overwhelms the cookies if you are wondering how in the world soy sauce gonna work out in a cookie recipe! It has very subtle flavor yet enough to give you that hint of savory that complements the gooey chocolatey crispy on the edge and soft in the middle kind of cookies! Does that make sense? 😉
HOW TO MAKE THE BEST SOY SAUCE CHOCOLATE CHIP COOKIES
1. MAKE THE COOKIE DOUGH
Mix flour with baking soda and stir to mix and set aside. Combine sugar, butter, shortening, in a mixing bowl and cream until smooth at medium speed using flat beater if you are using a stand mixer. Add egg and mix until creamy. Add soy sauce and vinegar and continue to mix for another 30 seconds. Gradually fold in the flour mixture until just mix and you no longer see loose flour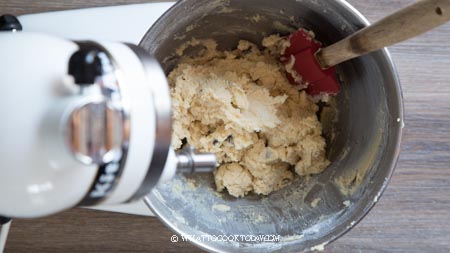 Add chocolate chip morsels and stir to mix them in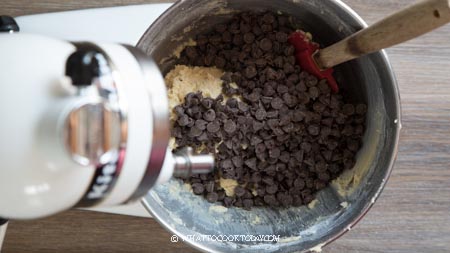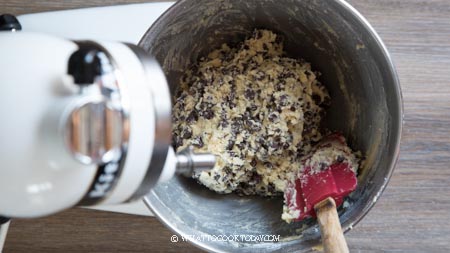 2. OPTIONAL STEP: CHILL THE DOUGH
You can cover the dough and chill it in the fridge. The flavor gets even better when you chill the cookie dough for 24 hours or up to 48 hours before baking.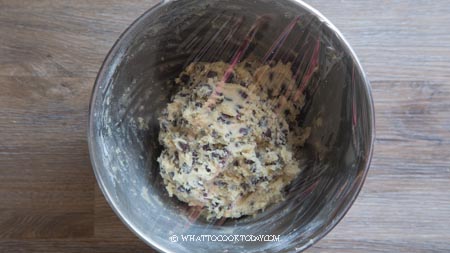 3. SHAPE THE COOKIES
Preheat your oven to 375 F (190 C). If the dough has been chilled, get them out from the refrigerator 30 minutes before you are ready to bake. Use a spoon or a cookie scoop to make a 1 1/4-inch dough ball. Place them on a baking sheet lined with a parchment paper, about 2-inches apart as they will spread, especially if you don't chill the dough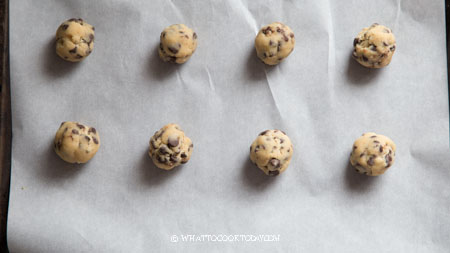 4. BAKE
Bake for 11-12 minutes or until the edge of the cookie is brown and the top is just lightly golden brown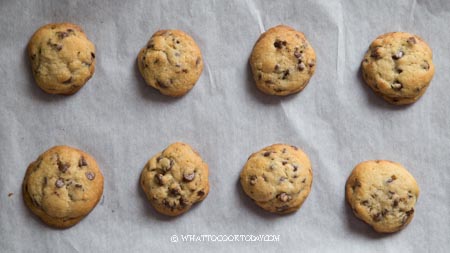 5. COOLING
Remove from the oven. The cookies will still appear to be very soft. Leave them on the baking sheet until they have firmed up enough for you to move to a cooling rack to cool down completely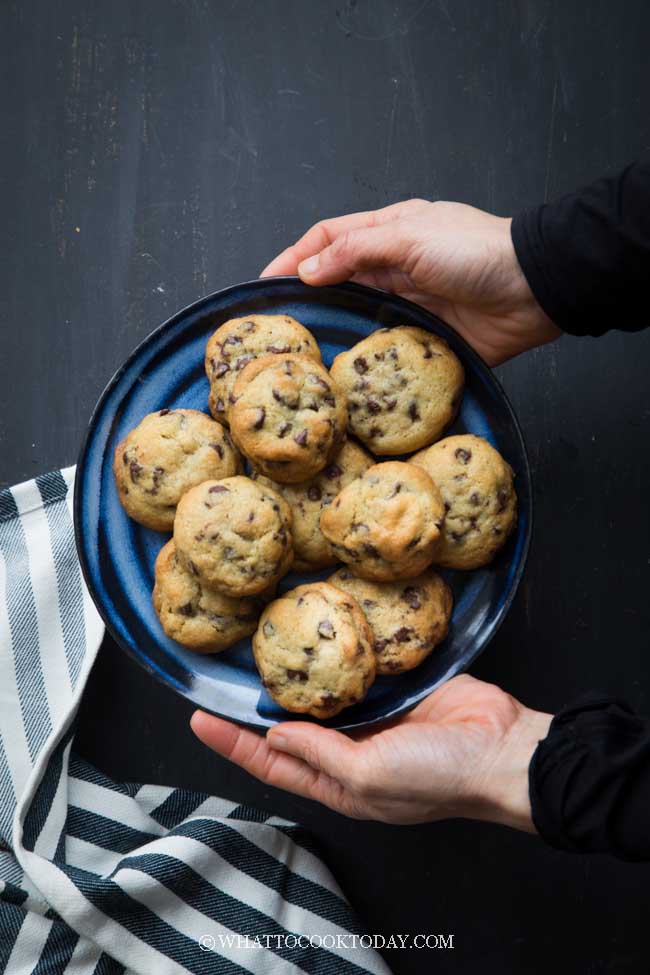 Don't just take my words for it. You gotta try this soy sauce chocolate chip cookies out. They are so good! I use the trusted and tested chocolate chip cookies from King Arthur's Flour that my family loves a lot and add soy sauce to it and never looked back!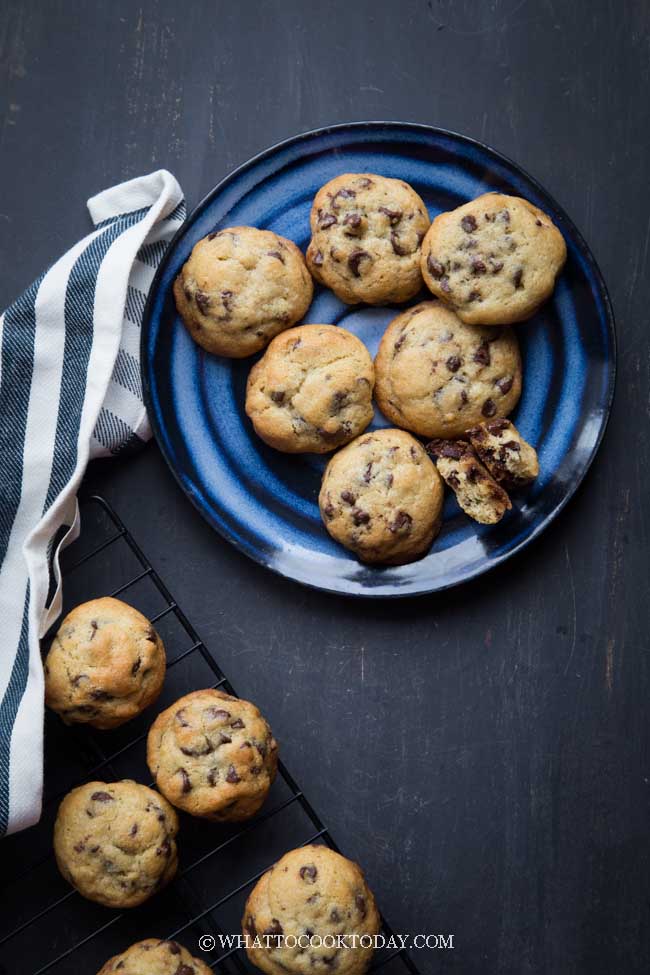 COOKIES CAN BE MADE AHEAD AND FREEZE
You can divide the cookie dough into 3-4 batches and then flatten them into a disc shape, wrap tightly in a plastic wrap and store in a freezer bag and freeze them. Simply thaw in the refrigerator when you are ready to bake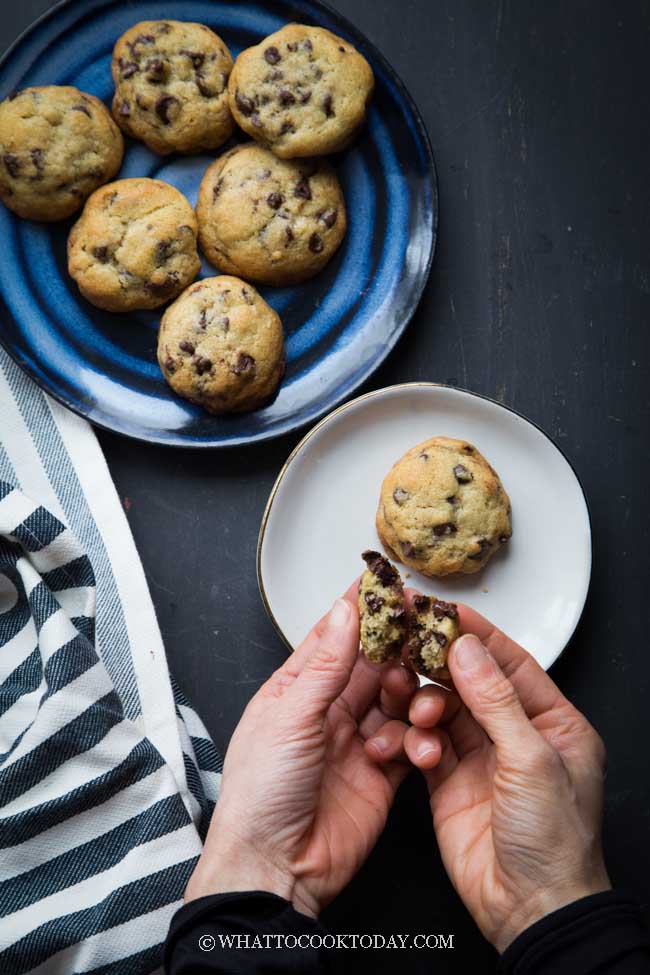 GLUTEN-FREE VERSION
If you want to make gluten-free soy sauce chocolate chip cookies, simply do these:
1. Use gluten-free flour mix
Simply substitute the same amount of all-purpose flour with gluten-free all-purpose flour and you may need to increase the baking time a little bit as gluten-free flour usually takes a bit extra time. Just monitor it closely not to overbake them
2. Use tamari instead of soy sauce
Tamari is gluten-free, wheat-free and usually vegan too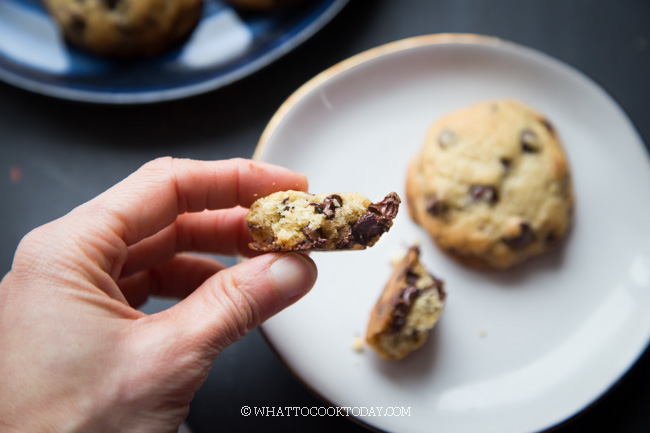 DID YOU MAKE THIS BEST SOY SAUCE CHOCOLATE CHIP COOKIES RECIPE?
I love it when you guys snap a photo and tag to show me what you've made 🙂 Simply tag me @WhatToCookToday #WhatToCookToday on Instagram and I'll be sure to stop by and take a peek for real!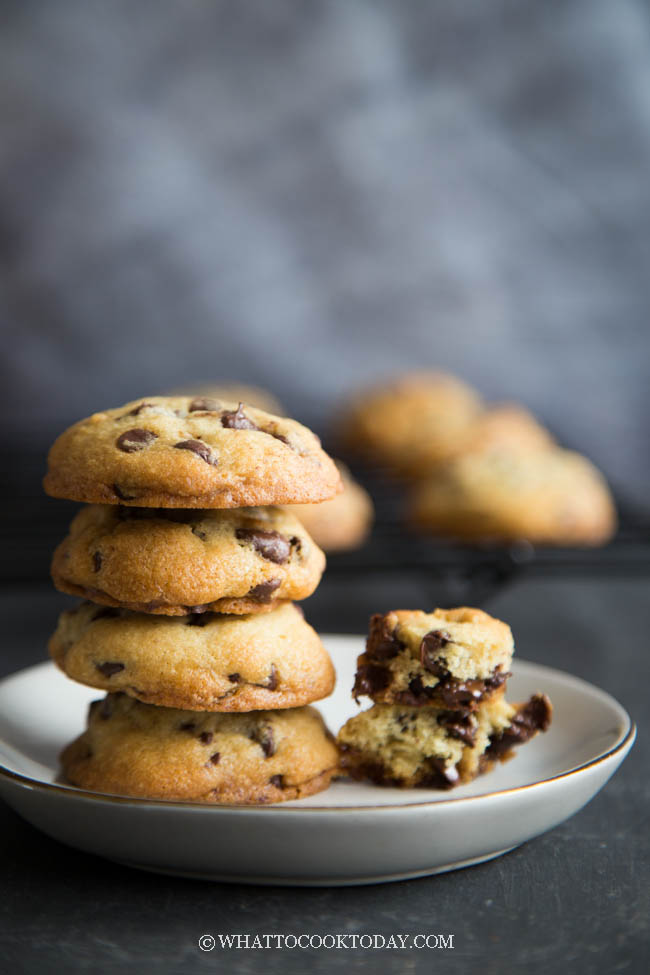 *The basic chocolate chip cookies recipe is adapted from King Arthur's Flour. I love their chocolate cookie recipe the best and add soy sauce to the recipe inspired by Lan*
The Best Soy Sauce Chocolate Chip Cookies
Instructions
Prepare cookie dough:
Mix flour with baking soda and stir to mix and set aside. Combine sugars, butter, shortening, in a mixing bowl and cream until smooth at medium speed using flat beater if you are using a stand mixer. Add egg and mix until creamy. Add vanilla extract, soy sauce and vinegar and continue to mix for another 30 seconds. Gradually fold in the flour mixture until just mix and you no longer see loose flour. Add chocolate chip morsels and stir to mix. Proceed to chill or freeze the dough (if you choose to) or to bake step below
Optional step - Chill or freeze:
The flavor gets even better when you chill the cookie dough for 24 hours or up to 48 hours before baking. You can divide the cookie dough into 3-4 batches and then flatten them into disc shapes, wrap tightly in a plastic wrap and store in a freezer bag and freeze them
When you are ready to bake them:
Preheat your oven to 375 F (190 C). If the dough has been chilled, get them out from the refrigerator 30 minutes before you are ready to bake. Use a spoon or a cookie scoop to make a 1 1/4-inch dough ball. Place them on a baking sheet lined with a parchment paper, about 2-inches apart as they will spread, especially if you don't chill the dough. Bake for 11-12 minutes or until the edge of the cookie is brown and the top is just lightly golden brown
Cooling:
Remove from the oven. The cookies will still appear to be very soft. Leave them on the baking sheet until they have firmed up enough for you to move to a cooling rack to cool down completely
Notes
You can make this recipe gluten-free by simply substitute the same amount of all-purpose flour with gluten-free all-purpose flour. You may need to increase the baking time a little bit as gluten-free flour usually takes a bit longer. Monitor closely so you won't be overbaking them
You can use tamari instead of soy sauce to make gluten-free version
Recommended products:
Nutrition
Serving:
1
cookie
|
Calories:
156
kcal
|
Carbohydrates:
18
g
|
Protein:
2
g
|
Fat:
9
g
|
Saturated Fat:
4
g
|
Polyunsaturated Fat:
1
g
|
Monounsaturated Fat:
3
g
|
Trans Fat:
1
g
|
Cholesterol:
12
mg
|
Sodium:
59
mg
|
Potassium:
70
mg
|
Fiber:
1
g
|
Sugar:
11
g
|
Vitamin A:
91
IU
|
Calcium:
12
mg
|
Iron:
1
mg