Sliced potatoes are stir-fried with ground meat and savory and slightly sweet sauce is a super easy dish to prepare and it's tasty and a budget-friendly meal.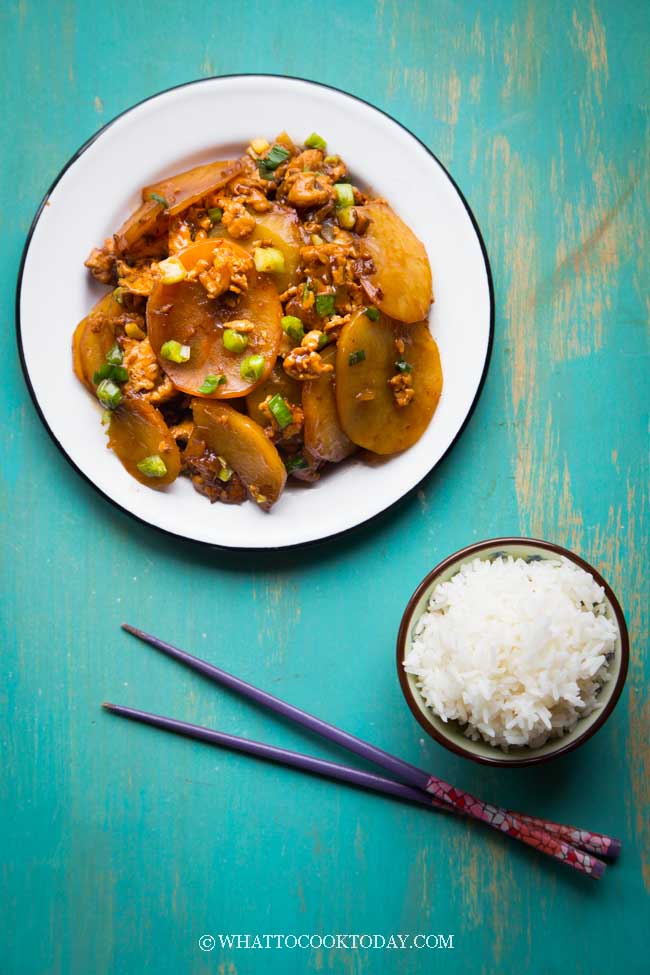 Can we all agree that these past few weeks have been crazy? Yes, you know what I'm talking about! the COVID-19 worldwide outbreaks, kids out of schools, many people are working from home, empty shelves at grocery stores, no toilet paper, no paper towels, no hand sanitizers, no face masks, frozen meals, and frozen foods vanished! wow! when I walk into any store these days, I feel like we are in the midst of war! (well, we are against the virus!). We just gotta brave through these crazy days. Keep our minds positive, practice good hygiene, and social distancing. Hopefully, this too shall pass soon!
I'm sharing more easy convenient recipe this week as many people stay home and want to prepare easy meal to feed the family. This Indonesian style stir-fried potatoes with meat is one of my favorites. My mom made it so often when we were kids. In Indonesian language, Tumis means stir-fry, Kentang means potato, Daging means meat in general, Cincang means (finely chopped/minced). It's not something you will find at the restaurant, it's more of a popular dish among the homecooks because it's easy, tasty, and budget friendly.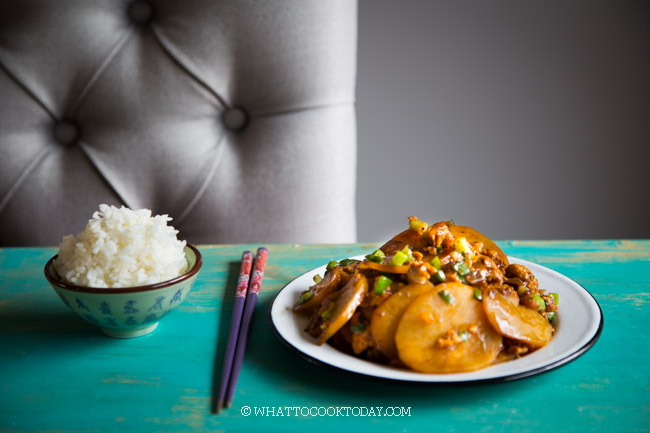 Let's get started cooking shall we?
HOW TO MAKE TUMIS KENTANG DAGING CINCANG
1. PREPARE THE POTATOES
Peel the skin and rinse the potatoes with water. Slice the potatoes into about 1/4-inch (about 0.5 cm) in thickness. Try to cut them into the same thickness as much as possible so they cook at the same time. You can also use a mandoline slicer if you have one.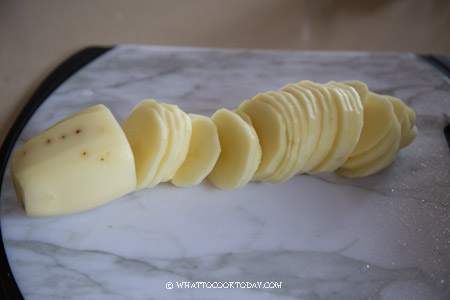 Soak the potatoes in water while you are preparing other things so the potatoes won't get oxidized and turned black. When ready to cook, discard the water.


2. COOKING
Preheat wok or large skillet over high heat. Add cooking oil. Add diced onion and stir fry until they are aromatic, about 2 minutes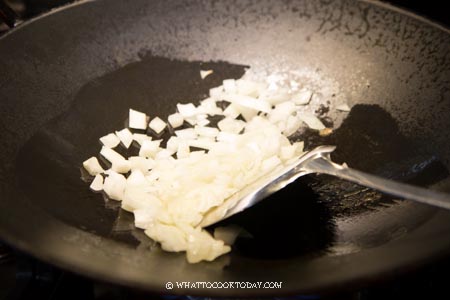 Add ground meat and continue to stir fry until they turn color, but not cooked through yet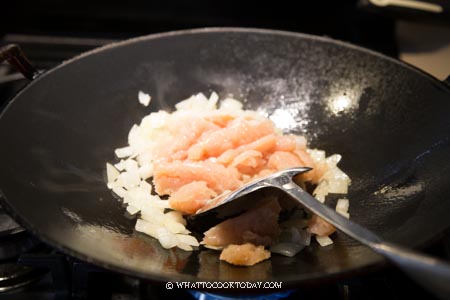 Add potato slices, seasonings, and water. Stir to mix


Cover with a lid to let the potato slices are soft but not mushy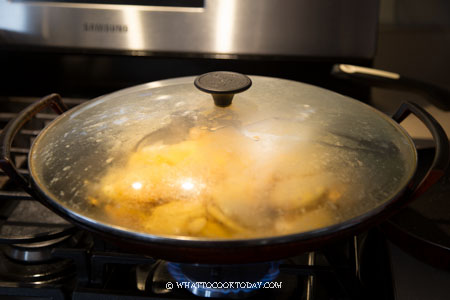 The liquid will slightly reduce too. Have a taste and adjust taste to your liking. It should be savory with a hint of sweetness


3. THICKEN THE SAUCE
Give the cornstarch that you mixed with water a stir and then pour it in and stir until the sauce thickens


4. GARNISH
Remove from the heat and garnish with some chopped green onion. Serve immediately with rice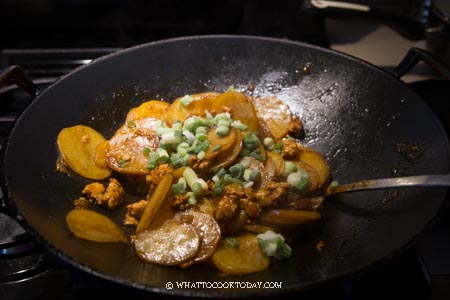 TA..DA…you just did it! 🙂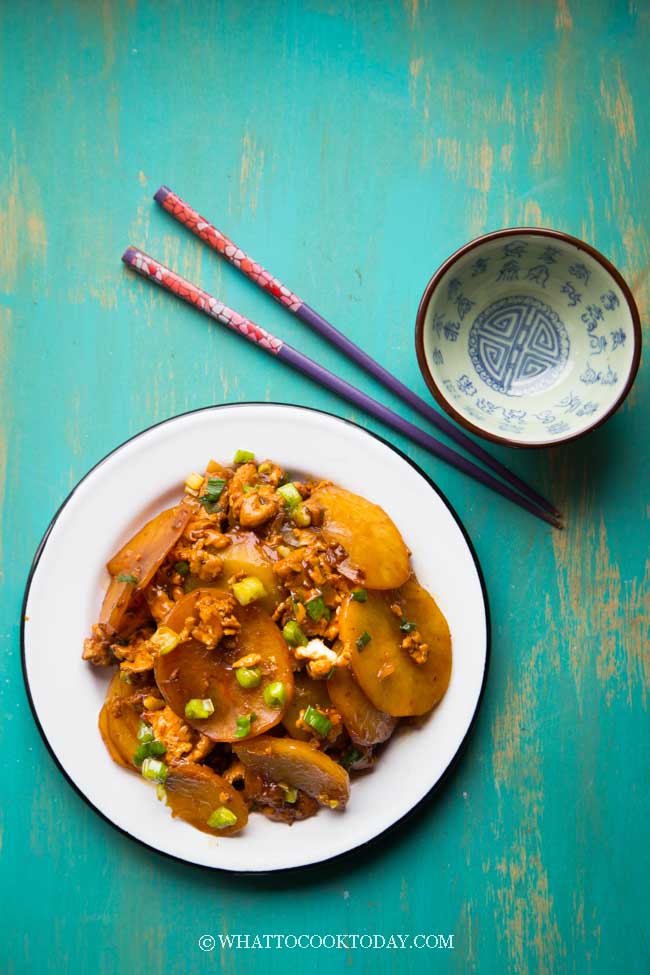 VARIATIONS
Meat: you can use ground or finely chopped/miced pork, chicken, beef, turkey
Meatless: extra firm tofu, tempeh
Veggies: you can also add veggies like broccoli florets, carrot slices, frozen mixed vegetables (thawed) to make it a complete meal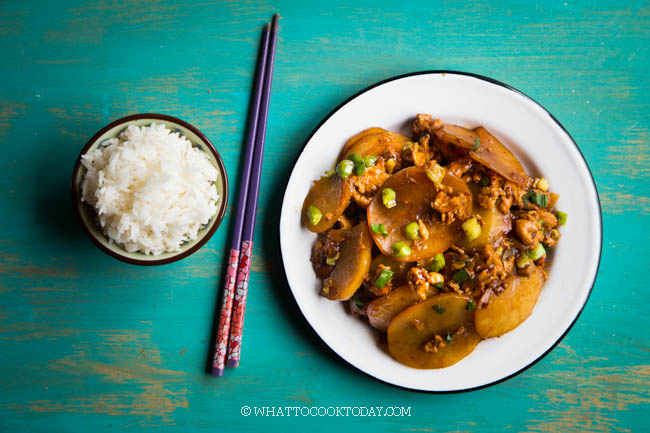 DID YOU MAKE THIS TUMIS KENTANG DAGING CINCANG RECIPE?
I love it when you guys snap a photo and tag to show me what you've made 🙂 Simply tag me @WhatToCookToday #WhatToCookToday on Instagram and I'll be sure to stop by and take a peek for real!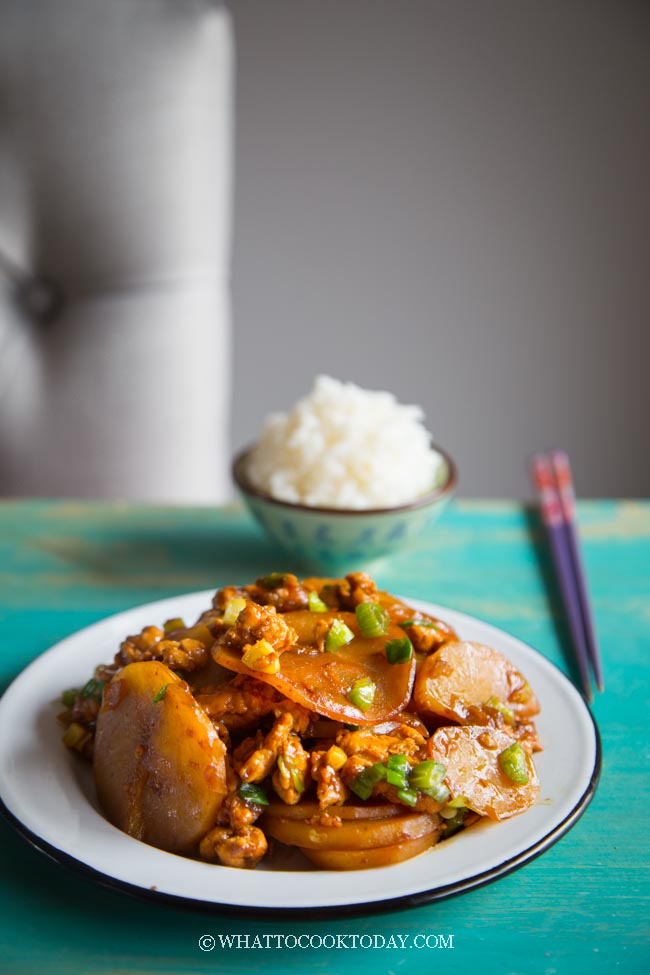 Indonesian Stir-fried Potatoes with Meat (Tumis Kentang Daging Cincang)
4
servings
Sliced potatoes are stir-fried with ground meat and savory and slightly sweet sauce is a super easy dish to prepare and it's tasty and a budget-friendly meal.
INGREDIENTS
3

large

potatoes

-

about 800 gr or 1 1/2 lbs

1

Tbsp

cooking oil

300

gr

ground pork / turkey / chicken / beef

-

10.5 oz

1

small

onion

-

diced

150

ml

water

-

about 10 Tbsp
Garnish:
1

stalk

green onion

-

finely chopped
INSTRUCTIONS
Prepare the potatoes:
Peel the skin and rinse the potatoes with water. Slice the potatoes into about 1/4-inch (about 0.5 cm) in thickness. Try to cut them into the same thickness as much as possible so they cook at the same time. You can also use a mandoline slicer if you have one

Soak the potatoes in water while you are preparing other things so the potatoes won't get oxidized and turned black. When ready to cook, discard the water
Cooking:
Preheat wok or large skillet over high heat. Add cooking oil. Add diced onion and stir fry until they are aromatic, about 2 minutes. Add ground meat and continue to stir fry until they turn color, but not cooked through yet. Add potato slices, seasonings, and water. Stir to mix and then cover with a lid to let the potato slices are soft but not mushy. The liquid will slightly reduce too. Have a taste and adjust taste to your liking. It should be savory with a hint of sweetness
Thicken the sauce:
Give the cornstarch that you mixed with water a stir and then pour it in and stir until the sauce thickens
Garnish:
Remove from the heat and garnish with some chopped green onion. Serve immediately with rice
Notes
If you don't have kecap manis, you can use 1 Tbsp of soy sauce + 2 Tbsp of brown sugar (or more if you want it a bit sweeter)
RECOMMENDED PRODUCTS: