Soft and chewy green glutinous rice dumplings filled with sweet or savory fillings are often seen during the Qingming festival.

What is qing tuan?
Qing tuan is characterized by its green color and is also known as mugwort dumplings or spring dumplings or Qingming dumplings. It is originated in Jiang Nan, China but they are popular street food throughout China. The greenish color is contributed by the mugwort, also known as silver wormwood leaves or ai cao. Usually, the young shoot, which has a mild aroma and is just slightly bitter, is used to make qing tuan before it starts to flower and become more bitter. The Taiwanese also have a similar dumpling known as 草仔粿 (cao zai guo).
They are traditionally filled with sweet red bean paste. The savory version is filled with preserved radish. Qing tuan is eaten as a snack during early spring and used as an offering to the death during qingming festival (tomb-sweeping day).
Substitute for Chinese mugwort
If you don't have any Chinese mugwort and there are several substitutions you can do for natural green color on the qing tuan. You can use spinach leaves, wheatgrass or wheatgrass powder, barley grass powder. I use wheatgrass powder that I happen to have.
Non-traditional filling
For my qing tuan, I didn't use the traditional sweet filling such as sweet red bean paste or the traditional savory one such as bamboo shoots or pickled radish filling. Instead, I use pork floss, salted egg yolks, and mayonnaise mixture. This savory filling combination is popular in China and Taiwan of late.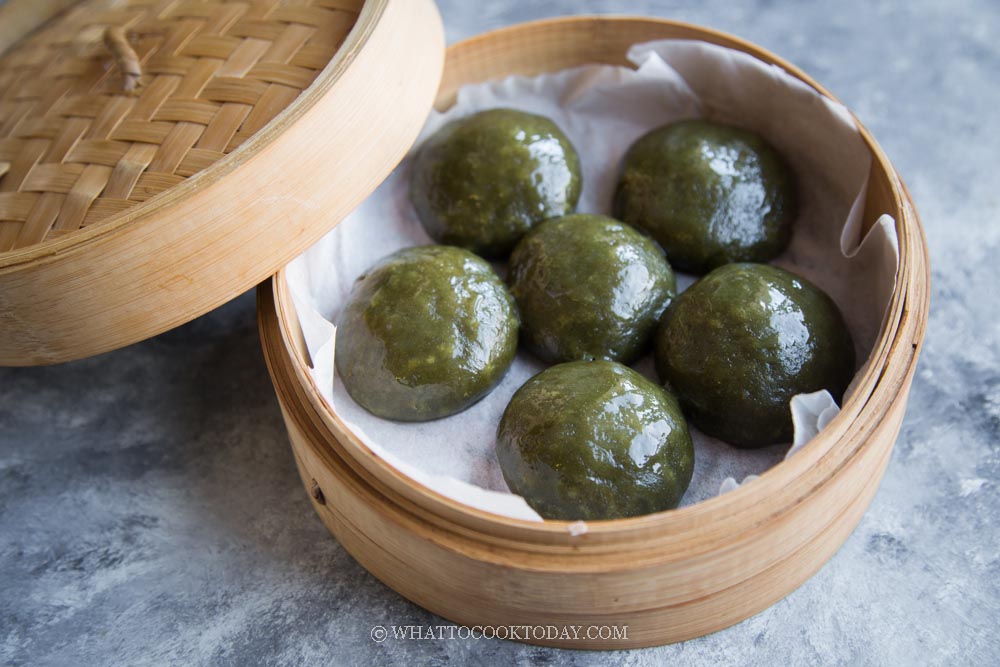 How to make qing tuan
In these step-by-step photos, I was using wheatgrass powder instead of fresh mugwort.
1. Combine wheatgrass powder/barley grass powder (if not using fresh mugwort/spinach), wheat starch, glutinous rice flour, and sugar in a large mixing bowl. Whisk to combine


2. Put 150 gr of the water/juice in a saucepan. Cover and bring to a rolling boil. Immediately pour 130 gr of this into the flour mixture. Keep the extra on the side in case you need it


3. Use a chopstick or a spatula to stir at first, since it is still very hot. Stir quickly into a crumbly dough


4. Then use your hand to knead into a rough dough. If it's too dry to even form a rough dough, you can add a bit more of the water/juice. Remember we haven't add the lard/shortening yet. So don't add too much liquid. As long as it can form a rough dough that won't fall apart.


5. Add the lard/shortening and continue to knead into a smooth flexible dough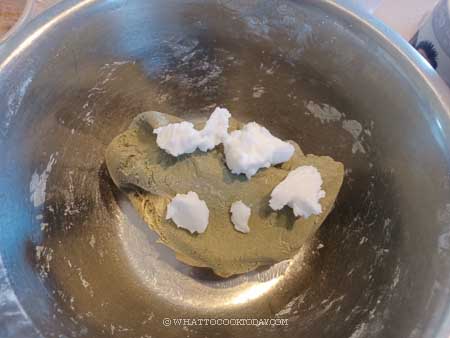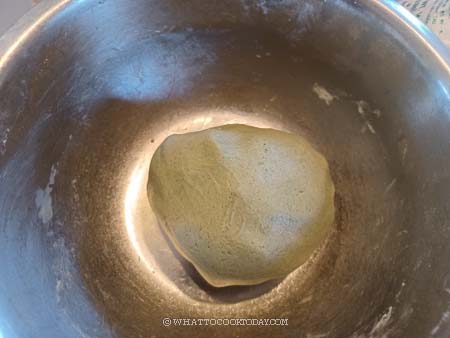 6. Divide the dough into 12 pieces, or roughly about 30 grams each. Roll into round balls. Keep them covered tightly and work with one dough at a time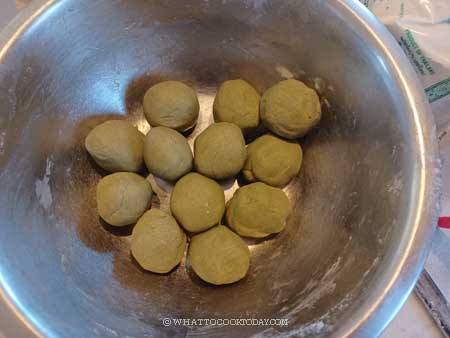 7. Use your thumb to push into the middle of the dough to make a deep "bowl" like shape. Put one filling inside and mold the dough gently to enclose it. Roll it round. If the dough gets a bit dry, you can wet your palms with some water and roll into a smooth ball

8. Put these on the prepared bamboo steamer or steaming plate, giving them about 1 -inch gap as they will expand a bit during steaming. Put the bamboo steamer or the steaming plate in the steamer and steam for 10 minutes over medium heat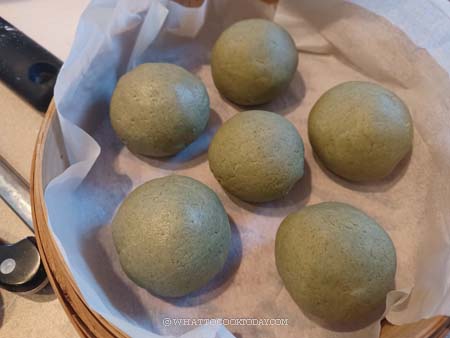 9. When they are done steaming, immediately brush with thin layer of oil all over. They can be served warm or at room temperature

Did you make this qing tuan recipe?
I love it when you guys snap a photo and tag to show me what you've made 🙂 Simply tag me @WhatToCookToday #WhatToCookToday on Instagram and I'll be sure to stop by and take a peek for real!

Qing Tuan (Chinese Mugwort Dumplings / Qingming Dumplings)
Ingredients
If using wheatgrass powder or barley grass powder:
If using mugwort or spinach leaves:
150

gr

mugwort or spinach leaves

150

gr

water
Instructions
Prepare the filling:
If using savory filling, combine all the ingredients and then divide into 12 pieces of 30-gram dough ball. Do the same if you use red bean paste. Cover and keep them chilled in the fridge when you prepare the dough
If using mugwort or spinach leaves:
Rinse the mugwort or spinach leaves. Bring a large pot of water to a boil. Add the leave and blanch for 5 minutes. Submerge in ice-cold water then squeeze out the water. Put in a blender with 150 gr of water and blend into a paste. Transfer to a cheesecloth or a strainer and squeeze out the juice and discard the solid. Measure out 150 gr of the juice. You won't need all of the juice but we want to have a bit extra for adjustment in case we need it
Prepare the dough:
Combine wheatgrass powder/barley grass powder (if not using fresh mugwort/spinach), wheat starch, glutinous rice flour, and sugar in a large mixing bowl. Whisk to combine

Put 150 gr of the water/juice in a saucepan. Cover and bring to a rolling boil. Immediately pour 125 gr of this into the flour mixture. Keep the extra on the side in case you need it

Use a chopstick to stir at first, since it is still very hot. Stir quickly into a crumbly dough and then use your hand to knead into a rough dough. If it's too dry to even form a rough dough, you can add a bit more of the water/juice. Remember we haven't add the lard/shortening yet. So don't add too much liquid. As long as it can form a rough dough that won't fall apart. Add the lard/shortening and continue to knead into a smooth flexible dough
Filling and wrapping:
Divide the dough into 12 pieces, or roughly about 30 grams each. Roll into round balls. Keep them covered tightly and work with one dough at a time

Prepare your steamer by filling it up with water. Keep the water simmering on medium heat while wrapping. Line your bamboo steamer with parchment paper or lightly oil your steaming plate with a bit of oil

Use your thumb to push into the middle of the dough to make a deep "bowl" like shape. Put one filling inside and mold the dough gently to enclose it. Roll it round. If the dough gets a bit dry, you can wet your palms with some water and roll into a smooth ball

Put these on the prepared bamboo steamer or steaming plate, giving them about 1 -inch gap as they will expand a bit during steaming
Steaming:
Put the bamboo steamer or the steaming plate in the steamer and steam for 10 minutes over medium heat

When they are done steaming, immediately brush with thin layer of oil all over. They can be served warm or at room temperature
Storing:
Once they have cooled down completely, wrap them individually with a cling wrap to preserve the softness. They can be kept at room temperature for a day or two if it's not humid where you are, otherwise, keep them in an air-tight container and keep in the fridge for 3-4 days in the freezer for up to one month
Reheating:
If they have been kept in the fridge or frozen, reheat by steaming again over medium heat until they are warm, about 2-3 minutes. You don't need to thaw if frozen, just add few extra 3-4 minutes to steaming time
Nutrition
Serving:
1
serving
|
Calories:
205
kcal
|
Carbohydrates:
17
g
|
Protein:
7
g
|
Fat:
12
g
|
Saturated Fat:
3
g
|
Polyunsaturated Fat:
3
g
|
Monounsaturated Fat:
4
g
|
Trans Fat:
1
g
|
Cholesterol:
152
mg
|
Sodium:
248
mg
|
Potassium:
132
mg
|
Fiber:
1
g
|
Sugar:
4
g
|
Vitamin A:
196
IU
|
Vitamin C:
1
mg
|
Calcium:
24
mg
|
Iron:
1
mg
–