You would think banana and mayonnaise sound a bit odd but this combination makes delicious and moist banana bread/cake you will really enjoy.

So I got a jar of Olive oil mayo that has been sitting in the fridge and honestly I didn't use a whole lot of mayo. So I saw this recipe from Hellman's site (not sponsored) and decided to give it a try, though I did modify some. The family really love this banana bread. You can't even tell that there's mayonnaise in the bread in case you are wondering!
INGREDIENTS
1. Bananas
I use very ripen bananas. If your bananas aren't ripe enough, the bread won't turn out as good and as aromatic
2. Mayonnaise
The mayo adds moistness and richness to the bread (or should I say cake?). I use olive-oil based mayo. Regular mayo definitely works
3. Brown sugar
I like using light brown sugar in banana bread/cake because it adds that faint "molasses" aroma that doesn't overpower the banana bread, but enough to know it's there. You can use granulated white sugar, or coconut sugar too
4. Egg
I use a large egg, about 50 grams in weight without the shell and make sure it's at room temperature
5. Vanilla extract
I use good-quality vanilla extract
6. Salt
This little addition will round up the flavor, making it tastes even better
7. All-purpose flour
Since I'm treating this more like a bread than a cake, I use all-purpose flour but you can use cake flour for a tender crumb and it will be more like banana cake instead of bread 🙂
8. Walnuts
I love my banana bread/cake with some toasted walnuts. They just go together so well. Adding a bit of contrast of texture too
How to make easy and moist banana walnut mayonnaise bread
1. Preheat your oven to 350 F (180 C) for conventional oven. For convection oven, please lower the temperature by 20 degrees. I use a 8 1/2 x 4 1/2 inches loaf pan. I sprayed with non-stick spray and line the bottom with parchment paper for easier removal later.
Coat the walnuts with a tablespoon of all-purpose flour and then shake off excess flour


2. Mash the ripen bananas with a fork. I like to be able to bite into tiny pieces of bananas, but if you want it really smooth, you can use a blender or immersion blender to puree them


3. Add the brown sugar to the bananas and keep whisking and the sugar will dissolve and the mixture will turn watery, that's normal. Add the egg and whisk again to combine


4. Add the mayo and vanilla extract and whisk to combine.


5. Sift in flour, baking powder, ground cinnamon (if using) and salt. Use a spatula to combine. Fold in the coated walnut. As long as you don't see any pockets of flour, you are done mixing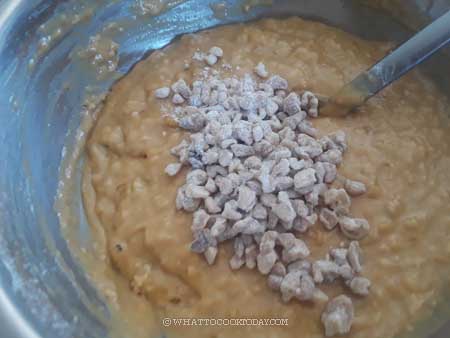 6. Pour this into the prepared loaf pan. Tap the pan on the counter a few times to pop any large bubbles. Arrange few slices of bananas on top if you like. Sprinkle some chopped walnuts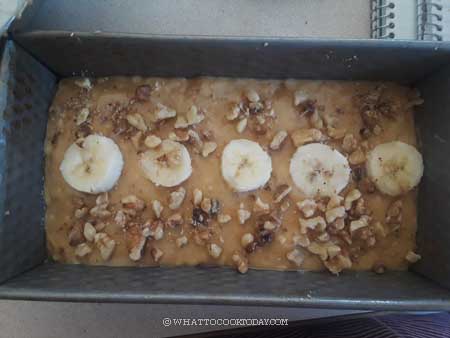 7. Bake in the preheated oven for 50 minutes or until a cake tester inserted comes out clean with a few crumbs are okay, as long as it's not wet. You can start checking for doneness at 30 minutes. Every oven can be different. Cool in the pan for 15 minutes


8. Then remove from the pan to a cooling rack and let it cools down completely before slicing

The smell of bread baking, especially banana bread, is truly amazing, to say the least!

Did you make this easy banana walnut mayonnaise breadrecipe?
I love it when you guys snap a photo and tag to show me what you've made 🙂 Simply tag me @WhatToCookToday #WhatToCookToday on Instagram and I'll be sure to stop by and take a peek for real!

Easy Moist Banana Walnut Mayonnaise Bread/Cake
Ingredients
200

gr

brown sugar

50

gr

egg (room temperature)

about 1 large egg without the shell

250

gr

mashed very ripe bananas

115

gr

mayonnaise

1

tsp

vanilla extract

220

gr

all-purpose flour

plus more to coat the walnuts

2

tsp

baking powder

½

tsp

ground cinnamon

optional

½

tsp

salt

100

gr

walnuts
Decoration (optional):
Few slices of bananas

Chopped walnuts
Instructions
Preheat your oven to 350 F (180 C) for conventional oven. For convection oven, please lower the temperature by 20 degrees. I use a 8 1/2 x 4 1/2 inches loaf pan. I sprayed with non-stick spray and line the bottom with parchment paper for easier removal later

Coat the walnuts with a tablespoon of all-purpose flour and then shake off excess flour
Prepare the batter:
Mash the ripen bananas with a fork. I like to be able to bite into tiny pieces of bananas, but if you want it really smooth, you can use a blender or immersion blender to puree them

Add the brown sugar to the bananas and keep whisking and the sugar will dissolve and the mixture will turn watery, that's normal. Add the egg and whisk again to combine. Add the mayo and vanilla extract and whisk to combine

Sift in flour, baking powder, ground cinnamon (if using) and salt. Use a spatula to combine. Fold in the coated walnut. As long as you don't see any pockets of flour, you are done mixing

Pour this into the prepared loaf pan. Tap the pan on the counter a few times to pop any large bubbles. Arrange few slices of bananas on top if you like. Sprinkle some chopped walnuts
Baking:
Bake in the preheated oven for 50 minutes or until cake tester inserted comes out clean with a few crumbs are okay, as long as it's not wet. You can start checking for doneness at 30 minutes. Every oven can be different

Cool in the pan for 15 minutes and then remove from the pan to a cooling rack and let it cools down completely before slicing
Serving:
The bread tastes better the next day if you can wait
How to store:
Once the bread has cooled down completely, wrap with a plastic wrap and put in air-tight container or zipper bag and it can be stored at room temperature for 3-4 days if it's not humid where you are. If it is humid, you need to keep it in the fridge. Keep in mind that the longer you keep in the fridge, the drier it gets

I recommend freezing the leftover. Banana bread freezes well. Simply wrap it well with plastic wrap and put in a freezer bag, push all the air out and seal. It can be kept frozen for one month. Simply thaw at room temperature before serving
Nutrition
Serving:
1
slice
|
Calories:
348
kcal
|
Carbohydrates:
45
g
|
Protein:
5
g
|
Fat:
17
g
|
Saturated Fat:
2
g
|
Polyunsaturated Fat:
11
g
|
Monounsaturated Fat:
3
g
|
Trans Fat:
1
g
|
Cholesterol:
23
mg
|
Sodium:
291
mg
|
Potassium:
221
mg
|
Fiber:
2
g
|
Sugar:
24
g
|
Vitamin A:
56
IU
|
Vitamin C:
3
mg
|
Calcium:
86
mg
|
Iron:
2
mg