If you are looking for really good homemade flat rice noodles (hor fun / kway teow) from scratch, you have to try this recipe out. The noodles are soft with an amazing texture. It is naturally gluten-free too.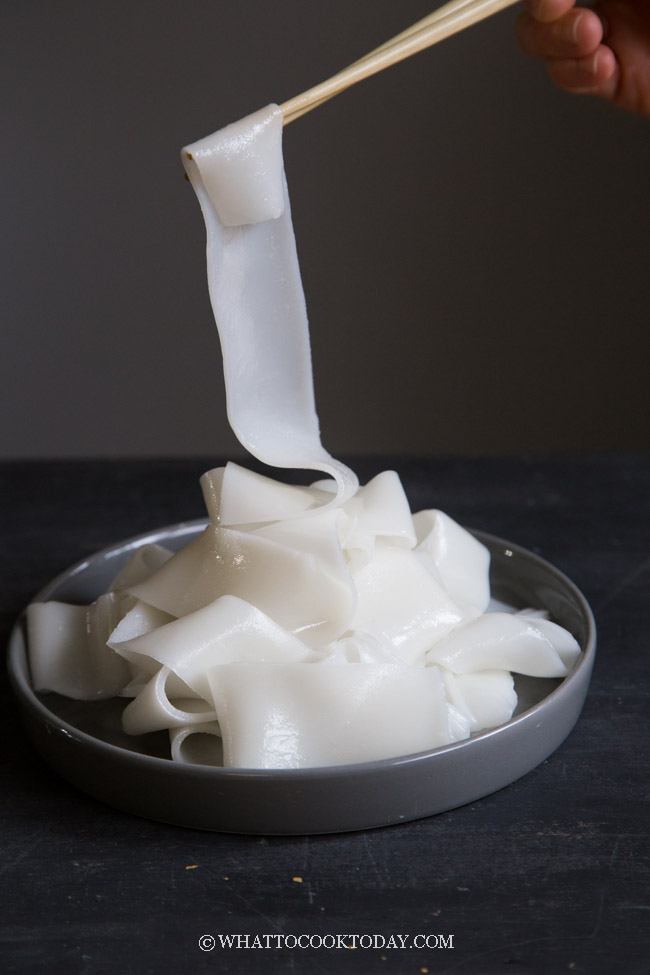 My mom has been trying out so many different ways and flour/starch combinations for making flat rice noodles for the past 2 years. The homemade cheung fun recipe I posted was also from her. It has been like her obsession trying to find the easiest hor fun / kway teow noodle recipe with good texture. She shared this recipe with me and we absolutely love it and it's only fair that I share it with you 🙂
WHY YOU'LL LIKE THIS RECIPE
1. Love the texture
The rice noodles are really soft but with great resilient texture and easy to work with
2. No tapioca starch
Not that tapioca starch is bad or anything. Many of hor fun noodle recipes you see use rice noodles and tapioca starch combination. That's what I had been using too but I was reluctant to post that recipe because while it was okay, I thought it could be better.
3. No preservatives and additives
Store-bought hor fun usually has preservatives and additives added for longer shelf-life. Homemade is the best 🙂
TYPES OF FLOUR/STARCH TO USE
1. Rice flour
I use store-bought rice flour (Thai rice flour to be exact). If you are a hard-core, you can soak your own rice and process it into a really fine powder instead. I haven't had much luck getting the rice to be really fine in texture. Do not substitute rice flour with glutinous rice flour (mochiko). They are not the same.
2. Potato starch (太 白 粉 / tai bai fen) or sometimes known as 生 粉 / sheng fen
Don't be mistaken with potato flour, which is different from potato starch. Potato flour is made with whole ground potatoes while potato starch only uses the starch from the potatoes.
SUBSTITUTION FOR POTATO STARCH
If you can't find any potato starch, you can also use sweet potato starch (地 瓜 粉 / di gua fen). They can be found at most Asian grocery stores or at Amazon.
Can I substitute potato starch with potato flour? No, it's a totally different thing
Can I substitute potato starch with cornstarch? Yes you can, but the texture will definitely be different
Can I substitute potato starch with tapioca starch? Yes you can, but I don't really like the noodle texture when made with tapioca starch
TOOLS YOU NEED
You don't need to own a food steamer or any other fancy types of equipment. All you need are:
1. Steamer
You can make your own steamer by using a wok with a lid, large pan with a lid, or a pot with a lid big enough for the steaming pan you will be using
2. Trivet
This is to place the steaming pan on top. In my case, I don't need any because my pan can sit on the wok without touching the water
3. Steaming pan
I use two of my 8-inch non-stick square cake pans. You can use something similar perhaps different in size as long as it fits into your steamer. Preferably, something that can conduct heat well and not so thick. Aluminum or stainless steel is the best. Don't use glass or ceramic material as it is too thick and the noodles won't cook properly
4. Measuring cup or ladle
Measuring cup with a spout will make your life easier as you just need to pour. I use a ladle that I know it's about 50 ml per scoop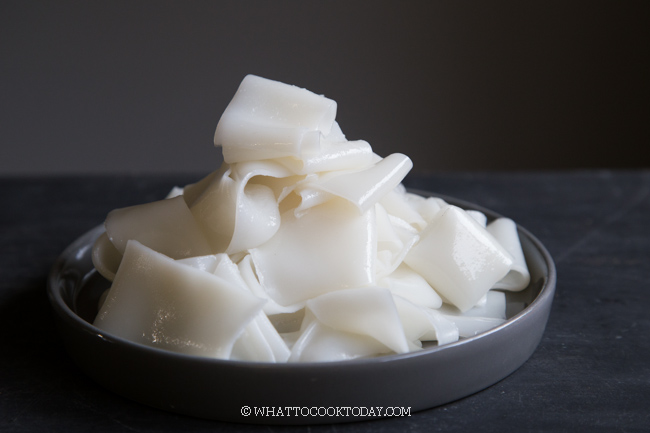 HOW TO THE BEST MAKE HOR FUN / KWAY TEOW FROM SCRATCH
1. PREPARE BATTER
Mix all ingredients except for oil in a mixing bowl. Whisk until the thin batter is smooth


2. PREPARE STEAMER
Fill up the steamer with water, enough but not too high that it touches the pan. Bring the water to a boil


3. STEAM THE NOODLE SHEET
Give the batter a stir every time before you ladle it because the flour tends to settle at the bottom after a while. For 8-inch square pan, I need about 1 1/2 ladle (about 70 ml) to cover the base of the pan. For 9-inch pan, I need about 2 ladles (about 100 ml). Hor fun /kway teow is not supposed to be thin like cheung fun noodles. The first few sheets you steam are not going to be perfect just yet. You will get the hang of it, don't worry


Cover the lid and let the batter steam for 4 minutes over high heat. If you make larger sheets, you may add another minute or so. When you open the lid, the noodle sheets will be "wavy" and leaves the pan, indicating that it is cooked through


4. COOLS IT DOWN
Remove from the steamer and place the pan on top of the cold water bath. Let it cools down for 2-3 minutes.


The top side you are seeing is not shiny and more of a "matte" finish, that's normal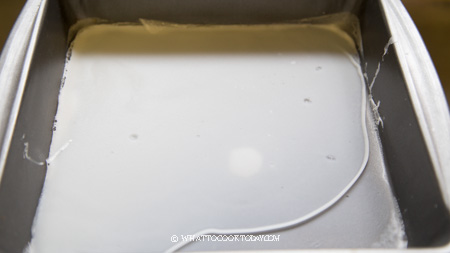 The other side will be the shiny one


5. REMOVE AND BRUSH WITH OIL
Use a rubber spatula to gently remove or you can actually peel it right off the pan with your hands too. Brush with some cooking oil on both sides. You can use a cooking spray too


6. FOLD AND CUT
Fold one side over to meet in the middle and then fold over


Use a sharp knife to cut into the width you like. I like my hor fun to be about 1 1/2-2 inches width. You can cut it to your desired size

And there you have it! Freshly made hor fun/kway teow noodles 🙂 My daugther volunteered to hold the noodle sheet so I can take a video to show how soft and bouncy the texture was.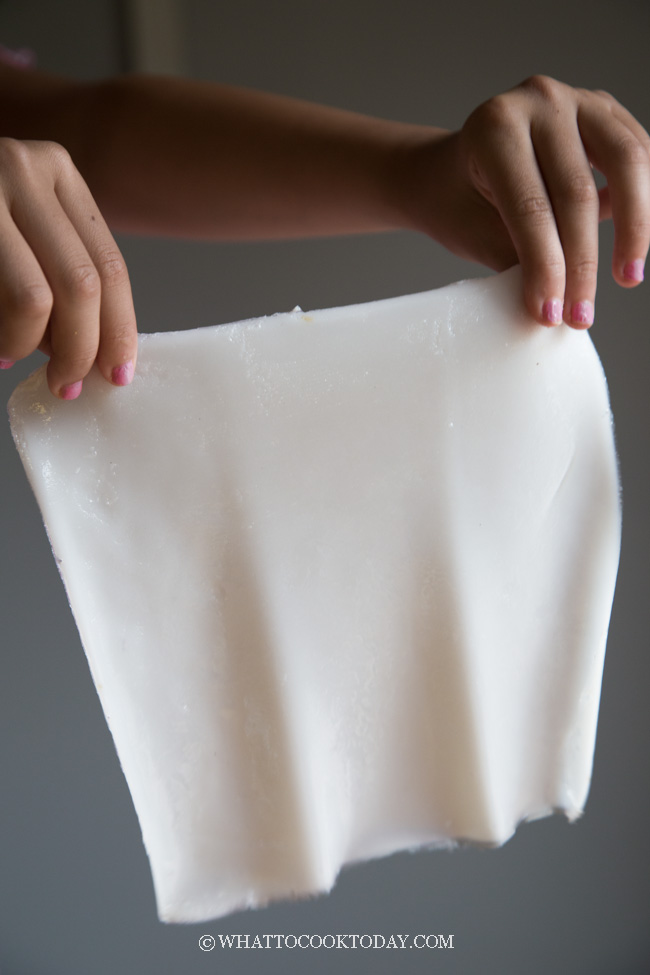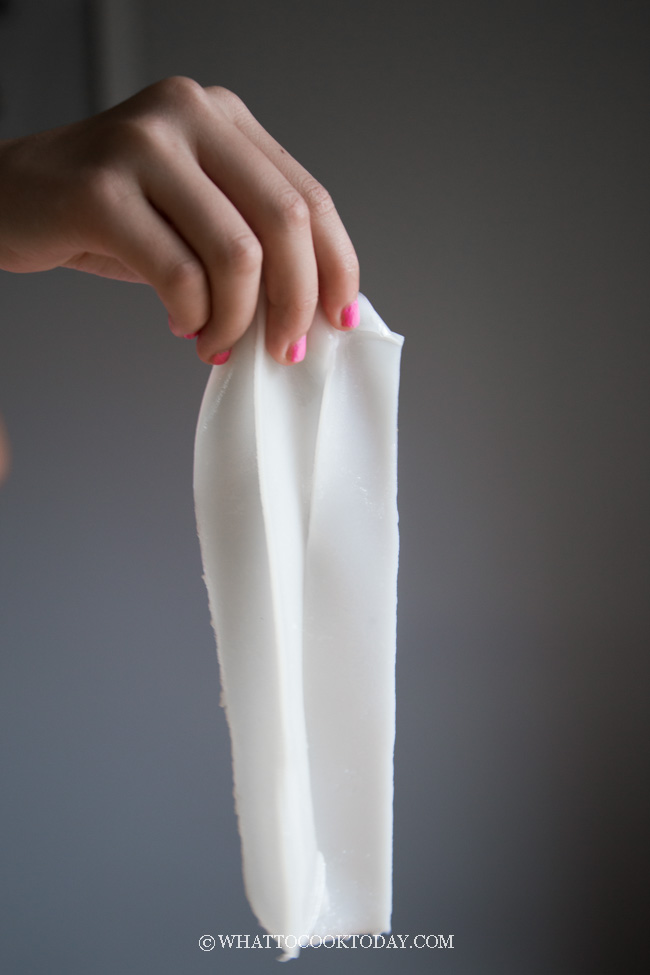 RECIPE IDEAS USING HOR FUN / KWAY TEOW
The Best Beef Chow Fun / Hor Fun
Penang Char Kway Teow (Stir-fried Flat Rice Noodles)
Pad See Ew (Thai Stir-fried Rice Noodles)
Easy and Quick Stir-fried Flat Rice Noodles with Chili Bean Sauce
San Lau Hor Fun (Three-tossed Flat Rice Noodles)
Kwe Tiau Radna (Thai Stir-fried Flat Rice Noodles with Gravy)
Easy Ipoh Shredded Chicken Hor Fun (Kai Si Hor Fun)
Kwe Tiau Siram (Flat Noodles in Egg Gravy / Wat Tan Hor)
Instant Pot Oxtail Ho Fun Noodle Soup
DID YOU MAKE THIS HOMEMADE HOR FUN / KWAY TEOW RECIPE?
I love it when you guys snap a photo and tag to show me what you've made 🙂 Simply tag me @WhatToCookToday #WhatToCookToday on Instagram and I'll be sure to stop by and take a peek for real!

The Best Homemade Rice Noodles / Hor Fun / Kway Teow (From Scratch)
Instructions
Prepare batter:
Mix all ingredients except for oil in a mixing bowl. Whisk until the thin batter is smooth
Prepare steamer:
Fill up the steamer with water, enough but not too high that it touches the pan. Bring the water to a boil
Prepare a cold water bath:
I just turn on the tap to fill up the sink to about 2 inches of water. Our tap water is cold. You can prepare ice water bath. This is to cool down the pan right out from the steamer. The noodle sheet won't be sticky if you let it cools down before removing from the pan
Steam the noodle sheet:
You can use a wok with a lid, or a large pan with a lid, or a food steamer that can fit the size of pan you use. I use two 8-inch non-stick square cake pan so the workflow is smoother and faster. If your pan doesn't have non-stick coating, brush with a thin layer of oil. I don't need to put any trivet because the pan can sit on the wok. Use a trivet if you need to put the pan on top of it inside the steamer

Give the batter a stir every time before you ladle it because the flour tends to settle at the bottom after a while. For 8-inch square pan, I need about 1 1/2 ladle (about 70 ml) to cover the base of the pan. For 9-inch pan, I need about 2 ladles (about 100 ml). Hor fun /kway teow is not supposed to be thin like cheung fun noodles. The first few sheets you steam is not going to be perfect just yet. You will get the hang of it, don't worry

Cover the lid and let the batter steam for 4 minutes over high heat. If you make larger sheets, you may add another minute or so. When you open the lid, the noodle sheets will be "wavy" and leaves the pan, indicating that it is cooked through
Cools it down:
Remove from the steamer and place the pan on top of the cold water bath. Let it cools down for 2-3 minutes. The top side you are seeing is not shiny and more of a "matte" finish, that's normal. The other side will be the shiny one
Remove from the pan:
Use a rubber spatula to gently remove or you can actually peel it right off the pan with your hands too
Brush with oil:
Brush with a bit of oil on both sides or you can use a non-stick cooking spray too
Fold and cut the noodle sheet:
Fold one side over to meet in the middle and then fold over. Use a sharp knife to cut into the width you like. I like my hor fun to be about 1 1/2-2 inches width. You can cut it to your desired size
Storing:
Hor fun is best served on the same day. You can store them in the fridge covered in a cling wrap or in an air-tight container, for 2-3 days max but just know that they tend to harden after refrigeration. You can steam them for few minutes until heated through in the steamer and they will be soft and flexible again. I won't recommend freezing as it changes the texture of the noodles
Recommended products:
YOU MAY LIKE THIS TOO: