San Lau Hor Fun (Three-tossed Flat Rice Noodles) – Stir-fried flat rice noodles, sliced fish, and bean sprouts are tossed together to give you a simple yet incredibly flavorful and tasty final dish.
One of the food that I love so much when I first tried it when I lived in Singapore for 3 years is this San Lau Hor Fun or literally translated into three-tossed flat rice noodles. I learned about the term Zi Char/Tze Char (Cook and Stir-fry) when I was in Singapore. It is basically a Hokkien term for a food stall that sells affordable home-cooked meals. San lau hor fun is one of my favorite zi char food. My brother bought it home one time and there was no turning back for me ever since!
WHAT IS SAN LAU HOR FUN?
San lau means three-tossed and hor fun is a kind of flat wide/thin rice noodles. Hor fun, sliced fish, bean sprouts are cooked and then tossed together and bound together by a gravy. The appearance of this dish is pretty pale in color. I was in shock by how much flavor this san lau hor fun has despite its pale and humble appearance.
WHERE DOES SAN LAU HOR FUN GET ITS FLAVOR?
Wok hei
The wok hei that I talked about in my beef chow fun post. The hor fun is stir-fried in a very high heat for that "smoky" flavor that we call wok hei
Simple seasoning
Seasoning in this dish is not complicated. It only uses aromatics like green onions and garlic. Seasoning only involves light soy sauce, a pinch of sugar and salt.
HOW TO MAKE GOOD SAN LAU HOR FUN IN A NUTSHELL
1. Well preheated wok/pan
2. Use fresh/refrigerated version hor fun if possible. Dried version is acceptable but I always feel like it's not the same with the fresh one
3. Make sure that bean sprouts is fresh and crunchy. Pick the head and tail off if possible
4. Marinade the fish fillet while preparing other things
5. Stir fry the hor fun first then dish out
6. Stir fry the bean sprouts, and fish fillet then top on the hor fun noodles
7. Cook the gravy last and then smother them on top of the hor fun and serve immediately
It's been my obsession as well trying to recreate this dish. I can't say it turns out exactly like the one I had, but this is good enough to satisfy my cravings for san lau hor fun!!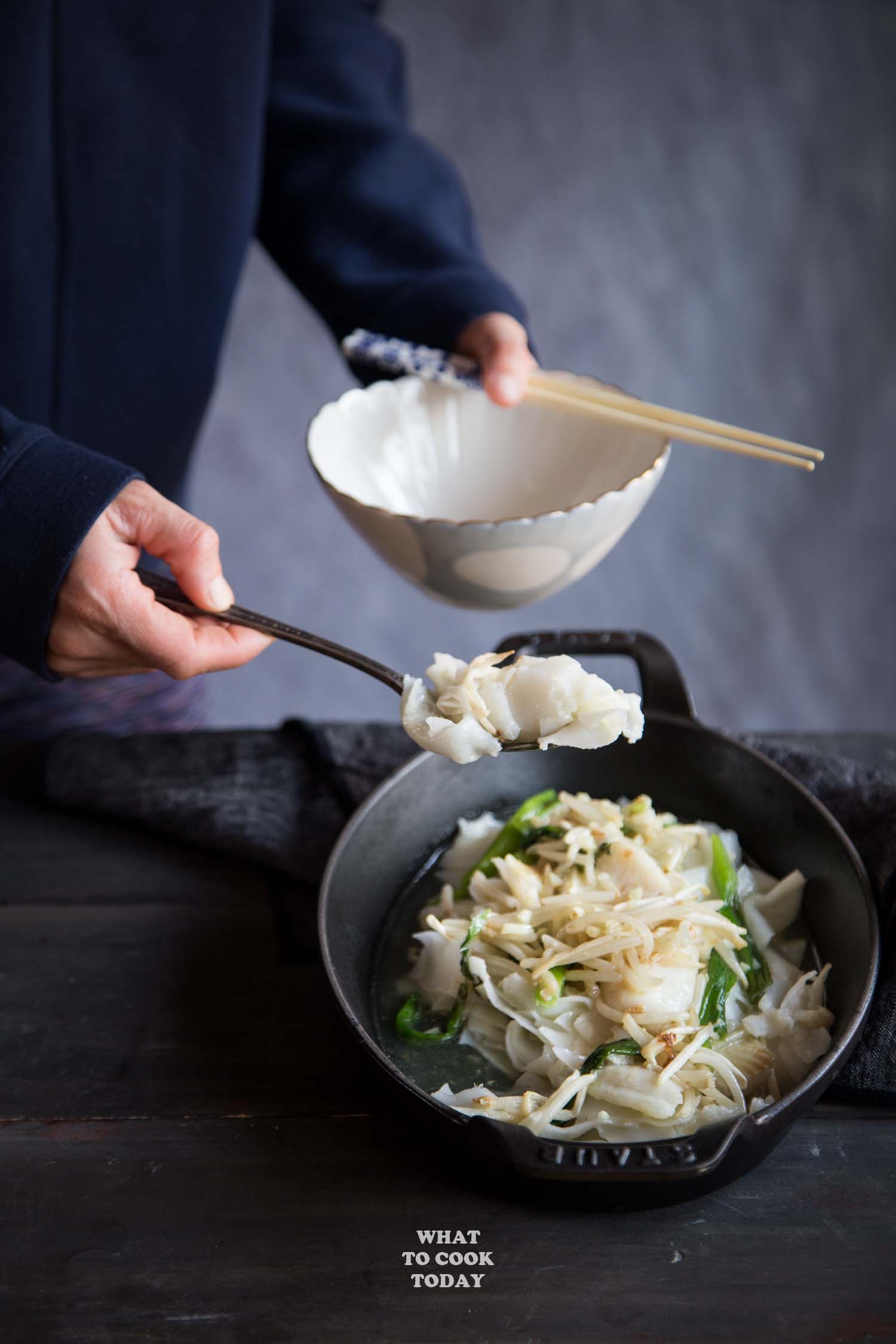 This blog post contains affiliate links. I earn a small commission when you made purchase at no extra cost to you. Learn more.
San Lau Hor Fun (Three-tossed Flat Rice Noodles)
Ingredients
1

lb

wide hor fun noodles

or sub with kwe tiau if you can't find hor fun

1

Tbsp

garlic

finely minced, divided

1

lb

snakehead fish fillet

(slice into about 3 inch and about 1/4 inch thick) see notes

4

cups

beansprouts

(head and tail picked off)

4

stalks

green onion

(cut into 3-inch pieces)

2

Tbsp

soy sauce

5

Tbsp

Oil for cooking
Sauce:
2

cups

of chicken stock

1

Tbsp

soy sauce

¼

tsp

sugar

¼

tsp

white pepper powder

1

Tbsp

tapioca starch + 2 Tbsp water
Instructions
Prepare hor fun:
Marinade the fish in soy sauce and cornstarch while preparing others. Microwave the hor fun noodles for about 1 minute and then separate and loosen the noodles

Preheat your wok/pan (that can resist high heating) on high heat. Add 2 Tbsp of oil. Add half of the garlic and stir fry for about 5 seconds. Add hor fun and stir fry them until they are slightly charred on some spots. Dish out and set aside
Prepare fish and bean sprouts:
Wipe the wok/pan clean. Bring it back to hot. Add 2 Tbsp cooking oil. Add green onion stalks, another half of garlic and stir fry for about 10 seconds. Add bean sprouts and stir fry for another 5 seconds. Add fish slices and stir fry for about 1 minute or until the fish slices are cooked through. Dish out and scattered on top of the hor fun you prepared earlier
Prepare gravy:
Pour chicken stock into the same pan. Bring to a boil and then season with soy sauce, a pinch of sugar, pepper, and salt to your taste. Stir in the tapioca flour mixture and cook until the sauce is thickened. Pour this over hor fun and sliced fish mixture and serve immediately
Notes
I cannot find snakehead fish where I am and so I substituted with flounder fillet