Learn how to make this easy pork ribs bitter melon soup using a traditional double boiler or with your pressure cooker.
DOUBLE BOILING OR DOUBLE STEAMING
Double boiling is a preferred cooking method when it comes to soup in the Chinese kitchen. The idea is to "gently" and slowly cook the ingredients so that they can release all the good stuff and flavor to the soup without losing much nutrients. Double boiling is often used to cook expensive ingredients like bird's nest or chicken essence in Chinese culinary.
The food is usually cooked in "indirect" heat. It usually takes a longer time compared to regular cooking method like boiling. But when it's done, you will be rewarded with flavorful soup. If you don't have a double boiler, fret not, you can easily set one up if you have a large steamer.
Here's a double boiler my mom brought me from Indonesia. She used this a lot when she came to help me with confinement. The outer pot is where you put the water, inner pot is where you put the food you want to cook and the lid.
One of my favorite soups that I've made with a double boiler is this pork ribs bitter melon soup.

WHAT IS BITTER MELON?
Bitter melon is also known as bitter gourd, bitter squash. Bitter melon made its way from India to China and no popular across Asia. The Indian bitter melon is really stronger in terms of bitterness compared to the Chinese bitter melon. As its name implies, the melon is slightly bitter in taste. I never liked it as a kid (my kids don't like it too), but as I grew older, I grew to like it. My mom cooked it often and I like it when she stuffed the bitter melon with meat filling like in this Hakka yong tau foo
I know the word bitter is not a favorite word to lots of people, including me. BUT, his soup doesn't taste bitter if you are wondering. It has the mild amount of bitterness from the melon, but it is a very well- balanced soup by the savory taste of the soup too. It's a very clean tasting and delicious soup.
HOW TO REMOVE BITTERNESS FROM BITTER MELON
It won't completely remove the bitterness, but it helps to tone it down for sure. Here's what you can do:
1. Cut both ends of the bitter melon and then split in half lenghtwise


2. Use a spoon to scrape out the white spongy part and the large seeds


3. Slice into pieces (or whatever shape your recipe calls for)


4. Add 2 teaspoons of salt to the bitter melon


5. Rub it all over the bitter melon pieces. The salt will draw out the bitter juices


6. Let them sit for 30 minutes


7. Rinse with clean water after that before cooking. Now they are ready to be used


I've always enjoyed bitter melon, especially when they are cooked in soup. Give it a try and you may find yourself liking this soup. My husband loves this soup and I don't think he's a big fan of bitter melon before.
CORIANDER ROOTS TO FLAVOR THE SOUP
I learned about coriander roots from a Thai friend, who is an excellent cook. Thai food uses lots of coriander roots to flavor the food. Coriander (or cilantro) roots have a very strong aromatic peppery flavor. I have no luck finding coriander roots here. So..the closest I could go is to use the stems of the coriander, you know..the part that most people throw away after they pick the leaves off? Honestly, the stems are not as strong in flavor compared to the roots, but we gotta do what we gotta do right? I just double up on the stems

DOUBLE BOILING OR PRESSURE COOKING
I mentioned that this pork ribs bitter melon soup can be prepared with either double boiler or pressure cooker. Yes, I know..I know…one is slow cooking and the other is like the opposite 🙂 I understand that not everyone has a double boiler or wants to go through the trouble of double boiling. Pressure cooking this soup is just as equally delicious and save LOTS of time for sure! My vote goes to pressure cooker though, simply because I'm more of a practical person and I do love my pressure cooker 🙂
HOW TO MAKE PORK RIBS BITTER MELON SOUP IN DOUBLE BOILER OR PRESSURE COOKER
1. BLANCH THE PORK RIBS
Place the ribs in a large pot and cover with water. Bring to a boil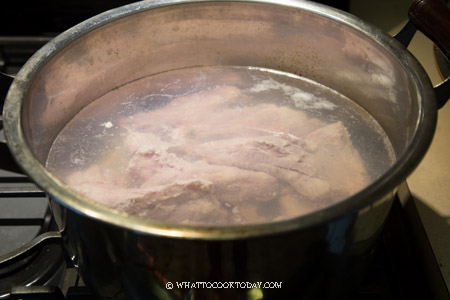 Boil for about 5 minutes and you will see lots of scums rise. Scoop those off


Discard the water and rinse the pork ribs with clean water to get rid of any scums attached to them


2. PREPARE THE DOUBLE BOILER
Pour water into the outerpot of the double boiler, just enough to make sure the water won't touch the inner pot


Place the inner pot in there


3. PLACE THE INGREDIENTS INSIDE THE INNER POT
Put the ribs, carrots, bitter melon, aromatics and seasonings inside the inner pot


4. START COOKING
Cook on high heat to bring the water in the outer pot to a boil and then lower the heat to let it gently simmer for the next 1 1/2 – 2 hours or until the pork is tender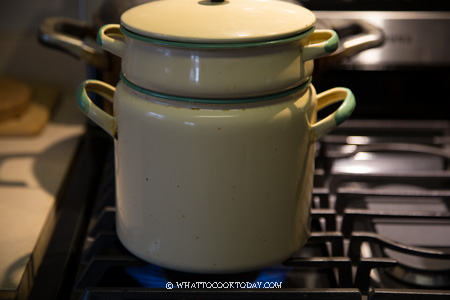 5. IF USING PRESSURE COOKER
After blanching the pork ribs, I just put everything inside the inner pot of my Instant pot pressure cooker and cook on high pressure for 30 minutes or 15 minutes if you cut the ribs into smaller pieces

OTHER CHINESE INGREDIENTS YOU CAN ADD TO THE SOUP
I sometimes will add goji berries (add only after the soup is done cooking and let residual heat soften the berries), red dates, sliced lotus roots, apricot seeds.
The house is filled with the amazing aroma comes from the bean paste, fried shallots, and coriander. You can use regular shallots, but I find that the fried shallots add an extra flavor.

*Recipe has been improved and updated with new photos*

This blog post contains affiliate links. I earn a small commission when you made purchase at no extra cost to you. Learn more.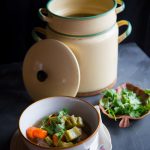 Pork Ribs Bitter Melon Soup (Double Boiler or Pressure Cooker)
Ingredients
1

lb

pork ribs

1

large bitter melon

2

tsp

salt

to rub on the bitter melon

2

large

carrots

cut into large chunks
Seasonings:
3

Tbsp

ground bean paste

(tau cheo)

2

Tbsp

soy sauce

1

tsp

sugar
Aromatics:
1

bunch of coriander

save the leaves for garnish, use the stems for soup

4

Tbsp

fried shallots
Instructions
Prepare a big pot of water and bring it to a boil. Add in the pork ribs and blanch briefly for about 1 minute. Discard the water

Cut both tip of the bitter melon and then half. Scoop out the seeds and then cut into 3-inch pieces. Rub the pieces with salt and leave for 30 minutes. This will get rid of some of the bitterness
Cooking with a double boiler:
If you have a double boiler, fill up the pot with some water (to the height that it won't touch the inner pot) and bring it to a boil.

Put the pork, bitter melon, and carrots into the inset of the double boiler and then add in water until you just cover everything

Add the aromatics and seasonings. Lightly stir to mix. Place the inset to the double boiler. Bring the water in the outer pot to a boil by cooking on high heat and then lower the heat after that and double boil for the next 1 1/2 to 2 hours, until the pork ribs is really tender. You may need to add water to the pot if it gets low during cooking.

Have a taste and season with more salt and/or sugar as needed
You can set up your own double boiler if you don't have one:
If you are setting up your own double- boiler, fill up a large pot with lid with water, the water probably should come up to about 2 inches inside the pot. Put all the ingredients into a large glass bowl that is heat resistant and will fit into your pot. Bring the water into the pot to a boil, place the bowl in. Cover the pot with lid and cook for the next 1 1/2 to 2 hours and add water to the pot as needed because the water will get low during such a long cooking time
Cooking with Instant pot pressure cooker or any pressure cooker:
Put the pork, bitter melon, and carrots into the inner pot of the instant pot and then add in water until you just cover everything

Add the aromatics and seasonings. Lightly stir to mix. Close the lid. Turn steam release valve to seal. Press pressure cooker and make sure it's on high pressure. Set the timer to 30 minutes if you didn't cut the ribs into smaller pieces and 15 minutes if the ribs are in smaller pieces

When the timer is up, wait 5 minutes and release pressure. Have a taste and season with more salt and/or sugar as needed
Serving:
When ready to serve, sprinkle with some chopped coriander. Serve with rice as part of multi-course meal
Recommended products: