This Bhutanese spicy chicken stew or known as jasha maroo was the first Bhutanese dish I've made in my very own kitchen. I've figured it's time for me to explore Bhutan with my taste buds.
I knew very little about Bhutan, let alone its dishes. I've learned that Bhutanese cuisine somehow has influences from both India and the Chinese. Looking at map, I'm not surprised because it is nicely sandwiched by India and China.
This Bhutanese spicy chicken stew is simple to make and very delicious. I really enjoy the leeks that is flavoring up this dish. Ginger, chili, garlic and onion are often involved in cooking too. You can make it not spicy too by altering the chili if you like. The stew is quite a "soupy" one I must say, but not really a soup with whole bunch of liquid too. It's kinda saucy, which is nice. I love it on the rice 🙂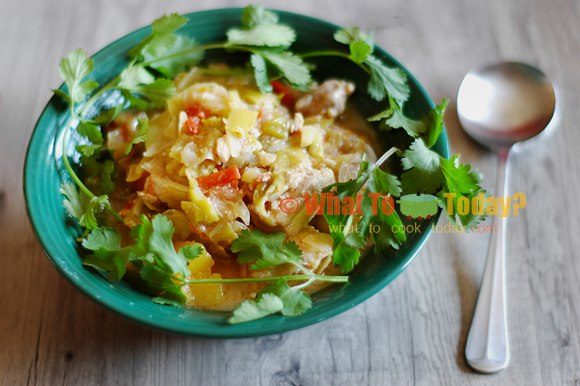 For baking/ kueh making: I highly encourage to weigh ingredients with a digital kitchen scale instead of using measuring cups as they are not very accurate especially when it comes to recipe that requires precision.
GRAMS TO CUPS CONVERSION (UNSIFTED)
INGREDIENTS
1 1/2

lb

boneless skinless chicken thighs

-

(cut into 1-inch cubes)

4

cloves

garlics

-

(peeled finely minced)

3

shallots

-

(peeled and chopped)

2

Tbsp

of finely grated ginger

1

medium-size leek

-

(cut into slices and wash properly-refer to notes)

1

large tomato

-

(dice)

4

red chilis

-

(seeded if you like and cut into small pieces)

Salt to taste

1

cup

chicken stock

1

small bunch of cilantro leaves for garnish

2

Tbsp

of oil
INSTRUCTIONS
Preheat a wok or skillet with lid and add in oil. Add in the garlic, ginger, onion, chili, and leeks. Stir-fry until the vegetables are soft. Tip in the chicken and tomatoes and continue to stir-fry until the chicken started to turn opaque in color. Pour in the chicken stock and bring to a boil. Lower the heat and cover with the lid and let it gently simmer until the chicken is cooked through

Serve warm with a bowl of steamed rice. Garnish the stew with cilantro leaves
Notes
How to clean leeks can be found here: http://whattocooktoday.com/how-to-clean-leeks.html