Stir-fried Shrimp and Garlic Chives – This is a super easy and delicious dish shrimp dish stir-fried with Chinese chives and eggs that is popular among the Asian home cooks.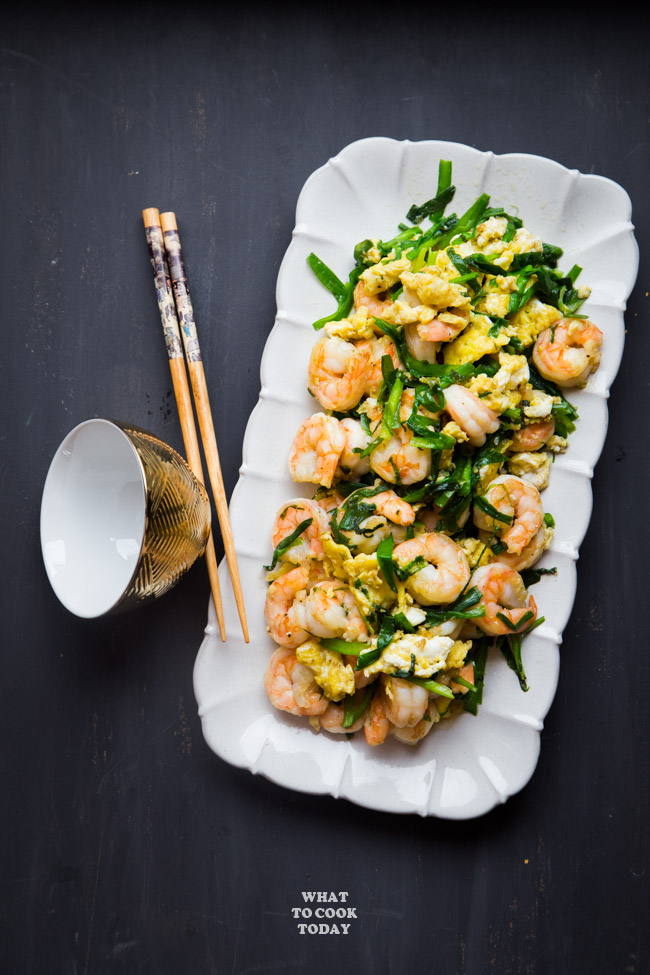 If you guys are looking for easy stir-fry recipe, this stir-fried shrimp and Chinese chives needs to make it into your list. Even if you are not a shrimp afficionado, you can easily substitute with other meat. This is one of my favorites. So easy to put together and the family approves of this.
CHINESE CHIVES (GARLIC CHIVES) VS REGULAR CHIVES
Chinese chives (Allium Tuberosum) is also known as Asian chives, Chinese leek, garlic chives (strong garlicky aroma, LOVE IT!). Chinese chives are flat and wider compared to regular chives, which are skinnier and rounder and milder in aroma, more of "oniony" if you ask me. The bulb of the garlic chives aren't edible where the regular chives can be used in cooking.
WHAT CAN I SUBSTITUTE FOR GARLIC CHIVES?
This recipe calls for garlic chives, but if you don't have some, you can use regular chives or green onion/scallions, use both the whites and greens. Regular chives are a firmer compare to garlic chives, so I would recommend stir-frying the chives first before the shrimp.
Now, we've got the chives covered, now we need to talk about another star of this dish, the shrimp.
SHOULD I BUY FRESH OR FROZEN SHRIMP?
I used to think fresh is best. Well, if you can get the fresh shrimp live from the tank that is. I used to go to the Asian grocery store to get "fresh" shrimp because I thought hey..they aren't frozen. Hey, guess what, they were frozen. They need to be distributed, transported, etc..etc..and then get to the grocery store. Especially here in Minnesota, that's probably how we get most of our seafood. Those frozen shrimp is then thawed and displayed as "fresh" and probably sitting in the display for few days already and starting to lose its freshness and when you cook the shrimp, you wonder why the texture is mushy! So, to make a long story short, buy frozen! I've always bought frozen now and never have issue with mushy shrimp so far. Always taste sweet and crunchy!
HOW TO AVOID SHRIMP TURN MUSHY
1. Baking Soda and salt
Some cooks swear by soaking the shrimp in cold water and some baking soda and salt in for 15 minutes and then rinse off to make sure all the baking soda is off or you will taste the bitter aftertaste. They both work together to keep the shrimp moist and crisp
2. DO NOT overcook
Shrimp cook quickly and when you overcook it, it turns mushy especially if you start out with already not so fresh shrimp and the size of your shrimp is small.
Okay, now we got those two parts covered, let's start cooking!
HOW TO MAKE STIR-FRIED SHRIMP AND GARLIC CHIVES
1. Use large shrimp
For this recipe, I highly recommend using large frozen shrimp
2. Brine the shrimp
Place the shrimp in a large mixing bowl. Add 1 tsp of salt and 1 tsp of baking soda. Toss to mix. Pour in cold water, just enough to cover. Stir to mix again. Pop this in the refrigerator and let it brine fro 15 minutes while you prepare other things
3. Cut the garlic chives
Trim off about 1-inch of the bottom part. Cut the chives into about 3-inch sections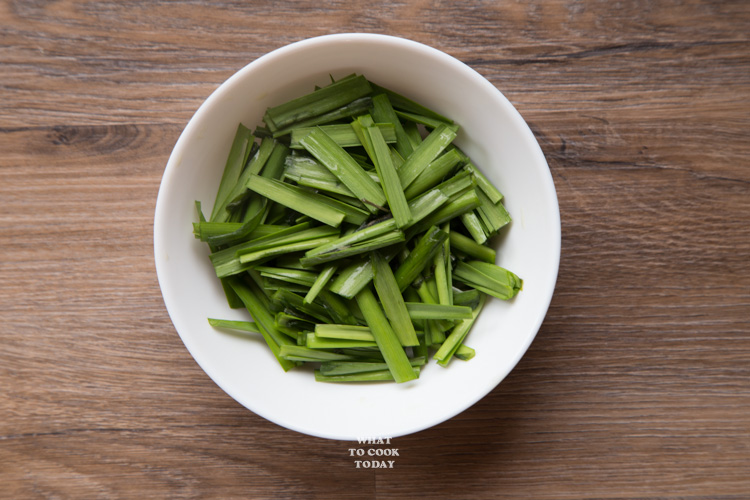 4. Prepare egg mixture
Crack 4 eggs in a medium bowl, crack in some black pepper and a small pinch of salt. Whisk to mix. Set aside
5. Preheat the wok or skillet
There's nothing worse than stir-frying on a "cold" wok or skillet. Preheat the wok or skillet until hot and then add cooking oil
6. Pat dry the shrimp
Drain off all the brine solution and rinse with water so that we won't be tasting baking soda afterward. Pat the shrimp dry with an absorbent paper towel. This is important for stir-frying or you will end up just steaming the shrimp on a wok/skillet
7. Cook the shrimp
Place the shrimp in a hot wok/skillet and stir fry until they started to turn pink, about 30 seconds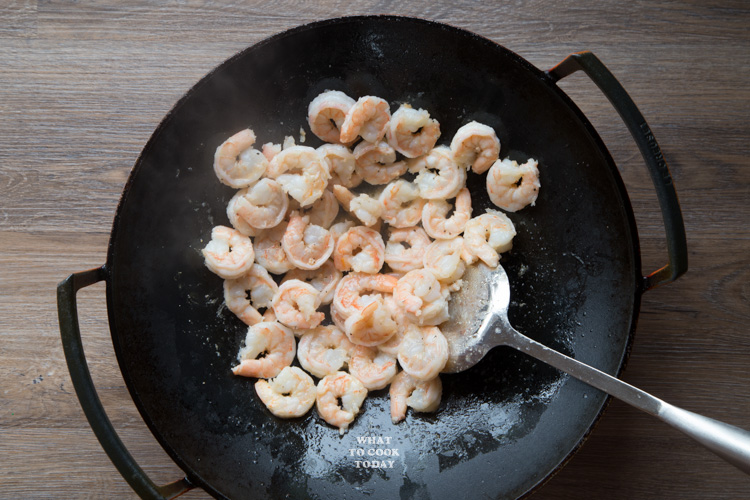 8. Add the aromatics
In this case, the ginger and garlic chives. Stir fry briefly for another 1 minute and then dish out to a platter. We are not done yet!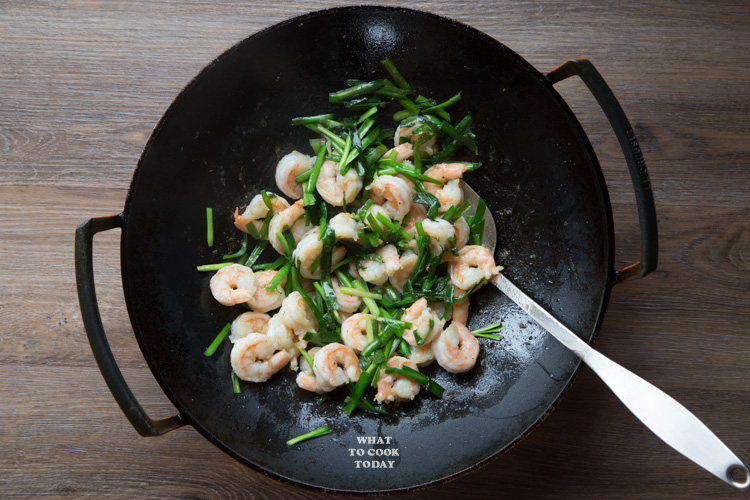 9. Wipe the wok or skillet clean if necessary
10. Cook the eggs
Bring the wok and skillet back to hot and then add cooking oil. Pour the eggs in and let them cook for about 30 seconds, when the bottom and edges started to set but still runny in the middle. Then push the edge towards the middle and continue to do so and you'll have large half-cooked scrambled eggs pieces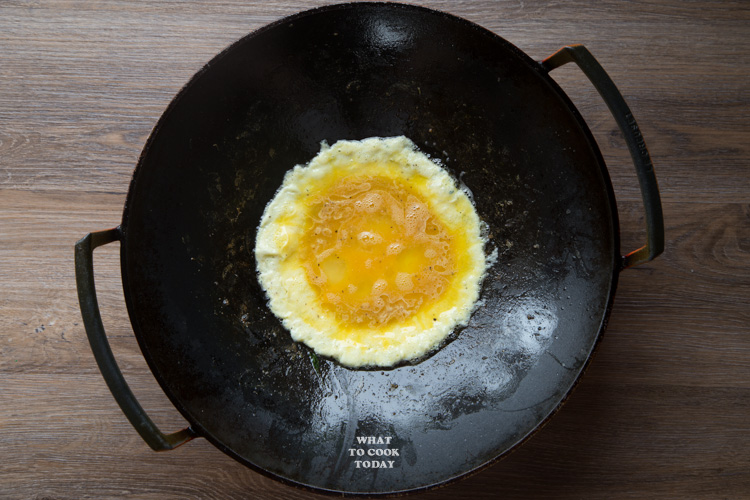 11. Shrimp back to the wok/skillet
Put the shrimp and chives back into the wok/skillet and stir to mix everything. Turn off the heat and remove into a serving platter and serve immediately


VOILA!!!! You just made it!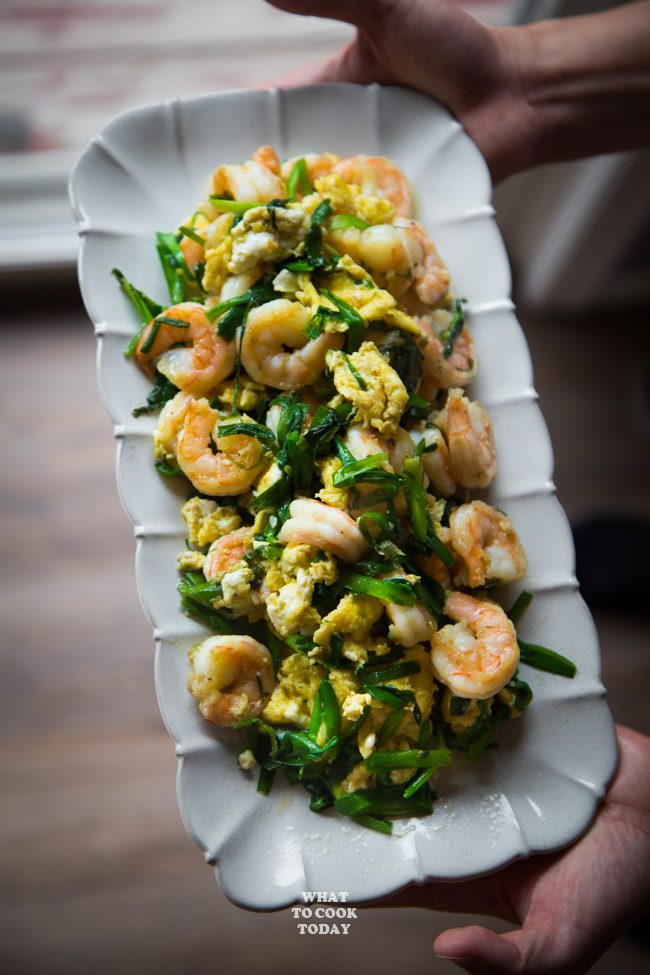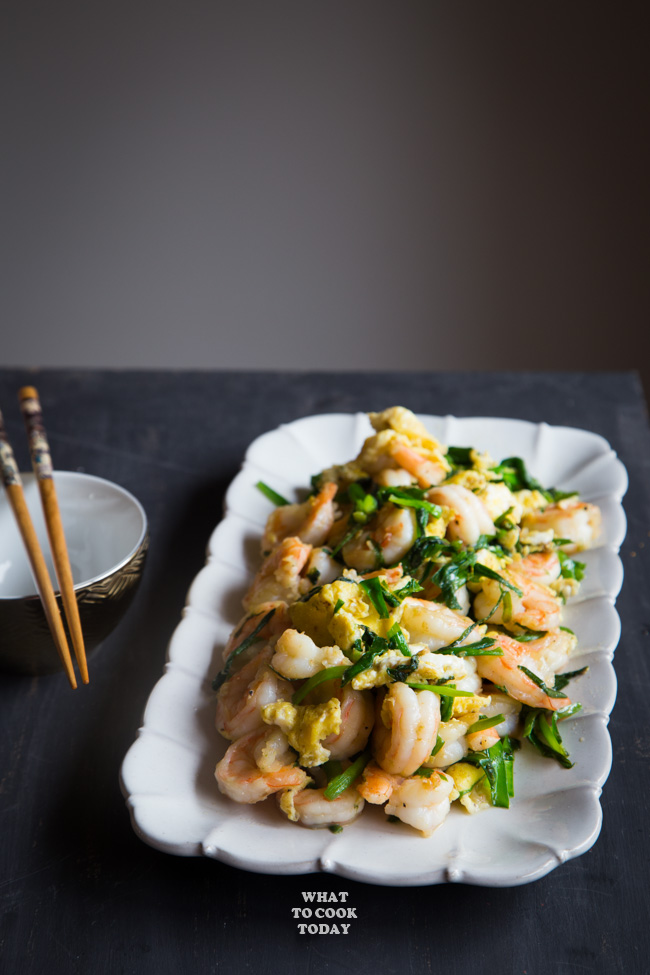 VARIETIES YOU CAN DO WITH THIS GARLIC CHIVES STIR-FRY
Steps of cooking should remain the same. You will cook the meat first until cooked through and then add the garlic chives and dish out to avoid overcooking the meat.
If using chicken:
You can use boneless skinless chicken breast or thighs. Cut the chicken into bite-size and then season with a pinch of salt, pepper, 1 tsp of cornstarch and a splash of cooking wine and let marinade at room temperature for 30 minutes
If using beef:
Cuts of beef to use for stir-fry: flank steak, inside or outside skirt steak. Thinly slice the beef across the grain.
season with a pinch of salt, pepper, 1 tsp of cornstarch and a splash of cooking wine and let marinade at room temperature for 30 minutes
If using pork:
Cuts of pork to use for stir-fry: pork tenderloin, pork shoulder. You can either thinly slice the pork or cut them into bite-size cubes. I'll use the same seasonings as I would with chicken and beef and let marinade at room temperature for 30 minutes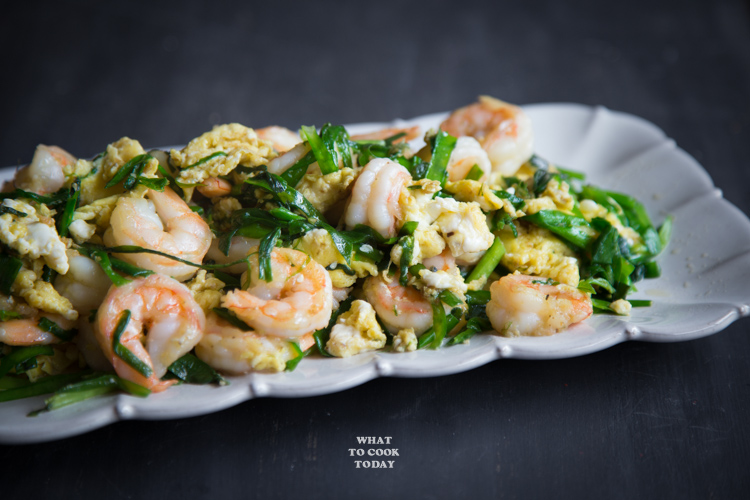 WHAT TO SERVE THIS STIR-FRIED SHRIMP AND GARLIC CHIVES WITH
Rice is the common one in Asia. Usually white Jasmine rice, but feel free to use other types of rice like sushi rice, brown rice, or even quinoa.

What's your favorite recipes with garlic chives?

This blog post contains affiliate links. I earn a small commission when you made purchase at no extra cost to you. Learn more.
Recipe is adapted from
Serious Eats
Stir-fried Shrimp and Garlic Chives
Ingredients
Shrimp:
1

lb

frozen large shrimp (about 31/35 count)

, thawed ,shelled and deveined

1

tsp

baking soda

1

tsp

salt

Cold water

enough to cover
Aromatics:
4

oz

chives

cut into 3-inch pieces

1

tsp

ginger

finely grated

2

tsp

finely chopped garlic
Eggs:
4

large

eggs

beaten

½

tsp

freshly ground black pepper

¼

tsp

salt
Instructions
Brine the shrimp:
Place the shrimp in a large mixing bowl. Add 1 tsp of salt and 1 tsp of baking soda. Toss to mix. Pour in cold water, just enough to cover. Stir to mix again. Pop this in the refrigerator and let it brine for 15 minutes while you prepare other things
Prepare other things:
Trim off about 1-inch of the bottom part. Cut the chives into about 3-inch sections

Crack 4 eggs in a medium bowl, crack in some black pepper and a small pinch of salt. Whisk to mix. Set aside

Preheat the wok or skillet.

There's nothing worse than stir-frying on a "cold" wok or skillet. Preheat the wok or skillet until hot and then add cooking oil

Drain off all the brine solution and rinse with water so that we won't be tasting baking soda afterward

Pat the shrimp dry with an absorbent paper towel. This is important for stir-frying or you will end up just steaming the shrimp on a wok/skillet

Cooking:
Place the shrimp in a hot wok/skillet and stir fry until they started to turn pink, about 30 seconds. Add aromatics and stir fry for another 1 minute. and then dish out to a platter. We are not done yet!

Wipe the wok/skillet clean if necessary. Bring the wok and skillet back to hot and then add cooking oil. Pour the eggs in and let them cook for about 30

seconds,

when the bottom and edges started to set but still runny in the middle. Then push the edge towards the middle and continue to do so and you'll have large half-cooked scrambled eggs pieces




Add the shrimp and chives back into the wok/skillet. Stir to mix everything and remove from the heat and trasfer to a servig platter. Serve immediately with cooked rice or grains of your choice