Javanese Oxtail Soup (Sop Buntut) is a comforting soup with oxtails being cooked to the point of almost falling off the bones in aromatic spices and chunky vegetables. If that doesn't spell warmth and comfort, I don't know what is!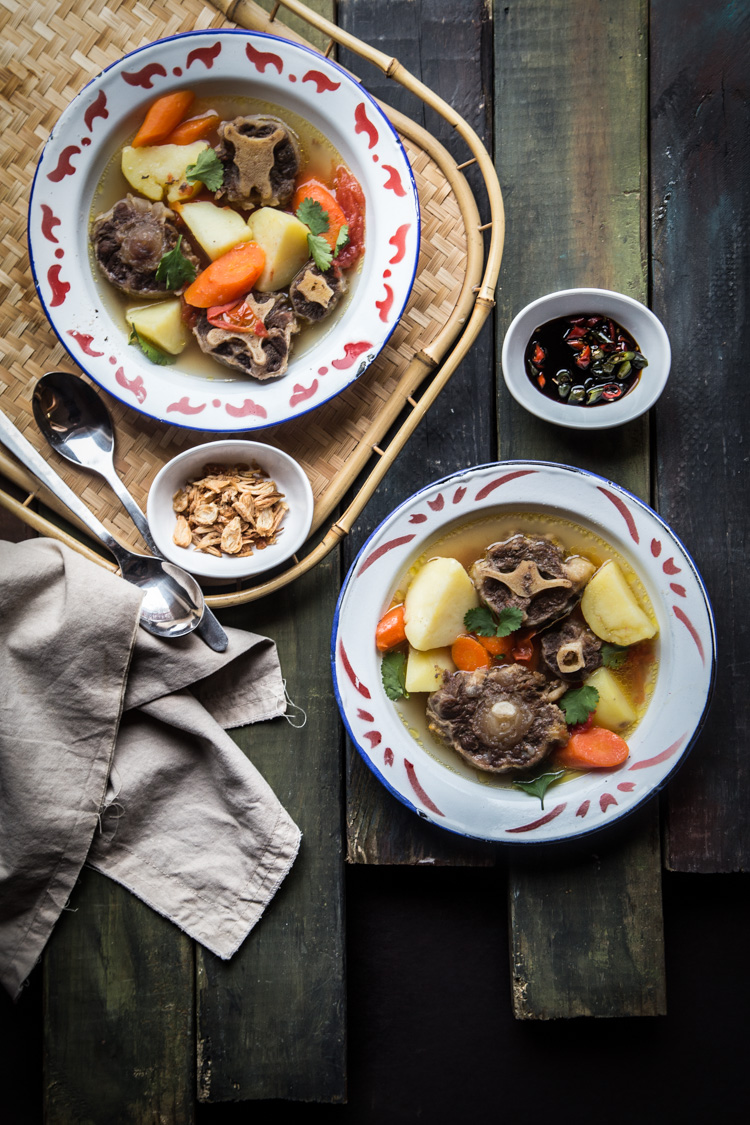 Buntut in Indonesian language means Tail, hence the name just like in English…Sop Buntut. This was a popular street food that has made its way to restaurant menu. I love the tenderness of the oxtail after being cooked for such long hours and the spice-rich tasting soup. The chunky vegetables in a soup is also something that I really like for some reasons. Rustic!
I've made these soup several times and perfected the recipe 🙂 Perfect for the freezing temperature now
**The recipe is written in Metric and sometimes I include U.S. Measurements**
Please weigh ingredients with a digital kitchen scale instead of using measuring cups as they are not very accurate especially when it comes to recipe that requires precision.
INGREDIENTS
2

lbs

(900 g) oxtail (cut into round pieces, normally this is already done for you in grocery store)

3

Tbsp

of butter

1

Tbsp

sugar

1

medium cinnamon stick

5 cloves

3

cloves

garlic

-

(finely minced)

1

tsp

whole white peppercorns

1

tsp

nutmeg powder

6

cups

water

2

stalks of celery

-

(cut into half)

4

carrots

-

(peeled and cut into big chunks)

2

Roma tomatoes

-

(quartered)

3

large potatoes

-

(peeled and quartered)

Salt to taste
Chili sauce:
3-4

red or green bird's eye chili

-

(chopped)

2

Tbsp

of Indonesian sweet soy sauce / kecap manis
Garnish:
Fried shallot crisp

-

(bawang goreng)

Fresh cilantro leaves
INSTRUCTIONS
Bring a large pot of water to a boil. Put it all the oxtail and blanch for about 1 minute. Discard the water and set the oxtail aside. Wash and clean the pot or use another clean large pot

Melt about 3 Tbsp of butter in the pot. Add in the garlic, stir-fry for about 10 seconds, add in the cloves, peppercorns, bay leaves and nutmeg powder and stir-fry until really fragrant. Add in the oxtails, beef broth and celery, and water enough to cover the oxtails. Put in the cinnamon stick and bring the water to a boil and then lower the heat and let it simmer for the next 3-4 hours (or until the oxtails are really tender)

About 15 minutes before the end of boiling the oxtails, add in the carrots, tomatoes and potatoes and let them cook until veggies are soft but not mushy. Remove the celery and discard. Have a taste and season with more salt to your liking. Skim off some of the fat before serving if you prefer. Sprinkle some fried shallot crisps and cilantro leaves on top of the soup and serve with the chili sauce on the side
Notes
If you use pressure cooker, the cooking time will be much shorter, refer to the manual of your pressure cooker.
*This post contains affiliate links. You don't pay extra as a consumer if you choose to click on the link and purchase from there. What To Cook Today just receives a small commission from this. That's all. It helps to pay for the cost to have this blog up and running. Thank you so much for your support !