Smooth and thin flat rice noodle is served in thick soy-sauce based soup and tender pieces of shredded chicken meat is one of the many dishes the city of Ipoh in Malaysia is known for.
IPOH IS FAMOUS FOR ITS BEST HOR FUN
My late dad was an avid traveler. He had not had a chance to travel Europe and North America (sadly!), but he had traveled to many Asian countries. I often heard him shared his story about how good the food was in the city of Ipoh in Malaysia. The food has heavy Cantonese and Hakka influence. Hor fun (flat rice noodles) is one of Ipoh's specialties.
WHAT SO SPECIAL ABOUT IPOH HOR FUN
Ipoh is know for its high-quality water. Ipoh hor fun is made with unfiltered spring water that supposedly really boosts the quality of the ultra smooth and silky texture of hor fun. It is almost like eating chee cheong fun.
DIFFERENT VARIETIES OF IPOR KAI SI HOR FUN
I've seen Ipoh kai si hor fun with a light broth and served with shredded chicken and prawns. There is also version served with light broth, shredded chicken and prawn dumplings. This is also a version served with just shredded chicken, like the one I'm sharing here. However the gravy is soy-sauce based and slightly thicker.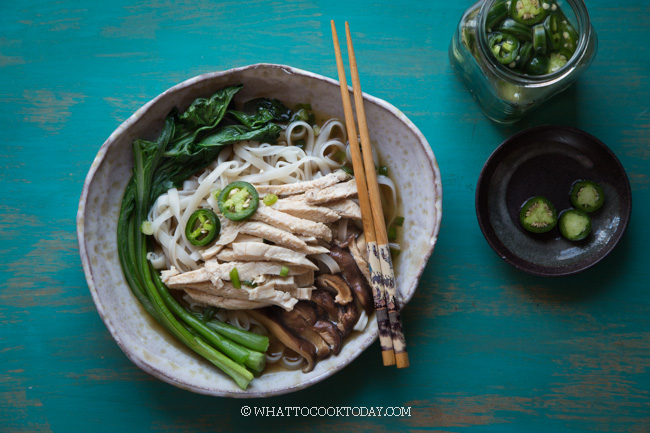 INGREDIENTS
There's no way I can find such high-quality Ipoh hor fun here, not in Minnesota at least. I have to resort to using the dry hor fun, which isn't absolutely my favorite because I usually prefer fresh-made hor fun. I must learn how to make my own hor fun one day (it's on my long list). BUT, I must say it's still acceptable. The main ingredients for this kai si hor fun recipe are: thin hor fun noodles (if dry-choose size L or fresh), dry shiitake mushrooms, vegetables like gai lan (Chinese broccoli) or you can use choy sum, chicken breast meat (which I pressure cooked so they meat was really tender and not overcooked)

Let's get started with cooking shall we?
HOW TO MAKE IPOH KAI SI HOR FUN
1. Soak the mushroom in hot water for 30 minutes while preparing other things and then slice (or you may leave them whole). Save the soaking liquid


2. Blanch the veggie
Bring a large pot of water to a boil and blanch the vegetables for 1 minute and then refresh with cold water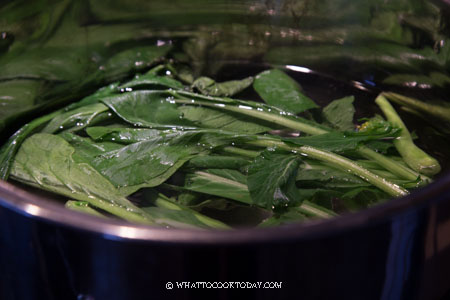 3. Cook the chicken
Pressure cooker: I place the chicken breast with 1 cup of chicken stock in the inner pot of Instant Pot. Close the lid and turn the steam release valve to seal. Press pressure cooker and make sure it's on high pressure. Set the time to 10 minutes and release the pressure immediately after. Wait for 5 minutes before slicing or shredding the meat
On the stove: Bring chicken stock to a boil and then put the chicken breast in and simmer for 15 minutes. Turn off the heat and let the residual heat to continue cooking the chicken. Remove and rest for 5 minutes before slicing or shredding the meat


4. Make the soup
Strain the liquid from cooking the chicken into a large pot. Add the liquid from soaking the mushrooms. Top up with chicken stock to make up to about 4 cups of liquid total. Bring to a boil and then add the mushrooms and seasonings and lower the heat to let the mushrooms cook for about 15 minutes. I suggest thickening the soup only when you ready to serve the kai si hor fun


5. Cook the hor fun
Bring a large pot of water to a boil. If you are using fresh hor fun, cook the noodles briefly, usually less than 1 minute. It basically just to heat up the noodles. If you are using dry hor fun like me, cook until the noodles are al dente. Do not rinse the noodles with water. I suggest cooking the noodles only when you are closer to serving the kai si hor fun


6. Serving
When ready to serve, portion the hor fun into individual bowl or platter accompanied by few stalks of veggie, shredded chicken meat. Bring the soup back to a boil. Give the cornstarch solution a stir and pour into the soup while the other hand is stirring. Keep stirring until the soup is thickened. Generously ladle this thickened soup over the noodles along with some slices of mushrooms. Serve immediately

It's not that complicated isn't it?

This blog post contains affiliate links. I earn a small commission when you made purchase at no extra cost to you. Learn more.
Easy Ipoh Shredded Chicken Hor Fun (Kai Si Hor Fun)
Ingredients
500

gr

boneless skinless chicken breast

18 oz

400

gr

thin hor fun (fresh or dry rice stick)

14 oz

8

stalks

choy sum

1

litre

chicken stock

1 quart
Thickening agent:
3

Tbsp

cornstarch + 3 Tbsp water
Instructions
Soak mushrooms:
Soak the mushroom in 2 cups of hot water for at least 30 minutes (1 hour if you have the time) while preparing other things and then slice (or you may leave them whole). Save the soaking liquid
Blanch the veggie:
Bring a large pot of water to a boil and blanch the vegetables for 1 minute and then refresh with cold water
If you choose to pressure cook the chicken:
Place the chicken breast with 1 cup of chicken stock in the inner pot of Instant Pot. Close the lid and turn the steam release valve to seal. Press pressure cooker and make sure it's on high pressure. Set the time to 10 minutes and release the pressure immediately after. Wait for 5 minutes before slicing or shredding the meat
If cooking the chicken on the stove:
Bring chicken stock to a boil and then put the chicken breast in and simmer for 15 minutes. Turn off the heat and let the residual heat to continue cooking the chicken. Remove and rest for 5 minutes before slicing or shredding the meat
Make the soup:
Strain the liquid from cooking the chicken into a large pot. Add the liquid from soaking the mushrooms. Add 1 litre of chicken stock. Bring to a boil and then add the mushrooms and seasonings and lower the heat to let the mushrooms cook for about 15 minutes. I suggest thickening the soup only when you ready to serve the kai si hor fun
Cook the hor fun:
Bring a large pot of water to a boil. If you are using fresh hor fun, cook the noodles briefly, usually less than 1 minute. It basically just to heat up the noodles. If you are using dry hor fun like me, cook until the noodles are al dente. Do not rinse the noodles with water. I suggest cooking the noodles only when you are closer to serving the kai si hor fun
When ready to serve:
When ready to serve, portion the hor fun into individual bowl or platter accompanied by few stalks of veggie, shredded chicken meat. Bring the soup back to a boil. Give the cornstarch solution a stir and pour into the soup while the other hand is stirring. Keep stirring until the soup is thickened. Generously ladle this thickened soup over the noodles along with some slices of mushrooms. Serve immediately
Nutrition
Serving:
1
serving
|
Calories:
452
kcal
|
Carbohydrates:
66
g
|
Protein:
16
g
|
Fat:
14
g
|
Cholesterol:
73
mg
|
Sodium:
1637
mg
|
Fiber:
7
g