Learn how to easily make a delicious and healthier version of traditional Teochew sweet yam (taro) paste made without any oil.
TRADITIONAL ORH NEE (SWEET YAM PASTE)
I only knew about orh nee when I lived in Singapore. Orh nee is well-beloved by many Singaporeans. I love it A LOT too! It's obvious I guess because I pretty much got hooked with any tubers and roots. Traditional orh nee is pretty time-consuming to make. Taro is usually cut, steam, and mashed and then cook with sugar, homemade shallot oil (lard in some cases), and coconut milk is used in most cases too. All these are cooked into a sweet paste and then topped with gingko nuts sweetened with syrup and pumpkin puree.
MY EASY VERSION OF ORH NEE
I simplified the recipe by not using gingko nuts and shallot oil or any lard. You only need 5 ingredients (Ok, 6 if you use water): Taro, Pumpkin, Sugar, Coconut cream, Salt, Water-optional to thin out the yam paste.
I can tell you that despite being easy and much simpler, the orh nee still comes out really tasty (and less calories too). Every mouthful is truly satisfying!

HOW TO MAKE HEALTHY VERSION OF ORH NEE
1. Use pre-peeled taro if you have access to one, save some work there


2. Cut into cubes


3. Steam over high heat for 10 minutes or until fork-tender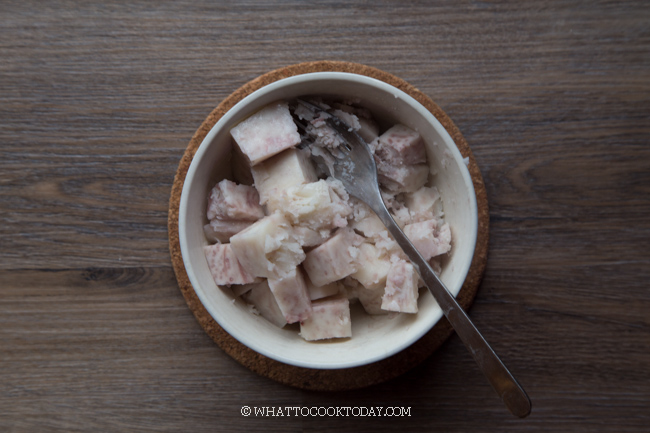 4. Mash with fork or you can blender it for smoother texture


5. Cut pumpkin into cubes and steam over high heat for 10 minutes and then mash with fork


6. Transfer the mashed taro into a saucepan. Add sugar


7. Cook until the sugar is melted and the paste is smooth. You can add some water to thin it to the consistency you like. I didn't. I like mine a thick paste


8. Heat the coconut cream over low heat with salt. DO NOT BOIL the coconut cream


9. Scoop some taro paste into a serving bowl. Top with few spoonfuls of coconut cream and topped with mashed pumpkin. Tuck in!

ADJUST THE RECIPE TO YOUR LIKING
1. Make the yam paste thinner
You can add water while cooking the paste to make it thinner
2. Cook the yam paste with coconut cream
Instead of serving the coconut cream on the side, you can cook the yam paste with the coconut cream
3. You can certainly add oil
If you think oil is a must, then please don't let me stop you. You can add 100 ml of shallot oil or lard while cooking the orh nee
Every spoonful of this Teochew orh nee inside my mouth is a pure bliss if you ask me. It's sweet with a hint of saltiness. The plain pumpkin puree pairs well with the rich and creamy tasting yam paste for sure.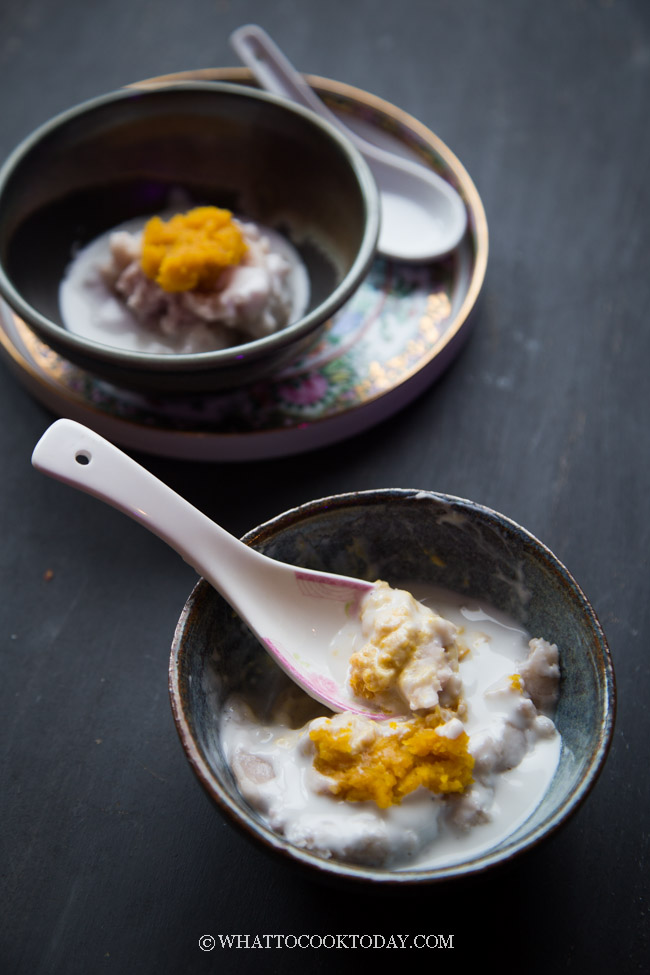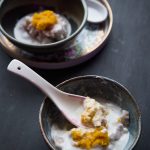 Teochew Orh Nee - Sweet Yam Paste with Pumpkin Puree (No Lard)
Ingredients
500

gr

peeled taro (yam)

about 1.1 lb

125

gr

sugar

or more if you like it sweeter

200

gr

pumpkin

150

ml

coconut cream

not coconut milk

¼

tsp

salt
Instructions
Prepare the taro and pumpkin:
I used taro that has been peeled. If you don't, peel the skin and cut into cubes. Do the same with pumpkin. Steam them over high heat for 10 minutes or until they are fork-tender and can be mashed easily. If you use pressure cooker, pressure cook on high heat for 1 minute. Yo

You can also use an immersion blender or blender to make them really smooth
Make the taro paste:
Place the mashed taro in a saucepan. Add sugar and cook over low to medium heat until the sugar is melted. I did not add any water to my paste, so it's thick because I like it thick. But you can add water to thin it to the consistency you like. Some people like to cook it with coconut milk too. I separate my coconut milk as topping on the side
Briefly heat the coconut cream:
Place the coconut cream with some salt and heat over low heat. Do not boil it
Serving:
Scoop or spoon some taro paste into a bowl. Add some coconut milk and top with some pumpkin puree and serve. You can serve it warm or chill