This naturally gluten-free, dairy-free, vegan bingka beras is so soft, lightly bouncy and rich in flavor is a must to try and easy to make. A favorite snack (jajanan pasar) by many in Southeast Asia.

BINGKA BERAS (肥豬肉)
Like my late dad and late grandma, I have serious problem when it comes to nyonya kue /kuih like this bingka beras. I just can't stay away from them 🙂 I'm not really a cake frosted with icing person (my dad was), but I love a simple nyonya kue like this. This bingka beras is incredibly easy and economical to make but I can tell you that my family loves it. Because of its whitish appearance which resembles a slab of pork fat, this kue was called 肥豬肉 (Fei Zhu Rou), which literally means pig's fat. Kinda weird I know! But let's be assured that it tastes nothing like a slab of pig's fat, not even close 😉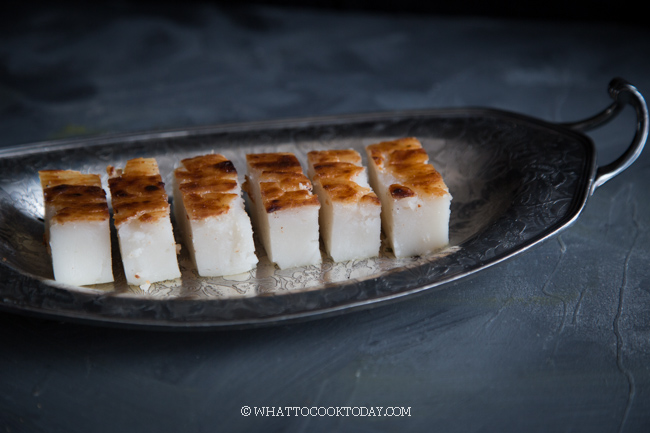 SPECIAL FLOUR/STARCH YOU NEED FOR THIS RECIPE
Bingka beras is mainly made with rice flour. But to add a bit of texture and smoothness to the cake, two additional flour/starches are also added. Mung bean starch and tapioca starch. If you can't find mung bean starch, you can use hun kwe flour.

HOW TO MAKE BINGKA BERAS EASILY FROM SCRATCH
1. LINE BAKING TRAY WITH BANANA LEAVES
Alternatively, you can use a parchment paper or you can just brush with oil all over the tray to prevent sticking

2. PREPARE MIXTURE B
Mixture B is made of water, sugar, pandan leaves in a pot and cook until sugar has melted. Discard the leaves and squeeze out any extra liquid before discarding. Set aside


3. PREPARE MIXTURE A
Mixture A is made of three different flours and coconut milk. Stir them together and strain this mixture into mixture B


5. COOK THE BATTER
Cook this mixture over low-medium heat and continue to stir until you get a medium thick porridge consistency, but still pourable and then pour this into the prepared tray and smooth out with rubber spatula as you pour to make sure no gaps or holes in the cake later


6. BAKING
Bake in a preheated oven at 425 F for 35-40 minutes or until the cake is cooked through (toothpick inserted into middle of the cake comes out clean. The top will appear crackly and it's normal. Brush with some coconut oil (or you can use coconut cream) on top. This is totally optional.


7. BROILING
Switch the oven to broil on low (top heat) and broil until the top is dark golden brown or until you are happy with the color. Do not walk away during this process. Turn the tray around as needed for more even broiling


8. COOL DOWN
Let the cake cool down for 2-3 hours before attempting to slice. Use a plastic knife or wet knife to cut into desired sizes
I love how soft and smooth the cake turns out. It has that slight bounce to it and the cake is mainly flavored by the coconut milk and mild pandan flavor.

My 5-year old couldn't wait to pop this thing into his mouth and volunteered to be the hand model 😉


Recipe was first published in 2019 and then updated in August 30,2020 after trying recipe from Minty's Kitchen. I like this version better as it yields much softer yet bouncy cake and less sweet too.
Bingka Tepung Beras (Baked Rice Flour Coconut Cake)
Ingredients
Mixture B:
500

ml

water

180

gr

sugar

3

pandan leaves

cut into smaller pieces to release more flavor

¼

tsp

salt
Instructions
Things to prepare before you start baking:
Cut banana leaf to line the bottom and sides of your baking tray. Wipe the banana leaf clean with a damp cloth. Set aside. Alternatively, you can always use parchment paper or just brush with cooking oil all over
Prepare mixture B:
Place water, sugar, pandan leaves, and salt in a pot and cook until sugar is melted. Remove from the heat. Remove the pandan leaves and squeeze out any extra juice from the leaves before discarding. Set aside while preparing mixture A
Prepare mixture A:
Mix all the ingredients and stir until smooth. Sieve this mixture and add to mixture B

Preheat oven to 425 F (220 C) for conventional oven. For convection oven, lower by 20 F or 15 C
Cooking the dough:
Cook the combined mixture A and B from above over low to medium heat. Keep stirring. The first 10 minutes may seem like nothing is going to happen, but the mixture will continue to get thicker and keep stirring until you get a medium thick porridge consistency but still pourable. You don't want to cook until it's too thick

Pour this thick batter into the baking tray you've prepared earlier. Smooth it out with a rubber spatula as you pour to make sure you won't get any gaps or holes later inside the cake
Baking:
Place the tray, 3rd rack from the top and bake for about 35-40 minutes (35 mins in my oven) or until a toothpick inserted into the middle of the cake comes out clean. The top is crackly, and that's normal

Brush the top layer with coconut oil you reserved earlier and then turn on the broiler (top heat) to low and grill until the top layer of the cake is dark golden brown or until you are happy with the color. Do not walk away during this process, you may need to turn the tray as you broil for the color to be more even
Cooling down:
Let the cake cool down completely for at least 2-3 hours before attempting to cut. Use a plastic knife or wet knife to cut to prevent sticking
Nutrition
Serving:
1
serving
|
Calories:
124
kcal
|
Carbohydrates:
18
g
|
Protein:
1
g
|
Fat:
6
g
|
Saturated Fat:
5
g
|
Polyunsaturated Fat:
0.1
g
|
Monounsaturated Fat:
0.3
g
|
Sodium:
34
mg
|
Potassium:
66
mg
|
Fiber:
0.4
g
|
Sugar:
9
g
|
Vitamin A:
0.2
IU
|
Vitamin C:
0.2
mg
|
Calcium:
7
mg
|
Iron:
1
mg