Learn how to make one of Singapore's iconic hawker foods,  lor mee, at home. Noodles are smothered in a savory, and tangy thick dark gravy accompanied by slices of pork belly and other toppings.
Inspired by the lor mee that I have had before at Bukit Purmei (which is now no longer there?), I'm trying to make this lor mee at home the best I could remember it. I can't say it's 100% like the one I've eaten in Singapore, but it's close enough to satisfy that craving when you are thousands of miles away.
What is Singapore lor mee or Hokkien lor mee?
Lor means to braise or stew and mee means noodles in Hokkien dialect. There are many different kind of lor mee varieties out there. This Hokkien lor mee has a thick dark gravy. The gravy is usually prepared by using pork belly along with aromatics like Chinese five-spice powder, cinnamon, star anise and seasonings such as dark soy sauce, soy sauce, and oyster sauce which contributes to its dark color. The gravy is then thickened with starches. I use tapioca starch to thicken the gravy, but some people also use potato starch or corn starch to thicken the gravy. The lor mee is also served with garlic paste, chili, and Chinese black vinegar. The lor mee is also often served with slices of fried fish cakes, fried wonton, and/or fried ngoh hiang. So it has some contrast of texture there.
How to make Singapore lor mee/Hokkien lor mee at home
1. Bring a large pot of water to a boil


2. Then add the ginger, cinnamon sticks, star anise, and seasonings. Give it a stir and then add the pork belly pieces and the mushrooms. Bring it to a boil and then lower the heat to let it simmer and cover with a lid. Be careful to make sure it's simmering so it won't boil over. Let it simmer for 30 minutes or until the pork is tender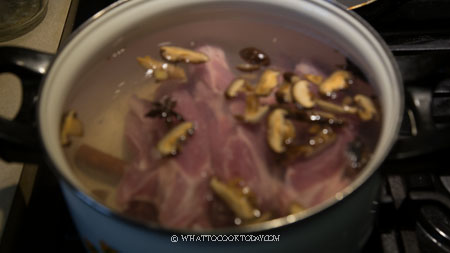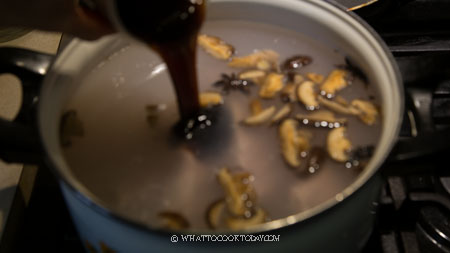 3. Have a taste and adjust the taste by adding more soy sauce or sugar to your taste. It should be savory and slightly sweet. Remove the pork belly, hard-boiled eggs and mushrooms from the pot. Take out all the spices too. Let the pork rest before slicing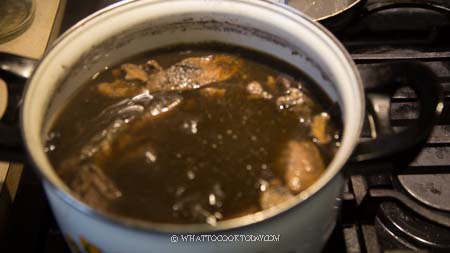 4. Combine tapioca starch with water. Bring the gravy back to a simmer. While one hand is stirring the gravy, slowly pour in the tapioca starch to thicken the gravy


5. Then gradually add the beaten egg as you stir the gravy, just like making an egg drop soup. The gravy will be smooth and shiny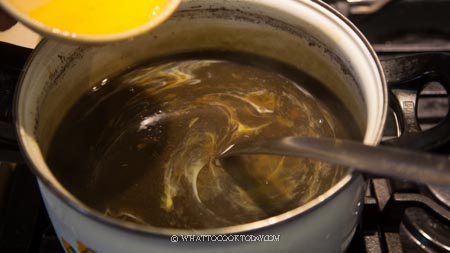 6. Portion the noodles, bean sprouts, and pork belly slices and other topping you want to go with the lor mee into an individual serving bowl. Ladle the gravy generously over the noodle. Garnish with freshly chopped cilantro leaves. Serve with black vinegar, garlic paste, and red chilis on the side. Serve the noodles immediately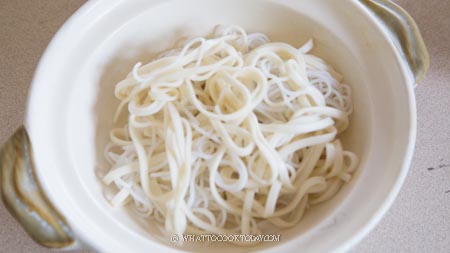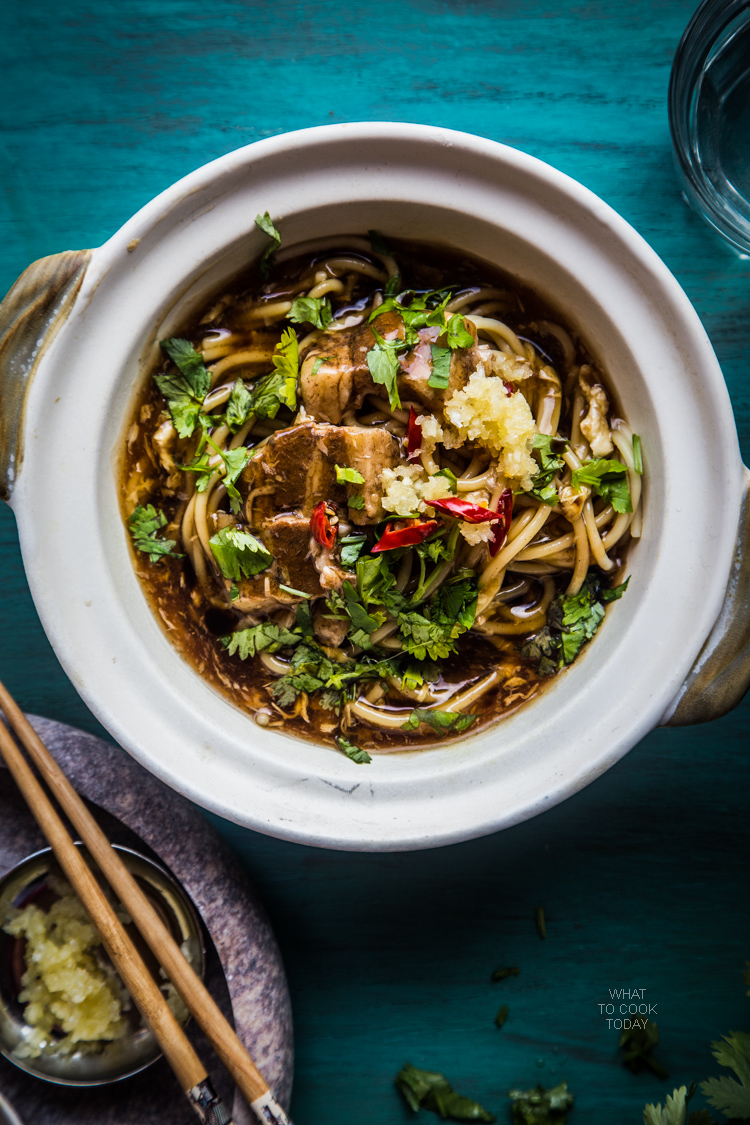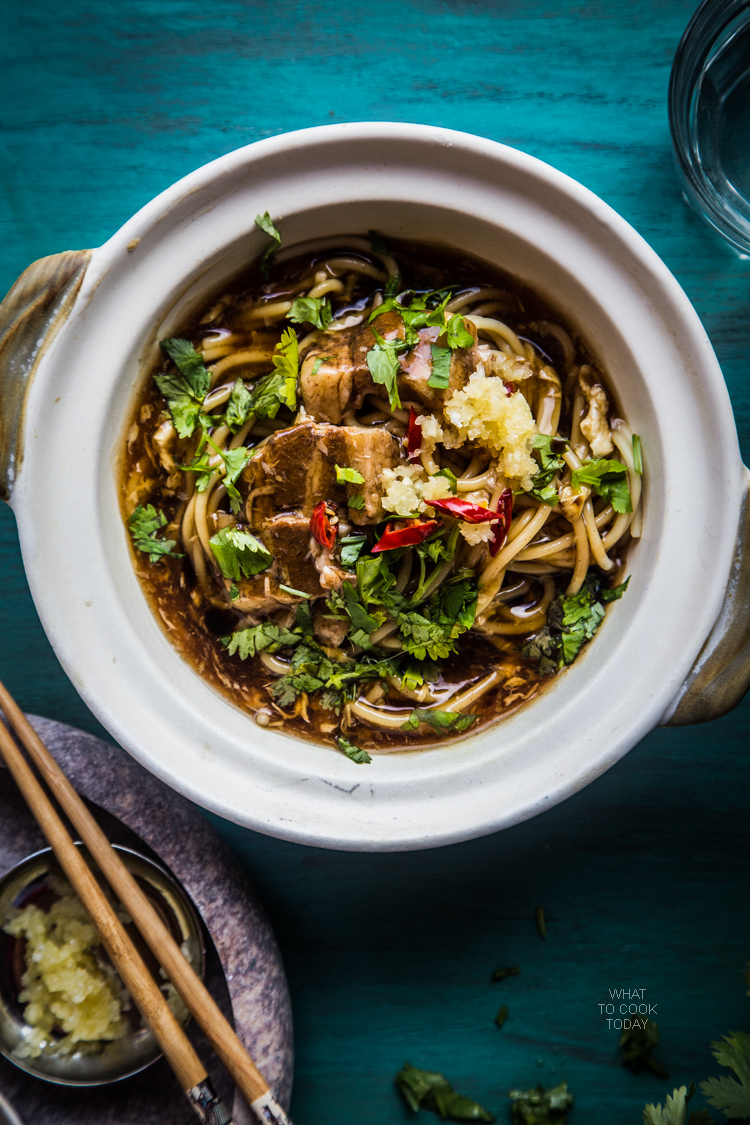 I like my lor mee with lots of Chinese black vinegar 🙂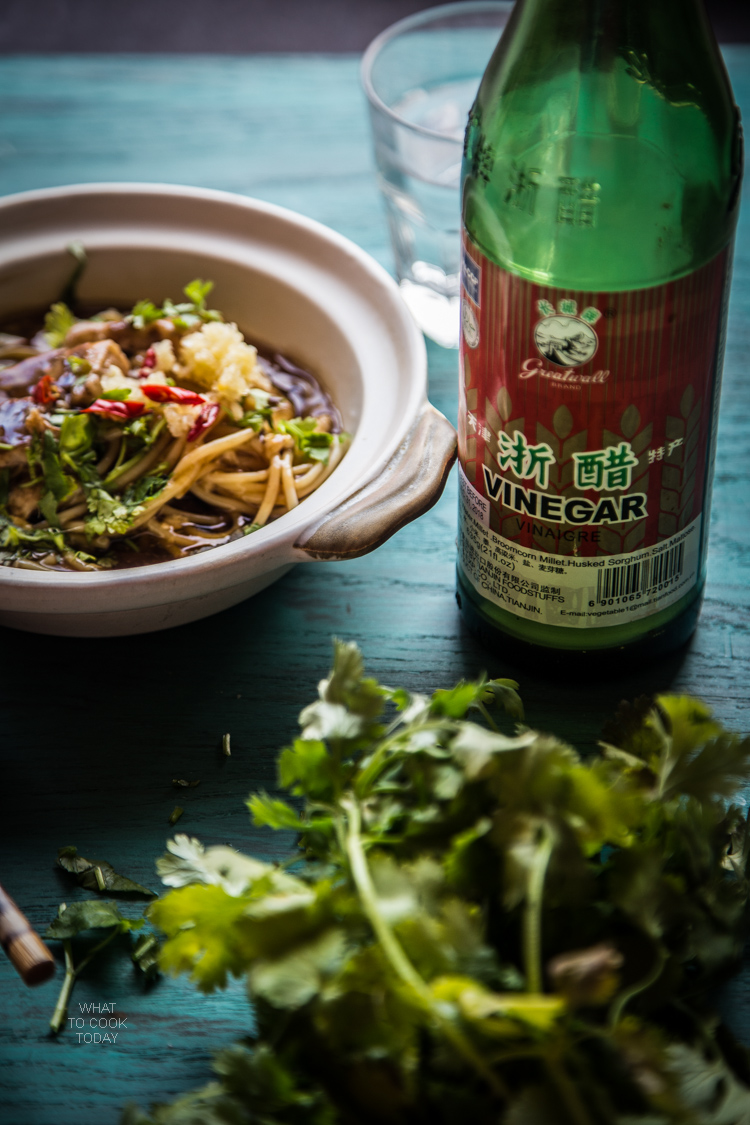 Did you make this Singapore lor mee recipe?
I love it when you guys snap a photo and tag to show me what you've made 🙂 Simply tag me @WhatToCookToday #WhatToCookToday on Instagram and I'll be sure to stop by and take a peek for real!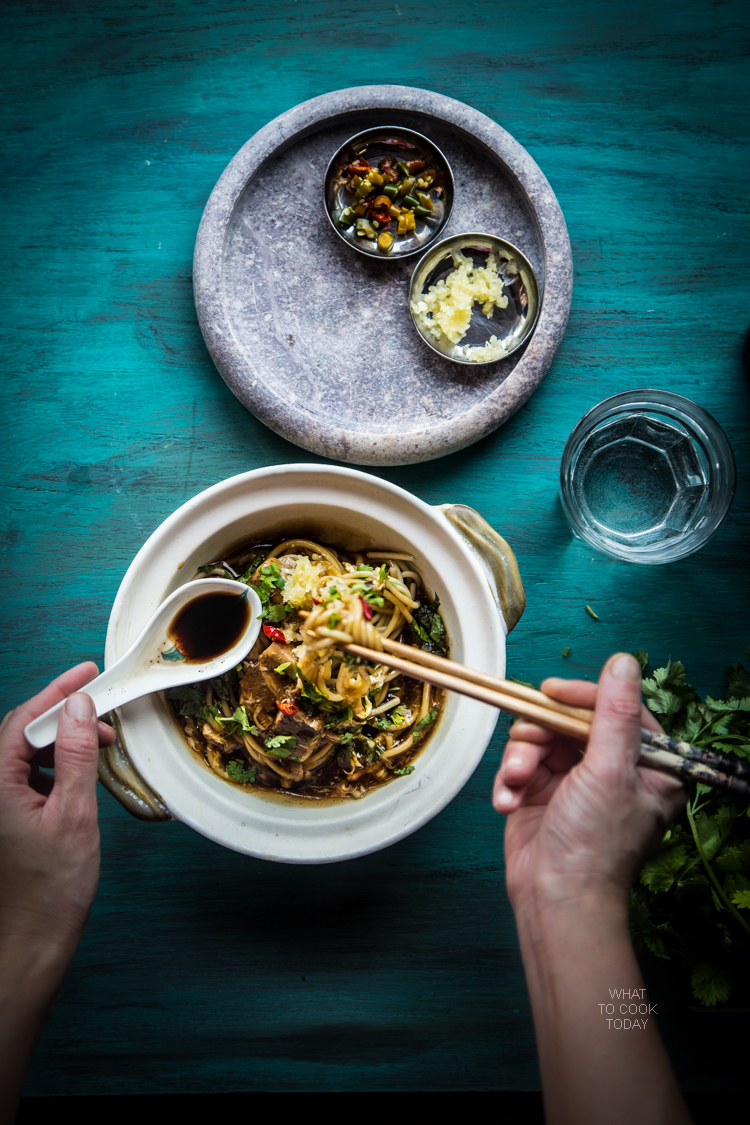 Singapore Lor Mee / Hokkien Lor Mee (Braised Noodles)
Ingredients
Gravy:
8

cups

water

800

gr

pork belly

see notes 1

2

slices

1/4-inch thick and about 3-inch long peeled ginger

1

tsp

five-spice powder

2

cinnamon sticks

2

star anises

6

Hard-boiled eggs
To thicken gravy
80

gr

tapioca starch mix with 100 ml of water

you can add more if you want the gravy to be thicker
Serve with:
Fried fish cake slices

Fried wontons

Chinese ChinKiang Black Vinegar

Garlic paste

use food processor or garlic press for best result

Fresh red chilis

finely chopped

Fresh cilantro leaves

finely chopped
Instructions
Soak shiitake mushrooms until soft and then cut into slices

Blanch the beansprouts in boiling water for 1 minute and then refresh in cold water and set aside. Cook the rice noodles according to instructions on package. If you get fresh/refrigerated Hokkien noodles, they usually only need to be blanched in water for a minute or two. For dried version, cook according to the instruction on the package. Portion them into an individual serving bowl
Prepare the gravy:
Bring a large pot of water to a boil and then add the ginger, cinnamon sticks, star anise, and seasonings. Give it a stir and then add the pork belly pieces and the mushrooms. Bring it to a boil and then lower the heat to let it simmer and cover with a lid. Be careful to make sure it's simmering so it won't boil over. Let it simmer for 30 minutes or until the pork is tender

Have a taste and adjust the taste by adding more soy sauce or sugar to your taste. It should be savory and slightly sweet. Remove the pork belly, hard-boiled eggs and mushrooms from the pot. Take out all the spices too. Let the pork rest before slicing
Thicken the gravy:
Combine tapioca starch with water. Bring the gravy back to a simmer. While one hand is stirring the gravy, slowly pour in the tapioca starch to thicken the gravy

Then gradually add the beaten egg as you stir the gravy, just like making an egg drop soup. The gravy will be smooth and shiny
When ready to serve:
Portion the noodles, bean sprouts, and pork belly slices and other topping you want to go with the lor mee into an individual serving bowl

Laddle the gravy generously over the noodle. Garnish with freshly chopped cilantro leaves. Serve with black vinegar, garlic paste, and red chilis on the side. Serve the noodles immediately
Notes
You can also use half pork belly and half pork shoulder for a less oily version. You can also use chicken pieces for halal version
Nutrition
Serving:
1
serving (without fried toppings)
|
Calories:
1780
kcal
|
Carbohydrates:
137
g
|
Protein:
40
g
|
Fat:
117
g
|
Saturated Fat:
43
g
|
Polyunsaturated Fat:
13
g
|
Monounsaturated Fat:
53
g
|
Cholesterol:
424
mg
|
Sodium:
2192
mg
|
Potassium:
672
mg
|
Fiber:
6
g
|
Sugar:
19
g
|
Vitamin A:
431
IU
|
Vitamin C:
8
mg
|
Calcium:
116
mg
|
Iron:
7
mg