Learn how to make one of the Singapore iconic hawker foods, Singapore lor mee at home. Noodles are smothered in a savory, and tangy thick dark gravy accompanied by slices of pork belly and other toppings.
This Singaporean braised noodles or known as Lor Mee is one of my most favorite noodle dishes EVER!! I can never say no to it. Seriously !!! I often eat too much of it too! Singaporean style lor mee is a noodle dish with braised pork, thickened dark gravy served with black vinegar and minced garlic. I like it with extra generous amount of black vinegar and garlic. I was craving for it so badly after I first moved here almost 7 years ago. My first encounter with this dish was when I just moved to Singapore many years ago. I didn't like it as much initially, but I have to admit that it slowly grew on me. I found the combination of black vinegar and minced garlic are highly addicting!!!
My favorite one was at Bukit Purmei in Singapore. My brother was the one who first introduced this to me and my mom. We pretty much got hooked ever since. The queue was always long, but it was worthy of waiting. On our last visit to Singapore in 2012, my brother brought us to Bukit Purmei to have some lor mee again. Man..oh man! What a treat!!!!!! My brother told me though that the owner of the lor mee stall had passed away because or serious illness 🙁 The stall was run by someone else now. It's kinda sad when I heard that news 🙁 The owner probably spent most of his life working so hard at his business and didn't even have time to enjoy the fruit of his hard work. He is at a better place now.
One advice to thee, don't even bother eating this lor mee without black vinegar and minced garlic, trust me on this one !Lor mee is often served with crispy deep-fried fritters, hard-boiled eggs, and slices of fish cakes. They are not mandatory. I didn't have them at the time I made them and it's still so good with just pork belly. As long as you got the gravy right and load it up with black vinegar and garlic, you are seriously good to go! This is my favorite brand for Chinese Black Vinegar, Great Wall Chinese Black Vinegar. I've tried other brands, and they just didn't come even close to this. They aren't easy to find though I have to say. Lots of Asian grocery stores carry other brands, but hardly this brand. So, when I found it, I usually stock up on it.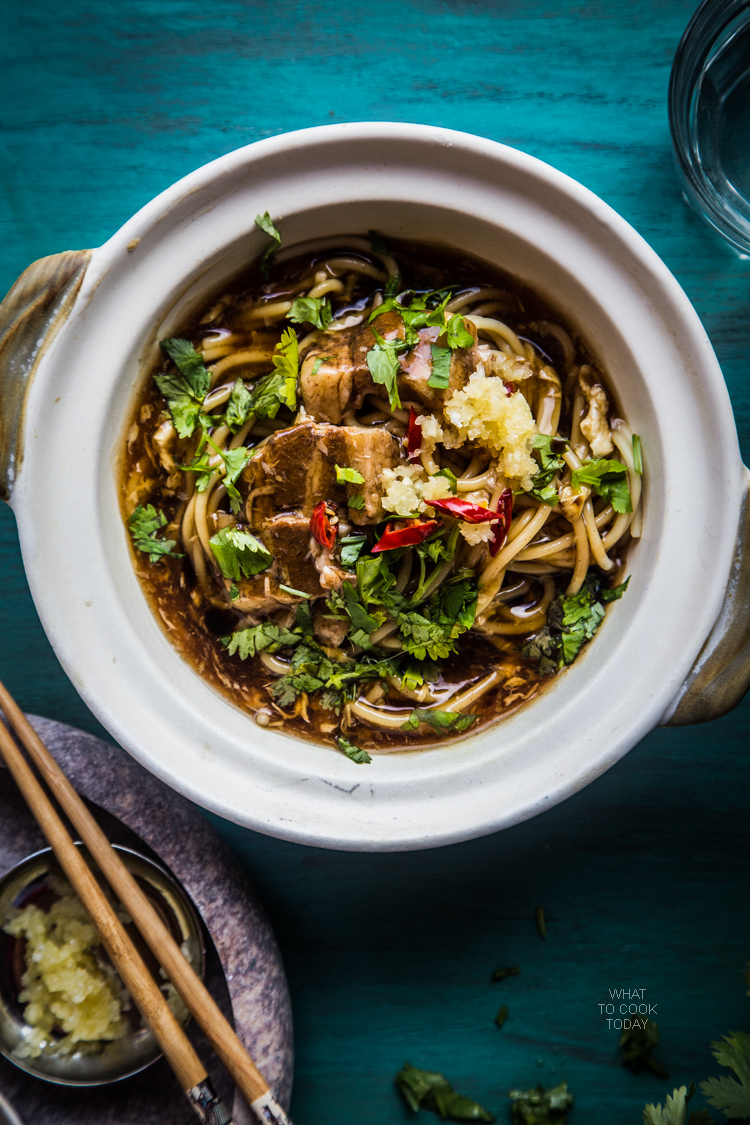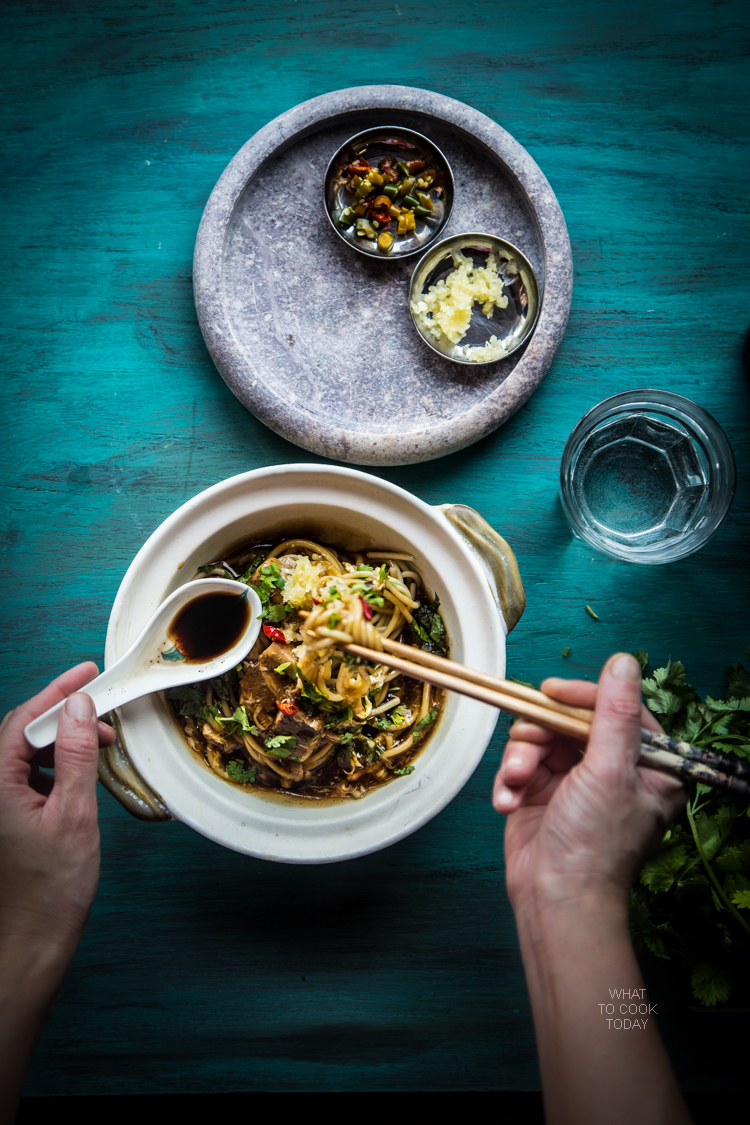 I honestly felt kinda sad that I almost finished that bowl!

Singapore Lor Mee (Braised Noodles)
Ingredients
1

lb

dried spaghetti noodles or Chinese yellow noodles

you can also mix in rice noodle sticks, make sure you soak the rice noodle sticks for 15-20 minutes before blanching

2

cups

beansprouts

2

tbsp

cooking oil

4

cups

water

1

lb

pork belly

leave it whole

4

Hard-boiled eggs
Aromatics:
3

shallots

finely chopped

3

cloves

garlic

peeled and flattened

2

slices

1/4-inch thick and about 3-inch long peeled ginger

1

tsp

five-spice powder
Seasonings:
1

Tbsp

Better Than Bouillon- no MSG

or bouillon cube

6

Tbsp

dark soy sauce

more if you want the gravy to be darker

4

Tbsp

soy sauce

or more to taste

1 ½

tbsp

sugar

or more to taste

Salt and pepper

to taste
Gravy:
2

eggs

beaten

80

gr

tapioca starch mix with 100 ml of water

you can add more if you want the gravy to be thicker
Optional toppings:
Fried fish cake slices

Fried wontons

Ngo hiang
Garnishes:
Fresh cilantro leaves

finely chopped

Chinese ChinKiang Black Vinegar

Finely chopped garlic

use food processor or garlic press for best result

Fresh red chilis

finely chopped
Instructions
Blanch the beansprouts in boiling water and cook the noodles according to instructions on package and portion them into individual serving bowl
Braising the pork and eggs:
Heat oil in a large pot. Add in aromatics. Saute until fragrant. Add in water, pork belly and seasonings. Bring to a boil and then lower the heat to let it simmer for about 30-45 minutes or until the pork belly is tender but not falling apart. Add the hard-boiled eggs the last 15 minutes

Have a taste and adjust the taste by adding more soy sauce or sugar to your taste. It should be savory and slightly sweet. Remove the pork belly and hard-boiled eggs from the pot. Slice the pork into thin slices. Strain the stock and discard the solids
Thicken the gravy:
Turn up the heat to high and let the stock boil again. Next, slowly add in the beaten egg and one hand continue to stir (it's like making and egg-drop soup). Give the tapioca starch slurry a good stir and slowly add into the stock while another hand is stirring vigorously until it's thickened and keep on stirring. The soup will be very thick and glossy at this point. If you like the gravy to be thicker, add more tapioca and water solution
When ready to serve:
Portion the noodles, bean sprouts, and pork belly slices into an individual serving bowl.

Laddle soup generously over the noodle in individual serving bowl. Garnish with fresh chopped cilantro leaves, black vinegar, finely minced garlic, and red chilis. Serve immediately
Notes
I like to cook the pork belly and prepare the stock the day before. If you want to include hard-boiled eggs, add in the cooked and peeled boiled eggs inside the stock and let them submerge in there to pick up the brownish color
I've never tried the Gold Plum Chinkiang black vinegar, but seems to have a good review as well. These are Amazon affiliate links.



This blog post contains affiliate links. I earn a small commission when you made purchase at no extra cost to you. Learn more.