Teochew dumplings with translucent crystal-like skin filled with delicious savory filling are one of the popular dim sum foods you can easily make at home. Step-by-step tutorial on how to prepare chiu chow dumpling filling and how to make soft and translucent skin. The dumplings can be made vegan/vegetarian and gluten-free too.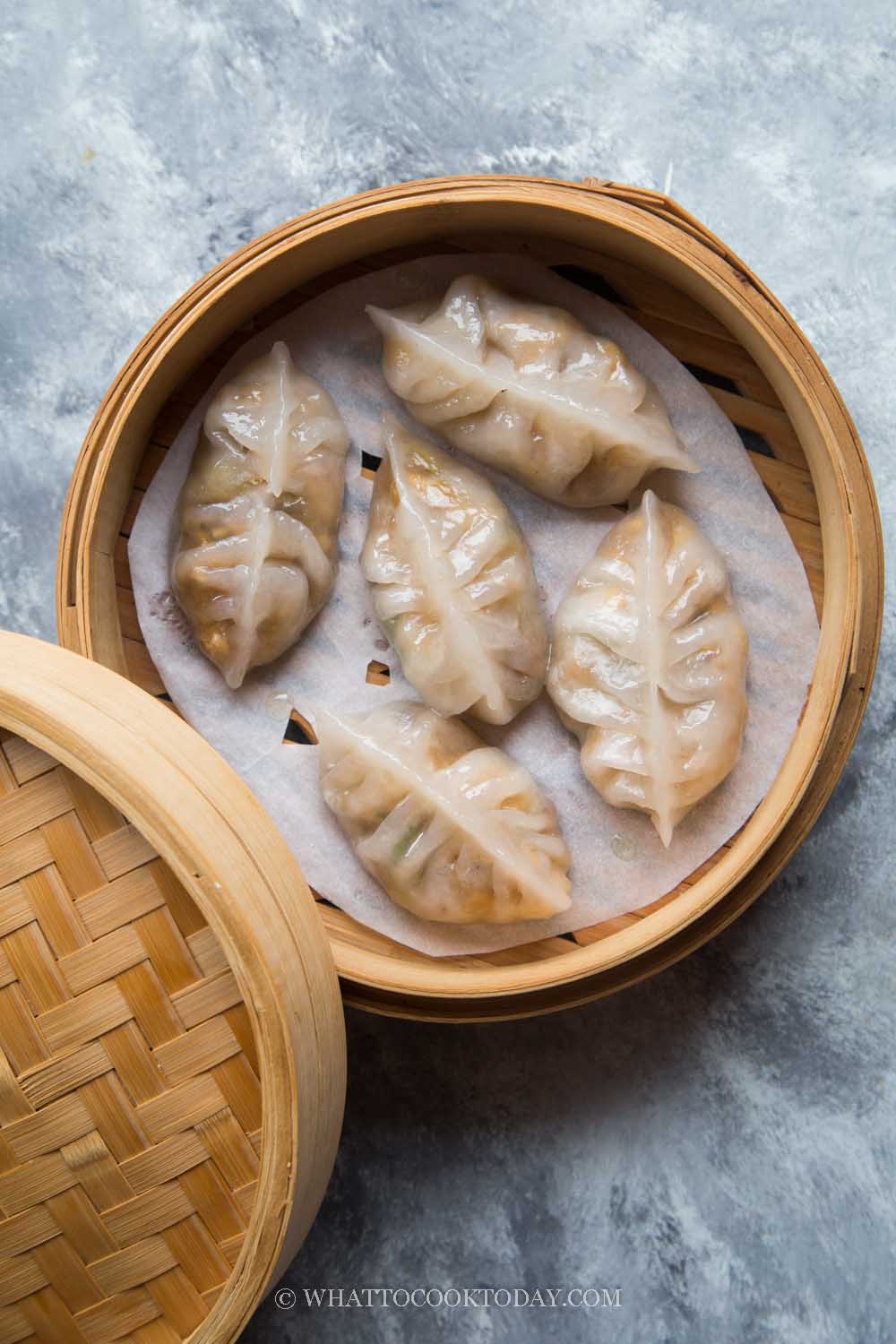 What is Teochew dumpling/ Chiu Chow dumpling?
Teochew dumpling or also known as Chiu Chow dumpling or Chao Zhou fun guo or Teochew crystal dumpling or hun kwe (粉餜) is a steamed dumpling filled with savory filling made with minced meat, jicama, chives, peanuts, though can be made vegetarian without using meat. The dumpling is characterized by its soft translucent look and hence sometimes refer to as crystal dumpling.
What makes the Teochew dumpling translucent?
The combination of the starches used to prepare the dough gives the dumpling a translucent look. I have tried two versions of starch combinations to see which one is better.
1. Wheat starch + Tapioca starch
The wheat starch is an important ingredient here and CANNOT be substituted with any other starch. The other starch used in this recipe is tapioca starch, which also contributes to the transparency and flexibility of the skin.
I have also tried another starches combination
2. Wheat starch + Potato starch + cornstarch
These three starches combination also yield a similar result to the first one, only that the dumplings are slightly "whiter". The dough texture also comes out the same. Soft and stays soft for a few hours. The dough is a bit harder to work with though, just a bit, compared to the first one.
Which one do I like better?
I like the first option better because wheat starch and tapioca starch are easier to get. Potato starch is not always available. Not every Asian grocery store carries them. So, that's why I decided to try out both options and IMHO, the first option is a really good dough and you only need to types of starches with great result.
How to make Teochew dumplings filling and skin
1. Preheat a large skillet over medium heat. Add 2 Tbsp of cooking oil and saute the shallots and dried shrimp for about 2 minutes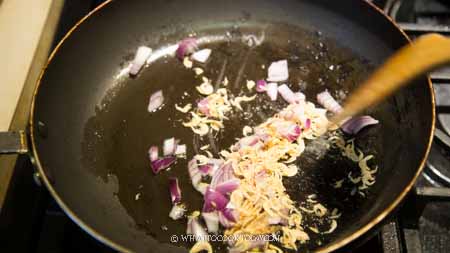 2. Add pickled radish and saute for another minute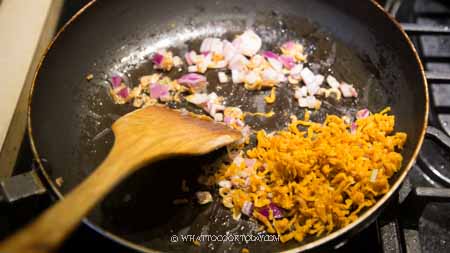 3. Push to the side and add the ground meat and saute until they turn color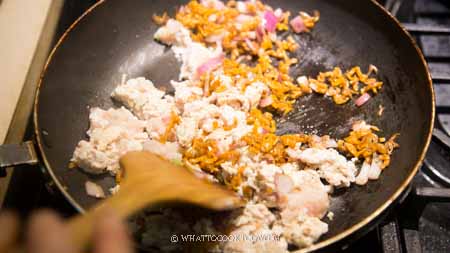 4. Then combine everything. Add the jicama, celery and seasoning. Saute for another 3 minutes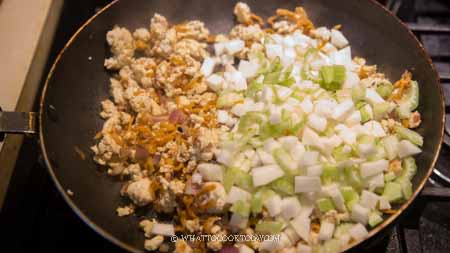 5. Add the cooking wine and the chives. Stir to combine. Add the water and cook for another 10-15 seconds. Have a taste and adjust to your preference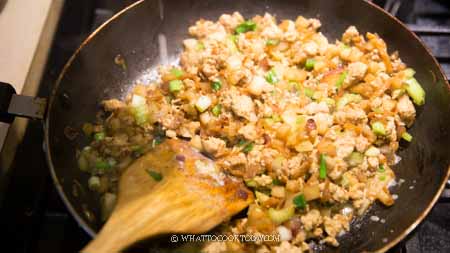 6. Combine potato starch with water and then add into the filling and stir until mixture thickens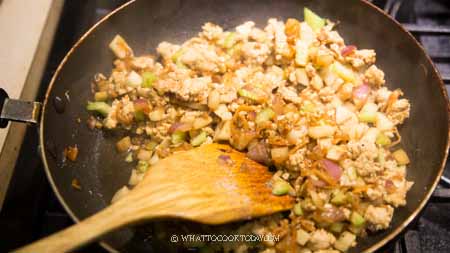 7. Stir in the peanuts and off the heat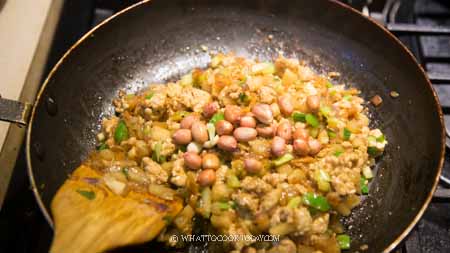 8. Let the filling cool down completely before wrapping. Once it cools down completely, you can cover and keep in the fridge for a few days until you are ready to wrap the dumplings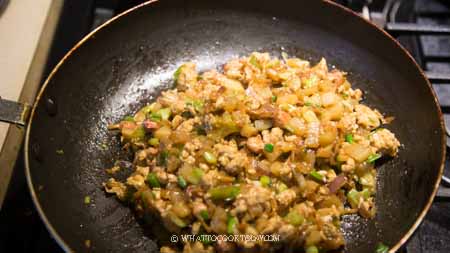 9. Combine wheat starch with tapioca starch/flour and salt. Boil about 300 ml of water, a little over is fine as it may evaporate a bit during boiling. Make sure it's rolling boil hot. This is very important. Pour 300 ml over the starch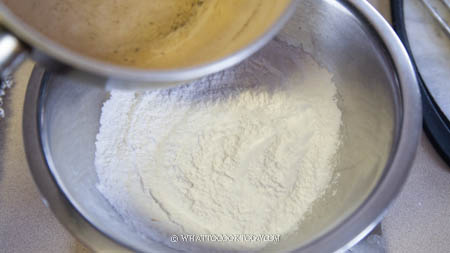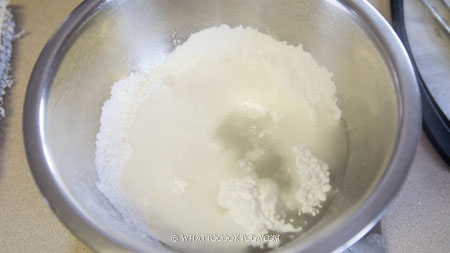 10. Use a chopstick to roughly combine. It won't come together just yet. Cover and let it rest for about 5 minutes so it won't be too hot for your hands to knead later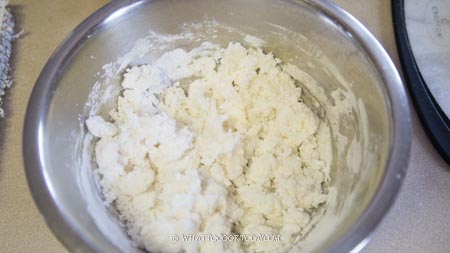 11. Uncover and the rough dough should be warm. Use your clean hands to knead into a smoother dough now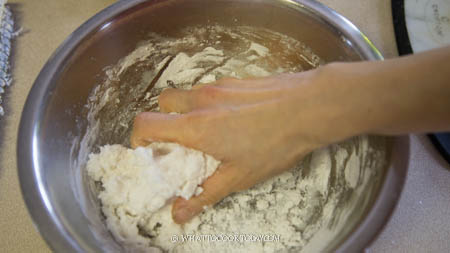 12. Add the oil and knead into a very flexible and smooth dough. It should be stretchy because the hot water has gelatinized the starches making the dough easy to work with and won't break easily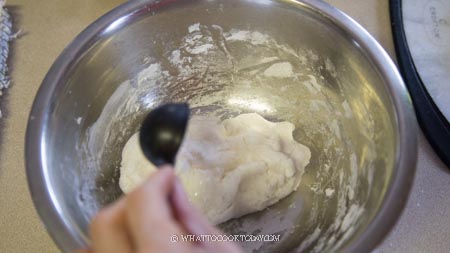 13. You can roll the dough into a log and divide the dough into 24 pieces or for more precise. I only do half recipe in this step by step photo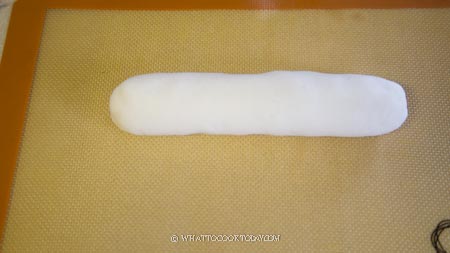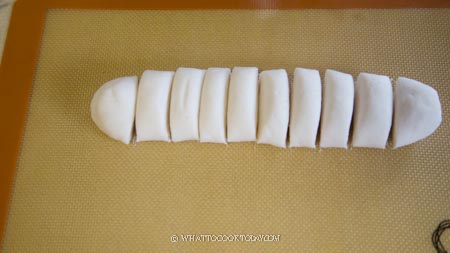 14. You can also pinch off the dough and weigh on the scale to get about 20-22 gram each dough. I feel like this amount gives the right thickness to the wrapper without being too thick or too thin. Keep these dough covered so they won't dry out. Work with one dough at a time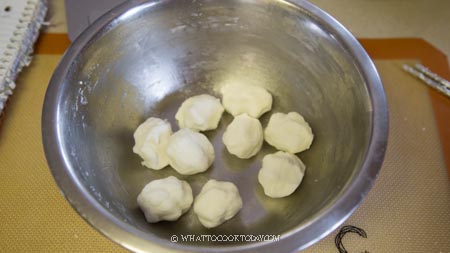 15. Roll the dough into a round ball and flatten slightly with your palm and then use a rolling pin to roll into a circle, about 4 inches or so. I can't always get it perfectly round and that's okay, we can always trim off excess dough with scissors later
You can roll out all the dough into circles first, and just lightly dust them with a bit of wheat starch, not too much and stack them slightly and keep them covered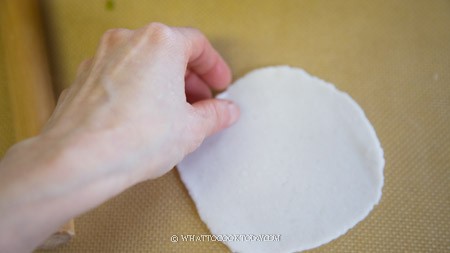 16. Put about 1 tablespoon or so of the filling on the dough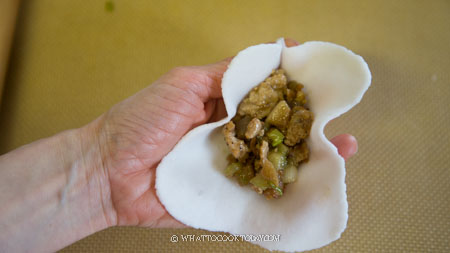 17. You can just fold the dough in half and pinch to seal to create a half circle, this is just a simple way of wrapping. Use a scissor to trim off excess dough on top to make it looks "neater". If you want to do some pleats, you can do about 6-7 pleats (refer to the video)
18. Bring the water in the steamer to a boil. Put the dumplings in a bamboo steamer lined with parchment paper with some holes or you can put them on a steaming plate. The latter will take a bit longer for the dumplings to cook through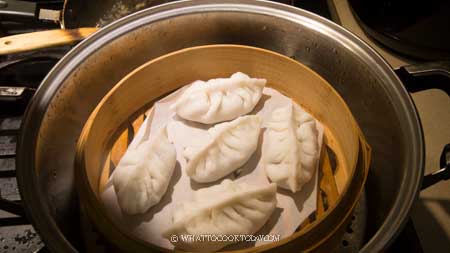 19. Steam over high heat for about 8 minutes if using a bamboo steamer. About 10-12 minutes if using a plate. The skin will turn translucent and soft. Brush the skin with a bit of cooking oil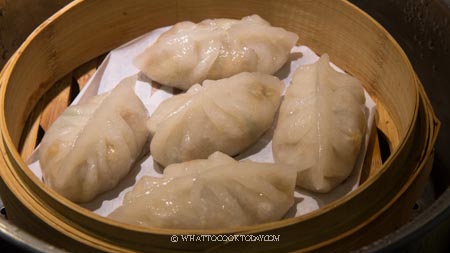 20. The dumplings are best served warm. Though I have tried to leave them at room temperature, covered in cling wrap for a few hours and the skin stays reasonably soft. But dumplings are supposed to be served warm anyway. So simply reheat for a few minutes in the steamer and they will be as soft as when they are just done cooking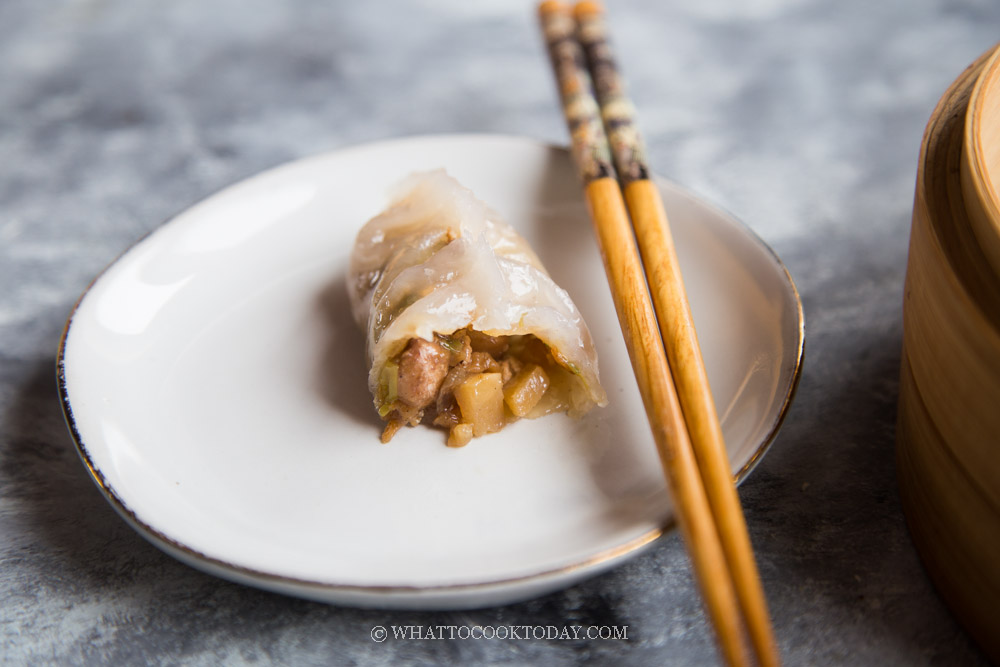 For vegan/vegetarian Teochew dumplings
1. Substitute meat with extra-firm tofu, cut into small cubes
2. Replace oyster sauce with mushroom sauce or vegetarian oyster sauce
3. Add shiitake mushrooms for an extra umami flavor
For gluten-free Teochew dumplings
1. You can omit the dried shrimp and pickled radish
2. Use Tamari or coconut amino instead of regular soy sauce
3. Add shiitake mushrooms for an extra umami flavor
How to make ahead
1. Once you are done wrapping all the dumplings, place them on a baking sheet lined with  parchment paper, not touching each other
2. Put in a freezer and let them freeze for about an hour
3. They won't be completely frozen yet, transfer to a freezer bag or container. They won't stick to each other anymore
4. They can be kept frozen for about 2 months, preferably no longer than that
5. When ready to steam, do not thaw. Simply steam for an extra 3-4 minutes since they are frozen
Did you make this Teochew dumplings recipe?
I love it when you guys snap a photo and tag to show me what you've made 🙂 Simply tag me @WhatToCookToday #WhatToCookToday on Instagram and I'll be sure to stop by and take a peek for real!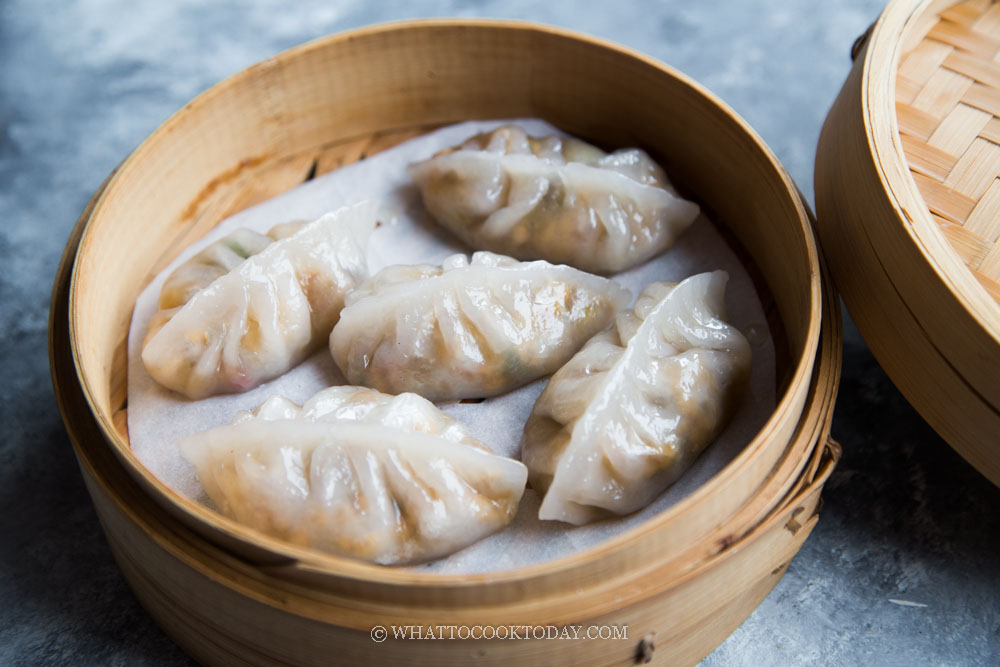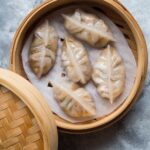 Teochew Dumplings / Chiu Chow Fen Guo / Fun kor (潮州粉果)
Ingredients
Instructions
Prepare the filling: (can be done a few days before)
Preheat a large skillet over medium heat. Add 2 Tbsp of cooking oil and saute the shallots and dried shrimp for about 2 minutes. Add pickled radish and saute for another minute. Push to the side and add the ground meat and saute until they turn color, then combine everything. Add the jicama, celery and seasoning. Saute for another 3 minutes. Add the cooking wine and the chives. Stir to combine. Add the water and cook for another 10-15 seconds. Have a taste and adjust to your preference

Combine potato starch with water and then add into the filling and stir until mixture thickens. Stir in the peanuts and off the heat. Let the filling cool down completely before wrapping. Once it cools down completely, you can cover and keep in the fridge for few days until you are ready to wrap the dumplings
Prepare the dough:
Please note that wheat starch is NOT wheat flour and sorry, there's no substitute for wheat starch in this recipe. You need it to create that transparent skin

Combine wheat starch with tapioca starch/flour and salt. Boil about 300 ml of water, a little over is fine as it may evaporate a bit during boiling. Make sure it's rolling boil hot. This is very important. Pour 300 ml over the starch and use a chopstick to roughly combine. It won't come together just yet. Cover and let it rest for about 5 minutes so it won't be too hot for your hands to knead later

Uncover and the rough dough should be warm. Use your clean hands to knead into a smoother dough now. Add the oil and knead into a very flexible and smooth dough. It should be stretchy because the hot water has gelatinized the starches making the dough easy to work with and won't break easily
Divide the dough:
You can divide the dough into 24 pieces or for more precise, you can pinch off the dough and weigh on the scale to get about 20-22 gram each dough. I feel like this amount gives the right thickness to the wrapper without being too thick or too thin. Keep these dough covered so they won't dry out. Work with one dough at a time
Wrapping:
Roll the dough into a round ball and flatten slightly with your palm and then use a rolling pin to roll into a circle, about 4 inches or so. I can't always get it perfectly round and that's okay, we can always trim off excess dough with scissors later

You can roll out all the dough into circles first, and just lightly dust them with a bit of wheat starch, not too much and stack them slightly and keep them covered

Put about 1 tablespoon or so of the filling on the dough. You can just fold the dough in half and pinch to seal to create a half circle, this is just a simple way of wrapping. If you want to do some pleats, you can do about 6-7 pleats (refer to the video)
Steaming:
Bring the water in the steamer to a boil. Put the dumplings in a bamboo steamer lined with parchment paper with some holes or you can put them on a steaming plate. The latter will take a bit longer for the dumplings to cook through

Steam over high heat for about 8 minutes if using a bamboo steamer. About 10-12 minutes if using a plate. The skin will turn translucent and soft

Brush the skin with a bit of cooking oil
Serving:
The dumplings are best served warm. Though I have tried to leave them at room temperature, covered in cling wrap for a few hours and the skin stays reasonably soft. But dumplings are supposed to be served warm anyway. So simply reheat for a few minutes in the steamer and they will be as soft as when they are just done cooking
Recommended products:
Nutrition
Serving:
1
dumpling
|
Calories:
90
kcal
|
Carbohydrates:
11
g
|
Protein:
2
g
|
Fat:
4
g
|
Saturated Fat:
1
g
|
Polyunsaturated Fat:
1
g
|
Monounsaturated Fat:
2
g
|
Trans Fat:
1
g
|
Cholesterol:
13
mg
|
Sodium:
134
mg
|
Potassium:
119
mg
|
Fiber:
1
g
|
Sugar:
1
g
|
Vitamin A:
113
IU
|
Vitamin C:
3
mg
|
Calcium:
16
mg
|
Iron:
1
mg