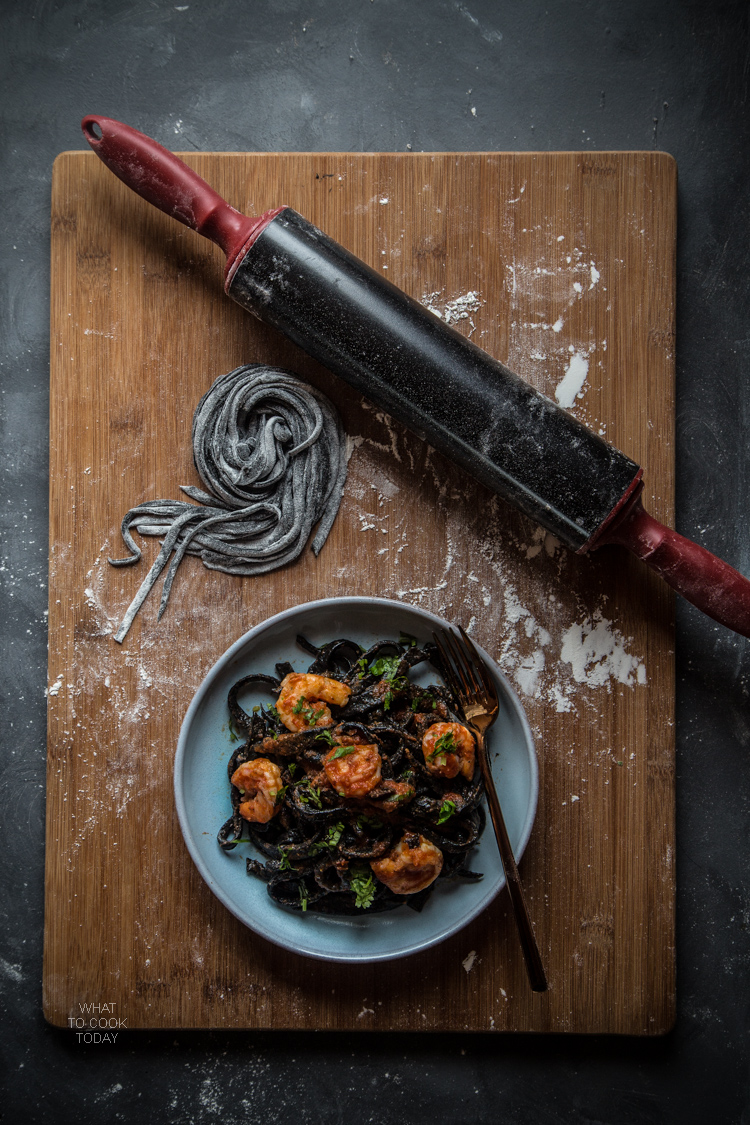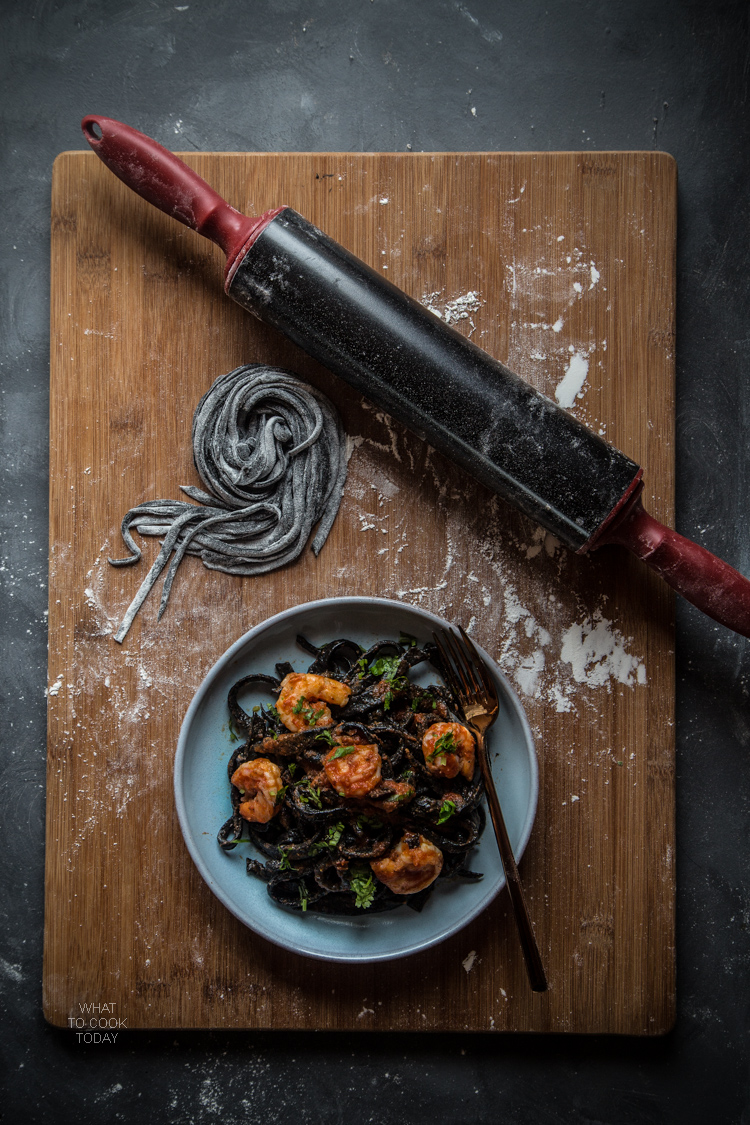 I've been so used to the noise my kids made when they were around. Singing, shouting, arguing, crying, laughing, you name it ! But not that day. That day.. it was a quiet mid-morning. Which was very unusual. But it's going to be a pretty usual thing now for at least three times a week. Fiorina started Kindergarten two days ago. Iven goes to half-day preschool 3-times a week. Yes..I love it. Yes, I miss my kids at the same time. I'll survive. I'll see them when they get home. I told myself it really was time to make some squid ink pasta from scratch! The husband brought back a jar of squid ink pasta when he was at New York. Apparently, shopping for "exotic" ingredients has become his interest too, which I'm totally on board with that.
I first fell in love with squid ink pasta when I ate it at a restaurant in Singapore. There was no turning back. It's like the thing the I ordered when I went to that place. Ask me how squid ink smell or taste like! It has that really strong umami flavor (yucky..for the lack of better words from my daughter) that's for sure. But, once you cook it, the flavor kinda mellow down and just give you that hint of umami. And I swear to God it really turns everything into pitch black !!!!! But I really love this pitch black noodles.
I adapated this homemade squid ink pasta from Serious Eats.
Homemade squid ink pasta with shrimp and garlicky tomato sauce (4 servings)
Ingredients
Pasta dough:
10

oz

all-purpose flour

plus more for dusting

2

whole large eggs

4

yolks from 4 large eggs

4

teaspoons

squid ink

1

teaspoon

kosher salt

plus more for salting water
Garlicky tomato sauce:
12

oz

fresh Roma tomatoes

quartered

2

bulbs garlic

peeled

3

Tbsp

of olive oil

1

lb

of large shrimp

peeled and deveined

2 ½

Tbsp

tomato paste

½

cup

of white wine

3

Tbsp

sugar

Salt to taste
Garnish:
Fresh parsley

Red chili flakes

optional
Instructions
Making the pasta:
Place the flour in a large clean work surface. Make a well in the center, about 4-inch wide. Crack in whole eggs and egg yolks, squid ink, and salt. Use a fork to beat thoroughly and then gradually add in flour into the well using your hands and start kneading the dough by using the heel of your hand into the ball of dough, pushing forward and down. Rotate the ball 45 degrees and repeat. Continue until dough develops a smooth, elastic texture . It will be very sticky at first, but the more you knead, it will come together into a smooth ball. Adding a bit of flour if it's too sticky or a little bit of water if it's too dry. Wrap the dough up with plastic wrap and let it rest for 30 minutes

After 30 minutes, dust your work surface with some flour and, cut the dough into 4 sections. Working with one dough at a time and let the rest covered to prevent them from drying out.

Roll the dough out into an oblong shape as thin as you can. I don't have a pasta maker, so I cut the dough manually using a knife. I dust the dough with more flour and folded the dough three time and cut them into equal width. Unfold them and dust with a bit more flour
Preparing the sauce:
Place the tomato and garlic in a food processor and blitz into slurry. Preheat a large skillet and add in 3 Tbsp of olive oil and saute the shrimp until they turn opaque and dish them out and set aside. Add in the tomato paste and saute for about 1 minute. Pour in the tomato sauce. Bring to a boil and then add in wine, sugar and pinch of salt. Bring it back to a boil and let the alcohol cook off and have a taste. The sauce should be savory, garlicky with some hint of sweetness but not too sweet. Lower the heat to keep it warm while you cook the pasta

Bring a large pot of salted water to a boil. Add in the fresh squid ink pasta and stir gently to prevent them from sticking together. You want to cook it to al dente, about 1 1/2 minute or so. Reserve about 1/2 cup of the cooking water and drain the rest. Don't rinse the pasta with water, so the sauce will cling better
When ready to serve:
Add in the shrimp into the sauce you prepared earlier and give it a light stir and add in the cooked squid ink pasta. You may add more of the reserved pasta water if needed. The sauce should be somewhat a bit loose but not runny. Turn off the heat and transfer to a large serving platter and serve family style
I really love this homemade garlicky sauce. It goes really well with the squid ink pasta. I would definitely be making it again. And hopefully I'll have a pasta maker by then.