Otak otak or sometimes called otah otah or grilled fish cake in banana leaves has this amazing flavor of homemade fish paste grilled in banana leaves and served with tamarind peanut sauce. It is just out of this world.


2016 has almost come to an end! Crazy isn't it ? It seems like time just zoomed by in the speed of light! How has my year been ? To sum it all up, it's been a year with many ups and downs of course. A year full of learning when it comes to parenting, cooking, baking blogging, and self-improvement. I've definitely collected more props from this year alone compare to what I've owned in the past 5 years 🙂 I swear few of the ladies at the checkout lines at GoodWill probably recognize me by now. A lady who always goes home with boxes of ceramics and earthern ware!!
2016 is also the year I was actively posting on Instagram for few months and known many talented people. To mention a few of my favorite IGers and bloggers: My Blue Tea Cup, SaltnPepperHere, Beyond Sweet and Savory, Lime and Cilantro,Historias del Ciervo, XLBCR. There are many who aren't bloggers but have outstanding talents in what they are doing. I gotta say that I learned a great deal from this community. It's incredible to see the creativity a person possesses! Instagram has probably one of the most engaging community among the social media giants. I loved it yet at the same time I found myself on my phone ALL.THE.TIME. All the likes, the followers and the attention I was getting were the addictive factors here. Things get even worse when they rolled out the Instagram stories where you can video what you are doing right then and there. And I just want to story whatever I'm doing pretty much! Yeah…no self-control I would say! One day I decided to call it a quit and kinda just stop cold turkey! Guys….don't get me wrong. I'm not saying that IG is bad for you and you shouldn't be using it. Just like many social media accounts, you have to exercise self control. A LOT ! I got a little too obsessed that I knew I needed to step away. That's all 🙂
2017 is definitely a year I'm looking forward to cooking more and more Southeast Asian food, especially Indonesian. One of my other resolution is also to really hammer in that Chinese inside my kids' heads! I want them to really learn to speak Chinese. They understand most of the Chinese I speak to them, but they don't really speak it! Let's see if I can make it happen in 2017 (God gives me some patience please!)
Enough of New Year's resolutions talk !! Let's talk about food! This otak otak is my favorite snacks from childhood that I want to share with you guys. This is also my last post for 2016. I remember how I always chose otak otak at the bakery shop (yes, they sell these at the bakery shop) when my dad asked what we wanted. My dad was a huge bread person. He loved bread, cakes, and pretty much anything sweet, which often explained our frequent visits to bakery shops around the town. At some point he even considered franchising a bakery shop.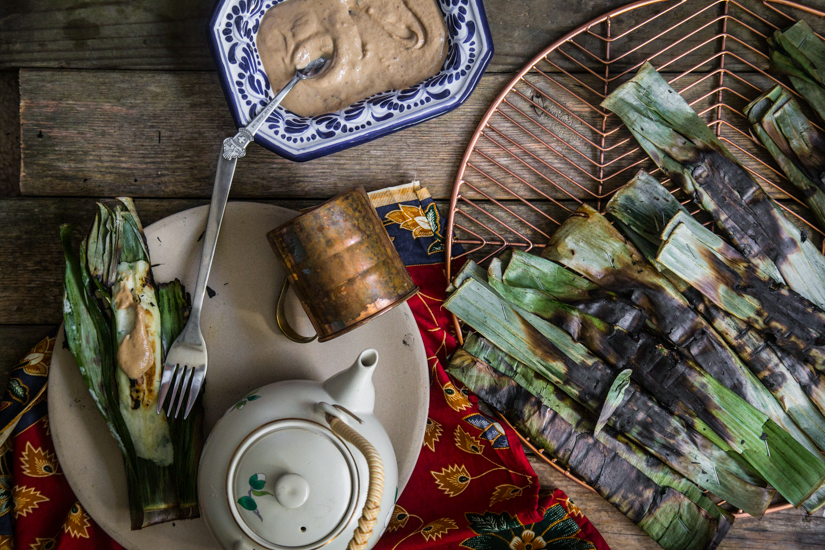 So, what is otak otak ? Otak means "brain" in Indonesian language. Yes, the brain that is inside mine and your head. Fret not, it is not made from any brain matter however. The reason why it is called that because of how it resembles the brain in certain way, white and soft. Indonesian otak otak is made of fish along with other spices processed into a paste and usually white in color. This fish paste is then wrapped in banana leaves and then steamed and grilled on charcoal grill, hence its translation: grilled fish cake in banana leaves.
Grilled fish cake in banana leaves (Otak Otak)
Ingredients
Otak otak:
1 1/2

lbs

boneless skinless mackerel fillets- roughly chopped

5

shallots

3

cloves

garlic

5

Tbsp

of corn starch

1/2

cup

of coconut cream

1

egg white

beaten

1

tsp

of salt

1/2

tsp

of white pepper powder

1

Tbsp

sugar

3

stalks of spring onion

finely chopped

10

pieces

of 6 x 6-inch square of banana leaves

and few extra in case some of them has some tear, or use aluminum foil if you can't find banana leaves

Toothpicks or stapler
Tamarind peanut sauce:
1

cup

of unsalted roasted peanut

1 1/2 - 2

cups

of water

3

Tbsp

of tamarind paste

2-3

bird's eye chili

more if you like it spicier

1

Tbsp

sugar

Pinch of salt

Juice of 1/2 lime
Instructions
You can prepare the tamarind peanut sauce few days before:
Place all the ingredients in a food processor and process into a smooth runny paste. Have a taste and add more salt and sugar to your taste. Store in a glass jar and refrigerate
Preparing otak otak:
Place the shallots, garlic, and fish in a food processor and process into a smooth paste. Stir in the rest of the ingredients (except for banana leaves) and stir well to mix in everything. Cover and refrigerate for about 20 minutes

Wipe both sides of banana leaves cleaned with damp towel. Place about 1-2 heaped tablespoon of the fish paste in the center of the leaves and spread it with the spoon into a long vertical shape

Roll both sides of the leaves over and then fold the leaf near your side over and secure it with toothpick or stapler. Repeat with the opposite side. Continue until you are done with the fish paste

I cook the otak otak directly on fire on the stove top to get that char. Use a heat-proof tong to flip the otak otak over as you grill them. The aroma of the banana leaves are heavenly !

Serve with tamarind peanut sauce
Notes
© What To Cook Today. All images & content are copyright protected. Please do not use any of my images without my permission. If you want to share this recipe on your site, please re-write the recipe in your own words and link back to this post as original source. Thank you so very much.
Otak otak can be found in other parts of Southeast Asia like Malaysia and Singapore with some variations, usually brown reddish in color. It is also pretty similiar to Thai steamed fish cake / Ha mok pla too. I love them all. Otak otak can be eaten on its own or serve with nasi lemak / coconut milk rice. I haven't had this in ages, and when I smelled the banana leaves being charred in grill…I was literally transported back to childhood!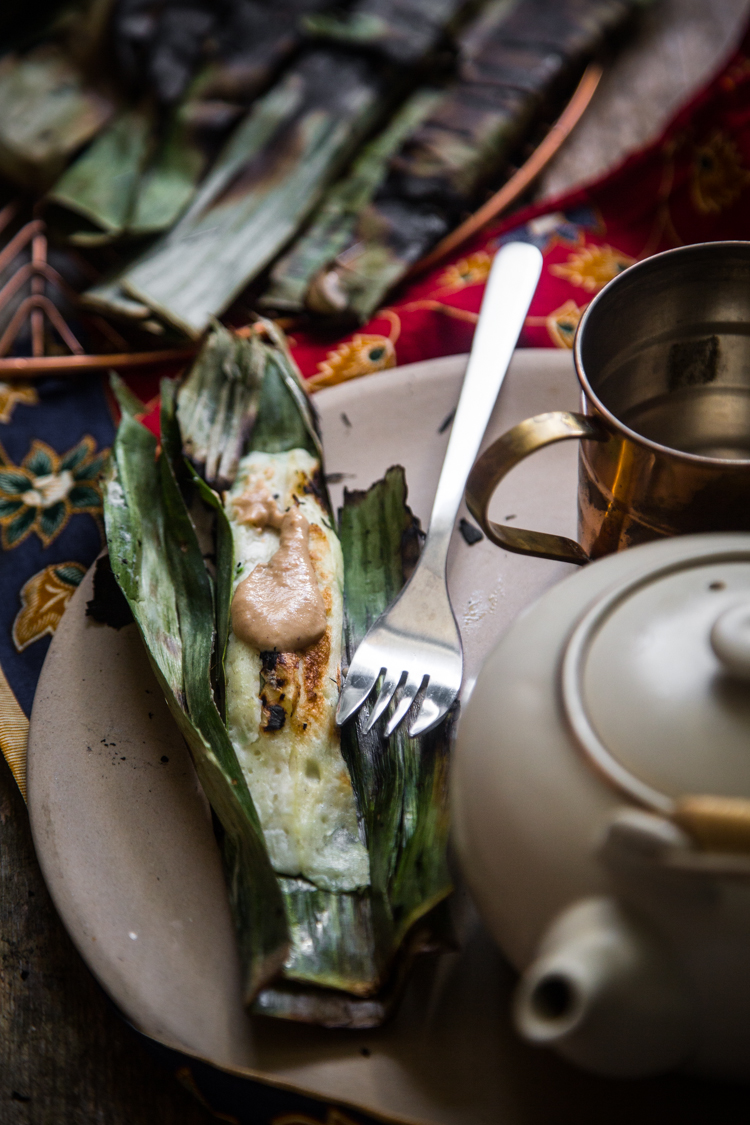 Check out other Southeast Asia Recipes you might be interested in.