Thai steamed fish cake or known as ha mok pla in Thai language is another one of my favorite Thai food. The fish fillet is finely chopped and seasoned with Thai red curry paste and herbs like basil and kaffir lime leaves and then steamed in a cup made of banana leaves. The banana leaves will impart flavor to the fish cake and you get one delicious ha mok pla. In Indonesia, we have a fish cake almost similar to this, called otak otak. It is usually wrapped in banana leaves and then grilled. So delicious too. I gotta try to make that one of these days!
Okay, back to the ha mok pla. It is not difficult to make. Banana leaves are available in frozen form at Asian grocery store and you may be surprised that you may find banana leaves at your local non-Asian grocery stores.
This recipe also calls for coconut cream. Please don't confuse it with coconut milk. Well, they are both made of coconut, but coconut milk is pretty much like cow's milk in term of consistency while coconut cream is more concentrated. Coconut milk is what often used in curry and coconut cream is often used, in this case, as topping or some dessert.
I find ha mok pla is highly delicious and easy to prepare and so very flavorful. Give it a chance and you might like it!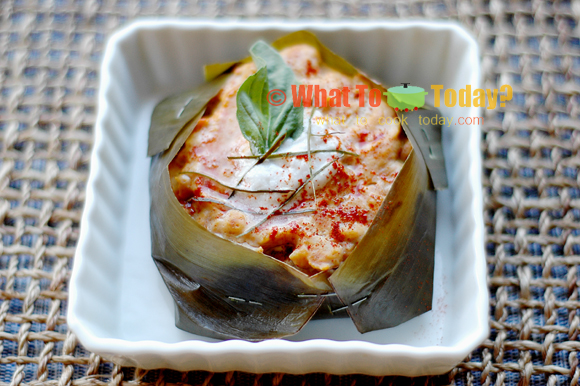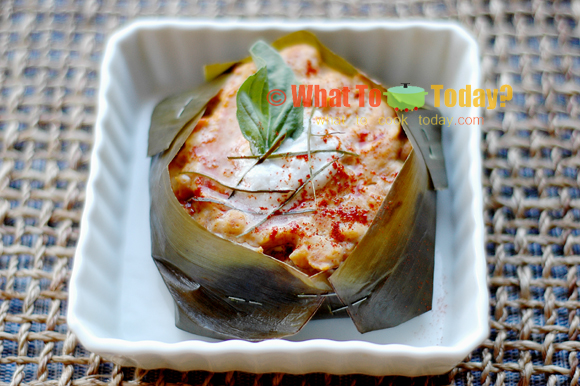 THAI STEAMED FISH CAKE/ HA MOK PLA
Ingredients
1

big banana leaf

15

Thai basil leaves

6

oz

(175 g) white fish fillet, chopped very finely

2

Tbsp

Thai red curry paste

2

Tbsp

thick coconut cream

3

kaffir lime leaves

, shredded finely using kitchen shears

1

Tbsp

fish sauce

1

egg

, lightly beaten

GARNISH:

1

large red chili

, seeded and finely sliced in strips

1

kaffir lime leave

, shredded very finely using kitchen shears

Extra Thai basil leaves

2

Tbsp

thick coconut cream
Instructions
Prepare the banana leaf by using a tong and hold the banana leaf above the flame. This is to soften the banana leaf so that it won't break when you fold it

Make 4 banana cups. Cut out 4 squares of 5 x 5 inches. Take a glass or a bowl with a diameter of about 4 inches use this as a mould to cut out circles on the squares you made earlier. So now you have 4 circles. The banana leaf has two sides, one is glossy and the other side is non-glossy. Flip the glossy side down, so the non-glossy side face you. Make an inch deep tuck and 2.5 inch long and staple (you can use wooden toothpick but I found it easier with stapler). Repeat at the opposite point, then at the two side poins, thus making 4 tucks and you have a square-shaped cup

Put some basil leaves at the bottom of the cup and set aside

Put the fish in a mixing bowl, add curry paste, coconut cream, kaffir lime leaves and fish sauce. The mixture should be thick like a paste. Combine well and mix in the beaten egg. Divide this mixture over the cup. You can fill all the way to the top or a bit more in the middle. It will expand a little when you steam

Prepare your steamer if you have one. If you don't, you can use a large pot (large enough to harbor a plate you will be using for steaming), fill it up with water and then place a heat-proof bowl or a glass inside the pot (the water should only be touching about 3/4 of the bowl or glass). Then place the fish cake on a plate and place the whole thing on top of the bowl or glass (make sure it's stable). Steam for 20 minutes until cooked

Garnish with chili, kaffir lime leave, basil and a bit of coconut cream. Serve immediately