Nasi goreng or fried rice is undoubtedly one of the easiest and most Asians' favorite dishes to make. Leftover of this and that can turn into wonderful meal in no time. Stink bean fried rice is one popular Indonesian street foods. There is no middle ground here, it's either you like stink beans or you don't 🙂 (I'm IN LOVE with them!)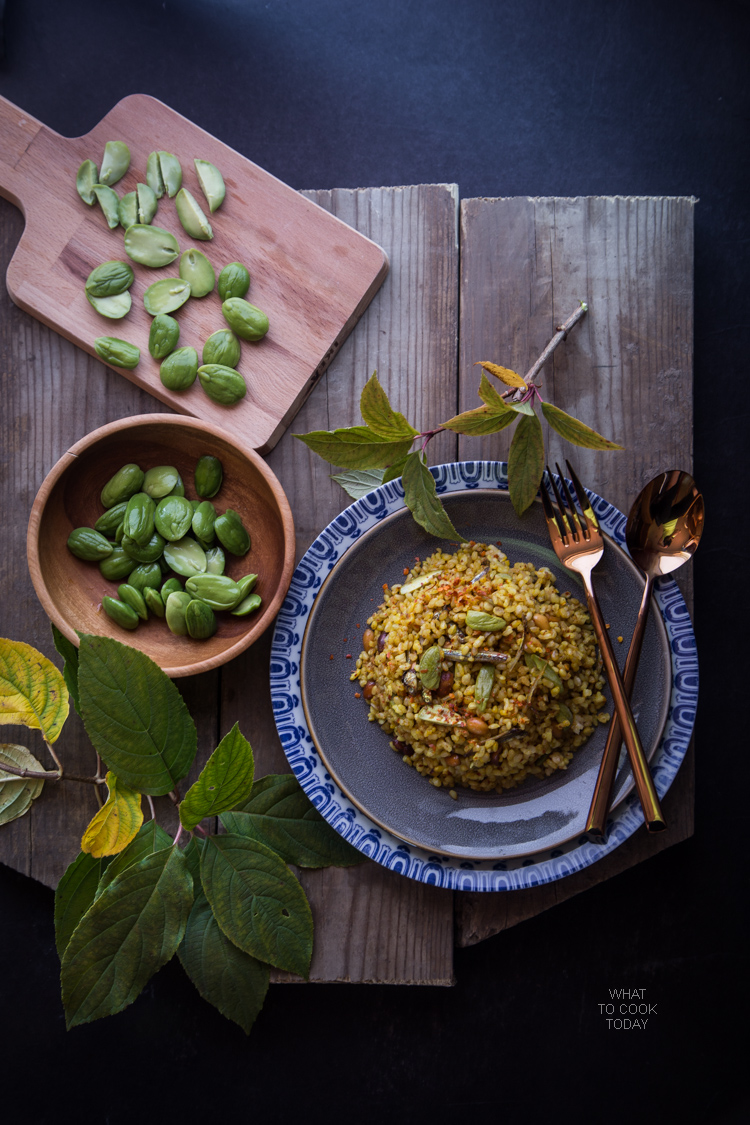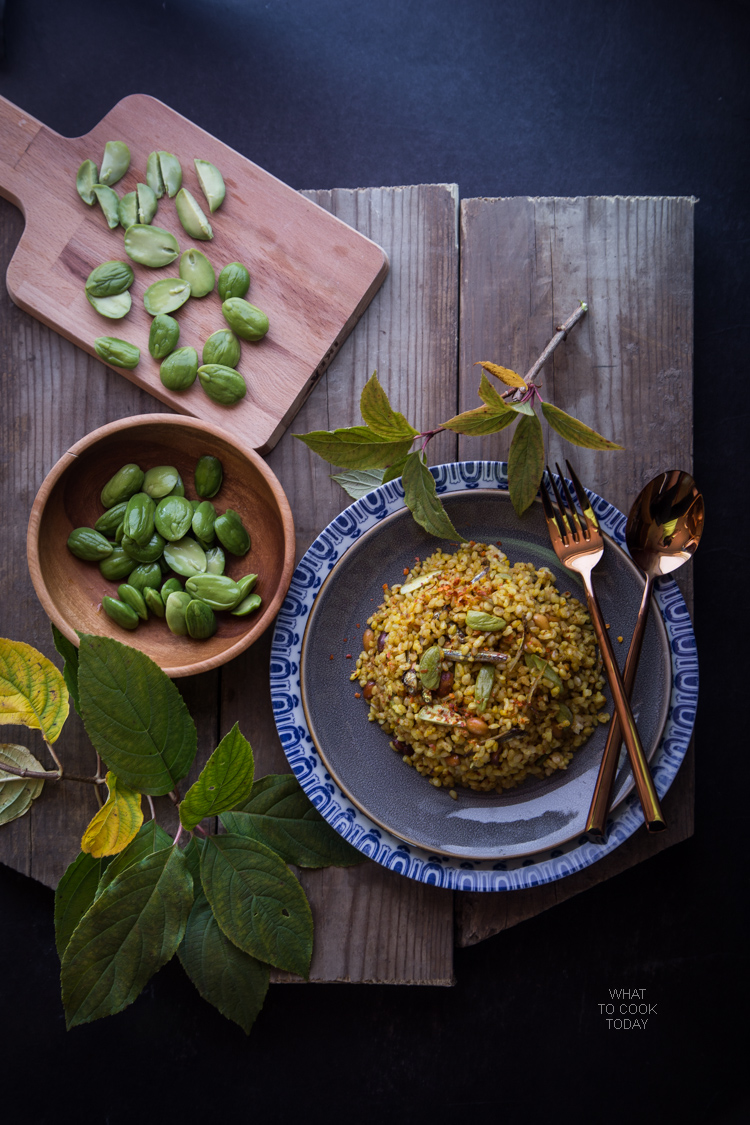 I do think I have affinity for stinky food. I grew up eating TONS of stink beans (petai). Only my dad and I love to eat petai at our house. Stink beans are known as Parkia Speciosa . They are called stink beans for reason I suppose. They stink literally everything from the time the beans enter your mouth and you chew it all the way to your waste products (pee and poop to be precise, sorry for the lack of better words!). So my dad and I were pretty much condemned by the rest of the family member whenever we ate petai, but that did not stop us! NEVER ! I went crazy with grilled petai!
I think I might be the last one at my side of family lineage who love petai, though my 3-year old son might show some potential. He didn't seem to mind when he ate them with rice, but on their own, he would spit them out. My daughter told me "I would give these a big "X" mom!". I did not pursue further! Thank goodness my husband loves petai too! We are the stinky duo whenever I make anything with petai! I can only find frozen petai here, but they are still stinky enough 🙂
I usually make sure I'm not meeting any friends the next day or if I do, I have plenty of mints in my purse. I'm not exaggerating you guys! When I say they are stinky, they really are stinky to the max ! But, the kind of stinkyness I like ! Here is my version of Nasi Goreng Petai!
*Contains affiliate links
Stink bean fried rice (Nasi goreng petai)
Ingredients
2

Tbsp

cooking oil

¼

cup

small to medium dried anchovies

½

cup

roasted peanuts

½

cup

stink bean/sator bean/petai

split open and halved

2

large eggs

2

cups

cooked white rice

1

tsp

good-quality turmeric powder
Aromatics:
2

shallots

peeled and thinly sliced

2

cloves

garlic

peeled and finely minced
Seasoning:
1

tsp

fish sauce

or more to taste

½

tsp

sugar

1

Tbsp

chicken powder

optional

1

Tbsp

sambal oelek

optional

Salt to taste
Instructions
Preheat the large wok/skillet with cooking oil. When oil is hot enough, add the dried anchovies and roasted peanuts and fried until the anchovies are crispy. The time depends on how small or large the anchovies are. The peanuts should be just lightly brown. Sprinkle a tiny bit of salt and sugar and give it a quick stir. Dish them out using slotted spoon. Set aside

In the same wok/skillet, add in shallots and garlic. Stir fry until very fragrant. About 30 seconds. Add the stink beans and stir fry for about 20 seconds. Push to the side. Crack in eggs. And let the eggs cook until the white started to solidify. Use your spatula to break the egg yolks and start to scramble them into little pieces. Add the rice followed by turmeric powder and seasonings

Serve with the fried anchovies and peanuts you made earlier on the side
Notes
It's best to use leftover rice or rice that you have cooked the day before. The rice needs to be cold or at least room temperature so they won't clump together when you stir fry them.
© What To Cook Today. All images & content are copyright protected. Please do not use any of my images without my permission. If you want to share this recipe on your site, please re-write the recipe in your own words and link back to this post as original source. Thank you so very much.
I try not to make this very often because I can load up on this plate after plate! Spicy and stinky! I can't ask for more !

PIN IT!

Check out other Southeast Asia recipes you might be interested in.