Chinese red dates tea is made with dried red dates and can be made on the stove or instant pot pressure cooker. This easy simple tea recipe is nourishing to the body.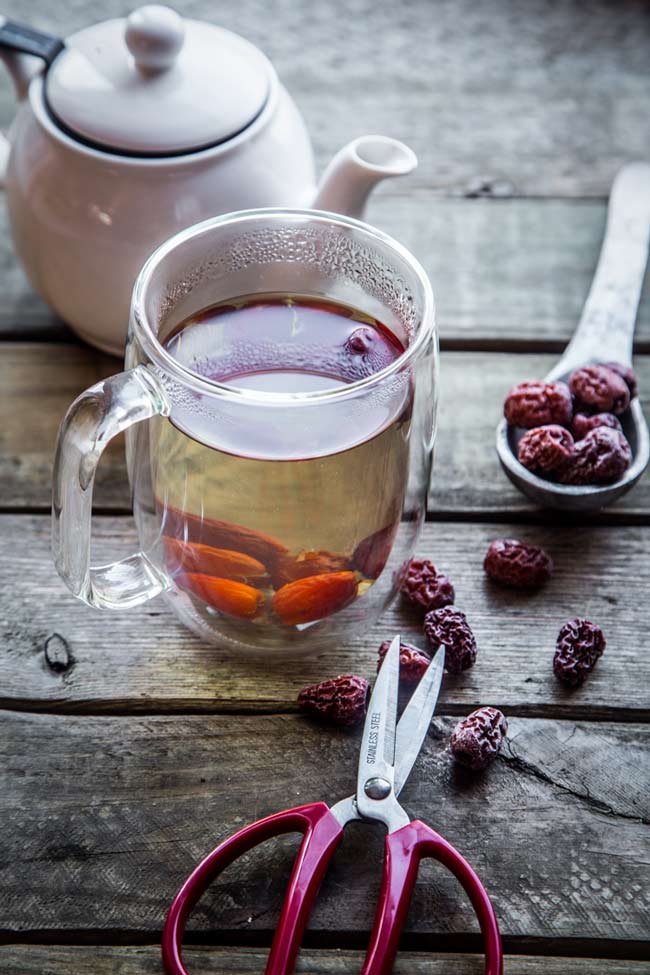 *I was still pregnant with our first child as I was typing up this recipe 🙂 How time flies! Now 7 years and 2 kids later, it's amazing that I'm still blogging. I really have to squeeze in time to do this but it's what makes me sane among the other craziness that is going on with life. I thought I would update the horrible photos with something more acceptable*

Enjoying tea is pretty much part of Chinese culture and now I can probably say it has gotten so common everywhere around the world that you will be overwhelmed by what kind of tea to get and to drink to promote health or just for enjoyment.
I'm almost towards the end of eighth months of pregnancy. Okay, what does that have to do with this post?
My mom called me the other day and asked me if I have any Red Dates in my pantry. I normally use Red Dates for cooking Chinese traditional herbal soup, so the answer was YES. I was informed that now, at around 34 weeks of pregnancy, is the perfect time to start drinking Red Dates Tea 2-3 times/week.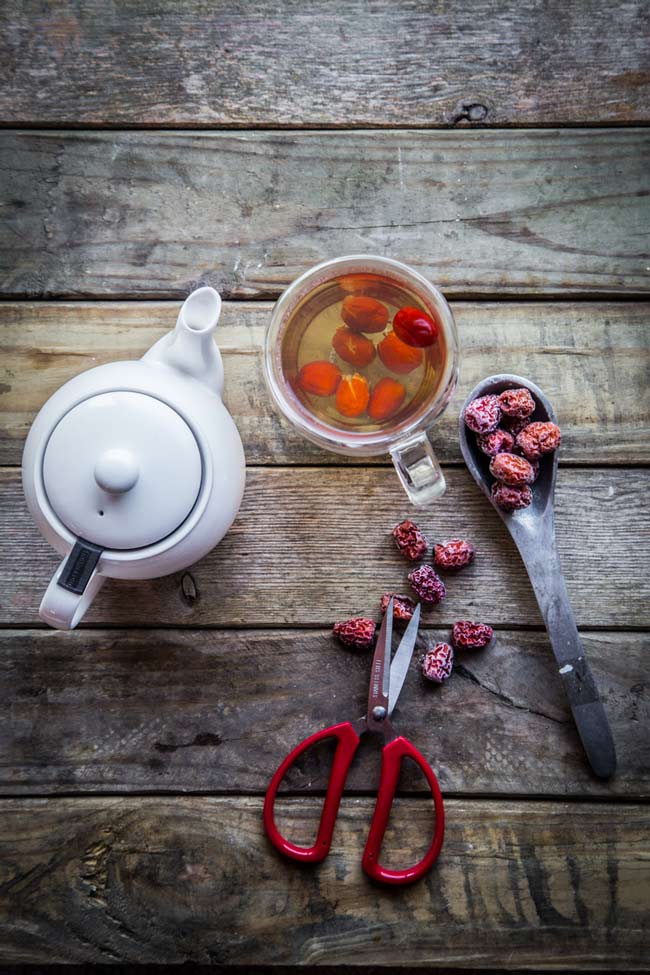 The Chinese believe that Red Dates tea has a "tonic" effect on the liver for a pregnant woman at this stage of pregnancy (not earlier than 34 weeks) and also to the baby. Please don't ask me for any systematic review of scientific data to support this as I don't have it 😉 I just ride along with the Traditional Chinese belief and I don't see any harm in doing this either. As a matter of fact, I think it's fun to take part in this process during pregnancy.
This Red Dates tea is also going to be my best buddy from now on until 1-month post pregnancy with an exception that post-pregnancy, there will be few more herbs added to the red dates tea and I will be drinking it every day as much as I can (almost replacing water completely). Why ? It is also believed that post-pregnancy, the body loses "heat" or the Chinese often call "Qi". So, the Red Dates tea and among many other foods specifically prepared for a pregnant woman, will help to restore the heat and help the body to recover from labor and delivery.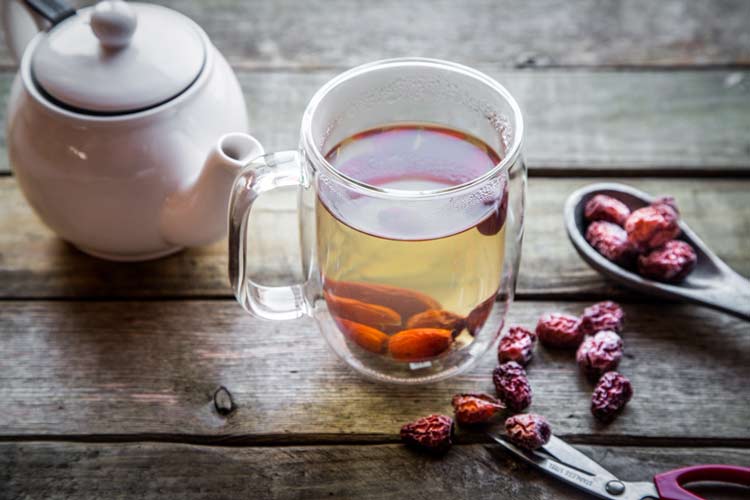 This specific food isare often called in general as "CONFINEMENT FOOD" or "CONFINEMENT DIET" I will write more about that when the time is closer as I will be practically and literally CONFINED for one month inside the house postnatal, no out and about during that one month, both mama and baby. So, don't be surprised if you don't see us out there lol, We're not missing, We're inside the house for full one month! That's what my mom is here for as well, to help out with preparing and cooking confinement food for full one month as I nurture this body. I will share with you guys when the confinement food is on my menu 😉
Okay, way off the track, now back to the Red Dates Tea. It has to be prepared in a specific way, specific amount and specific time and even though it is called Red Dates Tea, there is no tea leaves or tea of any kind involves in this. Huh?!? it is called Red Dates Tea because it looks like the color of tea.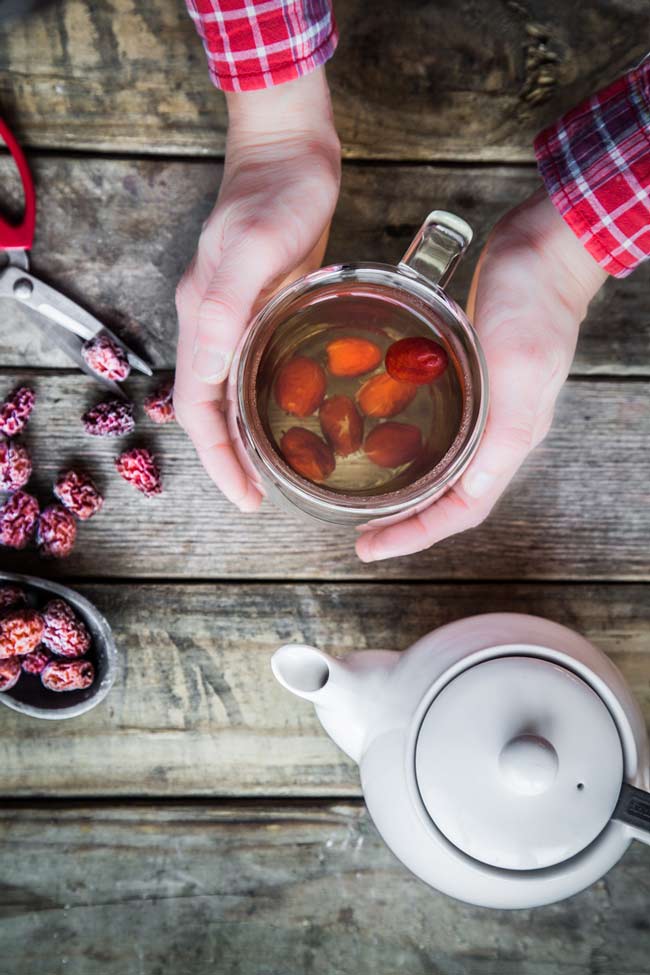 DISCLOSURE: This post contains affiliate links, which support this site at no extra cost to you. Learn more.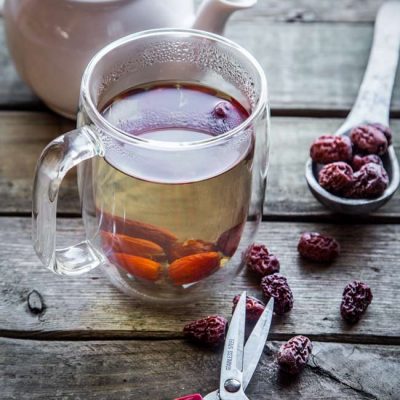 Chinese Red Dates Tea
Chinese red dates tea is made with dried red dates and can be made on the stove or instant pot pressure cooker. This easy simple tea recipe is nourishing to the body.
Total Time:
1
hour
5
minutes
PIN RECIPE
PRINT RECIPE
Ingredients
Recommended equipment:
Instructions
The night before:
Rinse the dates cleaned with water. Take each date and use a pointy scissors and make 7 snips around the edge on one of the ends. My mom specifically emphasize 7 snips, not 8, not 6. Okay mom! This helps the dates to release the "good" stuff

Soak it in 400 ml of hot water until the next morning

Transfer this to a small sauce pan/pot and let it boil on a very very low heat for one hour. The heat has to be super low or you will end up with no water at the end of one hour. The idea is to let it cook slowly and release whatever the red dates need to release into the water and this will be your tea

Let it cool down and ready to drink. If you are drinking this for "fun", you can add sugar
Notes
You don't have to transfer the tea to a tea pot. I was doing so for photography purpose. I do love this
Double Wall Mug
from Zwilling J.A. Henckels (not sponsored). It keeps the mug cool to touch while being able to show you the content at the same time 🙂 Honestly, there are some days I just skip the soaking overnight part and brew them on low heat for 2 hours