Tom Yum Goong is a very popular Thai soup that is sour, spicy, savory and incredibly aromatic. This version here is a clear soup and very easy to make.
I was lucky to have known some good Thai friends who were so good at cooking, Thai food especially. They cooked the spiciest and most bold tasting food I've ever tasted. I think that was when my love for Thai food started to grow back in college time. I didn't know much about cooking back then. I was spoiled with the curries they made, the stir-fried noodles, and arrays of street food.
WHY THAI TOM YUM GOONG IS SO TASTY AND ADDICTING
Tom yum goong is characterized by its distinct hot and sour flavors, with fragrant herbs generously used. The basic broth is made of stock and fresh ingredients such as lemon grass, kaffir lime leaves, lime juice, fish sauce, and chili peppers. Like typical Southeast Asian food, tom yum goong has that savory, spicy, sour taste that I find addicting. Tom yum soup just whet your appetite if you ask me. That sourness is enough to get my saliva flowing !!!
STORE-BOUGHT TOM YUM PASTE VERSUS HOMEMADE TOM YUM PASTE
You can find readily available Tom Yum paste in any Asian stores. You'll be amazed by how many there are out there! One caveat about using store-bought tom yum paste is if you look at the ingredient list, most of the time they have MSG (Monosodium Glutamate). A flavor enhancer that unfortunately, found in many Asian food. I just thought I could try to make a clear Tom Yum soup from scratch, which wasn't that difficult.
TIPS FOR MAKING REALLY GOOD TOM YUM GOONG AT HOME
1. Fresh
If you are using seafood like shrimp, make sure you use large fresh shrimp (previously frozen is fine)
2. Save the shrimp heads
I include the shrimp heads here more for presentation. If you remove the heads prior to cooking, make sure you save the heads to make the base for this soup. It really adds that extra oomph to the overall dish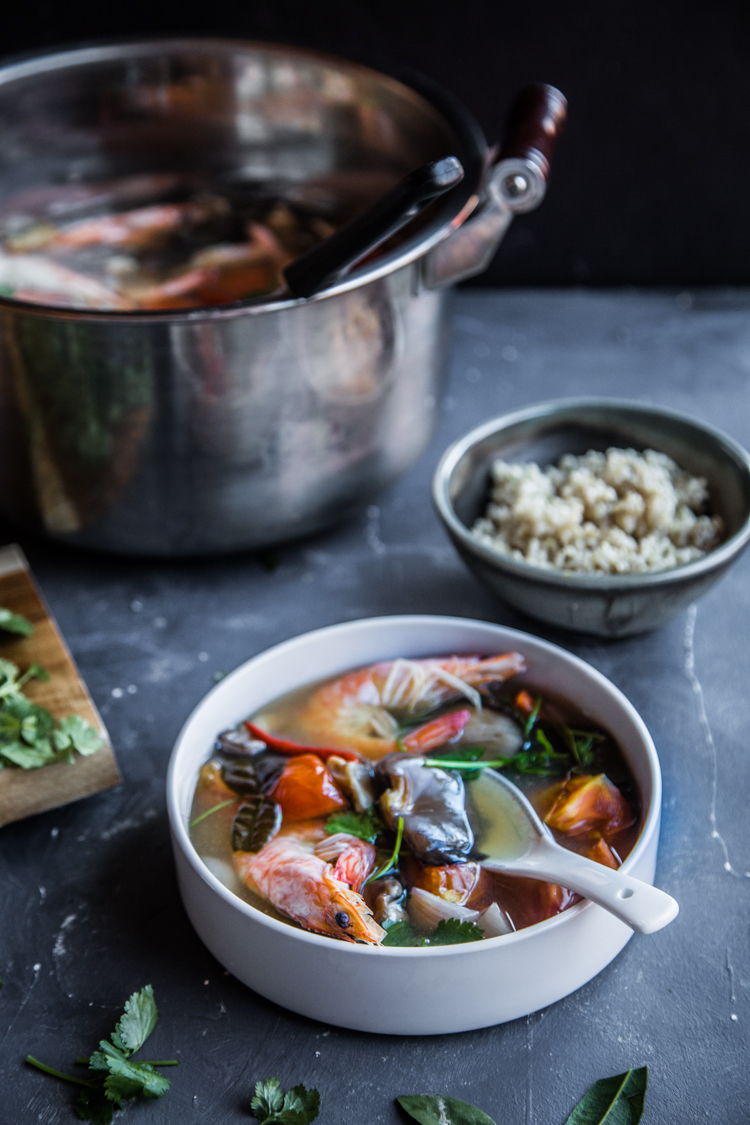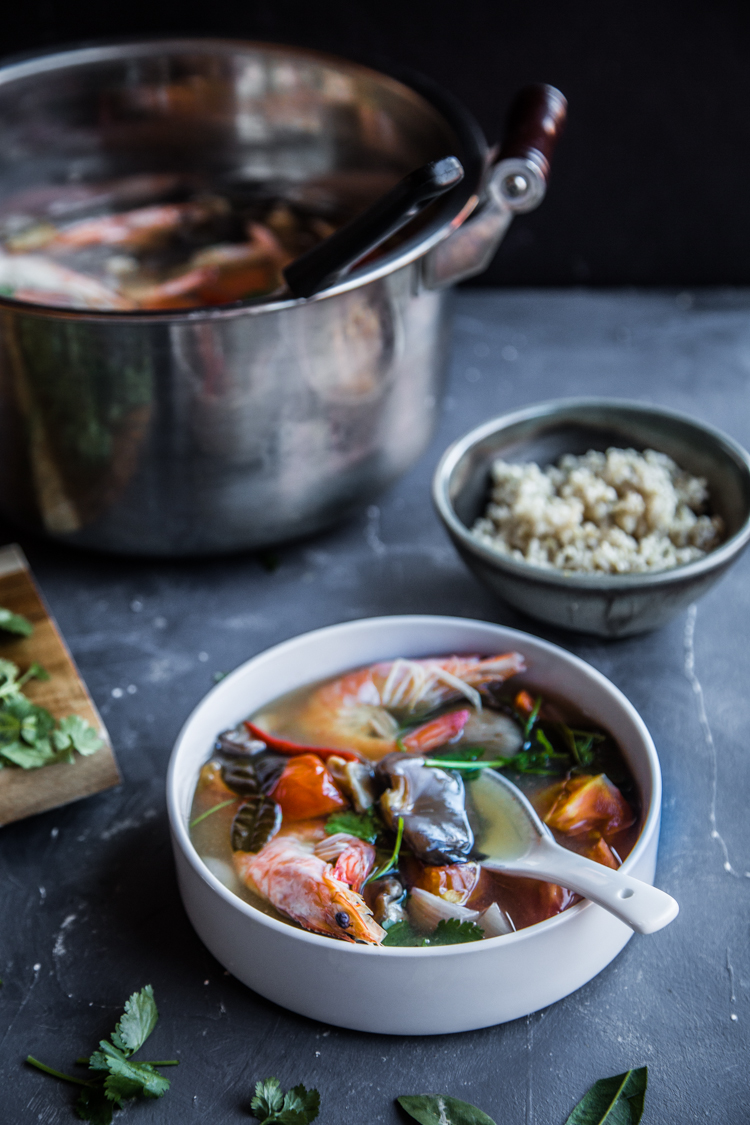 OTHER VARIETIES OF TOM YUM YOU CAN DO WITH THIS RECIPE
Tom Yum can be made with different type of meat or seafood like shrimp, chicken, fish , or mixed seafood and mushrooms. You will also see a creamy version (with coconut milk) and a clear broth version. This is a clear broth version, which I really like.
INGREDIENTS THAT MAKES THIS TOM YUM GOONG TASTES GOOD
Tom yum goong is very easy to put together. There are few special ingredients that you may not be familiar with, but they can be easily found at any Asian grocery store. Some non-Asian grocery stores that carry ethnic ingredients may even have them too.
1. Galangal
You can use fresh galangal root or use a galangal powder
2. Kaffir lime leaves
Fresh kaffir lime leaves are available at the Asian grocery store. The aroma is amazing and needed in making great tasting tom yum goong. They can be at the refrigerated section or sometimes in the freezer.
3. Lemongrass
Fresh lemongrass stalk can be found in the majority of grocery stores these days
4. Fish sauce
This is my favorite brand for fish sauce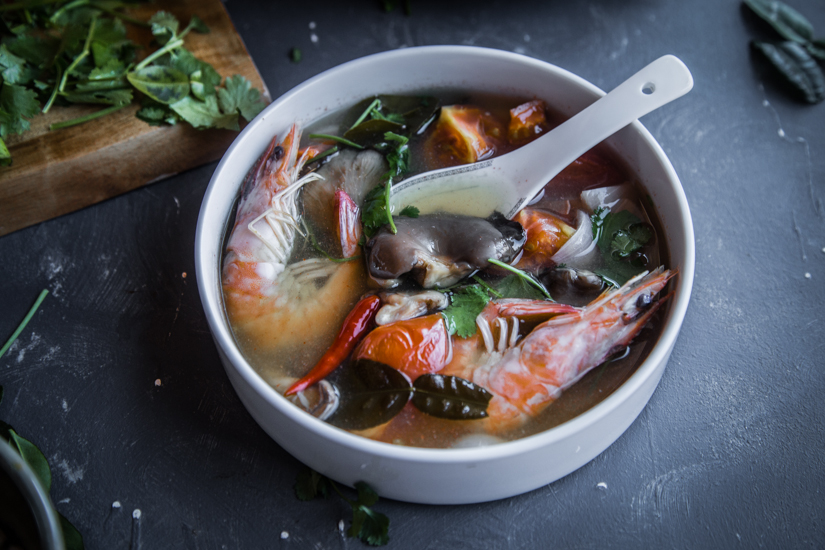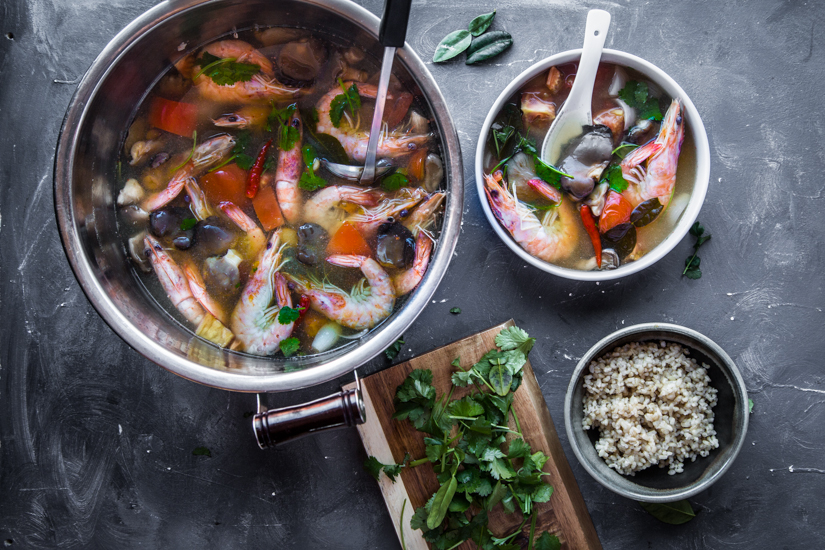 Easy Thai Tom Yum Goong
Ingredients
1

lb

large fresh shrimp

with heads on

1

Tbsp

cooking oil

8

cups

chicken broth

3

cups

fresh oyster mushrooms

1

large tomato

quartered

8-10

Thai red chili

sliced at an angle if you want to release the heat
Aromatics:
5

shallots

thinly sliced

3

cloves

garlic

finely chopped

3-

inch

fresh galangal

sliced, or use 4 Tbsp galangal powder

1

stalk lemongrass

bruised with heavy objects to release flavor

10

fresh limes

15

kaffir lime leaves

tear the edges of leaves to release flavor
Seasonings:
¼

cup

fish sauce

or more to taste

1

Tbsp

sugar

Small bunch of fresh cilantro leaves
Instructions
Prepare shrimp:
Use a knife to run through the back of the shrimp to devein. Use kitchen shears to trim off the tentacles. Leave the heads and the shells intact. If you choose to take off the head, you can use the head to make the stock below (use water instead of chicken broth)

In a large pot, preheat 1 Tbsp of cooking oil. Add in the shallots and garlic and stir fry for about 1 minute. Add in the fresh galangal, lemon grass, kaffir lime leaves, red chili and stir fry for another 1 minute. Add the chicken broth and bring to a boil. If you are using the shrimp's head to make a stock, add it in at this point. Bring it to a boil and let it simmer for 10 minutes. Use a slotted spoon to remove the heads and discard them. Skim off some scums that might formed from the boiling the shrimp heads. Add in the oyster mushrooms and let it cook for 1 minute. Add in the shrimp and let them cook for 2 minutes or so or until the shrimp is cooked through

It's time to season the soup. Stir in the fish sauce, lime juice, and sugar. Have a taste. It should be sour, spicy, savory, with just a hint of sweetness. Add more fish sauce and/or lime juice as needed

When ready to serve, garnish with some fresh cilantro leaves and serve immediately
Nutrition
Serving:
1
cup
|
Calories:
75
kcal
|
Carbohydrates:
11
g
|
Protein:
17
g
|
Fat:
1
g
|
Sodium:
491
mg
|
Fiber:
2
g
Check out other Southeast Asia Recipes you might be interested in.

This blog post contains affiliate links. I earn a small commission when you made purchase at no extra cost to you. Learn more.