Coconut rice is cooked with aromatic herbs topped with chicken and basil and then wrapped with banana leaves and grilled to perfection.
The prospect of doing outdoor activities this weekend is very promising! Can you believe that we are going to have a 50-60 F (about 12-15 Celcius) ? For three days in a row ? Here in Minnesota! In February! February is one of the coldest months for winter. Considering the -35 F windchill we had last month, this upcoming weather is definitely like a summer for us the Minnesotans! I'm telling you people are going to wear slippers and ditch their jackets (I'm talking about myself!). Sorry, I get a little carried away when I talk about weather during winter time!
Not that I will run out there and grill up a storm (but again…can you blame me?), but few months ago I made this nasi bakar (nasi = rice, bakar = to burn/grill, but we are not burning anything!) and the photos were buried deep down in the archives. I'm running behind this whole blogging thing and I'm trying to get my act together at 10:30 pm. So, please excuse me if I type anything wrong or something doesn't make sense to you! I usually will go back to read on my own post again after it's up and try to catch any mistakes.
There are so many versions of nasi bakar out there and honestly, there aren't really any right or wrong recipes if you ask me. That's why I love cooking because it's pretty flexible and forgiving. I cook my rice in coconut milk and aromatic herbs, packed in some chicken and fresh herb, wrapped them in banana leaves and grill them so that the banana leaves impart that amazing aroma to the rice. If you have never grilled with banana leaves before….oh well, truly you are missing out! The aroma is ever so wonderful! Even my 3 and 6 years old kiddos love this nasi bakar.
My version of nasi bakar is more "pale" in color but it tasted amazing. The rice is so fragrant and I think my photos don't do much justice to the actual thing! Some people put some turmeric to cook their rice and so the color is more vibrant. Really….add in whatever you want ! If you are wondering where to get banana leaves ? The frozen section at the Asian grocery store is where they are at!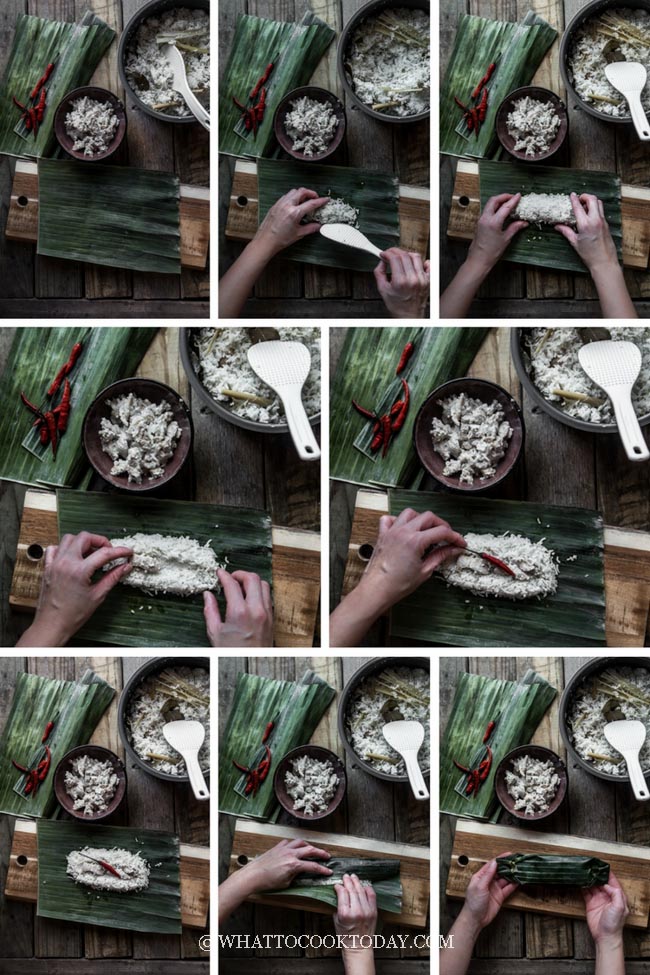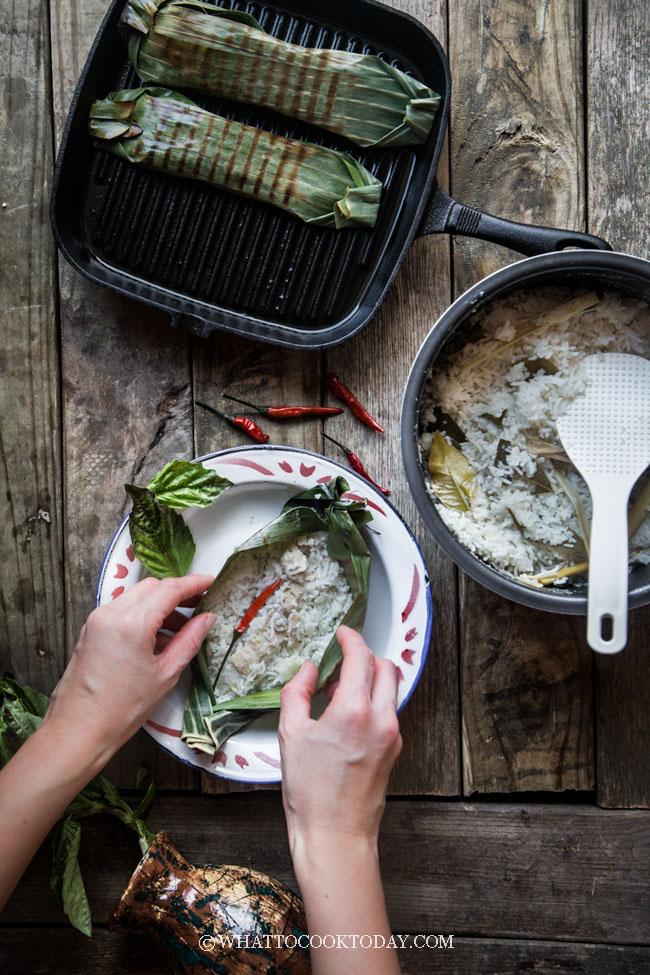 This blog post contains affiliate links. I earn a small commission when you made purchase at no extra cost to you. Learn more.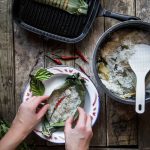 Nasi bakar ayam kemangi (Grilled rice with chicken and basil)
Ingredients
½

lb

boneless skinless chicken thighs

cut into bite size pieces

1

Tbsp

cooking oil

3

shallots

peeled and thinly sliced

3

cloves

garlic

peeled and finely minced

Pinch of salt to taste
To wrap with rice:
Fresh basil leaves

optional

8-10

red chili
Things you need to wrap the rice:
6

-8 pieces of 10 x 10 inch banana leaves

thaw if frozen, wiped clean with damp cloth

Tooth picks
Instructions
Cook the chicken:
Briefly rinse the rice with clean water and drain the water. Set aside. Preheat a large pot with cooking oil. Add garlic and stir fry for 30 seconds. Add shallots and stir fry for another minute. Add the chicken pieces and continue to stir until the chicken turn opaque and cooked through. Season with pinch of salt to your taste. Dish the chicken out and set aside. Shred the chicken meat when it's cool enough to handle or you can leave it in bite-size pieces. It's up to you
Cook the rice on the stove:
In the same pot, add in aromatics: kaffir lime leaves, bay leaves, and lemongrass and stir fry for about 1 minute until fragrant. Add rice and pour in the coconut milk ,chicken stock, and pinch of salt. Bring to a gentle simmer and cover the pot and let it cook for the next 20 minutes. Turn off heat, and let it sit for another 10 minutes while you are preparing other things. Uncover and check on the rice. It should be fluffy and cooked through. Fluff the rice with a fork
Cook the rice in rice cooker:
After cooking the chicken in the pot, remove the chicken and in the same pot, add in aromatics: kaffir lime leaves, bay leaves, and lemongrass and stir fry for about 1 minute until fragrant. Add rice and stir to mix. Transfer to the rice cooker's inner pot. Pour in the coconut milk , chicken stock, and pinch of salt. Set your rice cooker to cook accordingly. Fluff the rice when it's done cooking
Wrapping:
Place one sheet of banana leaves on your working surface. Scoop about 1/2 cup of the rice (it's really up to you how big or small you want your rice packet be) and place in the middle of banana leaves or you can place more at the side near you. Make a shallow dent along the rice and arrange few pieces of chicken on top of it followed by 1 or 2 piece of red chili. Place few pieces of fresh basil leaves on top. Fold the bottom flap over the rice then the top. Secure both ends with tooth pick. If you place the rice near your side at the beginning, then you can roll it up to the other side and secure both sides with toothpick. This will give you a much rounder wrap. My wrapping is more of a "flat" style. Either way is fine

Preheat your outdoor grill or in my case grill pan (because it's winter when I made this). Place each packet on the grill and let it grill until the banana leaves have grill marks on them. The aroma is amazing. Ready to be served. They can be served as is or with other side dishes
Notes
If you are using dried herbs instead of fresh, I would suggest you to double up on the quantity as I feel like the dried herbs are not as aromatic compare to the fresh ones
Check out other Southeast Asia Recipes you might be interested in.