Woo kok is a classic Cantonese dim sum dish which is favorited by many. Mashed Taro is formed into ovals and stuffed with meat and veggies and deep-fried and formed that crusty layer on the outside. No shortening is used in this recipe but still with that amazing crispy crust.
I'm not a person who likes to go to crowded places, not anymore! They say things continue to change as you grow old. I found that's true. Your taste changes, your style changes, your vision changes. But, going to dim sum is one of my favorite things. Especially when the dim sum places still serving food in push carts. The constant chattering noises from the crowds as they are pouring tea and enjoying their food and pushcarts everywhere with stacks of metal steamer with delicious food inside. I love this atmosphere!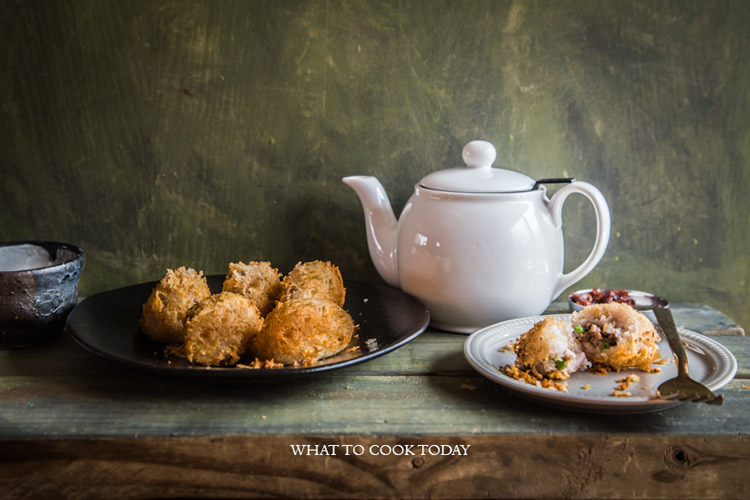 Anyway, I'm sharing with you one of my kids' favorites (our favorites too!). Taro puff or known as woo kok in Cantonese language, It is one of my very favorite items to order whenever we go for a dim sum. I've always had soft spots for taro to begin with (or anything with high carbs lol). Making your own taro puff wasn't as daunting as I thought it would be. It's pretty straightforward as a matter of fact.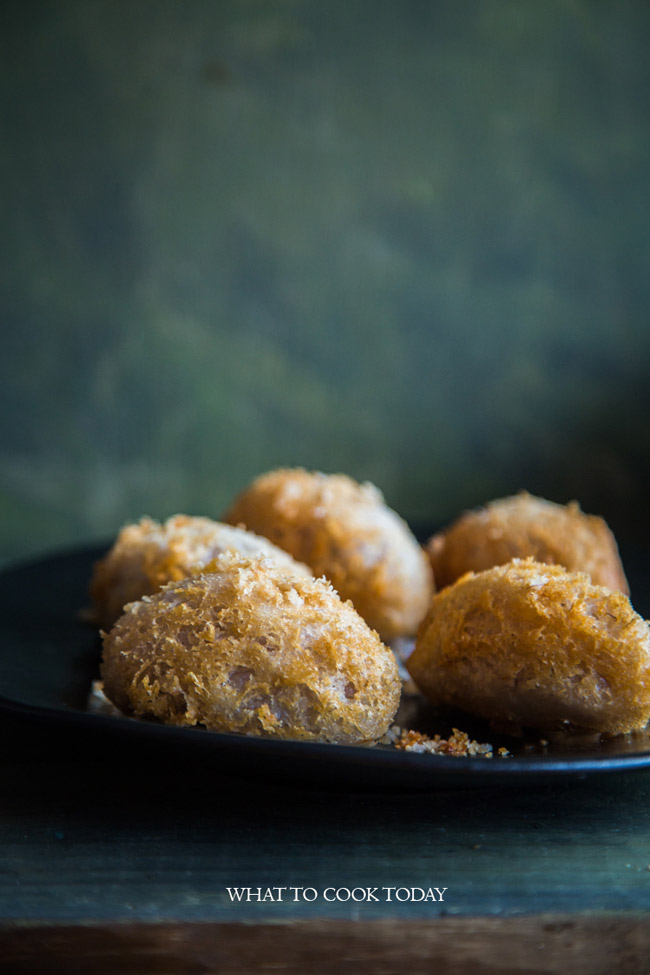 HOW WOO KOK IS MADE
Woo kok is made with taro/Asian yam. Taro has very pale purple color with some dark spots all over. The dough is made of mashed taro and shortening, but I used coconut oil to achieve that crispy layer on the outside. The dough is then stuffed with filling made with minced pork (or substitute with your choice of meat), mushrooms, and some people put green peas.
This blog post contains affiliate links. I earn a small commission when you made purchase at no extra cost to you. Learn more.
TIPS FOR HOW TO MAKE WOO KOK SUCCESSFULLY AT HOME
1. Cook the filling the day before
I like to do this so I don't get overwhelmed trying to do everything on the same day
2. Use the right kind of wheat starch
The recipe calls for wheat starch, which is different than what we called all-purpose flour here in the U.S. Wheat starch has most of its gluten remove and mainly starch left, where wheat flour still has gluten that gives you that stretchy pull. Wheat starch can only be found in Asian grocery store (as far as I know!).
Do not replace with all-purpose flour, or tapioca starch, or corn starch, it's not the same thing.
3. Make sure the filling is cool enough before wrapping.
This will actually make your life easier when you wrap. If the filling is still warm, it will make the dough sticky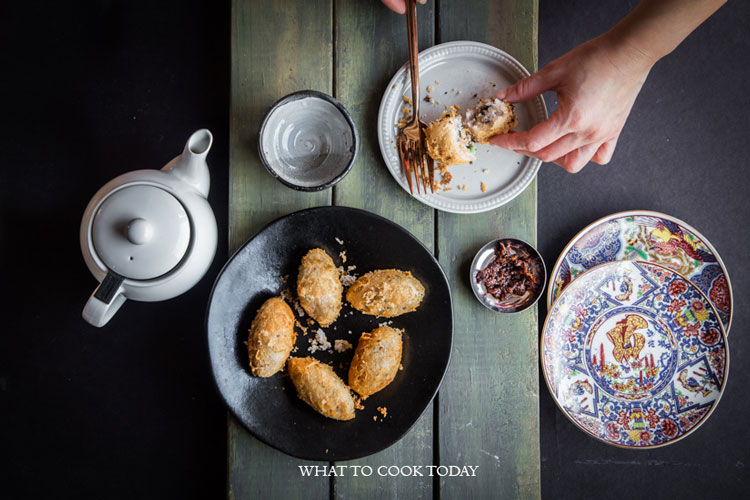 WOO KOK CAN BE MADE AHEAD AND FREEZE
Here's how to freeze uncooked woo kok:
Once you have filled and shaped the dough into oval, place them on a baking sheet lined with parchment paper. Pop in the freezer and let them chill until they are solid, about 1 hour or so. After that, transfer them to freezer bag and they will not stick to each other anymore
Here's how to cook them after freezing:
Do not thaw them. Preheat oil for deep-frying. Once the oil is hot enough, lower the heat to medium and then fry the frozen woo kok in small batches, I suggest one at a time to start with until you get the hang of it. We don't want the outside to get dark too quickly and the inside is still cold or worst, frozen.
I'm happy with the result and even happier when I bite into the crispy outside and the soft and savory filling. It is to die for !!! I used coconut oil instead of shortening. The result is still amazing but without the shortening!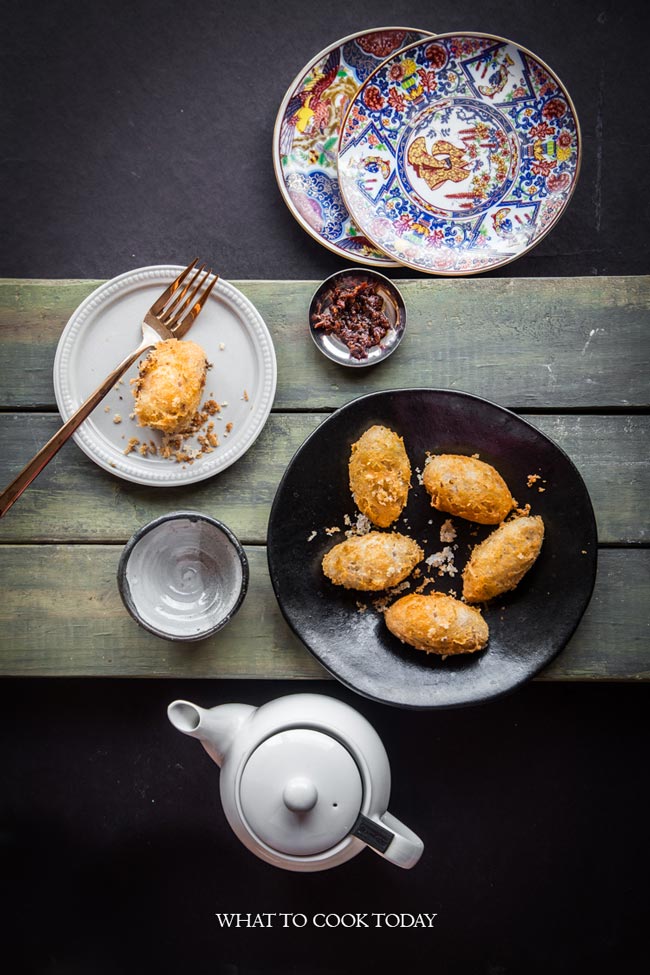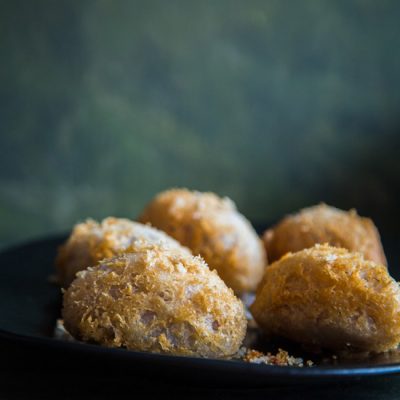 Learn how to make delicious woo kok without using shortening and still has that delicious crispy outer layer crust and soft savory filling.
For baking/ kueh making: I highly encourage to weigh ingredients with a digital kitchen scale instead of using measuring cups as they are not very accurate especially when it comes to recipe that requires precision.
GRAMS TO CUPS CONVERSION (UNSIFTED)
INGREDIENTS
For the dough:
700

gr

taro (already peeled weight)

-

about 1 1/2 lbs

130

gr

Wheat starch -

about 1 cup 1 Tbsp. Only available at Asian grocery store

1

Tbsp

sugar

1/2

tsp

salt

180

ml

hot boiling water

200

gr

coconut oil -

in solid state, about 1 cup
INSTRUCTIONS
Prepare the filling a day before if possible:
Preheat some oil in a skillet. Add in the onion and saute until soft and fragrant. Add in the pork and mushrooms and stir fry again until the pork turn color. Add in the sesame oil, sugar, and oyster sauce. Have a taste and adjust to your liking. Sprinkle in the corn starch. Turn off the heat. Set aside to cool down and pop into refrigerator until the next day if you prepare ahead or let it cool down completely before wrapping if you prepare on the same day
Preparing the dough:
If you get the taro already peeled, then all you need to do is to cut it into smaller chunks and steam on high heat until you can easily poke them with a fork, about 15 minutes. Mash the taro with the coconut oil while still warm.

Add wheat starch, salt, sugar, hot boiling water and stir to mix into a dough. Add the mashed taro mixture into the dough and continue to knead into a dough. The dough will still be somewhat sticky and very soft at this point. Cover with plastic wrap and pop it into the refrigerator and let it rest for about 1 hour

The dough should be soft and pliable now. Give it a few kneads. Divide it into half and then half again until you get about 20 small dough, or more if you want them smaller. Work with one at a time and keep the rest cover to prevent it from drying. Flatten the dough with your palm to form a round shape. Spoon about 1/2-1 Tbsp of filling into the middle and then gather the edge and roll into an oval shape. Continue with the rest

Preheat some oil for deep-frying. I suggest to fry it one at a time. I find that the crispy layer will "disperse" all over during the frying process if I don't hold the yam puff in place with metal slotted spoon. Once the oil is really hot, lower it to medium and then deep-fry the puff one at a time on a slotted spoon until they are golden brown. Don't fry on high heat, or the crispy layer will disperse all over the oil. Place on absorbent paper towel and serve immediately
Notes
If you ever wonder if the puffs taste like coconut, no they do not. The coconut oil does not overpower the puff at all and yet it still gives you that flaky crispy crust like when you use shortening
I reheat them by placing it in the air fryer at 400 F for 5 to 10 minutes and they are as crispy as ever!