Spicy Kung Pao Noodles with shrimp is inspired by the famous Szechuan  Kung Pao Chicken. The spicy, savory, sweet, and tangy sauce is one of the elements that makes this dish addicting. Making stir-fried noodles with this sauce is no exception !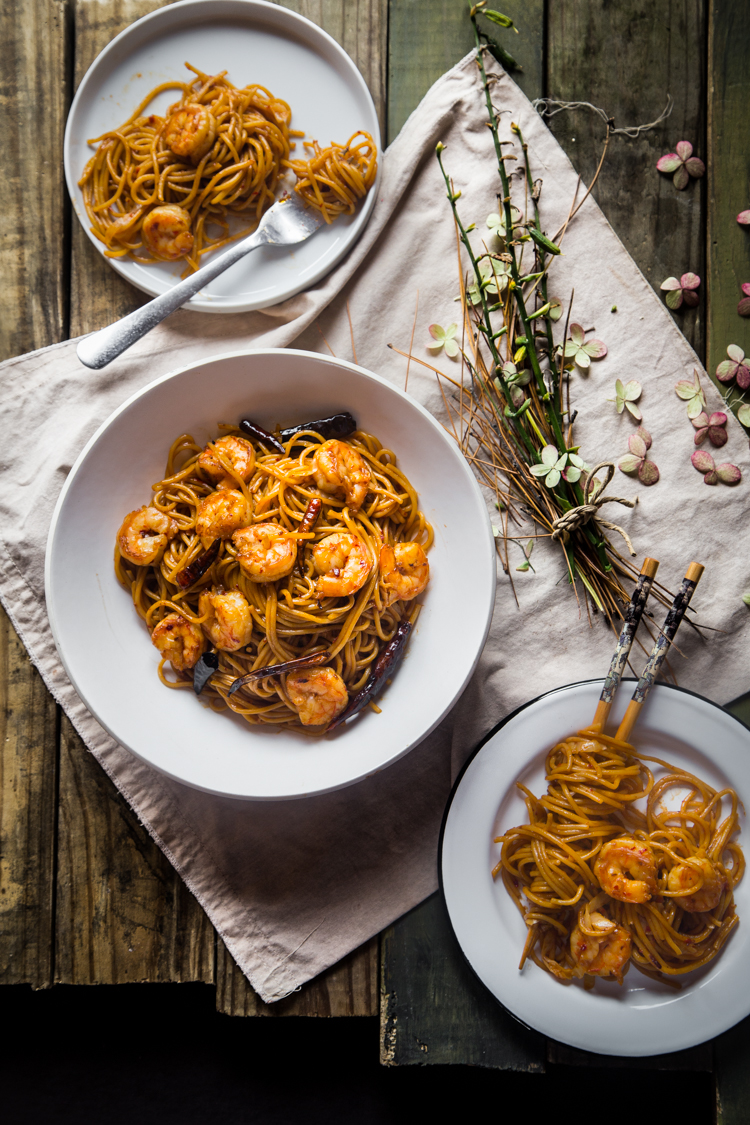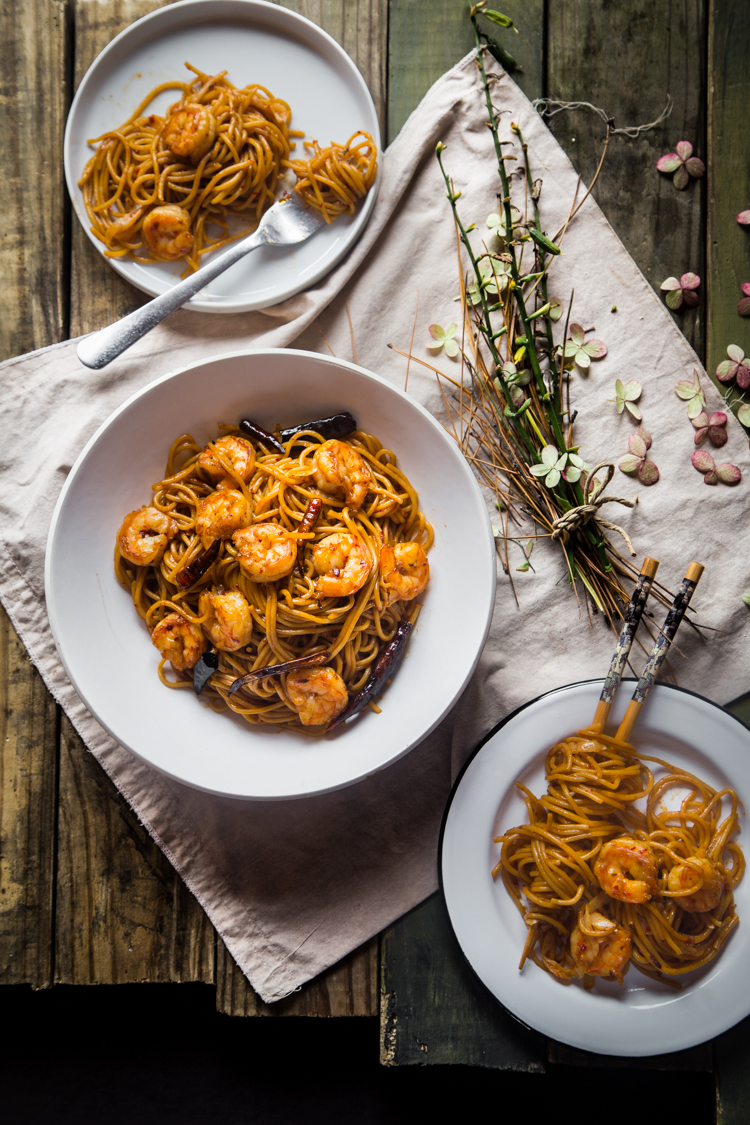 Our kids sure are growing up in a different time now. A time when you no longer needs newspapers to get your daily updates of news around the world. A time when you don't need to purchase an answering machine so someone can leave you messages when they call. My daughter asked me something one day and I didn't have the answer for it and told her I would find out. She said "Just GOOGLED it mom". I almost choked myself with the water I was drinking. Google ? 6 years old ? Where does that come from ? Man… I feel old now! Someday I just couldn't help but to think what will things be like 10 years from now ? (besides me having more grey hair!). Have you ever wondered about that ?
I have to admit that now I do have that little "fear" that the culture that I grew up with might end with us. We are most likely the last generation to know what we know and do what we do. But I'm still fiercely cooking all the different cuisines, especially Asian, so that my kids would at least be familiar with the taste of Asian food (authentic or fusion!).
Kung Pao chicken was probably one of the few dishes I only knew of when I was in college here in the U.S. I knew my American friends love it. Kung Pao chicken is said to be one of the most popular Westernized Chinese dishes here in North America. Strangely, not that popular in its own motherland. The Westernized version does not include any Szechuan peppercorns and the one I tasted was much at a sweeter side. The Szechuan version is numbing, spicy, and love that kick of tartness from the Chinese black vinegar. I guess it really depends on your taste preference. You guys probably know me by now, I need my food to be spicy ! This spicy kung pao noodles with shrimp is inspired exactly by that! The family loves this kung pao noodles.
Spicy Kung Pao Noodles with Shrimp
Ingredients
1

lb

of fresh/dried Asian wheat noodles or you can use pasta like spaghetti or angel hair

1

lb

of large shrimp

peeled and deveined

5

cloves

of garlic

finely chopped/grated

1-

inch

ginger

grated

3

stalks of scallions

finely chopped

3

Tbsp

cooking oil

A generous handful of dried red chiles (at least 10) or sub with 1 to 2 Tbsp of sambal oelek

1

tsp

whole Szechuan peppercorns

optional
Garnishes:
Chopped unsalted roasted peanuts

Chopped scallions
Instructions
Cook the noodles/pasta according to direction. Under cook it a little because we will be stir frying it

Place the shrimp in a bowl and mix in the marinade ingredients and let it marinade for 15 minutes. Cut the dried chilis in half or into 2-inch sections with scissors. Discarding the seeds. Combine the sauce ingredients in a bowl and set aside

Add cooking oil to the wok or skillet and heat over a high flame. When the oil is hot but not yet smoking, add the dried chilis and Szechuan peppercorns (if using) and stir-fry briefly until they are crisp and the oil is spicy and fragrant. Take care not to burn the spices (you can remove the wok from the heat if necessary to prevent overheating)

Add in the shrimp and stir fry over a high flame, stirring constantly. As soon as the shrimp started to turn pink, add the ginger, garlic, and scallions and continue to stir-fry for 1 minute until they are fragrant and the shrimp is cooked through

Add in the cooked noodles/pasta. Give the sauce a stir to make sure the corn starch dissolves. Add it to the wok, continue to stir and toss to evenly coat the noodles and shrimp with the sauce. Have a final taste and add more soy sauce if needed. It should taste savory, hint of sweetness and somewhat tangy from the vinegar. Sprinkle in the peanuts and scallions and serve immediately
*This post contains affiliate links. You don't pay extra as a consumer if you choose to click on the link and purchase from there. What To Cook Today just receives a small commission from this. That's all. It helps to pay for the cost to have this blog up and running. Thank you so much for your support !