This shop has been compensated by Collective Bias, Inc. and its advertiser. All opinions are mine alone. #StayInWithPasta #CollectiveBias
This Penne Al Forno is amazingly delicious & cheesy and filled with sauteed Italian Sausage, Prosciutto, Pepperoni, Ricotta, Parmesan, and Mozarella and baked to perfection. Don't take my words for it! Try it out and you will make it over and over again!

It's February. It's freezing cold at this part of the world and…..it's almost Valentine's day and…. our world is no longer just the two of us. We have two little people on board too. Even when it was just the two of us, we had always stayed in and I would cook a special meal to celebrate Valentine's day at home. I'm not a fan of waiting-in-line and overpriced meals because it's Valentine's day. oh…and it's winter! It makes me wants to just stay cozy inside the house for real!
My daughter is 6 now and they have been talking about Valentine's day at school since the calendar was flipped to February. My kids love it because they get to eat their favorite food followed by family movie night. Lots of cuddles and dessert too. Can you believe that I love Valentine's day more than ever with the 4 of us ? The kids are growing so fast and we just want to savor every moment with them and celebrate this day of love with the kids too. Celebrating it with them at the comfort of our home is the best thing to do.
Penne Al Forno is one of our family favorite Italian baked pasta. Our kids love it so much. They just think that the Penne shape is so much fun too. This Penne Al Forno is so delicious and cheesy (in a good way!) and easy to be prepared yet such a comfort food and pretty fancy to celebrate Valentine's.
You don't have to use Penne shape. There are other fun shapes from Barilla® you can use to make this baked pasta:
Barilla® Pronto® Penne
Barilla® Pronto® Spaghetti
Barilla® Gluten Free Penne
Barilla® Gluten Free Spaghetti
Barilla ProteinPLUS® Penne
Barilla ProteinPLUS® Spaghetti
Barilla® Veggie Spaghetti
Barilla® Rotini (Classic Blue box)
Barilla® Rigatoni (Classic Blue box)
You can even mix and match ingredients at this Mix and Match Flavor by picking two of your favorite ingredients and get matched for a recipe !!
I chose Barilla ProteinPLUS® Penne. I love that this is a multigrain pasta made of wholesome and non-GMO ingredients and loaded with lean protein and fiber too. The Barilla® Marinara sauce I used in this recipe also saved me some time instead of making from scratch. It has no preservative and made with all natural and non-GMO ingredients.

Just few snapshots to show you how I layered each ingredient in this Penne Al Forno

Out of the oven perfection!

Penne Al Forno (6-8 servings)
Ingredients
14.5

oz

box of Barilla ProteinPLUS Penne

2

Tbsp

cooking oil

1

small onion

peeled and diced

5

cloves

garlic

peeled and finely chopped

1

Tbsp

red pepper flakes

optional

1

lb

of Italian sausage

remove from casing

3

oz

of prosciutto

cut into large chunks

3

oz

of pepperoni

cut into large chunks

24

oz

Barilla Marinara Sauce

15

oz

Ricotta cheese

5

oz

shredded Parmesan cheese

4

cups

shredded Mozzarella cheese
Instructions
Bring 6 quart of water to a boil. Add salt and add in the pasta and cook to al dente. Do not overcook the pasta as we will be baking this in the oven later. Drain the water off and set aside. Do not rinse the pasta.

Preheat a large skillet with some oil. Add in onion and saute for about 5 minutes until soft and fragrant. Add in thered pepper flakes and garlic and saute for about 1 minute. Add in Italian sausage and use spatula to break up the meat into smaller pieces. Cook until the meat turn brown. Add in the prosciutto and pepperoni and stir to mix everything. Remove from the heat

Preheat oven to 425 F. Get a 9 x 13 inch casserole dish/pan. Spread about 1 cup of marinara sauce on the bottom of the dish. Spread about 1/3 of the sausage mixture on top followed by 1/3 of ricotta cheese. You can dot them all over the place of spread them evenly. It's up to you. Then top with 1/3 of the cooked penne and sprinkle with some Parmesan and Mozzarella cheese. Repeat the second layer with the same sequence. You can probably get to 3 or 4 layers. You will finish up with Parmesan and Mozzarella cheese covering up the very top. Pop this into oven (3rd rack from the top) and bake for about 15-20 minutes or until the cheese is bubbly and golden brown

Let the Penne Al Forno rest for about 1 minute before serving immediately.
Who wouldn't smile to that ?!?

I'm not living the house for sure 😉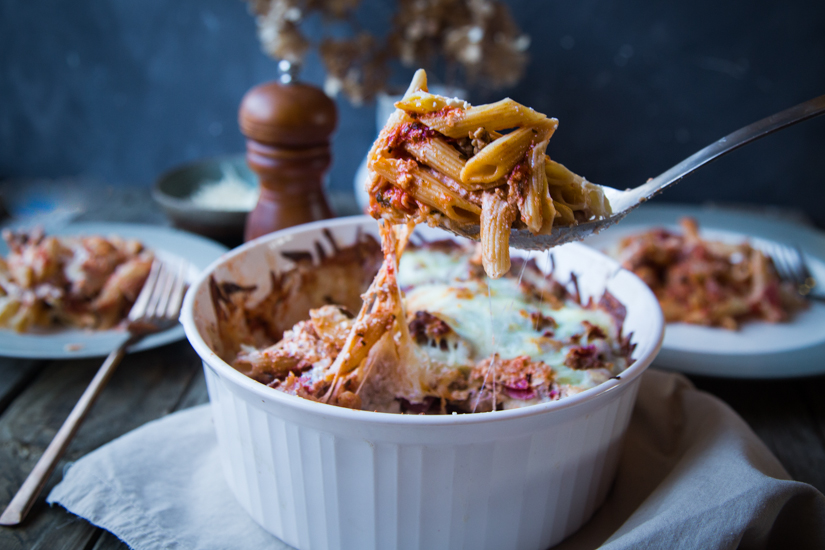 I got all my ingredients to make this Penne Al Forno from Target at the Pasta aisle. There is a Cartwheel Offer of 5% off Barilla Pasta & Sauce

What's your plan for Valentine's Day ?