Try this delicious and easy Thai salted black olive fried rice. It has a great combination of taste, flavor, and texture.


I had never really known about Thai olive fried rice until I watched someone mentioned about it on youtube and then I went on researching about salted black olive and read about it here. This Thai olive fried rice is very popular in Singapore. My two kids who love black olives a lot really dig this kao pad nahm liap. So do I. It's simple but with robust flavor and the contrast of textures are so awesome too!
SALTED BLACK OLIVES
The mentioned of olives quickly brought me to the Mediterranean, but now I know there are also olives (magok) in Thailand, which was green in color. The olive fried rice is not cooked with magok, but it is cooked with Chinese salted black olives instead, an influence by the Chinese immigrants to Thailand. Like in the Mediterranean, the Chinese like to snack on the preserved black olives as well.
SUBSTITUTE FOR CHINESE SALTED BLACK OLIVES
I can't find the Chinese salted black olives here and so I used Mediterranean pitted black olives, which can be easily found here in the U.S.

HOW TO COOK THAI SALTED OLIVES FRIED RICE
1. Preheat a large skillet or wok over high heat. Add 2 Tbsp cooking oil. Crack in ggs and let them cook undisturbed for about 30 seconds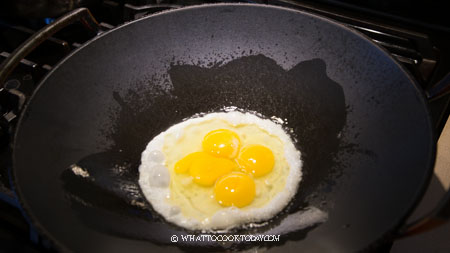 2. Gently scramble the yolks and let it cook for another 30 seconds


3. Start breaking up the eggs into larger pieces. Dish them out from the skillet or wok


4. Wipe the wok or skillet clean. Add another 2 Tbsp of cooking oil. Stir fry garlic and onion for about 2 minutes


5. Add shrimp paste and stir fry for another 10 seconds


6. Add chicken meat and stir fry until they are cooked through


7. Add the leftover rice followed by the chopped olives and scrambled eggs you made earlier


8. Stir to mix everything. Add seasonings and stir again to mix everything. Have a taste and add more fish sauce if needed


9. Serve the rice with some cashew nuts, chopped onion, Thai chili, lime wedges, and cubed fresh cucumber on the side of the plate

IMPORTANT TIPS
1. Never use freshly cooked rice
Leftover rice is best. I like to put them in the refrigerator as it will "dry" them up further the next day
2. Loosen the rice grains before cooking
It's important to loosen the rice grains to get rid of any clumps before you start cooking the fried rice
3. Heat
Make sure your wok or skillet is hot enough when you do the stir-fry
VARIATIONS
PROTEIN: You can use seafood like shrimp or other meat like ground beef, ground chicken, etc
VEGGIES/FRUITS: I used fresh cucumber but you can use slices of green mango
MEATLESS: You can use extra-firm tofu, tempeh, or beans like chickpeas would be nice
I can tell you that this Thai salted black olive fried rice is pretty addicting. My family devoured this simple fried rice dish.

DID YOU MAKE THIS THAI SALTED BLACK OLIVES FRIED RICE RECIPE?
I love it when you guys snap a photo and tag to show me what you've made 🙂 Simply tag me @WhatToCookToday #WhatToCookToday on Instagram and I'll be sure to stop by and take a peek for real!

Easy Thai Salted Black Olive Fried Rice (Kao Pad Nahm Liap)
Ingredients
2

large

eggs

4

Tbsp

cooking oil

divided

4

cups

leftover cooked rice

loosen the clumped grains with a rice paddle or your clean hands

8

cloves

garlic

1

small

onion

2

Tbsp

shrimp paste

300

gr

boneless skinless chicken thighs/breast

about 10.5 oz, cut into bite-size

10

Chinese salted black olives

or use regular pitted black olives , finely chopped
Serve with (for each serving):
⅓

cup

whole cashew nuts

⅓

cup

Fresh cucumber

diced

1

Tbsp

Shallots / purple onion

thinly sliced or diced

1

-2 Thai chilies
Garnishes:
Green onions

finely chopped

Fresh cilantro leaves
Instructions
Preheat a large skillet or wok over high heat. Add 2 Tbsp cooking oil. Crack in eggs and let them cook undisturbed for about 30 seconds and then gently scramble the yolks and let it cook for another 30 seconds and start breaking up the eggs into larger pieces. Dish them out from the skillet or wok

Wipe the wok or skillet clean. Add another 2 Tbsp of cooking oil. Stir fry garlic and onion for about 2 minutes. Add shrimp paste and stir fry for another 10 seconds. Add chicken meat and stir fry until they are cooked through. Add the leftover rice followed by the chopped olives and scrambled eggs you made earlier

Stir to mix everything. Add seasonings and stir again to mix everything. Have a taste and add more fish sauce if needed
How to serve:
Scoop the rice into a Chinese soup bowl. Pack the rice down. Put a serving plate on top and then invert it and you have a nice neat mound of rice. Garnish with chopped green onion and cilantro leaves

Put some cashew nuts, chopped onion, Thai chili, lime wedges, and cubed fresh cucumber on the side of the plate

Just stir everything to mix with the rice just before you eat. Enjoy that explosion of taste, flavor, and textures 🙂
OTHER FRIED RICE RECIPES YOU MAY LIKE
How to Make Good Indonesian Nasi Goreng
How To Make Chinese Golden Egg Fried Rice
Easy One-Pan Miso Ginger Salmon Fried Rice
Super Delicious Kimchi Bokkeumbap (Kimchi Fried Rice)